Citrus cakes are my mood right now. While decadent, chocolate cakes will always have my heart, I have been craving lemony, orangey cakes of late. I can have them for breakfast or afternoon tea or even as a late-night snack. Since it is not heavy and creamy, I feel less guilty about the number of slices I have at a go. I decided to try my hand at this Zesty Orange Loaf Cake that is bursting with flavor and sweetness, balanced so well with the acidity. And here is the best thing about loaf cakes, they are like sweet, delicious, flavorful bread and who doesn't want that in their lives?
I have made this into a lovely, bright loaf cake but it can work as a cupcake, muffin or a sheet cake as well. I often add a slice to my son's lunch box, and it remains fresh and soft.
The hero of the cake is the orange, undoubtedly. It is subtle and yet so vibrant. I cannot stress enough the importance of using quality, ripe oranges. The whole flavor of the cake depends on this simple ingredient, and we are using the juice and the zest of just one orange for the whole loaf so ensure it packs a punch. The fruit should be ripe and have that heady, fresh fragrance. If you are opting for mandarins, a good choice for baking, ensure that the skin is not broken and blemished else the zest falls short.
I almost called this my Glorious Orange Loaf Cake because it reminds me of sunshine and warm summer breezes, but as it is bursting with life and flavor, here's instead the Zesty Orange Loaf Cake. Enjoy!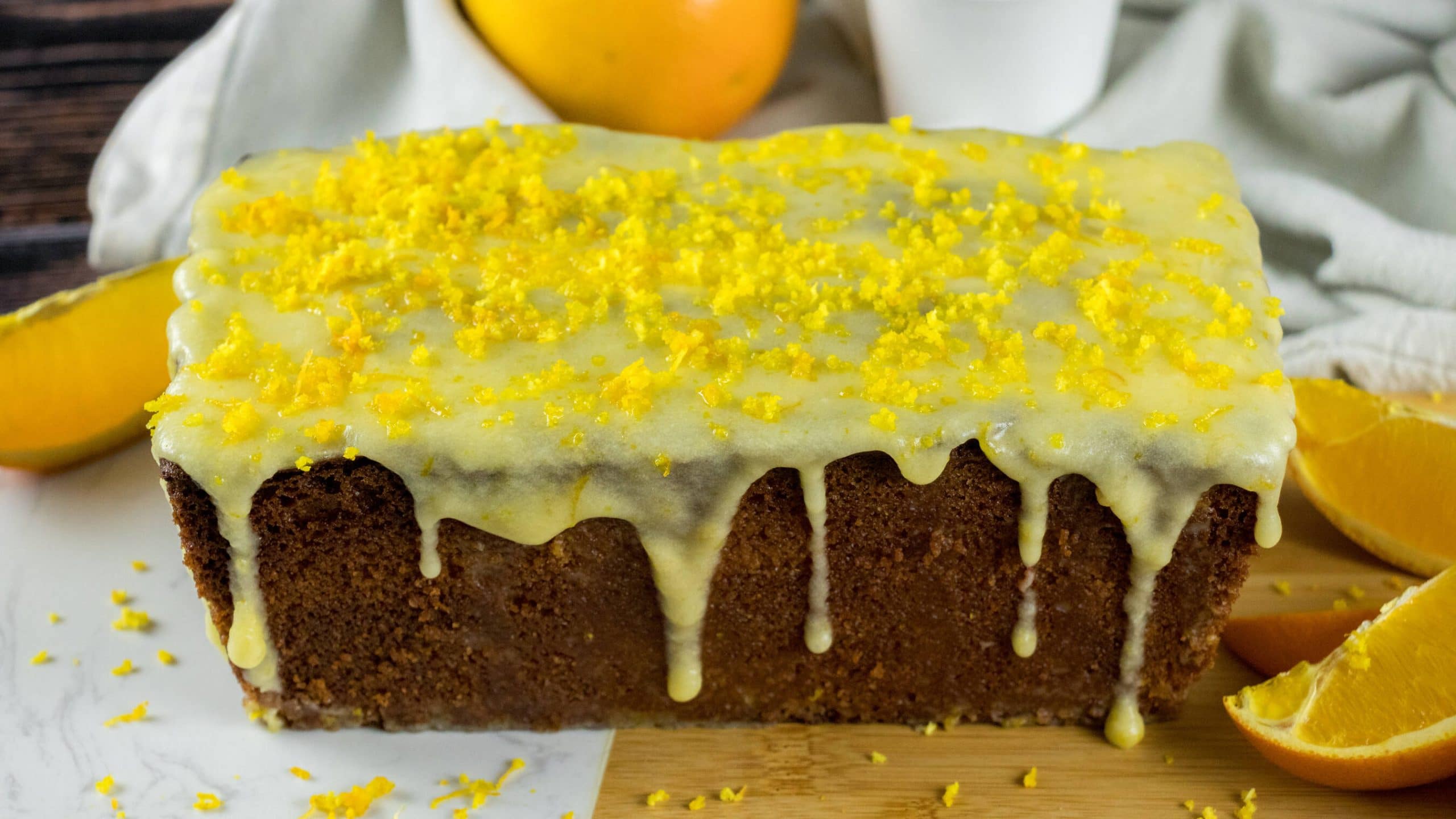 Ingredients
1 ½

cups

all-purpose flour

1

cup

sugar

1 ½

teaspoons

baking powder

½

teaspoon

salt

2

large eggs

room temperature

1

cup

sour cream or plain yogurt

½

cup

softened butter

unsalted

3

tablespoons

of fresh orange juice

1

tablespoon

of orange zest
Orange glaze
1

tablespoon

softened butter

1

cup

sugar

1

tablespoon

orange zest

2

tablespoons

orange juice
Instructions
Preheat oven to 375 degrees and spray a 9" x 5" loaf pan

In a bowl mix together the flour, baking powder and salt

In another bowl combine the sugar and butter using a hand or electrical mixer till soft and fluffy

Add in the eggs to this one at a time until well combined

Now add the sour cream or yogurt, orange juice and orange zest to this and mix nicely

Add the dry ingredients to this and gently combine, making sure there are no lumps

Pour the batter into the loaf pan and bake for 50-55 minutes or until a toothpick inserted in it comes out clean

Take it out of the oven and let cool completely
Orange Glaze
Combine all the ingredients together until smooth.

Once the cake is cooled completely pour the glaze over the loaf.
Video
Nutrition
Calories:
377
kcal
|
Carbohydrates:
56
g
|
Protein:
4
g
|
Fat:
16
g
|
Saturated Fat:
10
g
|
Polyunsaturated Fat:
1
g
|
Monounsaturated Fat:
4
g
|
Trans Fat:
1
g
|
Cholesterol:
72
mg
|
Sodium:
303
mg
|
Potassium:
88
mg
|
Fiber:
1
g
|
Sugar:
41
g
|
Vitamin A:
531
IU
|
Vitamin C:
6
mg
|
Calcium:
75
mg
|
Iron:
1
mg
Tips & Tricks
Pick a fresh orange that is fragrant and unblemished, because we are going to use the skin for zest.
The sour cream/yogurt makes the loaf moist and fluffy. You can use it without, it doesn't change the taste, but the loaf is not as soft.
Make sure the eggs, butter and sour cream/yogurt are all room temperature, it makes mixing much easier and the batter much smoother.
Zest the orange before juicing.
Before pouring in the glaze, poke a few holes on the loaf, this lets the glaze seep through nicely.
If you want a thinner glaze, don't add the butter.
If you don't have allergies and want extra texture, you can add nuts to it. Pecans and walnuts work well. You can also add candied orange instead of the glaze or to the glaze.
Storage
If you do manage to have any cake leftover, it can stay at room temperature overnight. Else store it in an airtight container in the fridge for 3-4 days and warm in the microwave before eating or serve cold. Make fresh glaze though.
You can also store in the freezer for up to a month and thaw overnight before using. Make fresh glaze.
FAQs
What kind of oranges should I use?
I used one large, fragrant Navel orange but any orange with minimal seeds and thin skins can be used. Mandarins are another ideal choice.
Does it need to be glazed?
Not at all. The glaze is just to give it an extra flavoring, which in not necessary. If you are not using a glaze, you can just spread some fresh cream or even marmalade on top and enjoy it.
Can I use boxed orange juice?
Boxed orange juice contains a ton of sugar and preservatives, which will alter the taste. It is best to use fresh oranges.
Substitutions
Oranges: There are a ton of oranges to choose from. Your criteria should be that they are fresh, fragrant, seed-free and thin-skinned. Also, the many varieties of oranges ripen at different times, so use whatever is in season. You can use lemons but then it will become Lemon Loaf Cake.
Butter: You can replace butter with vegetable oil or margarine.
Sour Cream and Yogurt: You can replace one with the other. Buttermilk is also an option but halve the amount. Because buttermilk is so watery, it will make the batter runny. You do have an option of not using either, it does not alter the taste.
Orange glaze: You can switch it up and make a lemon glaze for an orange loaf cake. It is delicious, the tartness and sweetness of both work off of each other.
Accompaniments
I enjoy my Zesty Orange Loaf Cake with my afternoon coffee or tea. I love adding a dollop of fresh cream or whipped cream to a slice. And hear me out here, but marmalade on the Zesty Orange Loaf Cake is mind-blowing. You can also add any other fruity jam or jelly to it.
For more such decadent recipes, try the Haitian Rum Cake or the uber easy Tres Leches.
---
Recent Recipes