I know using zucchini in smoothies may sound a bit weird. But it's a great way to add vegetables to your smoothie without even tasting them. This simple zucchini smoothie recipe is so delicious and filling. Not to mention, it's low in calories and high in dietary fiber and nutrients. Your tummy and skin will be feeling extra pampered.
Now, let's dive deeper into the benefits of this simple zucchini smoothie. First of all, by using zucchini as your base, you're reducing the amount of sugar and calories. Zucchini is also rich in vitamin B6 which can help with regulating blood glucose. Not to mention all the healthy fiber and the creaminess they add to any smoothie. Yum!
This simple green smoothie recipe is also packed with fresh spinach. This leafy green is full of zinc and folate. Spinach also helps to boost your metabolism, decrease inflammation, and even curb food intake by inducing the secretion of satiety hormones. I love adding spinach or any other leafy green to my smoothies. It's such a great way to eat your greens.
Nut or seed butter adds some healthy fats and protein to this nutritious beverage. Ginger is a great immune system booster, fights inflammation, and has antibacterial properties. But I also love the spicy punch it adds to any smoothie or dish.
And, as for the fruit, bananas are always a good choice. But you can make this zucchini smoothie without banana and use ripe mango instead. Both mangos and bananas are packed with essential vitamins and minerals. Plus, they're natural sweeteners and they add so much flavor.
So, if you're asking whether zucchini is good in a smoothie, give this recipe a try and taste the wonders yourself. I hope you'll be convinced of the hype!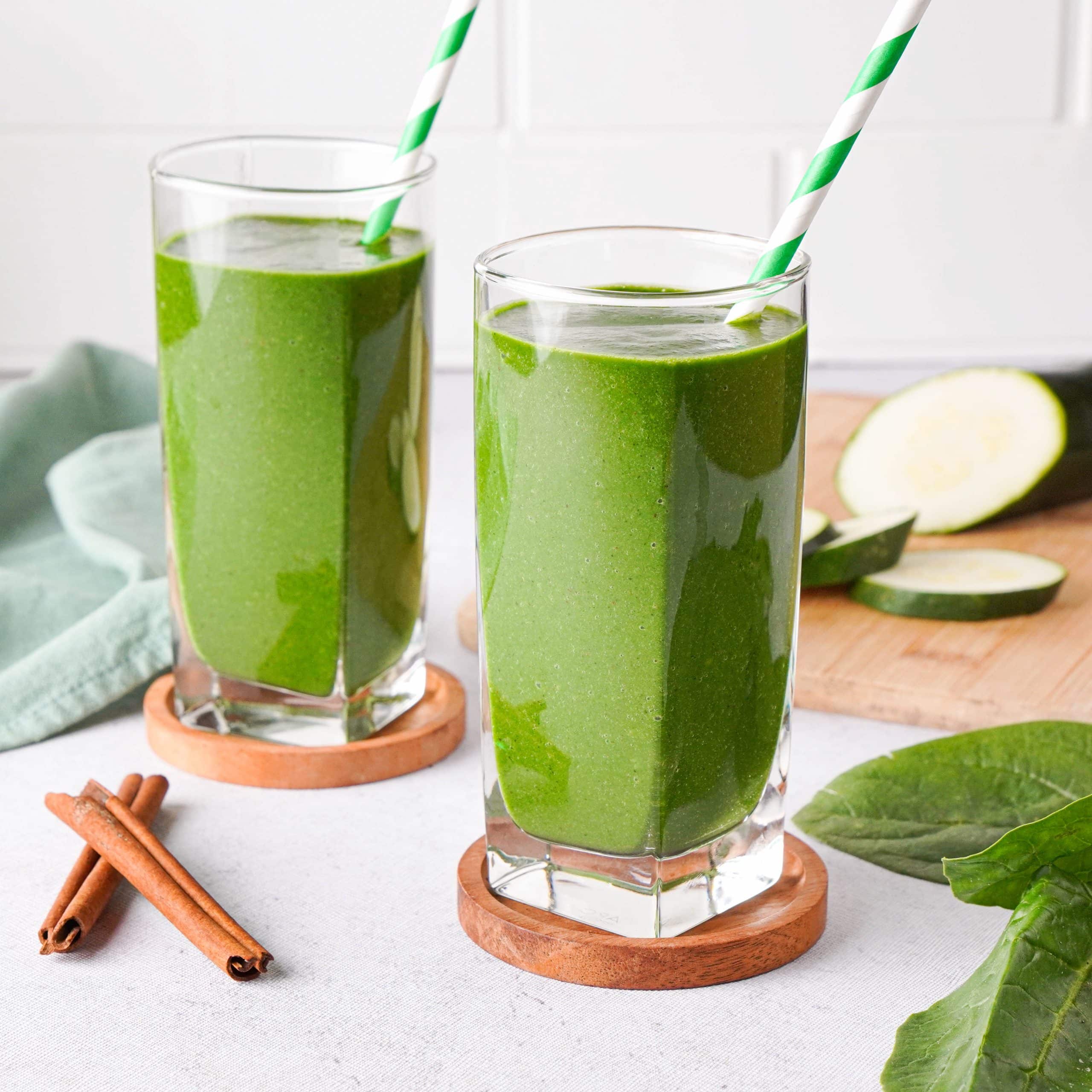 Ingredients
1

small zucchini

cut into cubes (fresh or frozen)

½

mango or 1 banana

fresh or frozen

2

handfuls fresh spinach

washed

1

Tbsp.

favorite nut butter or seed butter

I used tahini

½

cup

unsweetened plant milk

Optional: 1 small piece of fresh ginger

Optional: ½ tsp. cinnamon powder

Optional: 1 tsp. spirulina
Instructions
All ingredients ready? Let's begin!

Place ingredients in a high-speed electric blender in the order listed above (starting first from zucchini all the way down to the optional items last)

Blend until creamy. Taste and add more fruit if you want it sweeter, more milk or water to thin it out, or greens to achieve a deep green color. This is the step where you make the smoothie yours.

Serve immediately or keep in a jar in the fridge for up to 2 days.
Nutrition
Calories:
367
kcal
|
Carbohydrates:
19
g
|
Protein:
6
g
|
Fat:
33
g
|
Saturated Fat:
26
g
|
Polyunsaturated Fat:
0.5
g
|
Monounsaturated Fat:
1
g
|
Sodium:
47
mg
|
Potassium:
729
mg
|
Fiber:
5
g
|
Sugar:
13
g
|
Vitamin A:
3495
IU
|
Vitamin C:
41
mg
|
Calcium:
73
mg
|
Iron:
3
mg
Serving Suggestions & Substitutions
I love a nice cold and creamy smoothie, and I find using frozen fruits and veggies does the trick. But you can use fresh unfrozen zucchini and mango or banana if you'd like. I find that it's so easy to cut up ripe bananas and zucchinis, put them in zipper-lock bags, and into the freezer for easy access at any time.
This simple zucchini smoothie recipe uses fresh spinach, but you can substitute any leafy greens. Some other good options are kale, arugula, parsley, swiss chards, or beet greens. It's best to mix it up so that you get a wide variety in your diet.
I used unsweetened oat milk in my zucchini smoothie, and it turned out super tasty. But you can use any plant-based milk, such as almond, soy, or even pistachio. We have a recipe for pistachio milk right here on the blog. You could even try our easy creamy potato milk. There are so many options when it comes to plant milk. Rice milk and macadamia milk are both great neutral tasting alternative milks if you want to keep the milk flavor from overpowering the smoothie like oat, almond or pistachio can do at times.
As for the nut or seed butter, I used tahini which is rich in antioxidants, vitamin B, and omega fatty acids. They're also packed with calcium if you use unshelled sesame seed tahini. But not all of you may like the bitter taste of sesame seed paste. You can use your favorite nut or seed butter instead. Almond butter, peanut butter, and sunflower seed butter are all fantastic choices.
Now that you have your smoothie base, you can add any extra superfoods or spices that you'd like. I added a little piece of ginger for its anti-inflammatory and anti-bacterial properties. It also really brought all of the flavors of the smoothie together.
Some other good add-ins would be half a teaspoon of cinnamon for its blood sugar-lowering properties. Or 1 teaspoon of spirulina for extra protein and immune system support. Macca powder is a great ingredient for regulating hormones in women.
Common Smoothie Mistakes People Make
When it comes to making a healthy and filling smoothie, there are a few mistakes you should avoid:
Adding too much fruit. If your smoothie has too much fruit, it's going to have too much sugar. Fruit is good for you, but it's easy to add more than your daily serving to a smoothie since it looks like less when it's all blended. Using zucchini or another vegetable in your smoothie is a great way to add volume and nutrients without the added sugar.
Using unripe fruit. This may seem obvious to some of you, but it's crucial to use ripe fruit in your smoothies. Ripe fruit is sweeter and more easily digestible. Smoothies are also a great way to make use of overly ripe fruit that may not taste so good on its own.
Not adding protein and healthy fats. Unless you add some substance to your smoothie, you're going to be hungry again in 10 minutes. Adding proteins and healthy fats such as nuts, seeds, avocado, protein powder, or spirulina are great ways to increase the satiety of your smoothie and keep you full longer.
Adding sweeteners. If you use ripe fruit, you won't need to add any liquid sweeteners. I like it when a smoothie isn't too sweet, otherwise, it tastes like a dessert. Now, if you want to make a dessert smoothie, adding sweeteners or more fruit and berries is a good idea.
Not adding fresh leafy greens. We often underestimate the value of fresh leafy greens. Powdered forms are simply not the same. Research has shown that consuming approximately one serving of green leafy vegetables a day may help to slow cognitive decline with aging. In other words, they'll help you keep your wits! Now, that's amazing.
Not using a good high-speed electric blender. If you're going to be making smoothies, sauces, and creamy soups often, it's worth investing in a good high-speed blender. Otherwise, you're going to end up with fiber pieces and chunks in your smoothie. I don't know about you, but I like my smoothie smooth.
As for which blender to get, we've identified the best blender for crispy cool drinks here. If you're looking for the best blender with a glass jar, look no further. But if you're on a budget, don't fright.
There's a way to make milkshakes without a blender that can work for making smoothies too. You can use a stick blender, also known as an immersion blender or hand blender. Just be mindful of the ingredients you use since the blending capacity of an immersion blender isn't as high. Now, let's cheer to our health and many zucchini smoothies to come!
---
Recent Recipes