Easy Pasta with Asparagus & Prosciutto
One of the very best things about spring is the freshest of green vegetables. The peas are sweet, the asparagus is crisp, and the herbs are vibrant. Young vegetables are especially nice to work with because they are really tender and deeply hued. I am fond of baby zucchini for salads and even more fond of what I call skinny asparagus. These are the first stalks to pop up out of the earth. They are delicate and perfect for adding to a crudité platter, quiche, frittata, galette, salad, or pasta.
In spring and summer, I always make 2 dishes that are easy, affordable meals that are also filling. I am accustomed to weekend houseguests and don't want to spend hours in the kitchen not enjoying my company. On hot days I make pasta salad. This is great for Sunday lunch when I am basically cleaning out the fridge and using up the bounty of vegetables. The other dish is pasta primavera, which is a broad term for vegetables with pasta. My favorite is pasta with asparagus and a creamy pancetta sauce. It is a great way to stretch the most expensive ingredient in the recipe – asparagus.
I cook the pasta and asparagus in one pot and make the sauce in a large sauté pan. The sauce starts with pancetta and aromatics. It is deglazed with white wine and finishes with cream and cheese. The pasta gets added to the sauce just before serving. It is pretty easy and everyone seems to enjoy it. I'll serve this dish with some crusty bread and a fresh cucumber and tomato salad.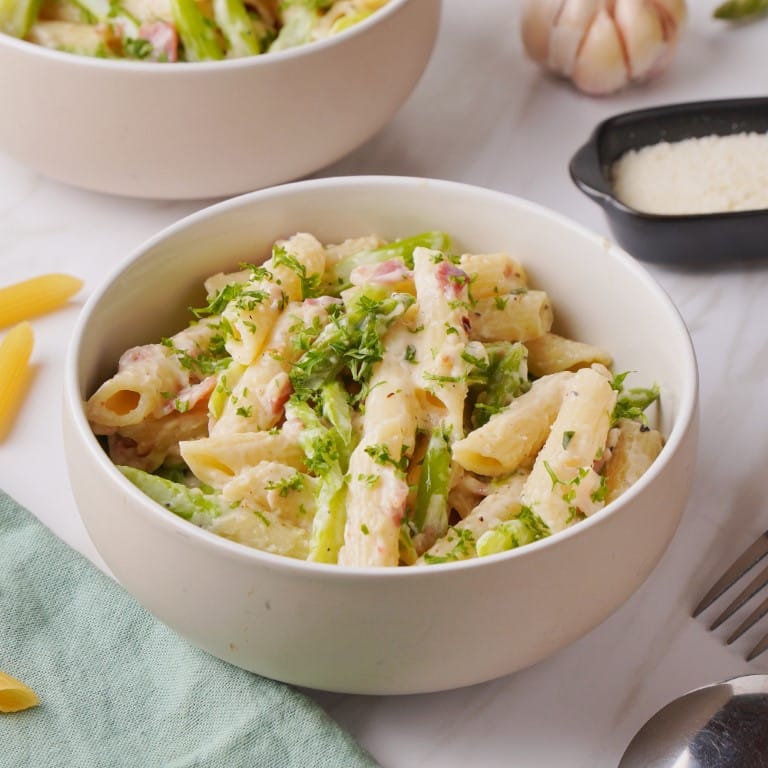 Ingredients
1 ½

Tbsp

kosher salt

12

ounces

penne pasta

1 ½

pounds

fresh asparagus

trimmed and sliced on the diagonal into 1-1/2-inch pieces

½

cup

diced pancetta

1

garlic clove

sliced as thinly as possible

2

tsp

fresh thyme leaves

Pinch

of cayenne pepper flakes

½

cup

dry white wine

½

tsp

freshly ground black pepper

¼

tsp

sea salt

1

cup

heavy cream

⅓

cup

grated parmesan cheese + more for serving

Chopped fresh flat-leaf parsley for garnish
Instructions
All ingredients ready? Let's begin!

Fill a large pot with water, about ⅔ full. Add 1 ½ tablespoons of kosher salt to the water. Bring this to a boil over high heat. (Start preparing the sauce while the water comes to a boil and the pasta cooks – steps 2, 3, 4, and 5).

Add the pasta to the boiling water and cook according to the package directions. Add the asparagus to the pasta just before the final 60 seconds of cooking. Reserve 1/3 cup of the pasta water for the sauce and then drain the pasta in a colander.

While the water is coming to a boil start the sauce. Place a large skillet over medium-high heat. Add the pancetta and cook until it begins to crisp up, stirring often, approximately 3 to 5 minutes.

Add the thinly sliced garlic, thyme, and cayenne flakes to the skillet and sauté for 30 seconds or until fragrant.

Carefully add the wine, pepper, and salt. Stir the deglaze the pan while the wine reduces, approximately 2-1/2 minutes.

Add the cream and continue to cook for an additional 3 minutes until the sauce starts to thicken. Stir in the parmesan cheese.

Add the pasta and asparagus to the skillet. Using tongs or a large spoon, toss to completely coat the pasta with the sauce. If the sauce is too thick, thin it with some of the reserved pasta water.

Transfer the pasta to a serving bowl and garnish it with parsley. Serve immediately while warm with more cheese on the side.
Nutrition
Calories:
743
kcal
|
Carbohydrates:
76
g
|
Protein:
23
g
|
Fat:
37
g
|
Saturated Fat:
19
g
|
Polyunsaturated Fat:
4
g
|
Monounsaturated Fat:
11
g
|
Trans Fat:
0.04
g
|
Cholesterol:
94
mg
|
Sodium:
3138
mg
|
Potassium:
781
mg
|
Fiber:
7
g
|
Sugar:
8
g
|
Vitamin A:
3556
IU
|
Vitamin C:
32
mg
|
Calcium:
205
mg
|
Iron:
6
mg
Notes & Tips
Penne and asparagus are a perfect match because they are about the same diameter. I like to cut the asparagus on the bias to the same length as the penne. This is a super simple presentation technique that will have your guests noticing your attention to detail. It is fancy with very little effort.
I add the asparagus right to the pasta about one minute before it is finished cooking. This is a time-saving technique. The asparagus doesn't need to cook for long, especially the thinner stalks. You want them to be bright green with a bit of a fresh snap when you bite into them.
Substitutions
I love the combination of penne and asparagus because of their similarity in shape and size. It is purely an aesthetic thing. You can definitely make this dish with linguini, elbow macaroni, capellini, or farfalle. Basically, use whatever pasta you have in your pantry, with the exception of the tiny alphabets or stars that are best suited for soups.
If I were to make this with gluten-free pasta, and I have, I recommend using the brown rice penne or fusilli. You can also make this with cassava elbows, though I prefer the texture of the brown rice pasta. I also like this recipe with zoodles (zucchini noodles). Simply blanch the zoodles and asparagus briefly while the sauce is cooking.
You don't have to use pancetta. Bacon and prosciutto work fine in this recipe. Prosciutto is cured, so it doesn't need to be cooked for more than 1 or 2 minutes. If you aren't a meat-eater, especially pork, you can definitely omit the pancetta. Just add a little butter or olive oil to the pan for sautéing the garlic.
With the great variety of flash-frozen vegetables available, I make sure I keep peas, green beans, spinach, and asparagus in my freezer for quick dinners. This particular pasta recipe is excellent with frozen peas. Just add them to the pasta right before you remove it from the heat. They only need to defrost. The combination of sweet peas and salty pancetta is nothing short of addictive.
---
Recent Recipes