Homemade M&M Ice Cream Sandwiches
My childhood dream has come true! This M&M ice cream sandwich is heaven on earth. Imagine a soft and chewy chocolate chip cookie (but with M&Ms instead) filled with luscious vanilla ice cream, and topped off with more M&Ms. It's the best ice cream sandwich I've ever tasted. And, I don't know about you, but I've had my fair share of ice cream sandwiches throughout this lifetime.
In this recipe, I'll teach you how to make M&M ice cream sandwiches at home in a few easy steps. The cookie dough is very straightforward and can be made by a beginner. You can even prepare the dough ahead of time and have a fresh ice cream sandwich ready in minutes. It's safe to say your sweet tooth will be happy with this delight. Make them for dessert at your next cookout or garden party. Your guests will be thrilled!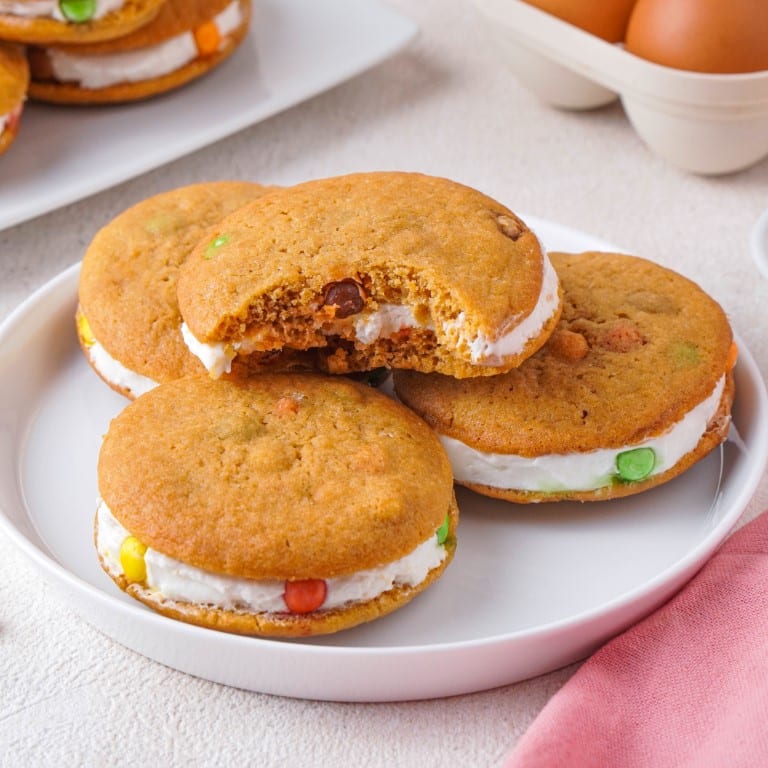 Ingredients
2

cups

+ 2 Tbsp. all-purpose flour

2

tsp.

baking powder

½

tsp.

salt

¾

cup

packed light brown sugar

¼

cup

granulated sugar

¾

cups

unsalted butter

softened to room temperature

1

large egg

at room temperature

1

egg yolk

1

tsp.

pure vanilla extract

1

cup

mini M&Ms
The ice cream filling:
40

fl. oz

vanilla ice-cream

3

Tbsp.

M&Ms for decorating the sandwiches' edges
Instructions
All ingredients ready? Let's begin!

Sift the flour, baking powder, and salt together in a medium bowl. Set aside.

In a large bowl using a hand mixer or stand mixer with a paddle attachment, beat softened butter until creamy. About 1 minute.

Add brown sugar and granulated sugar. Beat on medium-high speed until combined and creamy. Scrape down the bottom and sides of the bowl as needed.

Beat in egg, egg yolk, and vanilla extract.

Turn the speed down to low and gradually add the flour mixture. Mix until combined.

Remove mixer and stir in M&Ms with a wooden spoon. Or beat on low speed for 20 seconds or until combined.

Cover cookie dough with plastic wrap and chill in the fridge for 2 hours.

Preheat oven to 350°F and line baking sheets with parchment paper.

Roll cookie dough into balls of about 1.5 tablespoons each, and place 3 inches apart on baking sheets.

Bake for 11-12 minutes or until slightly browned on the edges. The centers should look soft.

Remove from the oven and let cookies cool for 5 minutes. Then transfer to a wire rack and let them cool completely.
Nutrition
Calories:
242
kcal
|
Carbohydrates:
32
g
|
Protein:
3
g
|
Fat:
11
g
|
Saturated Fat:
7
g
|
Polyunsaturated Fat:
0.5
g
|
Monounsaturated Fat:
3
g
|
Trans Fat:
0.2
g
|
Cholesterol:
43
mg
|
Sodium:
109
mg
|
Potassium:
104
mg
|
Fiber:
1
g
|
Sugar:
21
g
|
Vitamin A:
344
IU
|
Vitamin C:
0.3
mg
|
Calcium:
89
mg
|
Iron:
1
mg
Notes & Tips
Referring to steps 2-4 in the assembling instructions, I don't mean eat all the ice cream sandwiches immediately all by yourself. Although, I bet you could eat them all (I probably could), it's much better to share. Joy shared is joy doubled.
Before assembling, the ice cream should be slightly softened (if it's not already the softer type). Let it sit out at room temperature for 5 minutes before assembling. But be fast because you don't want the ice cream to start melting either.
If you don't have time to let the butter and eggs sit at room temperature, don't fright. Here are a couple of ways to bring eggs to room temperature quickly:
Fill a bowl with warm water and let the eggs sit in there for 5-10 minutes. Be careful, if the water is too hot, you could end up cooking the eggs. Think warm bath.
Run the water from your faucet until it's the temperature of a warm shower. Place eggs in a bowl and let the water run over them for 2-5 minutes.
Here are a few ways you can soften butter without having to wait more than half an hour:
Cut the butter into small cubes. This reduces the softening time to about 15 min.
Pound and roll out the butter. Place it on the countertop, cover it in plastic wrap and use a rolling pin to pound and roll the butter out until flat.
Grate the butter. Hold the package while you gradually open it and grate the open end. This usually allows the butter to soften in a few minutes.
Use a microwave on defrost mode for 5-second increments until desired softness is achieved.
The cup and saucer method. Get a large mug and fill it with boiling water. Place the stick of butter on a plate. Pour the hot water out of the mug and place the hot mug over the butter. Let it sit for 5-10 minutes or until softened.
Last but not least, I've got a tip for baking the cookies. Open the oven every 3-4 minutes while baking (2-3 times) and pick up and drop the pan against the wrack. This is known as the pan bang method and it makes the cookies a little denser.
Storage & Substitutions
To store the M&M ice cream sandwiches in the freezer, wrap each one in plastic wrap individually and store them for up to 3 months. For the best ice cream sandwich experience, let your sandwich thaw for 5 minutes before devouring it. You can also store the covered cookie dough in the fridge for up to 5 days. Or store the cookie dough balls in an airtight container in the freezer for up to 4 months. In this case, there's no need to thaw them before baking. Just bake for 1 minute longer.
I used regular vanilla ice cream in this recipe, but you can choose your favorite vanilla ice cream or experiment with other flavors. Or make your own! Try this creamy potato milk vanilla ice cream.
If you want to make this recipe gluten-free, I suggest using a gluten-free cookie recipe. You could simply replace the all-purpose flour with gluten-free flour, but it's a good idea to check the proportions. A lot of gluten-free flours and flour mixes absorb more moisture than regular flour. So, often the amount needs to be reduced.
To make these delicious ice cream sandwiches vegan, you can take a look at this list of the best vegan cookies to buy. Then just use vegan vanilla ice cream and substitute the M&Ms for vegan chocolate chips.
This recipe uses mini M&Ms because there are more of them in a cup and they look cute. But you can use peanut butter M&Ms. I recommend chopping them lightly before incorporating them into the batter.
---
Recent Recipes