How Long Does Baklava Last? Does It Spoil?
Baklava is a sweet and decadent Middle Eastern dessert made of layers of phyllo pastry, packed with nuts, and drenched in a generous amount of syrup or honey. In fact, Baklava is said to have originated during the Byzantine times, and its exact country of origin is still disputed amongst historians and baklava-enthusiasts alike. Both Turkey and Greece claim provenance, while some believe it originated in Persia, modern-day Iran.
What cannot be disputed is that baklava is hands down delicious. With flaky pastry, saccharine syrup, and a very satisfying crunch, the baklava continues to be a very popular dessert that is nowadays found on menus of Mediterranean restaurants and stores. Any dessert, especially one that is so loaded with sweetness, is usually expected to have a short shelf life, but the baklava has a remarkably long shelf life. If sounds too good to be true, don't worry it isn't. This dessert really does offer it all.
How Long Does Baklava Last?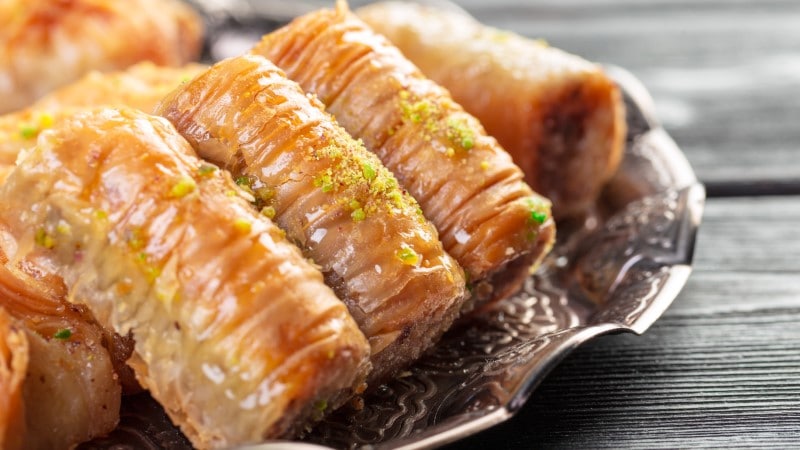 Well, how long does the baklava actually last? An amazing 10-14 days, in the pantry! That's right, this dessert can be stored in the pantry or the fridge, depending on what your preference is.
If you like your baklava a little crispy, then store it in an airtight container in the pantry. The syrup or honey used, keeps it from spoiling and acts as a preservative.
If you like your baklava a little bit chewy, then store it in the fridge and enjoy it cold. Whichever way you enjoy your baklava, keep in mind there are some steps you have to take that the dessert lasts as long as you need and doesn't spoil prematurely.
The baklava lasts for 10-14 days, two weeks in the pantry.
It can last for 3-4 days more when stored in the fridge.
If you want to enjoy your baklava even longer, then you can store it in the freezer, where it will last for 5 months.
| | | | |
| --- | --- | --- | --- |
| | Pantry | Fridge | Freezer |
| Baklava | 10-14 days | 17-18 days | 5 months |
The baklava really is that amazing, be it its taste or longevity. Now, remember that the above table is an estimate. The actual numbers will change depending on the storage environment, weather conditions, the quality of ingredients used, and the date of making or manufacturing. Most people pick up baklava from a bakery or a restaurant, where it doesn't come with an expiry or best-by dates, so rest assured that as long as the baklava you have got is fresh, it will last a long time.
How To Best Store Baklava?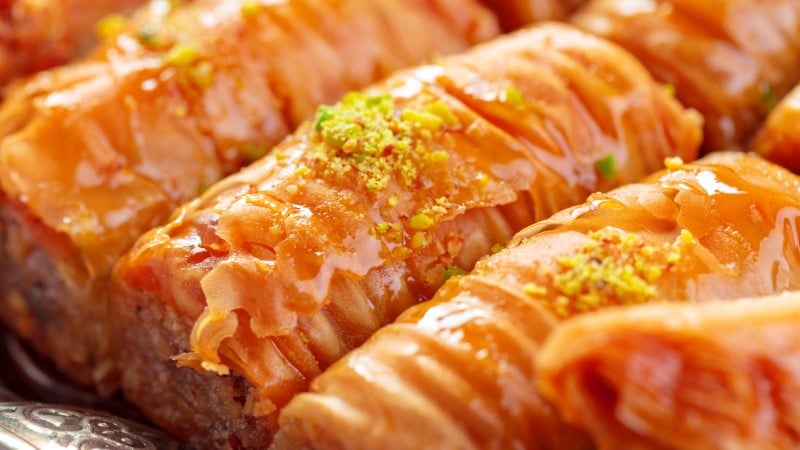 We have seen what an unusually long shelf-life this fresh dessert has, whether it is homemade or bought, your baklava is going to last longer than most desserts without losing out on its taste or quality. In fact, the baklava gets juicier and tastier as the days go by. This is because the syrup has settled, and the phyllo dough has nicely absorbed the sweetness. Now how best to store it without getting into a sticky situation?
Firstly, if your baklava is warm get it to cool down quickly. You can even stick it in the fridge in a wide, open pan till the temperature drops.
If you are storing it in the pantry, then place parchment paper in the base of the container and between the pieces of baklava. Disposable paper cupcake lines will also work. This is because baklava is sticky and when smushed together in a container, they will stick together and might break apart when taking one out. Parchment paper will come in handy and make it less messy.
Make sure the container is airtight.
While storing it in the pantry, keep it in a cool, dark place, away from direct heat and sunlight.
The baklavas stay crispy and fresh for close to two weeks if stored correctly.
If storing it in the fridge, line an airtight container with parchment paper or wrap the baklavas in aluminum foil. The baklava will stay fresh and will be chewy and gooey in the fridge lasting for almost 20 days.
Even after 15 or 20 days in the fridge, the baklava has most likely not spoiled. But you will taste the decline in quality. It will most likely be dry and dense, instead of sweet and flaky.
If you really want to you can even store the baklava in the freezer and enjoy it for months to come.
How Best to Store Baklava in The Freezer?
The baklava gets even more interesting when you realize that this super sweet and delicious dessert can last a really, really long time. Freezing the baklava ensures it can be enjoyed for 5 months. Here are a few things to keep in mind when freezing baklava.
If you are freezing unbaked baklava, then first place parchment paper in the base of the baking tray. Keep the baklava on top and let it freeze.
Once frozen, take the baklava out, remove the parchment paper, and then triple wrap the unbaked baklava in plastic wrap or aluminum and then put it in a freezer-friendly bag or box and store for 5 months.
Thaw it in the fridge overnight or for 5-6 hours and bake.
Once baked, the baklava will last in the fridge for a week or two.
If you are freezing baked baklava, cool it down first, do not attempt to freeze warm baklava.
The line an airtight container with parchment paper on the base, then fill it with the pieces of baklava. Then place another layer of parchment paper on top of the first layer of baklava and then load the next batch of baklavas. Repeat this until you have placed all the pieces of baklava in the container. Make sure that there is a sheet of parchment paper between each layer of baklava so that it doesn't stick.
Another good option is to portion out the baklavas into smaller batches. This makes it easier and more efficient when you want to take it out and thaw.
Leave the baklava overnight in the fridge to thaw. If it is not too hot and humid, you can leave the baklava out to thaw.
How To Tell When Baklava Has Spoiled?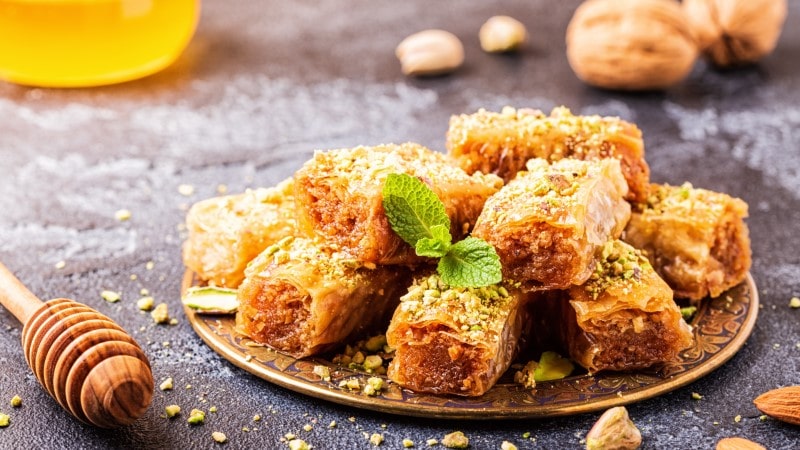 The first indication that your baklava has spoiled or is on the way out is that it will become dry. If your baklava has become very dry, then it is on its way out. It might not be spoiled yet, but it is getting there soon. Once it gets dry, you will start noticing tears on its surface.
If your baklava is discolored, then it has probably spoiled.
Similarly, if you notice black or green spots or signs of mold, then your baklava is not safe for consumption anymore.
If your baklava has turned spongy or soggy then it has gone bad. Baklava should be chewy or crisp.
The baklava really is a king among desserts and rightfully so. If you are looking at enjoying this indulgent dessert, know that with a few easy steps, you can relish baklava for a very long time.
---
Recent Recipes