Simple Bulgarian Tripe Soup
Tripe soup is a warming meal throughout many regions. This recipe is based off a Bulgarian version of tripe soup called shkembe chorba. It is a very basic recipe and does not require too many ingredients. Because of that, you can use this a base and get creative adding other ingredients. Below the recipe, I have included some substitutions you could make or additional add-ins. That being said, this recipe is still great on its own and it offers a delightful, healthy soup for those cold winter days. If you're not sure about tripe, but you still want a warming beef-based soup, try this beef stew.
This recipe does take a long time to cook, so be prepared. You wouldn't want to start this 30 minutes before dinner time only to find out it takes 6 hours! This would be a good meal to make over a weekend during meal prep and store for the rest of the week.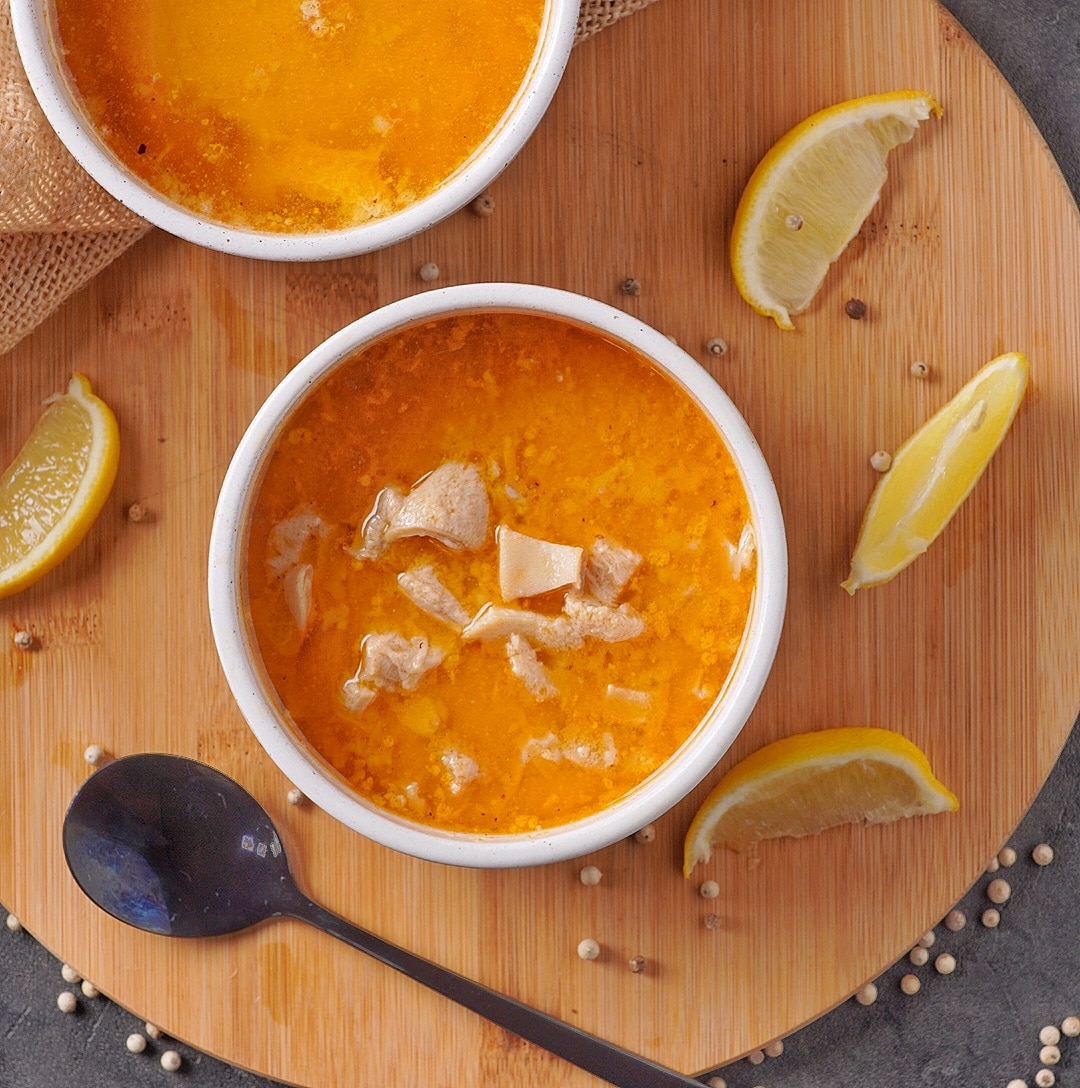 Ingredients
1

lb

tripe

1 ½

cup

vegetable oil

3

cups

milk

2

tbsp

salt

3

tsp

paprika

2

tbsp

ground pepper

2

tbsp

chili powder

5

garlic cloves

½

cup

red wine vinegar
Instructions
Prepare all ingredients. Once ready, let's begin!

If your tripe doesn't come pre-cleaned or you're not sure, it's easy enough to do it yourself. Put the tripe in a large pot and cover it completely with water and add a generous spoonful of salt.

Bring the water to a boil for 15 minutes (but make sure it doesn't overflow).

Use tongs to take the tripe out of the pot and put it on a cutting board.

Use a sharp knife to scrape off excess bits. They will appear odd and off-white compared to the rest of the tripe.

Rinse off the tripe and make sure all the icky bits are off then you're ready to start cooking.

Put the tripe into a clean pot and cover it with water. Bring the water to a simmer and keep it there for 5 hours. If the water ever evaporates to expose the tripe, add more water.

After 5 hours, move the tripe from the pot to a cutting board and keep the water from the pot (just set it aside).

Chop the tripe into small pieces about an inch small or smaller depending on your preference.

Put the chopped tripe back into the pot with the water from earlier.

Finely chop or dice the garlic.

Add all of the ingredients except the vinegar into the pot and continue simmering for 20 minutes.

Remove the pot from heat and add the vinegar.

Stir and serve immediately. The hotter, the better!
Video
Nutrition
Calories:
169
kcal
|
Carbohydrates:
9
g
|
Protein:
18
g
|
Fat:
6
g
|
Saturated Fat:
3
g
|
Polyunsaturated Fat:
1
g
|
Monounsaturated Fat:
2
g
|
Cholesterol:
73
mg
|
Sodium:
2476
mg
|
Potassium:
457
mg
|
Fiber:
2
g
|
Sugar:
6
g
|
Vitamin A:
1145
IU
|
Vitamin C:
4
mg
|
Calcium:
174
mg
|
Iron:
1
mg
Notes & Tips
This soup can last in an air-tight container in the fridge for up to a week. Because of the consistency of tripe, it will congeal into a gelatine looking lump when it cools. That's why you have to eat it hot! To reheat, just put it in a microwave until it gets back to the proper texture.
Some people do enjoy eating congealed tripe soup, but its taste changes and it smells a little funky.
Serving Suggestions
Nothing pairs better with this soup than a good, fresh sourbread with butter. I enjoy dipping my buttered bread into the soup and soaking up all those fatty flavors. If you slice and lightly toast the bread just before serving, it's extra warm and perfect. Yum!
To get a fix of fresh veggies alongside your meat and bread, I recommend this easy Greek salad. The salad has a tangy sweetness with lemons and herbs that make a lovely accompaniment to the hearty tripe soup. Plus, they have a few ingredients in common like red wine vinegar, so that ties them nicely together. You can even use your bread to soak up any leftover salad dressing too.
Substitutions
Many regions have their own takes on tripe soup, so modification of the recipe is not unusual. The most important thing in this dish is a balance of spice, fat, and vinegar. As long as you keep that in mind, there are a lot of ways you change things up.
Instead of generic vegetable oil, you could use sunflower oil or olive oil. If you choose olive oil, keep in mind that it will add a much stronger flavor. You could also do a mix of olive oil and another, blander vegetable oil. That way the olive oil taste won't overpower the other ingredients, but it will still lend a delicate touch. If you want a thicker and richer soup, you could substitute half the milk for heavy cream.
Maybe you don't have any red wine vinegar, but maybe you have malt vinegar or red wine and apple cider vinegar. All these substitutions will tweak the flavor, so it's up to you to experiment and decide what you prefer.
If you want to add more ingredients in, a lot of people use tomatoes or tomato puree, yogurt, sour cream, and vegetables like carrots, celery, onions, etc.
What is Tripe?
I had to put this below the recipe because I didn't want to put you off before giving it a chance. Tripe is…the lining of a cow's stomach. Bulgaria is not the only place that makes a dish like this; tripe soup is also seen across Europe and the Middle East. You may have heard of tripe in passing before without knowing what it actually is, so it is not a particularly unfamiliar concept.
I like tripe soup because I think it is important to reduce waste as much as possible. While there are parts of animals that I don't enjoy as much as others, I do my best to keep an open mind and try as much as I can. It doesn't make sense to use only part of an animal and throw the rest away. Everything is usable, even if it's not a popular concept in Western ideology. If we can eat some of an animal, why shouldn't we eat all of it?
---
Recent Recipes