One of the best dishes on any Chinese-American menu has to be chicken or beef with kung pao sauce. Kung pao is pretty similar to classic Szechuan sauce. It is complex in the layering of salty, savory, sour, spicy, and sweet components and flavors. These 5 S-elements are derived from soy sauce, chili sauce, sherry, vinegar, and sesame oil. Roasted peanuts are added to the sauce for a delightful bit of crunch.
The salty comes from soy sauce. The savory elements are sesame oil, The sour component is vinegar. Spice and sweetness are from the chili sauce
This recipe is for kung pao beef. You can make kung pao beef in about 20 minutes from start to finish, making it perfect for a relatively quick weeknight meal. I like to serve this over brown rice. You will have to start the rice 10 to 15 minutes prior to making the beef stir fry. If you want to stick with a 20-minute recipe, serve with white rice that will cook in about 18 minutes.
My kung pao beef is heavy on protein and a little bit lighter on veggies (green onions) and fruits (bell peppers). You can definitely make this dish with a ton of veggies, especially if you are trying to stretch the dish to feed a family. The cut of meat I use is flank steak because I love the intense beefy flavor.
I make kung pao beef in my carbon steel wok that I preheat for several minutes until quite hot. It takes time for the sides of the wok to heat up and that is important for even cooking. Otherwise, a large heavy-bottomed skillet or sauté pan works fine.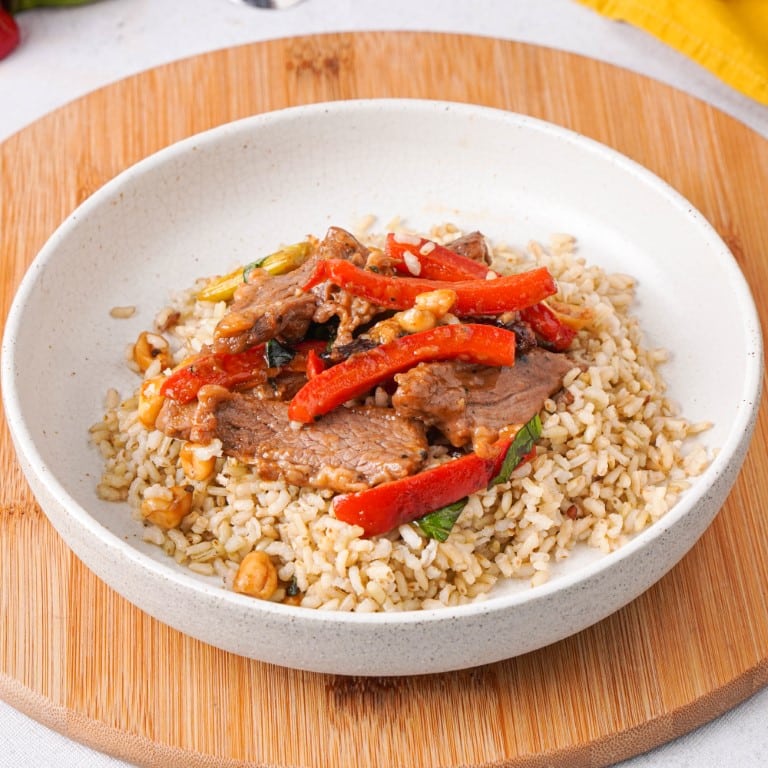 Ingredients
Brown Rice
1

cup

long grain brown rice

rinsed very well and drained

1

tsp

ghee or coconut oil

1 ½

cups

water

¼

tsp

sea salt
Sauce
2

Tbsp

low sodium soy sauce

2

Tbsp

chili sauce

1

Tbsp

dry sherry

1

Tbsp

balsamic vinegar

1

tsp

toasted sesame oil
Stir Fry
1

pound

flank steak

sliced thinly against the grain

2

Tbsp

cornstarch

½

tsp

sea salt

½

tsp

freshly ground black pepper

2

Tbsp

peanut oil

5

dried Thai red chili peppers

bird's eye chilis

¼

tsp

cayenne pepper flakes

1

garlic clove

minced

1/2

tsp

freshly grated ginger root

1

green or red bell pepper

seeded and sliced into 2-inch long strips

3

whole scallions

sliced into 2-inch pieces

½

cup

dry roasted and unsalted peanuts

2

Tbsp

chopped fresh basil leaves for garnish
Instructions
All ingredients ready? Let's begin!
Brown Rice
In a saucepot with a lid, over medium-high heat, add the ghee or coconut oil. Add the rice to the pan and toast it, stirring a few times, until it smells nutty, approximately 1 minute.

Add the water and salt to the pot. As soon as the water starts to boil, cover the pot and reduce the heat to low. Cook for 30 to 35 minutes without removing the lid.

Take a quick peek at the rice to make sure it has absorbed the water. Return the lid and move to rice off of the heat. Allow it to rest for 10 minutes while you make the beef stir fry.

Fluff the rice with a fork just before serving.
Sauce
In a small mixing bowl, whisk together the soy sauce, chili sauce, sherry, vinegar, and sesame oil. Set aside while you prepare the beef.
Stir Fry
In a large bowl, combine the cornstarch, salt, and pepper.

Add the beef strips and coat generously with the seasoned cornstarch. Set this aside.

In a wok, large skillet, or sauté pan over medium-high heat, warm the oil. Add the pepper flakes and dried chilis. Sauté until fragrant and toasted, approximately 30 seconds.

Stir in the garlic and ginger. Cook until the garlic starts to soften, about 1 minute.

Add the bell peppers and scallions and continue to cook until they start to soften and get a little color, again about 1 minute.

Add the beef and cook this until it is just browned, approximately 1-1/2 minutes, stirring often.

Give the sauce another whisk to combine and add it to the beef in the pan. Cook until it bubbles and reduces. It will stick to and coat the beef. This will take another minute or two.

Stir in the peanuts. Remove the pan from the heat and add the basil to the pan.

Serve immediately with rice.
Nutrition
Calories:
582
kcal
|
Carbohydrates:
54
g
|
Protein:
35
g
|
Fat:
25
g
|
Saturated Fat:
6
g
|
Polyunsaturated Fat:
5
g
|
Monounsaturated Fat:
11
g
|
Cholesterol:
68
mg
|
Sodium:
902
mg
|
Potassium:
967
mg
|
Fiber:
5
g
|
Sugar:
7
g
|
Vitamin A:
1864
IU
|
Vitamin C:
178
mg
|
Calcium:
78
mg
|
Iron:
4
mg
Notes & Tips
I recommend bringing the beef to room temperature before stir-frying. I slice the beef, add it to the cornstarch mixture and set it aside for several minutes.
Be sure to slice the beef against the grain. Otherwise, it will be chewy.
Substitutions & Shortcuts
Brown Rice: Brown rice does take about 35 minutes to cook, which adds 15 minutes to the stir fry portion of the recipe. You can make white rice instead which will only take 18 minutes to cook. You can also buy precooked frozen rice to save a step. Otherwise, use rice noodles that take only a few minutes to hydrate and soften. If you are avoiding grains, cauliflower rice is perfect for kung pao beef.
Ghee: I simply love the way brown rice toasts up in ghee. Coconut oil also works. You can use regular butter or olive oil if that is what you have. In fact, you can skip the fat and toasting of the rice altogether.
Soy Sauce: To make this dish gluten-free, substitute tamari or liquid aminos for the soy sauce.
Chili Sauce: I don't generally have a bottle of chili sauce in my pantry or it has been sitting for too long in my fridge and expires. I never hesitate to substitute ketchup with a few dashes of hot sauce and Worcestershire added to it. For some reason, there is always a bottle of ketchup in my fridge.
Sherry and Balsamic: A classic spicy Chinese sauce is likely to be made with Shaoxing wine and Chinese black vinegar. Shaoxing is a fermented rice beverage and black vinegar is made from black rice. Black vinegar is both acidic and sweet. I never have either of these ingredients in my pantry, nor can I find them in my local grocery store. Dry sherry and balsamic vinegar work for me. You can use regular rice vinegar and mirin or apple cider vinegar with a little sugar added to sweeten it.
Flank Steak: Flank is the preferred cut for kung pao beef. You can use skirt steak or even sirloin steak for this recipe.
Cornstarch: If you are on a paleo or keto diet, you will be avoiding anything that is corn-based. You can substitute arrowroot starch, tapioca starch, or kudzu if they are compliant with your diet.
Peanut Oil: Any neutral vegetable oil will work in this recipe, such as canola, grapeseed, or safflower.
Chilis: If you aren't a fan of the spice of Thai red chilis, tone the dish down by using dried ancho or guajillo peppers that are only mildly spicy. Adjust the heat level to your liking by using less or more chilis.
Vegetables: You can add or swap out any of the vegetables in this recipe. Try snow peas, snap peas, green beans, julienned carrots, or broccoli florets for something different. You could also add cubes of extra-firm tofu.
Peanuts: Peanut allergies are no joke. You can substitute toasted walnuts or cashews that have been roughly chopped. Or, leave the nut component out entirely.
Basil: I probably garnish everything except breakfast cereal with basil because my garden is overflowing with it every summer. Cilantro and flat-leaf parsley are perfectly fine substitutes.
---
Recent Recipes