Tamari vs. Soy Sauce: What Is The Difference?
Tamari sauce is relatively lesser known than Soy sauce which is a staple in almost every house. The people who know about these sauces usually use them interchangeably but there are a lot of differences between them.
What are the differences between tamari and soy sauce? The major difference between Tamari and Soy Sauce is the usage of wheat in soy sauce which makes it a gluten product.
There are a lot more differences between Tamari and Soy sauce, read the article to know more about these sauces. Let's dive in!
What Is Tamari?
Tamari Sauce is a byproduct of fermented soybeans. Tamari sauce originated in Japan and it has a richer and stronger flavor than Soy sauce. It has no added wheat in it and has a thicker consistency and less salt as compared to Soy sauce.
It is a gluten-free product yet if you want to buy it, the best option would be to read the ingredients.
What is Soy Sauce?
Soy is another sauce that is a byproduct of fermented beans. But its process is completely different from Tamari sauce. It is high in sodium, and salt content. Soy sauce has a good quantity of wheat in it so it is pretty glutinous. So if you have a gluten allergy stay wary of this sauce!
This Chinese sauce is more known to people than Tamari sauce. It is thinner and leaves a pang of salt on the tongue.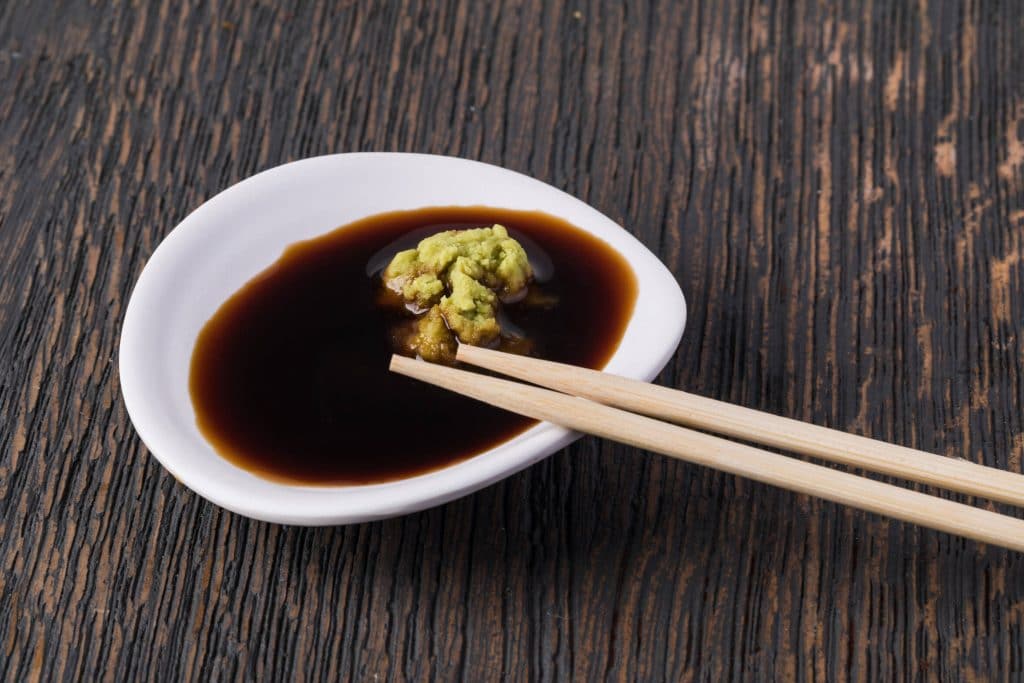 Tamari vs Soy Sauce: Comparison Chart
The comparison chart below shows the differences between both Tamari and Soy sauce:
| | | |
| --- | --- | --- |
| Category | Tamari | Soy |
| Origin | Japan | China |
| Preparation | A byproduct of fermented soybeans | Mixed with wheat grain, salt, and soybean, and then fermented |
| Health Factor | Not healthy, still a better alternative | Not healthy |
| Salt content | Normal salt content | High in salt |
| Flavor | Deep and rich | Light and salty |
| Consistency | Thick | Thin |
| Serving | Dressing and dippings | Hot Chinese dishes |
Differences Between Tamari and Soy Sauce
There are a lot of differences between Tamari and Soy sauce starting from their origin, preparation, health factor, salt content, flavor, and thickness. So, let's understand each one in detail.
Tamari sauce originated in Japan in the 7th century AD and it is translated as "that which accumulates" due to the process of fermentation. Soy sauce too has a long history behind it and originated in China.
Tamari sauce is prepared after the fermentation of soybeans. The liquid that remains after the fermentation is Tamari sauce. It contains no additives and is solely made from soybean.
Soy sauce on the other hand has a very different process. Initially, soybean is mixed with wheat grains and then amalgamated with water and cultural mold like Aspergillus. After this, the paste is added to salt and water and left for fermentation.
After some eight months, the process continues and finally soy sauce is made. To make soy sauce is actually pretty complex and tricky.
Both Soy sauce and Tamari sauce are not healthy but the latter has more protein in it and less salt which amounts to being a better sauce. It does not include any additives as well. Soy sauce contains additives; is high in sodium, and overall the nutritional value is not good.
Soy sauce also contains gluten so people who are allergic to gluten can have a tough time digesting this sauce. Saying this, both have similar nutritional value so you should have it only in small quantities otherwise it can mess with your health as well!
Salt content is a very important component of sauces. Dishes with high salt content usually create problems for the health. In one tablespoon of Soy sauce, around 900 mg of salt is present which amounts to a lot. In one tablespoon of Tamari sauce, only 233 mg of salt is present.
Having less salt does not make the dish healthy but in comparison to Soy sauce, Tamari sauce is still better.
Tamari sauce has a rich texture from the fermented soybean. It has a very umami and deep soy flavor. Since Tamari sauce is solely based on soybean hence the flavor of soybean is pretty strong.
On the other hand, Soy sauce is pretty light and sublime in its flavor because of the mixture of wheat and soybeans. Although it has a light soybean flavor, the salt content is so high that the aftertaste of soy sauce is not pleasant on the tongue.
Since Tamari sauce is completely made from soybean with no addition of gluten, it has a thick consistency. Soy sauce contains a lot of water, first from the paste and then from the salt brine solution. This makes the consistency of Soy sauce thin and very liquidy.
You can have Tamari sauce as a dipping or dressing over a dish. Tamari sauce tastes amazing with dumplings. Soy sauce tastes good with sushi and even stir-fried dishes. It is famous for hot Chinese dishes as it provides a pang of flavor to the dish.
Can You Opt For Tamari Instead of Soy Sauce?
Yes, you can interchange the sauces but regulating flavor is difficult in the dish. Tamari sauce has a strong and rich soybean flavor and soy sauce has a salty flavor. So in order to interchange them, you cannot use a 1:1 ratio
Related Questions
Is Tamari Sauce Healthier Than Soy Sauce?
No, Tamari sauce is not the healthier version of Soy sauce. You can use it as a better alternative due to it being gluten-free and having less sodium content. But it is not healthier than Soy sauce.
Is Tamari Sauce Sweeter Than Soy Sauce?
Yes, Tamari sauce has a deep, rich, and sweeter flavor than Soy sauce which is dominant in salt content.
Final Thoughts
Tamari and Soy sauce are amazing flavor enhancers. They are often used interchangeably, but Tamari sauce is a better alternative than Soy sauce any day. You can use each sauce in a specific dish but for people with gluten issues, Tamari sauce is the right choice.
I would always recommend Tamari sauce due to its low calories and sodium content which is a huge factor in choosing the right product.
---
Recent Recipes