Turkish Ci Borek is a savory pastry made with thin layers of dough that are filled with a variety of fillings and then baked until crispy and golden brown. It is a popular snack or appetizer in Turkish cuisine, and can be found in many different variations.
As for the taste, Ci Borek has a flaky and delicate texture that is both satisfying and satisfyingly crunchy. The layers of dough are buttery and crisp, while the filling is typically savory and satisfying. Some common fillings include cheese, ground meat, vegetables, and herbs. The combination of the buttery crust and savory filling creates a delicious and satisfying snack that is sure to satisfy your cravings. If you're a fan of savory pastries, then Turkish Ci Borek is definitely a must-try! Let's learn how to make it.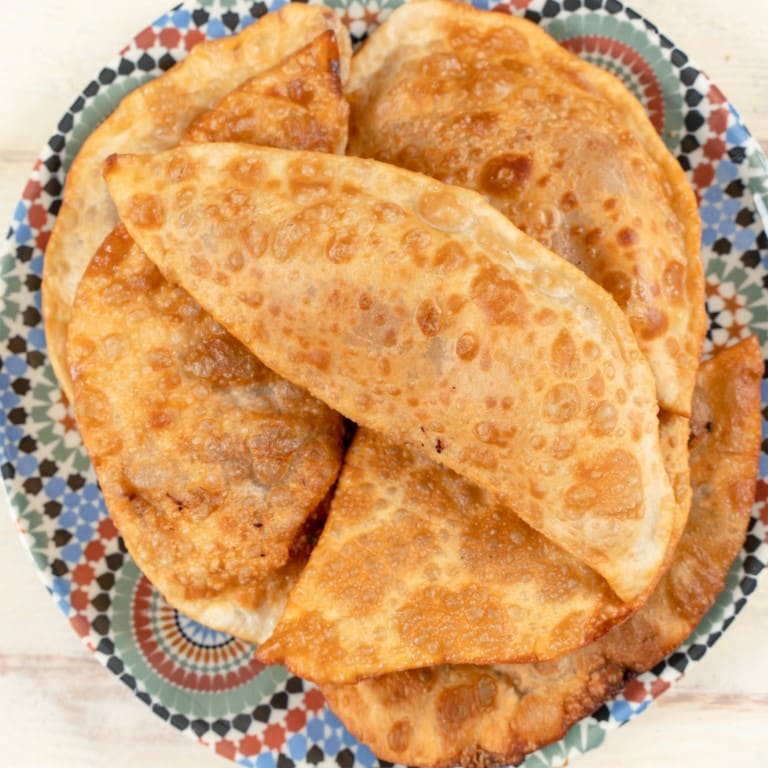 Ingredients
For Dough:
1 ½

cup

flour

½

cup

water

½

tsp

vinegar

½

tsp

salt
For Stuffing:
¼

lb

minced beef

⅓

onion

grated

2

tbsp

water

Salt

Pepper
Instructions
Mix all the ingredients in a small bowl for stuffing, and let it rest for at least an hour in the refrigerator.

Add all of the ingredients for the dough into a mixing bowl, and knead it with your hands or in a stand mixer with a hook attachment until it reaches a smooth, firm dough consistency.

Divide the dough into 8 equal parts, roll them into balls by hand, and cover them, so they do not dry out.

Roll out the dough balls with a rolling pin until it is 20 cm/8 inches in diameter.

Spread the stuffing in half of the circle. Leave space around the edges.

Fold the blank side of the dough over the stuffing. Gently press on the edges with your fingers so that they stick together. You can trim the edges using a pizza cutter.

Pour the vegetable oil into a large, shallow pan and heat the oil. Add a little more oil than you usually would for shallow frying; deep frying is not preferred.

When the oil is hot, place two Ci Boreks in the pan and fry on both sides for about 3 minutes in total until golden, turning occasionally.

Place the fried Ci Boreks on a paper towel-lined plate to drain excess oil.

Serve hot.
Nutrition
Calories:
185
kcal
|
Carbohydrates:
24
g
|
Protein:
7
g
|
Fat:
6
g
|
Saturated Fat:
2
g
|
Polyunsaturated Fat:
2
g
|
Monounsaturated Fat:
2
g
|
Trans Fat:
0.2
g
|
Cholesterol:
13
mg
|
Sodium:
209
mg
|
Potassium:
94
mg
|
Fiber:
1
g
|
Sugar:
0.3
g
|
Vitamin A:
0.2
IU
|
Vitamin C:
0.5
mg
|
Calcium:
10
mg
|
Iron:
2
mg
Tips, Notes, and Substitutes:
Ci Börek is a delicious Turkish pastry, a gift from the Crimean Tatars to Turkish cuisine, that you can enjoy in many different ways. Here are some tips and tricks to help you get the most out of your Ci Borek experience:
In this recipe, we prepared the original version with minced meat. Still, you can also try your boreks with stuffing prepared with different ingredients, such as cheese, potatoes, and spinach, according to your taste.
Do not add extra water, thinking that the dough is too stiff; otherwise, the consistency of the dough will deteriorate, and you will not get the crispy result you want. Because one of the most important tricks to be considered in the recipe for Ci Borek is that the dough should be slightly hard.
As mentioned in the ingredients part, you must add a small amount of water to the minced meat. This water will ensure that your Ci Borek, which is crispy on the outside after cooking, remains juicy inside. At the same time, it prevents the ground meat from gathering and clumping in one place in the pastry while it is cooking.
When you roll out your Ci Borek, ensure they are not too thin or too thick. Because if it stays thick, it will not be crispy, crunchy, and not cooked to its full consistency. If the dough is too thin, it can fall apart during frying.
Spread the minced meat on only one-half of the round dough with your fingers. You will see that your filling spreads easily since it has a slightly juicy consistency. Then cover the remaining half of the dough on it and form a half-moon shape.
Be sure to seal the edges of the borek well, so the filling doesn't leak out. You can cut the edges of the dough with a pizza cutter, or you can shape them by pressing with the back of a fork.
Heat the oil well in a shallow pan. If the oil is not hot enough, your Ci Boreks will likely absorb oil.
Ci Borek is best served fresh and warm, so be sure to eat it soon after it's been fried. Because when the raw pastry gets cold, it will start to lose its fluffiness, gradually deflate, and compromise its crispness.
Bon appetit!
---
Recent Recipes