No Bake Peanut Butter & Nutella Rice Krispies Treats
As someone who is addicted to sugar of all kinds for or after every meal, I was forced to find healthier alternatives for my sugar fix. I was the person who could polish an entire tub of ice cream or Nutella in one sitting. I have tried the low-fat, slow-churned, lean desserts and I don't hate them, but sometimes I need something a little bit more filling. These No Bake Peanut Butter and Nutella Rice Krispies Treats are the best!! They are delicious, they are healthier than a jar of Nutella and they are oh so satisfying.
I have this as a snack, a dessert, an after-work out picker-upper and definitely on the go. I am not going to lie, there is definitely a lot of sugar in this, but that is what makes this so good. And what is even better, it is the easiest and quickest dessert you're going to make. There is no cooking or baking involved. It is just combining together all the ingredients, and voila a bowl of goodness awaits. You can also play around with the ingredients a bit, you can use any nut butter or a combination of nut butters, you can use any chocolate hazelnut spread or even just dark chocolate spread. You can also garnish with chocolate chips, peanuts, peanut butter chips, coconut flakes and so much more.
These uber delicious Rice Krispies treats taste like chocolatey peanut buttercups. They are crunchy and gooey and make for a very satisfying bite.
So go try the No Bake Peanut Butter and Nutella Rice Krispies Treats and I guarantee your day is going to get much sweeter.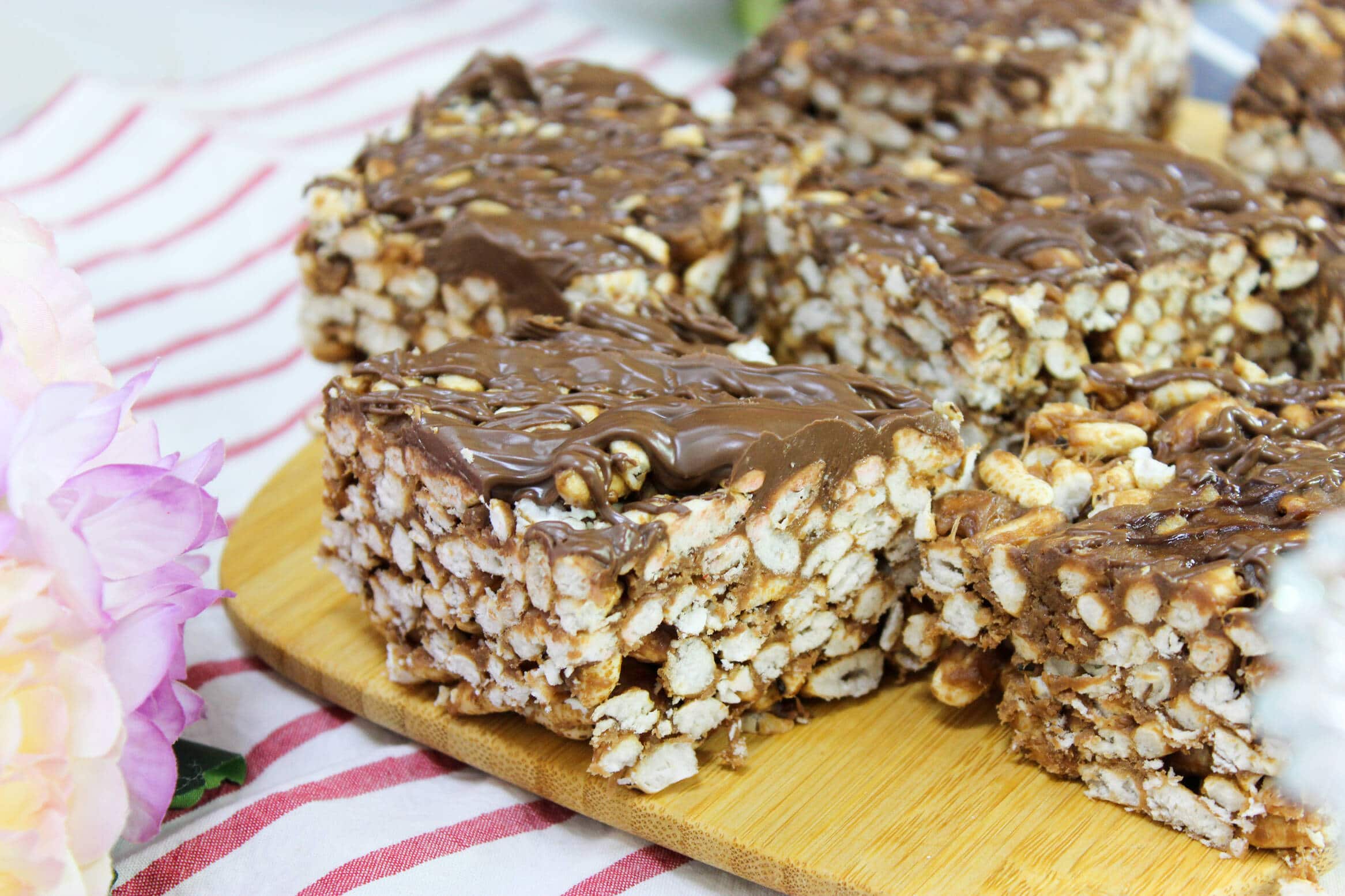 Ingredients
4

tablespoons

butter

6

cups

Rice Krispies cereal

or any puffed rice cereal

½

cup

smooth peanut butter

½

cup

+ 1 tablespoon of Nutella

10

oz

marshmallows
Instructions
Place parchment paper on the baking pan and set aside

In a large pot melt the butter on low heat

Now add the marshmallows and keep stirring until completely melted.

Turn off the heat and add the peanut butter and Nutella and continue stirring until well combined.

Now add the rice cereal and stir. Keep stirring until everything is nicely mixed

Pour onto the baking pan and smooth the top.

Drizzle the one tablespoon of Nutella on top

Let it sit for about 30-40 mins. To speed up the process refrigerate till set.

Cut into squares
Video
Nutrition
Calories:
525
kcal
|
Carbohydrates:
82
g
|
Protein:
10
g
|
Fat:
19
g
|
Saturated Fat:
10
g
|
Polyunsaturated Fat:
3
g
|
Monounsaturated Fat:
5
g
|
Trans Fat:
1
g
|
Cholesterol:
1
mg
|
Sodium:
305
mg
|
Potassium:
292
mg
|
Fiber:
3
g
|
Sugar:
46
g
|
Vitamin A:
1880
IU
|
Vitamin C:
18
mg
|
Calcium:
51
mg
|
Iron:
10
mg
Tips and Tricks
Use smooth peanut butter because there is enough texture in the No Bake Peanut Butter and Nutella Rice Krispies Treats
Use low heat when melting the butter and marshmallows. They combine better and high heat makes the No Bake Peanut Butter and Nutella Rice Krispies Treats extra hard.
When it is setting, don't pat it too tight, it gets too hard.
You can scoop out the No Bake Peanut Butter and Nutella Rice Krispies Treats immediately but if you let it set, it is easier to cut into bite-sized or giant-sized, if that's what you want, pieces.
Storage
The No Bake Peanut Butter and Nutella Rice Krispies Treats stay best at room temperature. And they are best the day they are made. If you are planning to make them ahead, don't slice them into bars, just wrap in parchment paper and store in air-tight container.
You can freeze these treats. If they are already cut, use parchment or wax paper between each slice so that it doesn't stick. Place in an air-tight container and freeze for 4-6 weeks. Thaw for about an hour before eating.
Questions
Do I use salted or unsalted butter for this?
Both works very well for this; you can use either.
Does the quantity of peanut butter and Nutella have to be equal?
Not at all. If you favor one over the other, use more of that and reduce the other. You can also just use either peanut butter or Nutella according to your preference.
I want to add more Nutella and peanut butter, will it work?
If you are adding more of the Nutella and the peanut butter, increase the quantity of butter. Otherwise, the No Bake Peanut Butter and Nutella Rice Krispies Treats will be dry and won't set as well. Increase the butter proportionately.
Substitutions
Rice Krispies Cereal: You can use cocoa crisp rice cereal or any puffed rice. Rice Krispies are not vegan, so you may want to pick a generic puffed rice cereal without lanolin if this is a diet concern for you. If you need a quick vegan-friendly alternative, Nestle Cereal Harvest Home Crisp Rice is safe for vegans.
Marshmallow: Since the marshmallows get melted in this recipe, you can use marshmallow cream instead. Use 1 cup of marshmallow cream.
Peanut butter: Use the smooth peanut butter as it makes stirring easier. You can replace with any other nut butter of your choice.
Nutella: Any other chocolate-hazelnut spread will work. You can also just use dark chocolate spread. Since it is being melted you can use chocolate chips.
Butter: Use salted or unsalted butter.
Garnish: I like the extra helping of Nutella on top, but you can skip it if it is too much. Top with chocolate chips, peanut butter chips, toasted coconut flakes or even just peanuts. You can also use honey or maple syrup, just drizzle on top.
Accompaniments
The No Bake Peanut Butter and Nutella Rice Krispies Treats can be a quick snack or a full dessert. If having it as a dessert, top with a scoop of vanilla ice cream, or if you are in full chocolate mode, top with chocolate ice cream and fudge. I sometimes have this as a quick snack or a breakfast replacement and in that case I have it with sliced apples, bananas or even pears. It can also be a great accompaniment to any smoothie. But if you are feeling nostalgic, this is a favorite childhood treat, especially for picnics and birthday parties, so enjoy it anyway you want.
If you are looking for quick vegan desserts, here are a couple of options you can choose from. Try these Dark Chocolate Coconut Bites or these amazing Tahini Vegan Brownies.
---
Recent Recipes