Easy Low FODMAP Beef Jerky
When it comes to being on a low FODMAP diet, things can get pretty hairy. It all comes down to looking at ingredients, and making the call for yourself, in most cases. But, even when you put in the work, some foods are just hard to pin. Numerous searches on the internet about low FODMAP beef jerky tend to culminate in the same answer; it depends on what ingredients were used.
The best way to get around other people's recipes and ingredients is by making your own! Making beef jerky is a bit easier than you may think. What it really takes is time. If you've got the time, as well as a craving for beef jerky, making it is the best way to make sure it's low FODMAP. You will need access to a dehydrator, though, so keep that in mind.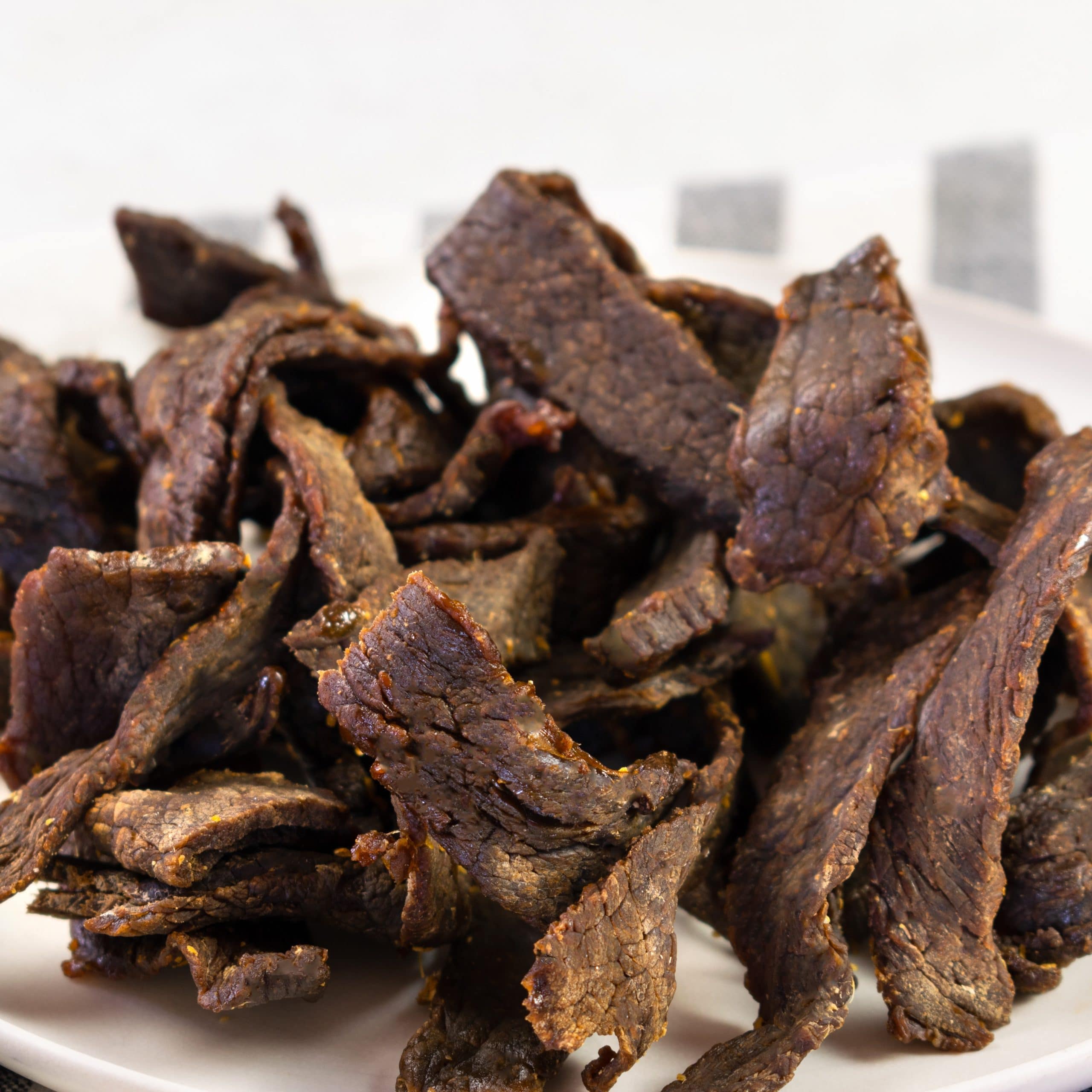 Ingredients
2.5

pounds

of very lean beef

½

cup

of coconut aminos

¼

cup

of apple cider vinegar

¼

cup

of coconut sugar

2

tablespoons

of gluten-free liquid smoke

2

tablespoons

of salt

⅛

cup

of peeled and sliced fresh ginger
Instructions
In a large, airtight container, combine coconut aminos, apple cider vinegar, coconut sugar, liquid smoke, salt, and ginger.

Close the container, and mix the ingredients until the sugar is dissolved. Set the container aside once mixed.

Slice your meat, if it hasn't been sliced already. It should be sliced in one of two ways:

a. For jerky that's easy to chew, slice against the grain, making strips that are 1" wide, 4" long, and ⅛" thick.

b. For chewy jerky, slice with the grain, into strips that are 1" wide, 5 " long, and ¼" thick.

Add your meat to the brine and toss it, making sure that it's coated entirely. Seal the container, and refrigerate for 6 to 8 hours. Turn the jerky once during the process, too.

While the meat is soaking in the brine, preheat your dehydrator. Most dehydrators will need to be set at their highest setting, but refer to your dehydrator's manual to be sure.

When the meat comes out of the brain, drain off the brine and discard the slices of ginger. Arrange the meat onto the trays of the dehydrator, making sure that they don't overlap.

Place the trays into the dehydrator, and allow them to dehydrate for 4 to 6 hours.

To test your jerky to see if it's done, let a piece cool to room temperature. If the meat cracks, it's done. If the jerky breaks, then it's been in the dehydrator for too long.

When the jerky is finished, store it in an airtight container for up to two weeks!
Video
Nutrition
Calories:
91
kcal
|
Carbohydrates:
3
g
|
Protein:
12
g
|
Fat:
3
g
|
Saturated Fat:
1
g
|
Polyunsaturated Fat:
1
g
|
Monounsaturated Fat:
1
g
|
Trans Fat:
1
g
|
Cholesterol:
35
mg
|
Sodium:
878
mg
|
Potassium:
201
mg
|
Fiber:
1
g
|
Sugar:
1
g
|
Vitamin C:
1
mg
|
Calcium:
6
mg
|
Iron:
1
mg
Notes & Tips
One of the most difficult parts of making beef jerky is the slicing of the meat. Slicing jerky meat requires a bit of practice, as well as a trained eye. If you don't trust your slicing skills, then you may be able to ask your butcher to slice the meat for you! They've got the slicing skills if you don't, and they may even have a meat slicer, making the job even easier. They can render the meat you choose into strips that will become your jerky.
Additionally, the cut of meat needs to be lean. It doesn't matter what kind of meat you choose (we'll cover that under 'Substitutions'), the fat content is important. It needs to be as low as possible. The best cuts available for jerky are round steak, flank steak, or rump roast. Fat has the possibility of going rancid, even when it's been dried. That's also why refrigeration is important! While beef jerky can be stored at room temperature, keeping it in the fridge is the safest method.
The last thing we want to mention is the elephant in the room. Most recipes you see for jerky involve soy sauce. However, while soy sauce is low FODMAP, it can be an issue for those with IBS, as well as gluten sensitivities. While there is an option for gluten-free soy sauce, called tamari, it isn't used in all jerky recipes. Avoiding manufactured jerky is the best way to circumvent all of those possible missteps.
Substitutions
While very lean beef is what most jerky recipes call for, there are other options available. Not all beef is as lean as it should be. The other meats that can be used are bison, or cuts of wild game. One of the best options, if you can find it, is venison. Deer is delicious, and has a very low fat content, making it a fantastic cut for making your perfect, low FODMAP jerky.
When it comes to other substitutions, there aren't many to make! This recipe is simple, and best left unchanged with the other ingredients. None of the ingredients are overpowering, and they provide a balance of salty and sweet.
Common Questions
What makes regular beef jerky unacceptable for low FODMAP diets?
Most of the issue is derived from the secrecy in ingredients. You don't always know what's in them. That means that you may not be able to tell if it's low FODMAP or not.
Can this jerky be frozen?
Yes it can! If you freeze the jerky, you can expect it to last much longer than the 2 weeks it would stay good in the fridge. Just be sure to thaw it out prior to gnawing on it!
My jerky keeps coming out chewier than I like, what can I do?
Cut the beef thinner! That's the best way to get your jerky crispier.
Sides & Pairings
What goes better with jerky than cheddar cheese? This is one of the best pairings for beef jerky, and it's low FODMAP! You can add dark chocolate to the mix, too, to really round things out. If you're looking for more recipes like this, check out our recipe guides! We bring global, vegan, and preserving recipes to you in one place!
---
Recent Recipes