The Simplest Tastiest Crispy Leeks Around
Leeks are one of the few vegetables that you can enjoy cooked in just about any way. We're sure that most of us have tried leeks in stir-fries, stews, and roasts, but fried crispy leeks are sure to surprise most households. A super-thin cut akin to MacDonald's French fries, but thinner is the key to their crispness. Follow our recipe, and you can't go wrong. You'll have an edible garnish that no one will be able to stop eating. It goes great as a side-portion too.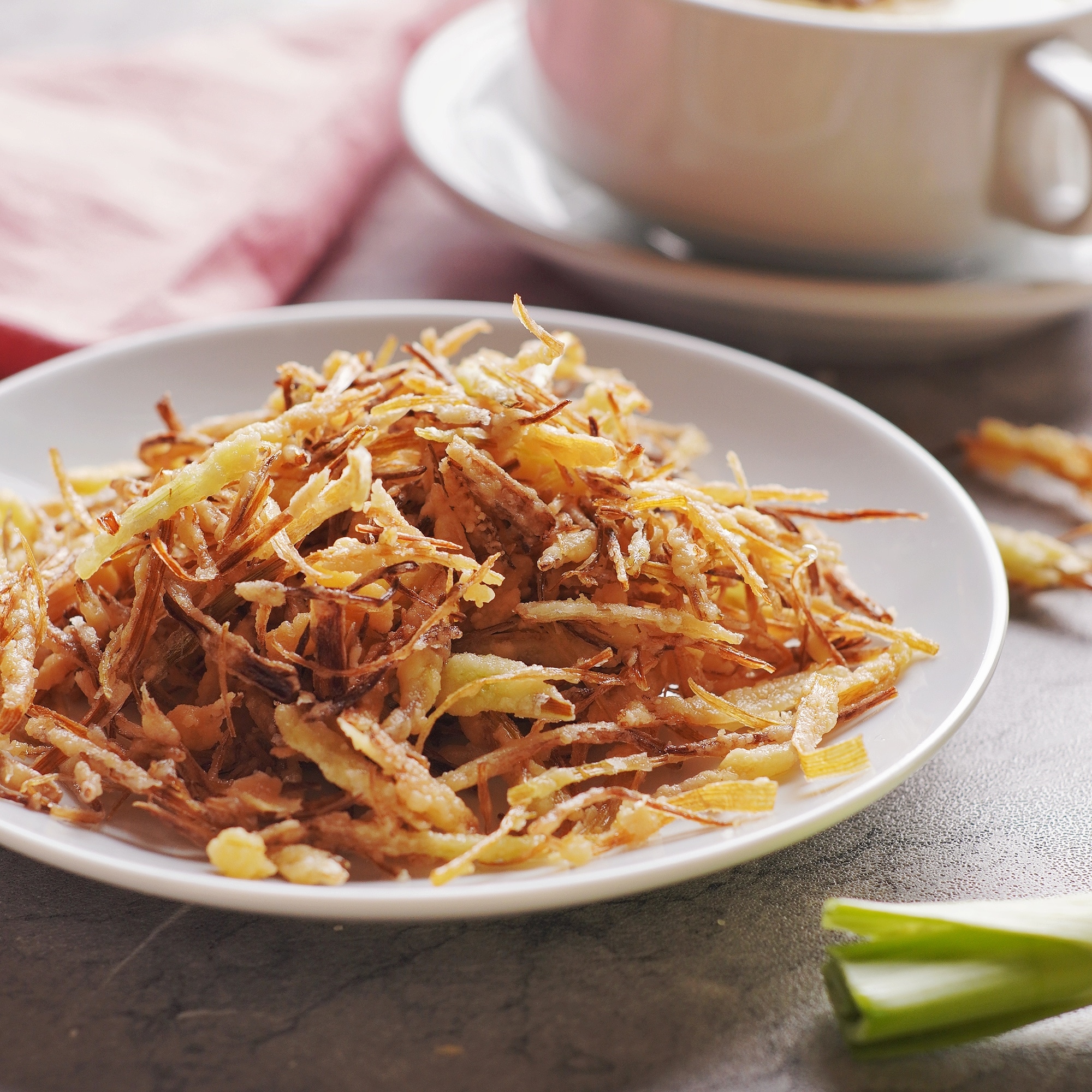 Ingredients
1

Large

Leeks

1

Teaspoon

Salt

1

Large

Egg

Beaten

⅓

Cup

Cornstarch

⅓

Cup

Almond Flour

Peanut Or Grapeseed Oil for Frying
Instructions
Prepare your leeks by cutting off the root end and the dark green tops before slicing the leeks lengthwise while leaving the body intact.

Soak the cut leeks in clean, cold water for 5 minutes to dislodge sand and dirt before rinsing it well under running water.

Remove, shake off the water and then place in a colander to drip dry.

Ready one or two paper towels and a weight like a heavy plate or casserole dish.

Place each strip of leek onto a paper towel, sprinkle lightly with salt, and cover with a paper towel.

Place the weight atop and leave the leeks to shed moisture, weighted, for at least 30 minutes.

Once sufficiently dried out, remove from paper towels and slice each leek into 1/8th inch fries that are just over 2-inches long.

Heat oil in a large, oversized pot or saucepan to 375°F.

Dip the leek fries in beaten egg and then dredge in a 50/50 mixture of cornstarch and flour. Shake off all the excess dredging.

Drop into hot oil and fry for roughly 30 to 40 seconds or until golden brown. Take care to fry in small batches only as the oil will bubble and rise excessively.
Nutrition
Calories:
125
kcal
|
Carbohydrates:
15
g
|
Protein:
4
g
|
Fat:
6
g
|
Saturated Fat:
1
g
|
Polyunsaturated Fat:
1
g
|
Monounsaturated Fat:
1
g
|
Trans Fat:
1
g
|
Cholesterol:
47
mg
|
Sodium:
605
mg
|
Potassium:
58
mg
|
Fiber:
1
g
|
Sugar:
1
g
|
Vitamin A:
438
IU
|
Vitamin C:
3
mg
|
Calcium:
40
mg
|
Iron:
1
mg
Tips & Tricks
Ensure that you wash your leeks thoroughly. Sand is prone to get stuck. Without washing your leeks and then drying them before use, you'll end up with a gritty texture instead of the creamy smooth inside of a chip that you're looking for.
Don't make crispy fried leeks in a pot that's only slightly larger than you think you need. Always go for a bigger pot because the oil will bubble far more than expected if this is your first time frying something moisture-filled like leeks at a high-smoke point.
We advise against trying to fry crispy leeks in regular vegetable oil. Sunflower and canola oil do not have a high enough smoking point. When the moisture-filled leeks hit oil at too low of a temperature, the immediate heat drop is so dramatic that they begin stewing instead of frying.
Substitutions
You can use any type of gluten-free flour you prefer for the dredging. Even using cornstarch alone grants the crispness that crispy leeks need. For the crunchiest leeks around, combine rice flour, cornstarch, and potato starch. Up to two-thirds of a cup is an acceptable low FODMAP serving, so you're safely within bounds. This simple blend is suited to high-temperature quick-cooking and comes out crunchy and perfectly browned without the leeks cooking to mush.
Variations
Use a little less flour and cornstarch and mix in some grated parmesan for a flavor lift that turns this garnish into something even better than it already is as a burger topping or side dish. Add a tablespoon of smoked paprika to the flour mix, and you've got a prominent taste combination that's surprisingly versatile.
If you plan to serve fried leeks as a side dish instead of a garnish and are looking for a variation on this tasty recipe, try slicing your leeks into rings. Clean the leeks and cut them into 1/2″ rings, slicing the white part only. Remove the inner white center and either reserve for use in another meal (or stock) or discard. Dredge and fry the coated leek rings as per the instructions of our recipe. They'll fry for a little longer and are ready when golden brown and crispy.
What To Serve With Crispy Fried Leeks?
Crispy leeks serve as an outstanding classic garnish to countless meals.
Serve atop steak, salmon, chicken, pork, or any fish, grilled, fried, crumbed, or baked, regardless of the serving suggestion, crispy leeks are a great accompaniment.
Try them atop potato or potato and leek soup for a crunchy, perfect pairing.
A shiitake pho or really any soup or pho is a great idea to add a crunchy texture.
Add on top of a homemade green bean casserole or any vegetable casserole for extra crunch.
Put together your favorite homemade burger and use a pile of crispy leeks as a topping just like you would with a hashbrown. Now that's a gourmet twist we suggest everyone tries.
Questions
Which Is The Best Oil For Crispy Fried Leeks?
The optimal oil for frying delicate vegetables quickly is a high smoke point oil that can result in an ultra-high temperature. It's the only way that you're going to cook something as moisture-packed and delicate as leeks crispy. Even without the coating recommended, tossing in the thinnest leek fries possible will still come out crunchy on the outside with little oil absorption if you use refined avocado, refined peanut, refined canola, refined safflower, palm or grapeseed oil.
Can I Roast Crispy Leeks Instead?
While technically possible, roast crispy leeks aren't something that normally comes out the way that one hopes. It takes a very high, consistent temperature, which means that most standard ovens simply won't cut it. High-end broilers will roast leeks crispy, but it's vitally important to get out as much of the moisture as possible. For those who wish to give it a try, compress and dry your salted leeks between paper towels for up to a full day.
How Would You Describe The Taste Of Leeks?
Leeks have a taste that's similar to onion but milder, greener, fresher, and sweeter. When deep-fried, crispy leeks come out creamy and sweet on the inside with a slight hint of onion and a rich, crispy exterior.
How To Make Crispy Fried Leeks In Air Fryer?
To use this recipe in an air fryer, replace the frying step with brushing the leeks with a little oil, be gentle not to rub off the coating. Then place into the air fryer of your choice at 380 degrees F for 6-10 minutes until desired level of crispy. Go more towards 10 minutes for larger slices, 6 minutes for very thin slices.
---
Recent Recipes