Homemade AIP Friendly Pizza Dough
One of the things most people miss when embarking on a healing elimination diet, such as the Autoimmune Protocol (AIP), is bread, pasta, and pizza. Ugh, pizza! I grew up on good pizza in an area that was crowded with great family-style Italian eateries. Pizza and pasta were staples in my diet.
After a bit of a health challenge, I did have to remove gluten, dairy, and nightshades from my diet to reduce inflammation. Pizza is all of these ingredients. I complied, but I felt deprived. I searched hundreds of recipes to find a way to make an AIP-compliant pizza.
At first, I made a chickpea flour flatbread with almond-based cheese on top. Alas, legumes and nuts were not part of the protocol and I didn't feel awesome the next day. I then tried the cauliflower pizza dough and it was pretty wet – not sturdy like a normal pizza crust with crisp edges. I eventually settled on a recipe that used a yeast-risen cassava flour dough as the crust that I found in an AIP community that I subscribe to.
I know what you are thinking, how can a gluten-free dough rise with the addition of yeast? I was skeptical as well. It turns out that some flours made from starchy root vegetables do actually react to yeast. There is a caveat. You must be gentle and patient with the process. The water needs to be tepid, not hot. The rising area has to be draft, cold, and humidity free. And, you can't overwork the dough. It needs to relax and be allowed some privacy. It is a pampered dough that actually requires very little attention, similar to a wheat flour dough. It is just time and patience.
This pizza crust is actually super easy to make and bake. You can top it with an AIP herb pesto and some veggies or meats, such as sauteed mushrooms, roasted garlic, shaved ribeye steak, crumbled bacon, or fresh baby arugula. The crust is crisp and chewy and the toppings are delicious.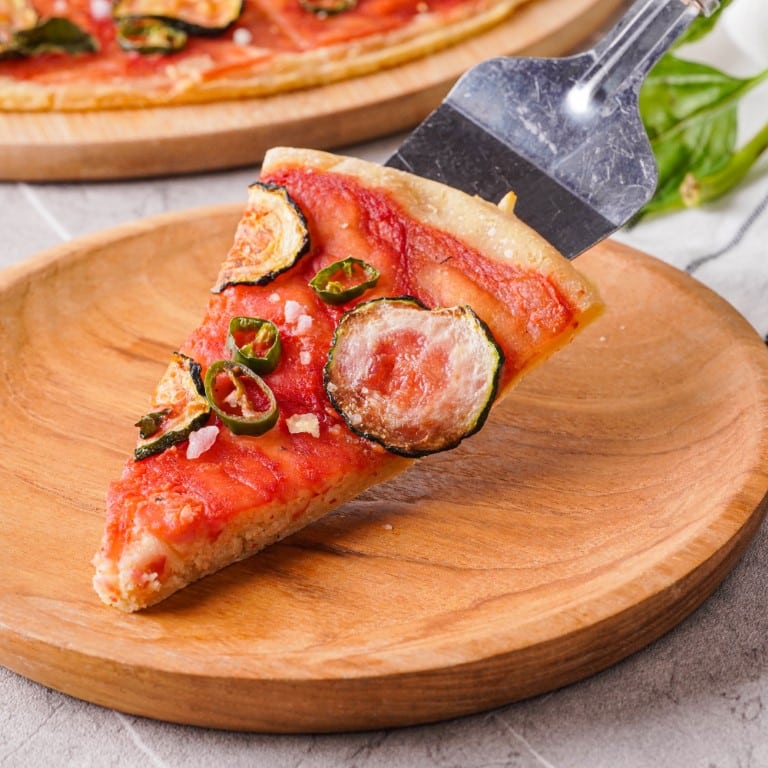 Ingredients
¾

cup

lukewarm water

1 ½

tsp

honey

½

packet active dry yeast

¾

teaspoon

sea salt

⅓

cup

extra virgin olive oil

1

cup

cassava flour + more for kneading and dusting

½

cup

tapioca starch

AIP-compliant toppings or olive oil and coarse salt
Instructions
All ingredients ready? Let's begin!

In a large mixing bowl, whisk together the lukewarm water and honey.

Add the yeast to the water and gently stir it in. Set this aside until the yeast starts to feed on the honey and bubbles, about 7 minutes.

Stir the salt and olive oil into the yeast mixture. Then, add the flour and starch. Mix this all together with a spoon, preferably a wooden one.

When it starts to come together into a wet ball of dough, flour your hands and pull the dough into a ball, or close to a ball. It won't be as firm and stretchy as wheat dough.

Cover the bowl with a kitchen towel and place it inside a turned-off oven with the light on so it can rise. It should expand approximately 1-1/2 inches in about 60 minutes.

Place a piece of parchment paper the size of a sheet pan on your counter. Gather the dough into a ball and place it in the center of the parchment paper. Dust a rolling pin with flour and roll the dough out into a 12-inch circle, dusting with more flour if needed. You can also press and stretch the dough with floured hands.

Place the parchment with the dough on a sheet pan and put it back in the turned-off oven for another 30 minutes to rise again.

Remove the pan from the oven and place it on top of the stove (if not using a wall oven) to benefit from the warmth. Preheat the oven to 425°F.

Top the pizza with pesto or tomato-free sauce, veggies or meat, and any other AIP-compliant pizza toppings. Or, simply brush the crust with extra virgin olive oil and sprinkle it with coarse salt.

When the oven is preheated, place the pan with the pizza inside and bake for approximately 15 minutes until the dough edges are browned and crisp and the toppings are bubbling hot. Keep an eye on the pizza.

Remove the pizza from the oven and transfer it to a cutting board. Allow the pizza to rest for a few minutes. Then, slice it into 8 wedges and serve while warm.
Nutrition
Calories:
356
kcal
|
Carbohydrates:
40
g
|
Protein:
1
g
|
Fat:
22
g
|
Saturated Fat:
3
g
|
Polyunsaturated Fat:
2
g
|
Monounsaturated Fat:
16
g
|
Sodium:
441
mg
|
Potassium:
19
mg
|
Fiber:
1
g
|
Sugar:
3
g
|
Vitamin C:
2
mg
|
Calcium:
47
mg
|
Iron:
2
mg
Notes & Tips
It is important that the water not be any warmer than 120°F. If it is too hot, the yeast will die. Yes, yeast is basically alive and just needs warm water and honey to feed on and expand. This is what makes the dough airy.
I like proofing my dough in an oven that is slightly warmed by the light bulb. It is a draft and humidity-free space. You can also proof it inside your microwave.
You can place a pizza stone inside the oven while it is preheating and then transfer the parchment and crust to the stone. The hot stone will ensure that the bottom of the crust is crispy.
I recommend keeping a close eye on your pizza because not all ovens are calibrated equally and this is a more delicate dough than a traditional wheat-based one.
I know this will sound like a bummer, but this pizza is best eaten right away. I find that the next day it is a bit hard and chewy. But I generally don't have leftover pizza. If I do, I just warm it up and hope for the best. My brother-in-law who owned a pizza place told me never to reheat pizza in a microwave because it makes the crust soft. That actually might work for leftovers here.
Substitutions
Cassava Flour: If you are following a Paleo protocol but not full AIP, you can use a combination of cassava flour and almond flour for a little more protein and added texture. You can also make this with cauliflower flour, which I recently discovered. Just be mindful that cauliflower flour cooks quickly and it does leave the kitchen smelling a lot like cauliflower.
Tapioca Starch: This is really just a very fine flour made from only the starchy portion of the cassava root. It acts as a binder in this pizza crust recipe. Arrowroot starch is fairly similar and behaves in the same manner as tapioca starch.
AIP-Approved Pizza Toppings
This pizza crust is really good as a flatbread with just extra virgin olive oil, coarse salt, and a little garlic powder. To make it as close to a pizza as possible, try some of these toppings that are AIP-friendly:
Pesto made with basil, garlic, extra virgin olive oil, and lemon juice
Nomato sauce made with puréed beets and carrots
Bacon crumbles
Chopped clams, anchovies, roasted garlic, and fresh parsley
Pan-seared zucchini rounds and cremini mushroom slices
---
Recent Recipes