Homemade Guyanese Fruit Cake
Guyanese fruit cake is packed with spices and fruits. It is a popular Christmas dish as well as often making appearances at weddings or birthdays. However, it is not a spur-of-the-moment treat. The cake uses more than just dried fruit; it uses an aged fruit blend that takes at least a month to ferment. Because of that, you will need to prepare the fruit well in advance of your celebration.
Since the fruit mix can last for over a year, it could be worth making one large batch in preparation for the next year of holidays. This recipe will make enough fruit paste for your cake, probably with some to spare, but it may not be enough if you plan on making the cake several times. If you're looking for a fruity cake for immediate consumption, I recommend this zesty orange loaf cake. It's a very different vibe, but still has some overlapping flavors, plus you don't have to wait a year to make it.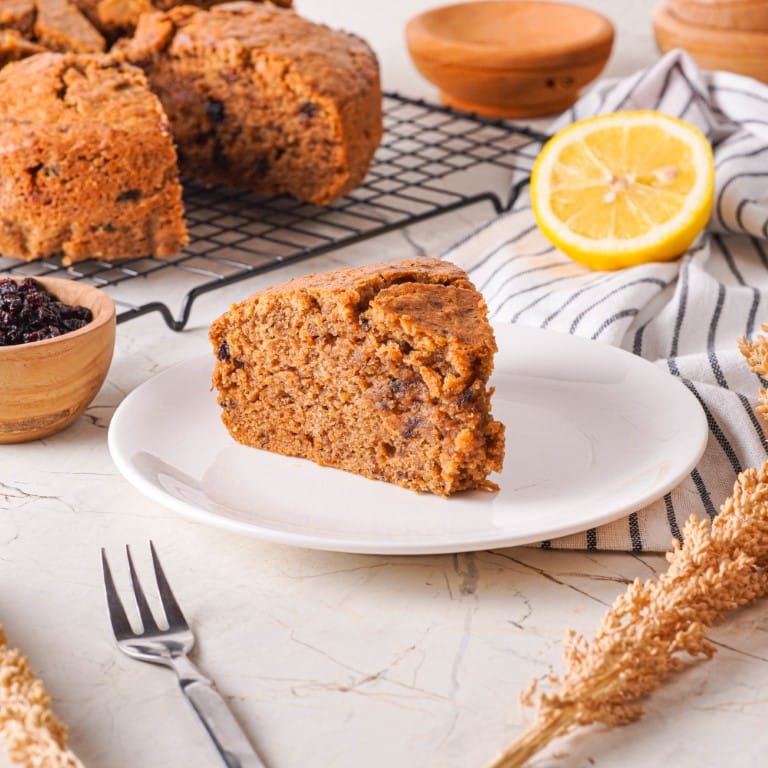 Ingredients
For the fruit blend:
1

orange

3

cups

raisins

3

cups

dried prunes

3

cups

currants

3 ¼

cups

port wine
For the cake:
2

cups

butter

2

cups

of sugar

9

eggs

1 ½

tsp

vanilla

1

lemon

3 ½

cups

of flour

4

tsp

of baking powder

½

tsp

ground cloves

1

tsp

ground cinnamon

½

tsp

ground ginger

1

tsp

ground nutmeg

½

tsp

of salt
Instructions
All ingredients ready? Let's begin!
To make the fruit paste:
Zest the orange.

In a large blender or food processor, add the raisins, prunes, currents, and orange zest. Add the port wine.

Pulse to blend. You want there to still be chunks of fruit instead of blending into a puree. Err on the side of having larger chunks.

Pour the fruit mixture into an airtight container (mason jars for canning work perfectly).

Leave to soak for a minimum of 1 month or up to a year.
To make the cake:
Let the butter soften at room temperature or pop it into the microwave for a few seconds to soften (not melt!).

Preheat the oven to 300F. Prep a 9-inch baking pan by covering it in parchment paper.

Add the softened butter to a bowl and add the sugar. Beat together until thoroughly incorporated (a stand mixer makes this much easier).

Add the eggs one at a time, beating well after each. Add the vanilla and beat until incorporated.

Zest the lemon and add the zest to the butter mixture.

Using the previously made fruit paste, measure out 3 ½ cups and add it to the butter mix. Mix thoroughly to combine.

In a large mixing bowl, add the flour, baking powder, cloves, cinnamon, ginger, nutmeg, and salt. Whisk to mix.

Carefully add the dry ingredients to the wet ingredients. Mix thoroughly, but try to avoid over mixing if possible. The batter should be thick enough that your spoon can stand up in it.

Transfer the batter to your previously prepared baking dish and use a spatula to smooth over the top.

Bake for 40 minutes then check it to make sure it is fine. It will probably need another 20 or so minutes, but better safe than sorry. Expect it to be done after an hour. To test if the cake is done, insert a fork in the center. If it comes out dry, it should be done. If it comes out wet, keep cooking it. When the cake is done, remove it from the oven and allow to cool in the pan for 30 minutes.

When the cake is cool to the touch, remove from the pan and allow to continue cooking on a wire rack.

Let cool completely before cutting and serving.

Enjoy!
Nutrition
Calories:
918
kcal
|
Carbohydrates:
191
g
|
Protein:
15
g
|
Fat:
7
g
|
Saturated Fat:
2
g
|
Polyunsaturated Fat:
1
g
|
Monounsaturated Fat:
2
g
|
Trans Fat:
0.01
g
|
Cholesterol:
153
mg
|
Sodium:
433
mg
|
Potassium:
1359
mg
|
Fiber:
11
g
|
Sugar:
97
g
|
Vitamin A:
765
IU
|
Vitamin C:
17
mg
|
Calcium:
269
mg
|
Iron:
6
mg
Notes & Tips
This cake is best served at room temperature, so resist the urge to cut into it straight out of the oven! I know it's tempting, but do your best. The cake is supposed to be very moist, so if you are surprised when you see the inside, trust that you didn't do anything wrong. If it's dry and excessively crumbly, it has been overbaked.
Leftover cake can be stored in an airtight container at room temperature for a week. You can also freeze it in an airtight container and it will last for several months. When you are ready to eat it again, allow it to thaw overnight at room temperature.
If you have some leftover fruit paste but not enough to bake another cake, try coming up with some creative uses. It can work sort of as a thick jam for toast or as a topping on ice cream. You can even use it as a filling for different cakes. If none of that sounds good to you, just save it to add to your next batch.
Why Does Fruit Paste Work?
If you're familiar with the process of canning jams or preserves, you know that, to store it, you need a sterilized, air-tight seal to prevent to contents from going bad. Apparently, the oldest canned food has lasted from 1865 and is still safe to eat! Other naturally preserved things can last for hundreds of years–such as wine, honey, and yeast (under the right conditions). Safe-to-consume honey has been found from as far back as 2000 years ago.
So how does it work with the fruit paste? You're not sealing the lid or even sterilizing it (although you absolutely should use a very clean container). The secret comes from the wine. We all know wine gets better with age. It can do so mostly because of its alcohol content. Alcohol tends to kill bacteria on contact which means that your fruit paste (which is covered in port wine) is safe from the things that turn food bad. That being said, the fruit paste can go bad, so maybe don't try saving it for 2000 years. Just in case.
---
Recent Recipes