This Creamy Cajun Vegan Pasta is a rich, velvety concoction that I like to liven up with spices and veggies and garnish. It is a simple pasta dish with a rich, yet super-healthy cream sauce. Traditionally flour is used to make thick white sauces, but I have used cashews to make the cream sauce. If you are allergic, you can use cooked white beans or even tofu, they just need to be blended into a smooth paste. You can also stick to flour and almond or coconut milk, which also makes a delicious sauce, and the sweetness of these nut milks are offset by the fiery Cajun spices.
Speaking of spices, I used store-bought Cajun spice blend, but it is very simple to make at home with just a few ingredients. I have used two generous tablespoons of my Cajun spice but if you don't want it that spicy, tone it down. I have also used nutritional yeast, which is optional, but I do love the cashew-nutritional yeast combo, it gives the sauce a cheesy-nutty taste that I enjoy.
This Creamy Cajun Vegan Pasta is perfect for a quick weekday meal, the cream sauce can be made ahead and be poured over a bowl of hot pasta with all the veggies and seasoning. You can also add more vegetables or protein, even vegan sausages to this.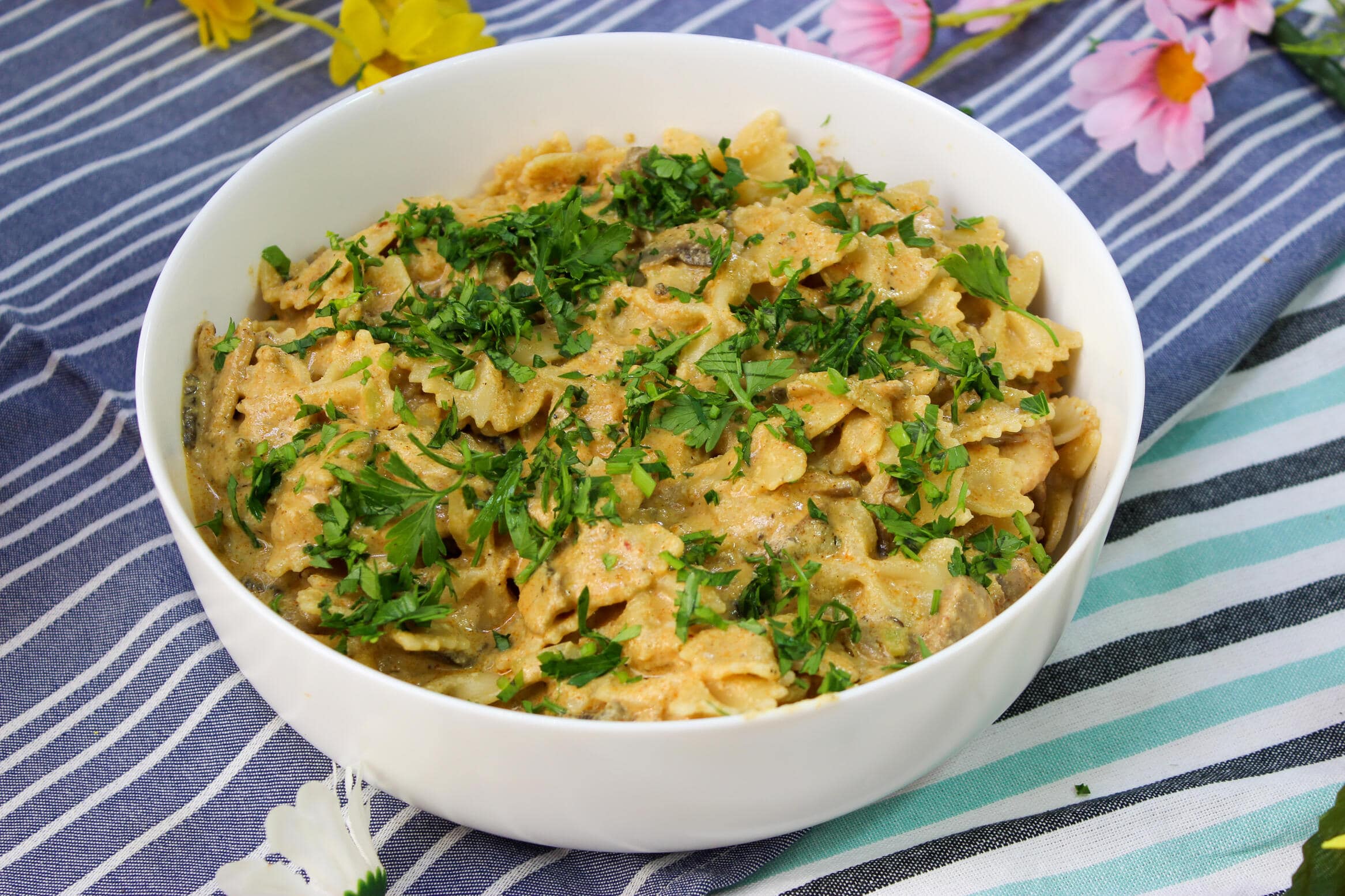 Ingredients
For the pasta:
8

oz

farfalle pasta

1

small onion

finely diced

1

tablespoon

of tomato paste

optional

1

green pepper

thinly sliced

1 ½

cups

white mushroom

finely chopped

2

tablespoons

of Cajun seasoning

Extra Virgin Olive Oil

Salt and pepper

Fresh parsley chopped for garnish

1

tablespoon

lemon juice
For the sauce:
1

cup

cashews

1 ½

cups

of vegetable broth

1

tablespoon

nutritional yeast

4

cloves

garlic

roughly chopped

Salt and pepper
Instructions
Sauce:
Soak cashews in hot water for at least 30 minutes or overnight

Drain the soaked cashews and add to a blender

Add in the vegetable broth, the nutritional yeast, garlic, salt and pepper and blend till it becomes a smooth paste.
Pasta:
Cook the pasta according to package instructions and set aside

In a pan heat 2 tablespoons of olive oil

Add the onions, peppers and mushroom and sauté well, till cooked

If you are using tomato paste, add it now and sauté on low heat. It will stick to the pan, add a tablespoon of pasta water to thin it out.

Now add two tablespoons of the Cajun spice and sauté well until all the vegetables are coated in it.

Now pour in the cashew cream sauce and stir all together. Let it simmer for about a minute or two.

Add the pasta. Combine well.

If the sauce is too thick, add more broth or pasta water.

Take it off heat. Garnish with fresh parsley and top with a quick drizzle of lemon juice.
Video
Nutrition
Calories:
430
kcal
|
Carbohydrates:
60
g
|
Protein:
16
g
|
Fat:
15
g
|
Saturated Fat:
3
g
|
Polyunsaturated Fat:
3
g
|
Monounsaturated Fat:
8
g
|
Sodium:
395
mg
|
Potassium:
625
mg
|
Fiber:
5
g
|
Sugar:
7
g
|
Vitamin A:
360
IU
|
Vitamin C:
29
mg
|
Calcium:
39
mg
|
Iron:
3
mg
Tips & Tricks
For the creamy pasta sauce, you have to soak the cashews. Soaking them softens them up and makes the sauce smooth and creamy without any lumps.
If you forget to soak them, boil hot water and pour over the cashews and let soak for about 20 mins.
I use tomato for the pasta because the acidity from the tomato, however mild, cuts the creamy heaviness of the cashew sauce.
Similarly, the squeeze of lemon at the end, gives a bit of lightness to this rich dish.
Storage
The Creamy Cajun Vegan Pasta will keep in the fridge for up to 2 days. You can have it cold or heat in the microwave or stovetop. I have never frozen it so I can't speak for the efficacy or taste of thawed creamy pasta. It won't spoil but after thawing, the pasta will be a little softer and soggier.
Questions
I don't have any Cajun Spice; can I make it without?
This recipe needs the fire from Cajun Spice, else it would be just another vegan pasta. If you don't have any, you can quickly whip up something that closely resembles it. Paprika is the main spice, blend it with cayenne, these two together give it that spicy kick, add onion and garlic powder and herbs like thyme and oregano. You can also add a little bit of salt as most store-bought varieties have salt.
Will this work well with long pasta like spaghetti?
Absolutely. This vegan Cajun pasta sauce works well with all short and long pastas, including fettucine and linguini.
What can I use instead of cashews?
If you want another nut option, go with soaked almonds. Soak them in warm water, peel and then blend them. You can also forgo nuts, in case of allergy or aversion and go with a traditional flour and milk combination.
Substitutions
Sauce: The sauce can be made gluten and dairy-freewith cashews, peeled almonds, cooked and blended white beans as well as blended tofu. For non-gluten-options, combine flour with a plant or nut-based milk.
Vegetables: You can use different colored peppers, peas, corn, carrots and even green beans.
Pasta: Any pasta shape works for this dish. If you are going for a gluten-free option, you can use chickpea pasta.
Cajun Spice: This is what brings the dish together.There are no substitutions for it, you can limit the amount you use, depending on your spice preference.
Tomato paste: This is completely optional. I like that little burst of tang that comes with the tomato as well as the light pink/red tinge it gives the dish. You can forgo it entirely, use plum, Roma or grape tomatoes as well.
Garnish: You can replace parsley with fresh or dried basil. Or use no garnish at all, this Creamy Cajun Vegan Pasta has all the flavors you need.
Lemon Juice: This is just to give it a pop of brightness. Entirely optional.
Accompaniments
The creamy cajun vegan pasta is going to be the star of any meal, but it can do with a delicious entourage as well. A simple Panzanella Salad is my go-to side for most pasta dishes. It is light and simple and complements the richness of the pasta effortlessly.
A simple bruschetta is another good option. And if you want to go green but don't want a salad, grilled asparagus with a garlic-lemon dressing hits the spot. Brussel sprouts are another solid choice. A light sorbet, a rich affogato, a decadent Tiramisu or a light dandelion flower bread are strong dessert choices. You can also try the sfinci that makes a great sweet and savory option.
---
Recent Recipes