Best Bavarian Cream Donuts
Bavarian cream donuts are elevated and sweet in all the right ways. The lightness of the whipped Bavarian cream and the sugary, airy yeast donut shell all rolled in a thick coating of sugar – Bavarian cream donuts are simply a donut lover's dream!
The best thing I have found about making Bavarian cream donuts is how customizable they are. You only need to make one type of dough, a classic yeast-based donut dough, but you can get as creative as you want with the cream filling.
If you are not a fan of cream donuts or find our filling to be too overwhelming, you can always try these ultimate ube donuts for a sweet treat this is more manageable.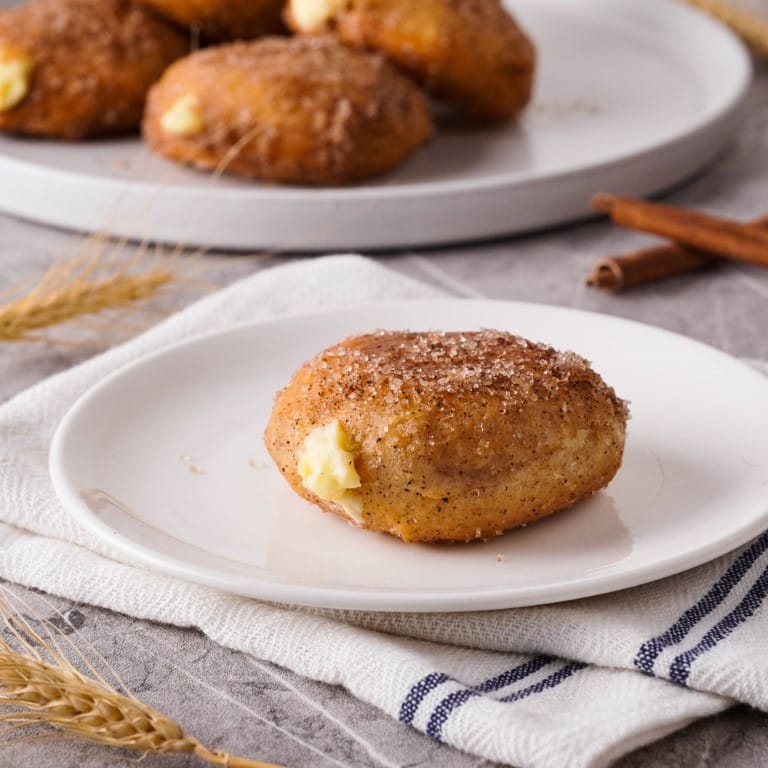 Ingredients
For The Donuts:
2

eggs

2 ½

tsp

instant yeast

1 ¼

cup

sugar

4

cups

flour

¼

teaspoon

salt

¾

cups

butter

softened

2

teaspoons

vanilla

½

teaspoon

nutmeg

½

teaspoon

lemon zest

5

cups

vegetable oil

2

tablespoons

cinnamon
For The Bavarian Cream Filling:
1 ½

cups

milk

1 ½

whipping cream

5

egg yolks

½

cup

sugar

1 ½

teaspoon

vanilla

4

tablespoon

corn starch

2

tablespoons

butter

¼

teaspoon

salt
Instructions
All ingredients ready? Let's begin!
For The Donut Dough:
Pour the milk into a sizable bowl and it up in your microwave for a few seconds until it is lukewarm (roughly 100 F).

Once warm, add your instant dried yeast and ¼ cup of sugar to the milk.

Use a whisk to agitate the milk briefly until the sugar dissolves.

Leave the milk mixture for 5 minutes or until the mixture has turned bubbly and frothy.

Slowly add the salt, flour, and 1 egg to the mixture. Mix until fully combined.

Crack in your other egg along with the vanilla and the nutmeg and lemon zest and use a spatula to combine.

Lightly flour your countertop or switch out your stand mixer's attachment for a dough hook and knead the dough for roughly 1 minute.

When the dough is getting easier to work, you can add a bit of butter.

Now it's time for some real kneading- about 5 minutes with a mixer or 10 if by hand.

As you knead, continue to add the rest of your butter 1 tablespoon at a time.

If your dough is still too sticky to work with, add a little flour.

Continue to work your dough until it is perfectly smooth.

Lightly oil a large bowl and move your smooth dough to the bowl. Cover it with a clean tea towel or plastic wrap.

Leave your dough to rise until at least doubled in size. Depending on how warm your house is, this should take about 1 ½ hours.

Once the donut dough has risen, you can transfer it from the bowl onto a lightly floured counter top ready to roll and shape.

Take a rolling pin and roll out the dough into a ½-inch thickness.

Using a 3-inch circle cutter, cut out as many circles from your rolled dough as possible.

If you have leftover dough, re-roll it and re-cut.

Line a large tray with parchment paper.

Organize your donuts on it, leaving space between each donut so they can rise.

Cover your donuts once again and leave them to rise for another hour. While your donuts rise for the second time you can prepare your Bavarian cream.

Start by combining all the egg yolks, sugar, and corn starch in a large bowl until no lumps remain.

In a hot pan, heat up the milk. Keep the pan at a medium low heat until the milk begins to boil.

Start whisking your egg mixture and slowly pour in roughly 2/3 of your hot milk. NEVER STOP WHISKING!

As quickly as you can, transfer the egg mixture into the saucepan with the remainder of the hot milk and return the pan to the stove on medium low heat. Constantly stir until it starts to thicken- about 10 minutes. Once it has reached a thick, yogurt consistency, you can take it off the heat. Finally, add the vanilla, butter, and salt, whisking thoroughly until combined. Your mixture should be perfectly smooth and have a delicious shine to it.

Transfer the mixture to a bowl and cover with plastic wrap, patting the plastic wrap to the surface of the cream to stop a skin from forming.

Leave the mixture to cool on your kitchen counter until it reaches room temperature. Then move the mixture to your fridge until you are ready to use it.
Cook The Donuts
After your donuts have risen for a second time, you must cook them. In a large frying pan, heat the oil on a medium high heat until it reaches around 350F. Take a few of your donuts and place them directly into the oil. Do not overcrowd the pan.

Leave the donuts to fry for around 1 minutes on each side.

As soon as they are golden brown on both sides, transfer to a wire rack where any excess oil can drip off.

Mix together 1 cup of sugar and 2 tablespoons of cinnamon.

Roll each warm doughnut in the mixture to coat.

Repeat with all of your donuts until they are perfectly cooked and coated.

Leave them to cool completely.
Finishing The Donuts:
Before assembling your donuts, whip the heavy cream in a bowl until thick and stiff.

Pull your pudding out of the fridge and add the whipped cream to the bowl, folding the two components together until smooth.

Poke a sizable hole in the side of each donut, big enough to fit the nozzle of your piping bag.

Transfer your Bavarian cream to a piping bag and fill each of your donuts until they are fit to burst.

Enjoy!
Nutrition
Calories:
767
kcal
|
Carbohydrates:
45
g
|
Protein:
6
g
|
Fat:
64
g
|
Saturated Fat:
14
g
|
Polyunsaturated Fat:
32
g
|
Monounsaturated Fat:
15
g
|
Trans Fat:
0.4
g
|
Cholesterol:
88
mg
|
Sodium:
91
mg
|
Potassium:
116
mg
|
Fiber:
2
g
|
Sugar:
23
g
|
Vitamin A:
400
IU
|
Vitamin C:
0.2
mg
|
Calcium:
67
mg
|
Iron:
2
mg
Notes & Tips
Leftover doughnuts can be stored in an airtight container in the fridge for up to 5 days. You can remove them to rest at room temperature before serving if you don't want them to be too cold.
---
Recent Recipes