Popping an olive into your gin to give it a faux-martini flair can be fun. The bite-sized fruit is packed with flavor, is low in cholesterol, and contains dietary fiber, iron, and copper. Plus, the Mediterranean treat is incredibly versatile, complementing a variety of meals and making a tasty snack. But where do olives fall on the FODMAP?
Olives are low FODMAP and are allowed during the elimination phase. A single serving is fifteen olives. However, olives stuffed with garlic or cocktail onions should be avoided. Olives marinated in garlic-infused olive oil are low FODMAP, as is an olive in your gin.
When purchasing olives, it is crucial to read the ingredient list in full. This is because while olives are low FODMAP, some items they've been stuffed or marinated with may not be. Also, the exact FODMAP serving size for olives has not officially been established. But fifteen is the amount tested by Monash University and makes a good guideline to follow.
Are All Olives Low FODMAP?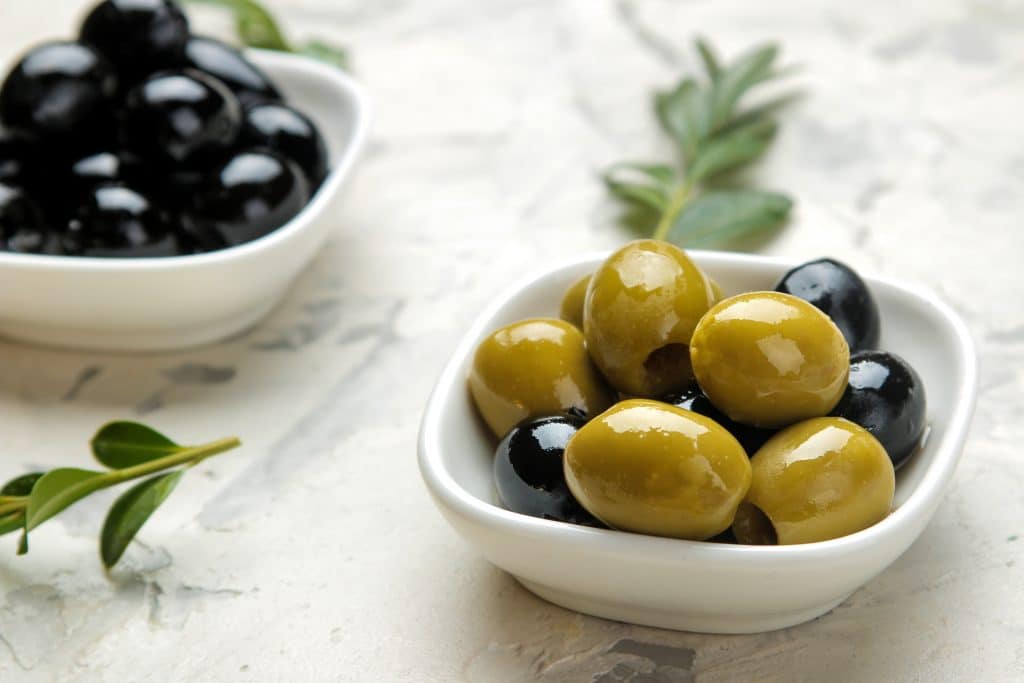 All olives are low FODMAP when eaten on their own. There are over a thousand varieties, but many people divide them into only two categories: black and green. However, black and green olives are the same fruit. Black olives have been picked when fully ripe, and green have been harvested earlier.

The texture and flavor of olives can vary dramatically. Many factors impact the final result, including variety and how they have been cured and marinated. The biggest factor in regards to the FODMAP is how the olives were marinated. For example, even olives not stuffed with garlic might have garlic shavings or slices in the marinade.
Are Stuffed Olives Low FODMAP?
Olives that are stuffed might not be low FODMAP. The most well know stuffing is pimento. In Spanish, pimento is a generic term for pepper. But in a fair number of English-speaking countries, it refers to a specific red pepper with a sweet taste and very mild heat. This pepper has not been specifically tested for FODMAP.

The following is a list of popular olive stuffing and if they are low FODMAP:
Almond (Yes, but maximum 10 nuts)
Artichokes (No)
Asparagus (No)
Capers (Yes)
Anchovy (Yes, so long as the paste is garlic free)
Cream Cheese (No)
Feta (Yes)
Garlic (No)
Jalapeno (Yes)
Lemon Peel (Not tested)
Onion (No)
Sundried tomato (Yes, a serving size is 3/4 oz.)
Is Olive Oil Low FODMAP?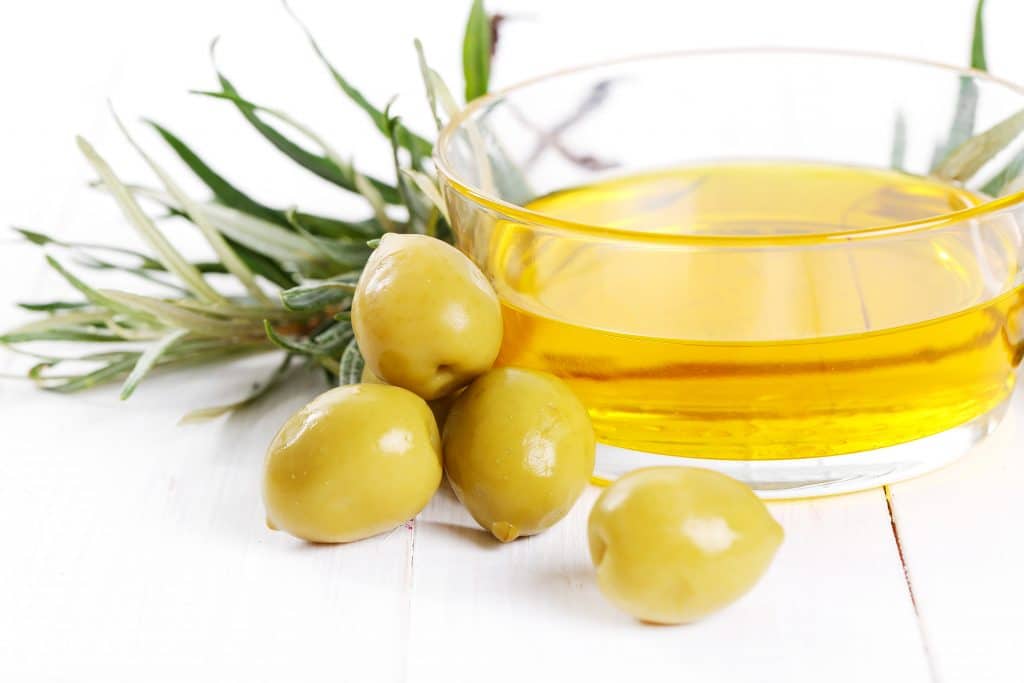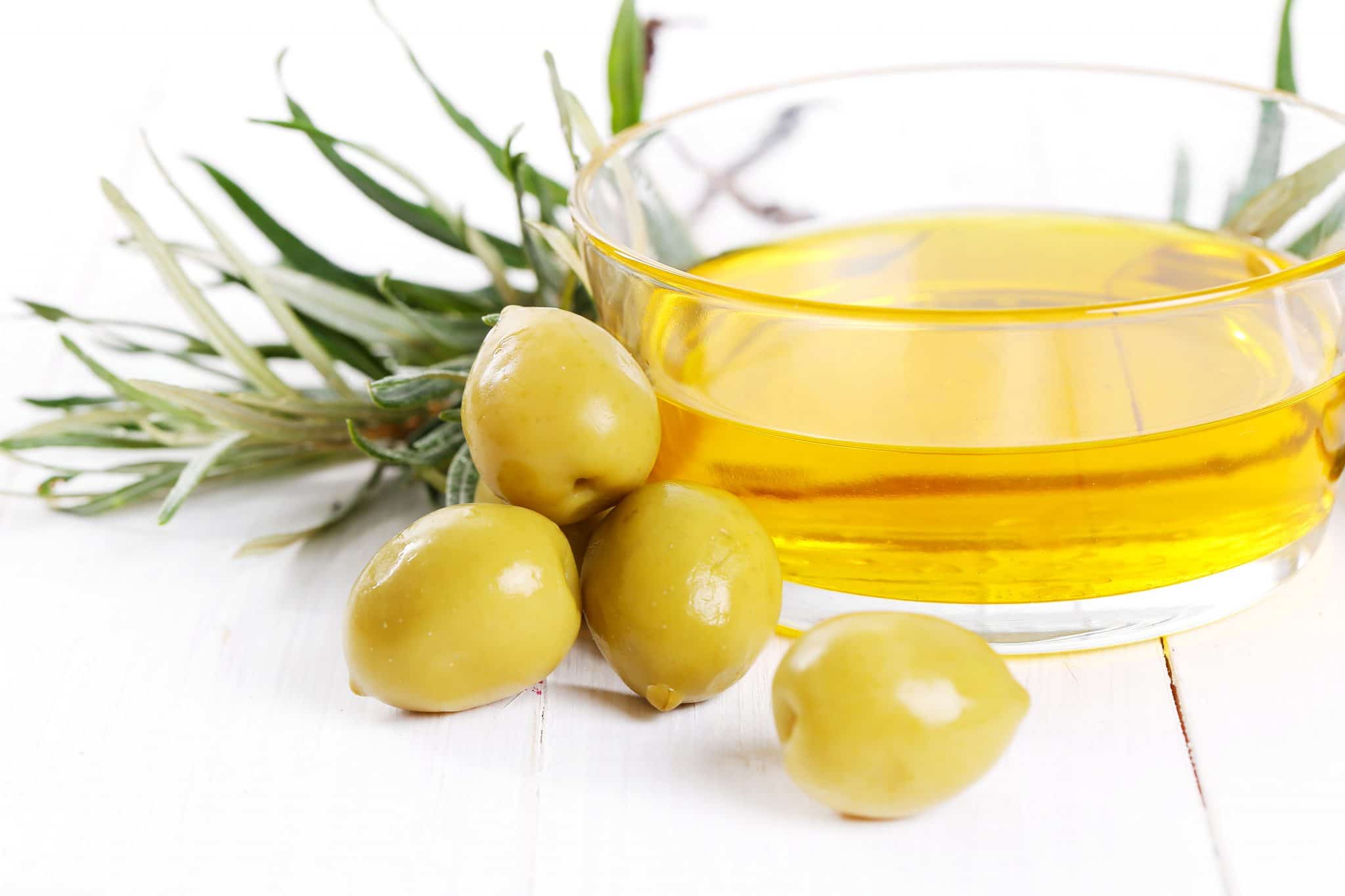 Olive oil and extra-virgin olive oil are low FODMAP. The serving size is 1 Tbsp extra-virgin olive oil is considered the healthier option, but it can be expensive and hard to source in some areas.
What Is The Difference Between Olive Oils?
Extra-virgin olive oil is cold-pressed. So, olives are made into a paste then the oil is extracted from the paste through pressing it. This is a heat-free process that takes a substantial amount of time. But it doesn't produce a light grassy-green oil with a slightly fruity and peppery flavor.

Extra-virgin olive oil has fewer chemicals, has been processed less, and tends to have higher antioxidants, vitamins, and polyphenols. However, all these benefits break down once you apply the heat. You truly wreck it if you go past the smoking point, which is when the oil begins to burn.

Regular olive oil will include processed olive oil and cold-pressed olive oil that didn't meet extra-virgin standards.
Blended olive oil is precisely that, olive oil that has been blended with another oil, such as soybean. So, unless they state it on the label, you won't know how much of it is even olive oil.
Is Infused Olive Oil Low FODMAP?
Olive oils infused with garlic or onion are low FODMAP. There are even scallion-infused olive oils out there that you can try. They are a great way to add that garlic or onion flavor into dishes, sauces, and salads if you've been missing it. Just remember that the serving size is 1 Tbsp.
Is Olive Tapenade Low FODMAP?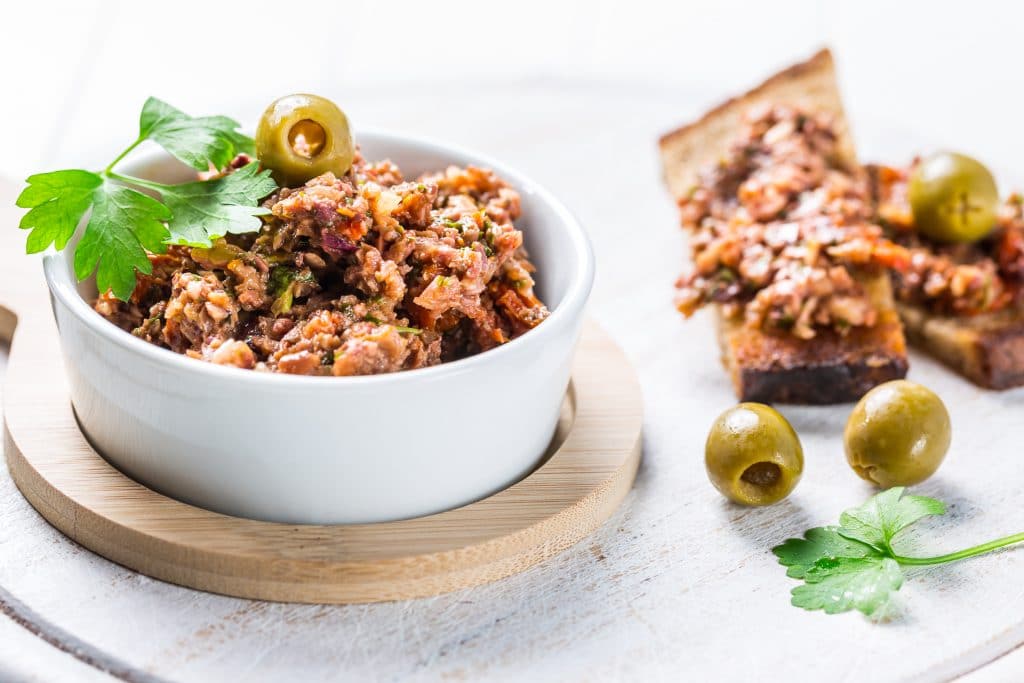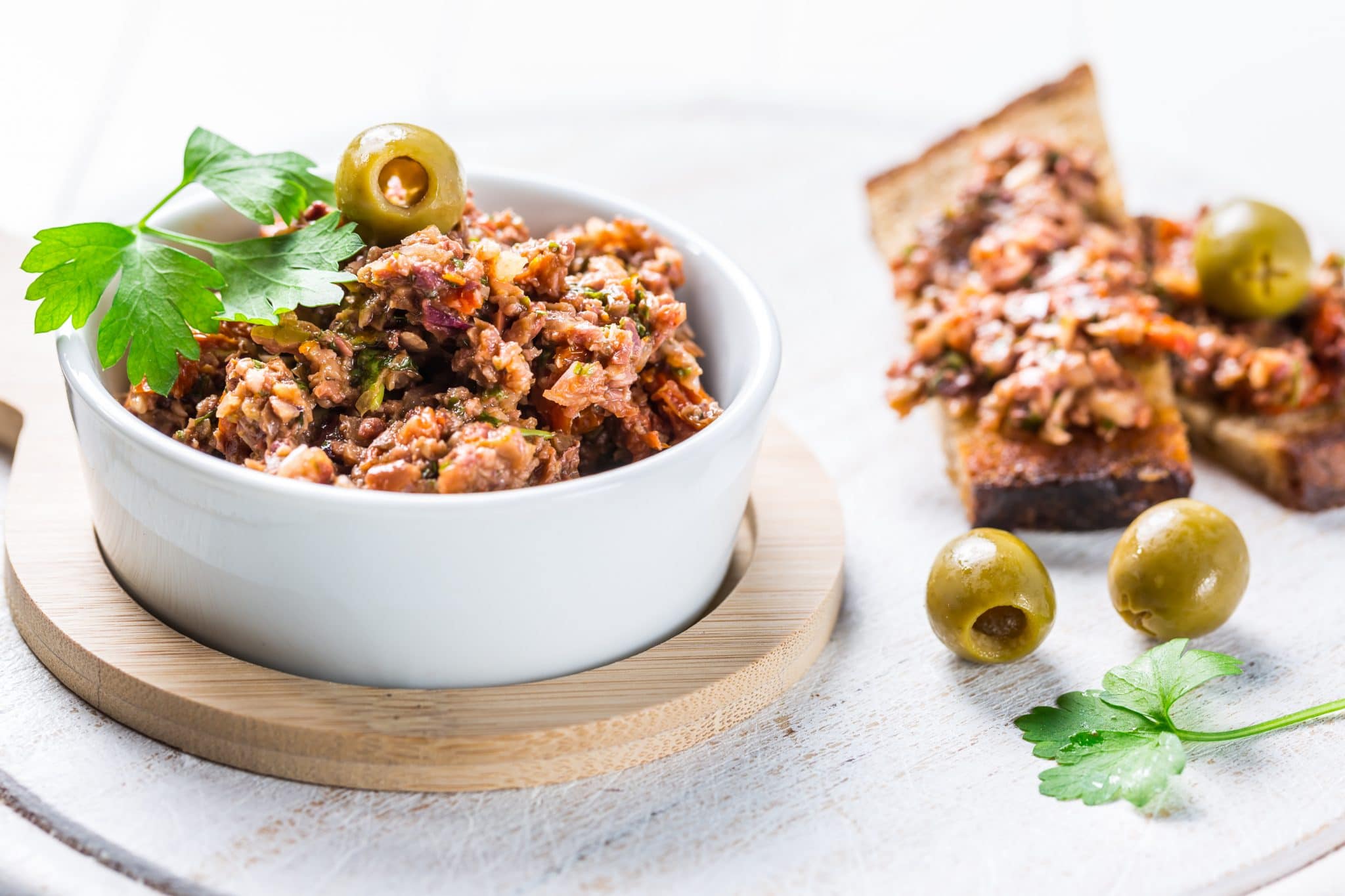 Olive tapenade may or may not be low FODMAP, depending on how it is made. Many recipes use a combination of olives, parsley, lemon juice, capers or anchovy paste, and olive oil. These tapenade recipes are low FODMAP.
However, some tapenade recipes contain garlic, up to three cloves, which is not low FODMAP. As mentioned above, garlic-infused olive oil is low FODMAP. So, this would make an excellent substitute for regular olive oil if you prefer your tapenade with a hint of garlic.
Tapenade makes a tasty dip for slices of cucumber. There are also low FODMAP crackers and breads that are perfect to spread over.
Is An Olive In A Martini Low FODMAP?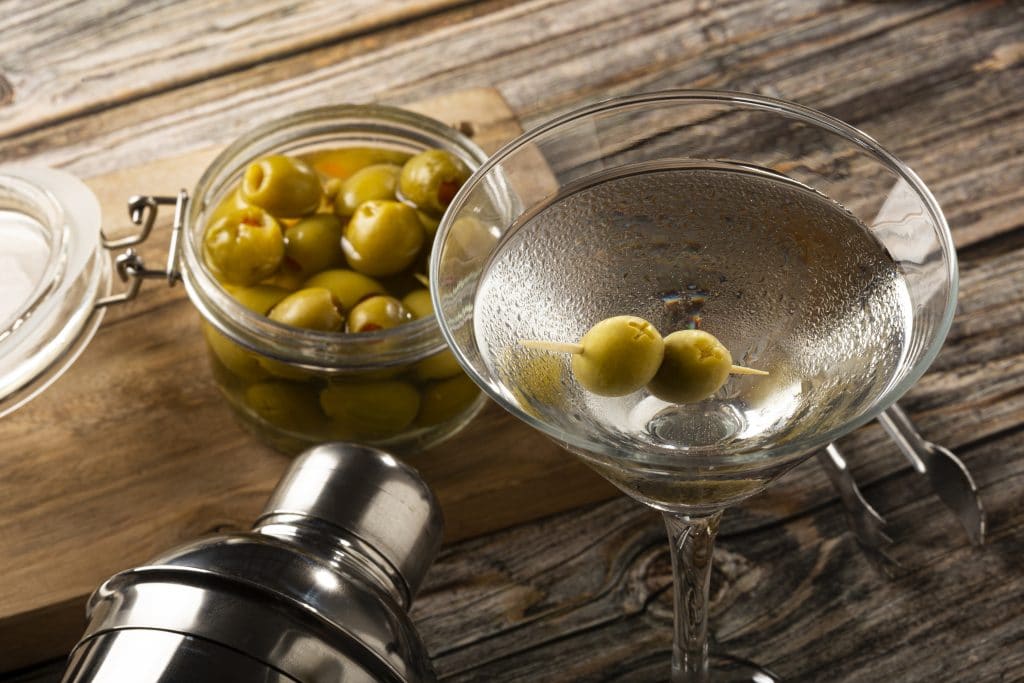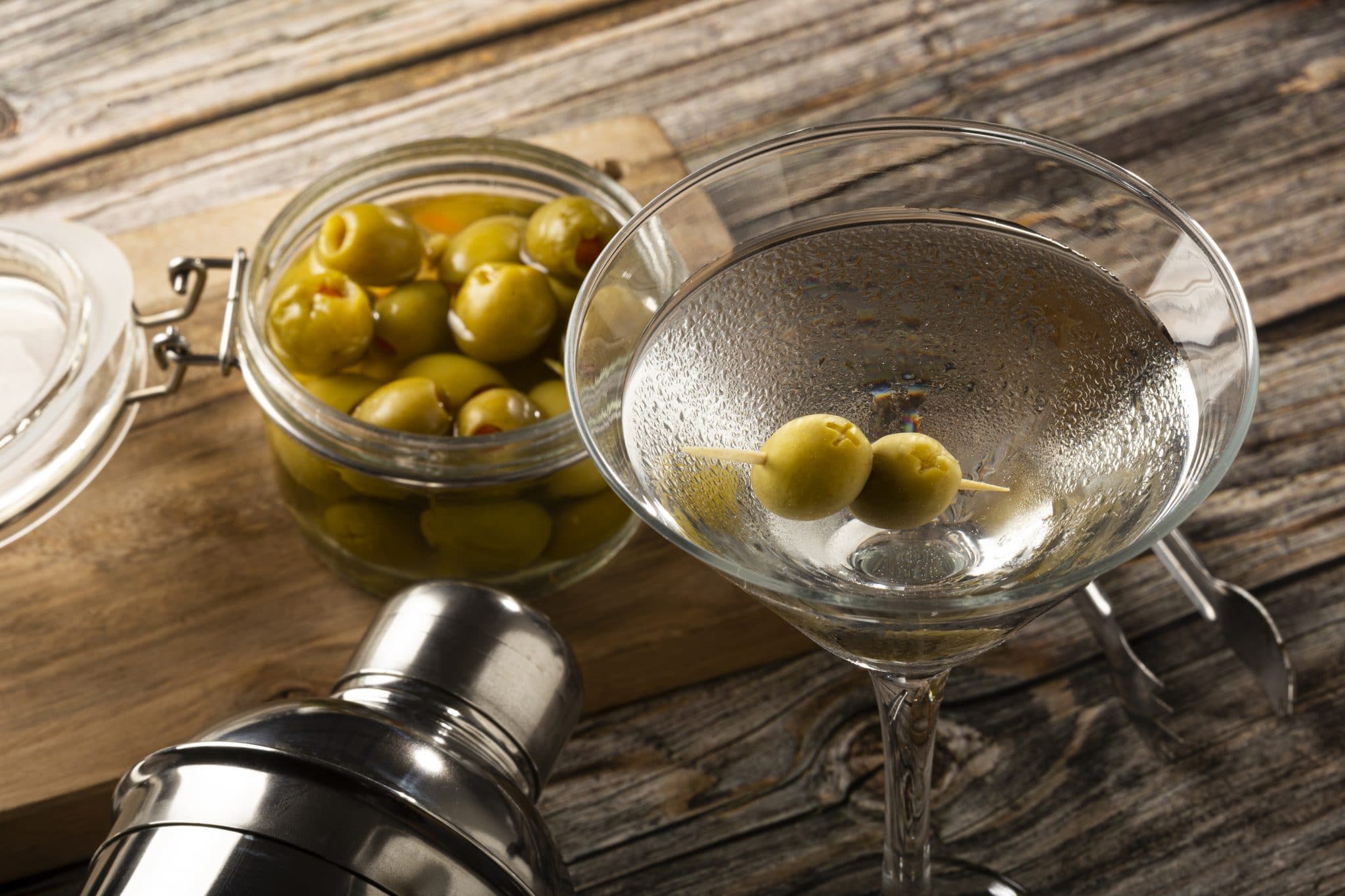 The olive in the martini is low FODMAP. However, the actual martini might not be. The drink made famous by James Bond is made either with gin and vermouth or vodka and vermouth. A 1 oz serving of gin or vodka is low FODMAP. However, vermouth has not been tested. In addition, some have concerns over the fructose levels of vermouth.

Vermouth is a fortified wine. So, if you want to make a faux-martini, your best bet would be to find a really dry white wine that is low FODMAP. Dry wines generally are low FODMAP for a single glass. For a wet martini, you need 3 parts gin or vodka to your dry white vermouth substitute. However, you only drizzle the faux-vermouth to create a dry martini.
Regardless if you choose a wet or dry faux-martini, keep the portions small. A standard martini recipe will use three times the gin or vodka than the low FODMAP portion. Serving your tiny cocktail in those dessert wine glasses made for sherry might make the drink feel a bit bigger. And of course, don't forget your olives on the stick — that's the most fun.
So, Are Olives Low FODMAP?
Thankfully, olives are low FODMAP. The small fruit packs a flavorful punch, which can help add taste to a number of meals and snacks. Just find the brands that don't contain any high FODMAP ingredients in either the marinade or stuffing. And if you want to pop one on a toothpick and stick it in a low FODMAP drink, go right ahead. Cheers.
---
Recent Recipes