Are Chickpeas Low FODMAP?
Chickpeas, also called garbanzo beans, are prevalent and versatile legumes. They are excellent for hummus, falafel, sprinkled over salads, and added to soups and curries. Plus, they are healthy, providing dietary fiber, protein, potassium, iron, calcium, and other nutrients. But can you eat chickpeas on a low FODMAP diet?
Chickpeas are both low and high FODMAP. Raw chickpeas are high FODMAP. However, ¼ cup canned chickpeas that have been drained and rinsed twice is low FODMAP. Unfortunately, this means you won't know if a store's chickpea product or a restaurant dish is low FODMAP.
To enjoy chickpeas on a low FODMAP diet, you need to be in control of how they are prepared. Also, many chickpea dishes, such as hummus, contain garlic, which is a high FODMAP. However, if the thought of buying canned makes your wallet sob, there are a few tricks to try to reduce the FODMAP.
Why Are Canned Chickpeas Low FODMAP?
Canned chickpeas are low FODMAP because the FODMAPs have leached into the brine (water). This is why it is essential to drain and rinse the chickpeas twice. You want to ensure that all that liquid that was on the canned chickpeas is gone. Once completed, you can use the chickpeas as desired.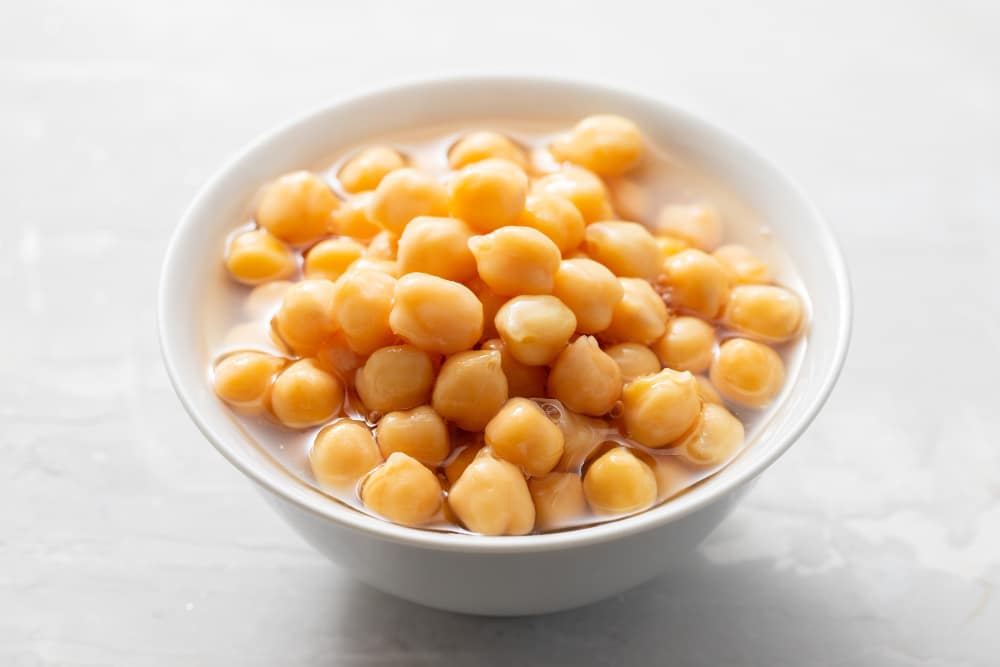 Can I Soak Dry Chickpeas To Reduce FODMAP?
You can try to soak dried chickpeas to reduce the FODMAP. This is usually cheaper than canned chickpeas, but it takes time. Many folks just soak their chickpeas overnight. But to ensure the FODMAP is low, it is recommended that you soak the chickpeas for eighteen hours.
Because the FODMAPs are being leached into the water, your success can be raised by rinsing before soaking. Halfway through the soak time, drain and rinse your chickpeas. Then add fresh water and soak for the final nine hours.
Also, many recipes, such as hummus, will advise you to add splashes of the cooking water from boiling your chickpeas to the dish. Skip this step and add fresh water to ensure you are not putting the FODMAPs back into your food.
Is Hummus Low FODMAP?
Hummus bought in stores or served in delis and restaurants is probably not low FODMAP. You can make hummus yourself using canned chickpeas. If you are missing that garlic touch that some enjoy, use garlic-infused olive oil instead of plain.
Tahini, a sesame seed paste, is a popular hummus ingredient. Tahini is low FODMAP with a serving of 1 Tbsp. Lemon juice, another hummus ingredient, is also low FODMAP.
Just remember to keep an eye on the dip portions. A ¼ serving whole chickpeas is the low FODMAP portion. Hummus, being smooshed, will require ingesting a smaller amount. Also, there is the tahini in there.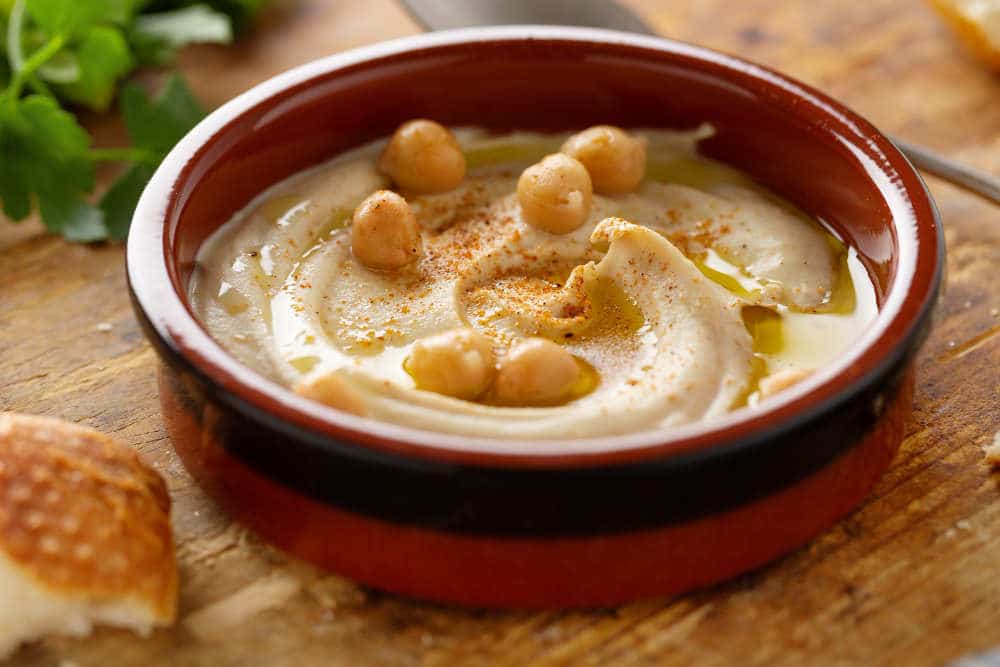 Are Roasted Chickpeas Low FODMAP?
There is no way to ensure roasted chickpeas made elsewhere are low FODMAP. However, if you make your own from canned, then a ¼ serving will be low FODMAP. Enjoy.
Is Chickpea Flour Low FODMAP?
Unfortunately, most chickpea flour is high FODMAP.
If you have the time, one idea is to attempt to make your own chickpea flour. This would require roasting your canned chickpeas first. Once cooled and all excess oil removed, you'd toss them into a food processer, giving them a whirl until they are powdery. This can go wrong, and you end up with the start of a very gummy hummus. But it never hurts to try.
To roast chickpeas, you first need to rinse and drain the chickpeas in a colander. Then, carefully give them a little rub between your hands to encourage the outer skin to slough off. Once finished, let them dry for a good half hour. Then toss them in a roasting pan with some olive oil, so they are lightly covered, and pop into the oven for fifteen minutes.
After that, allow cooling and good luck.
Is Falafel Low FODMAP?
Most premade falafel and falafel mixes are probably high FODMAP. In addition to not knowing how the chickpeas were prepared, garlic and onion are common ingredients in falafel. To ensure your falafel is low FODMAP, you would need to make it yourself using canned chickpeas.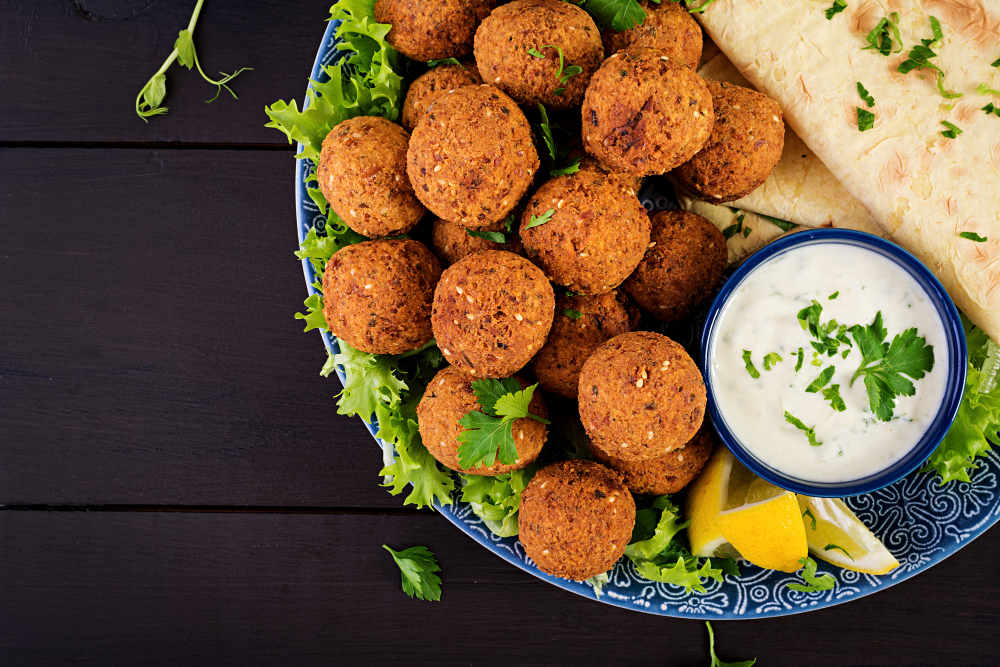 Is Chickpea Pasta Low FODMAP?
Good news, Monash University has tested chickpea pasta, and it is low FODMAP for a serving of 1 cup cooked. This is an easy way to incorporate extra protein and fiber into a meal. Plus, chickpea pasta is a highly versatile ingredient that can be added to salads and soups.
Are There Chickpea Substitutes?
There are many chickpea substitutes:
Cannellini Beans
Green Pea
Lentils
Kidney Beans
Mung Beans
Northern Beans
Peanuts
Roasted Edamame
Split Peas
Soybeans
However, many of these options fall into the same tricky place as chickpeas, which are high FODMAP unless canned. This is because legumes are, when raw, high FODMAP. Thus, when canned, some can be low FODMAP due to the FODMAPs being leached into the brine or water.
Peanuts (32 nuts) and edamame beans 3 oz. are low FODMAP. But if they'll work as a substitute will depend on the dish. For example, peanuts all mashed up are not going to make delicious hummus. They will, however, give you unsweetened peanut butter.
Are There Hummus Substitutes?
There are hummus alternatives. For example:
Greek Yoghurt
Tahini Sauce
Almond Hummus
Vegetable Hummus
Mayonnaise
Greek yogurt is low FODMAP at a ¾ oz. serving. It is moderate FODMAP at 3 Tbsp.
Tahini sauce can be made yourself, with some lemon juice, water, and some salt. You can add a splash of garlic-infused olive oil if you want a bit more flavor.
Almond hummus is generally made from almond flour. Up to a ¼ cup almond flour is low FODMAP, but of course, you need to check the rest of the ingredients.
Vegetable hummus is an incredibly varied dish and often contains onion or garlic. If you make it yourself, it could work. For example, broccoli florets are low FODMAP in a ¾ cup serving.
Mayonnaise is generally low FODMAP. However, the serving size depends on the brand. Also, some have garlic or onion in them and will need to be avoided.
A Tricky Pea to Digest
When it comes to chickpeas and the FODMAP, the answer isn't black and white. The simplest and safest method to ensure chickpeas are low FODMAP is to use canned chickpeas. There are also some chickpea and hummus substitutes, but you'll need to consider the ingredients carefully to ensure they are low FODMAP or prepare them yourself.
---
Recent Recipes