Alicha wot is an Ethiopian curry-style dish. It is earthy, a little spicy, and deeply hued. In Ethiopia, this might be referred to as a stew or one-pot meal, like so many dishes from the region. These slow-cooked stews are often served as a healing dish for those who are not feeling well.
The name of this dish is a little confusing. Alicha is a mild stew of meat or vegetables that is made without the local spice blend known as berbere. The dish is often seasoned with turmeric and ginger. The turmeric gives the dish its lovely yellow color. Wot is a spicy stew also made with meat or vegetables. It is prepared with berbere and onions. So, what exactly is alicha wot?
This alicha wot recipe is a stew of meat and vegetables that is slightly spicy and includes ginger, turmeric, and berbere. The heat comes from the berbere and the optional addition of serrano chili peppers.
Berbere is a traditional Ethiopian spice blend that can contain a dozen different ingredients. The most common ingredients are red chili pepper flakes, paprika, cumin, coriander, cardamom, fenugreek, clove, allspice, cinnamon, ginger, and black pepper.
I am using lamb stew meat in this version of alicha wot. Beef, goat, or venison will also work. The vegetables are onions and new potatoes. As with many curry-style dishes, you can serve rice as well.
One unique ingredient in alicha wot is niter kibbeh. This is a spiced clarified butter that you can make ahead of time and refrigerate or freeze until ready to use.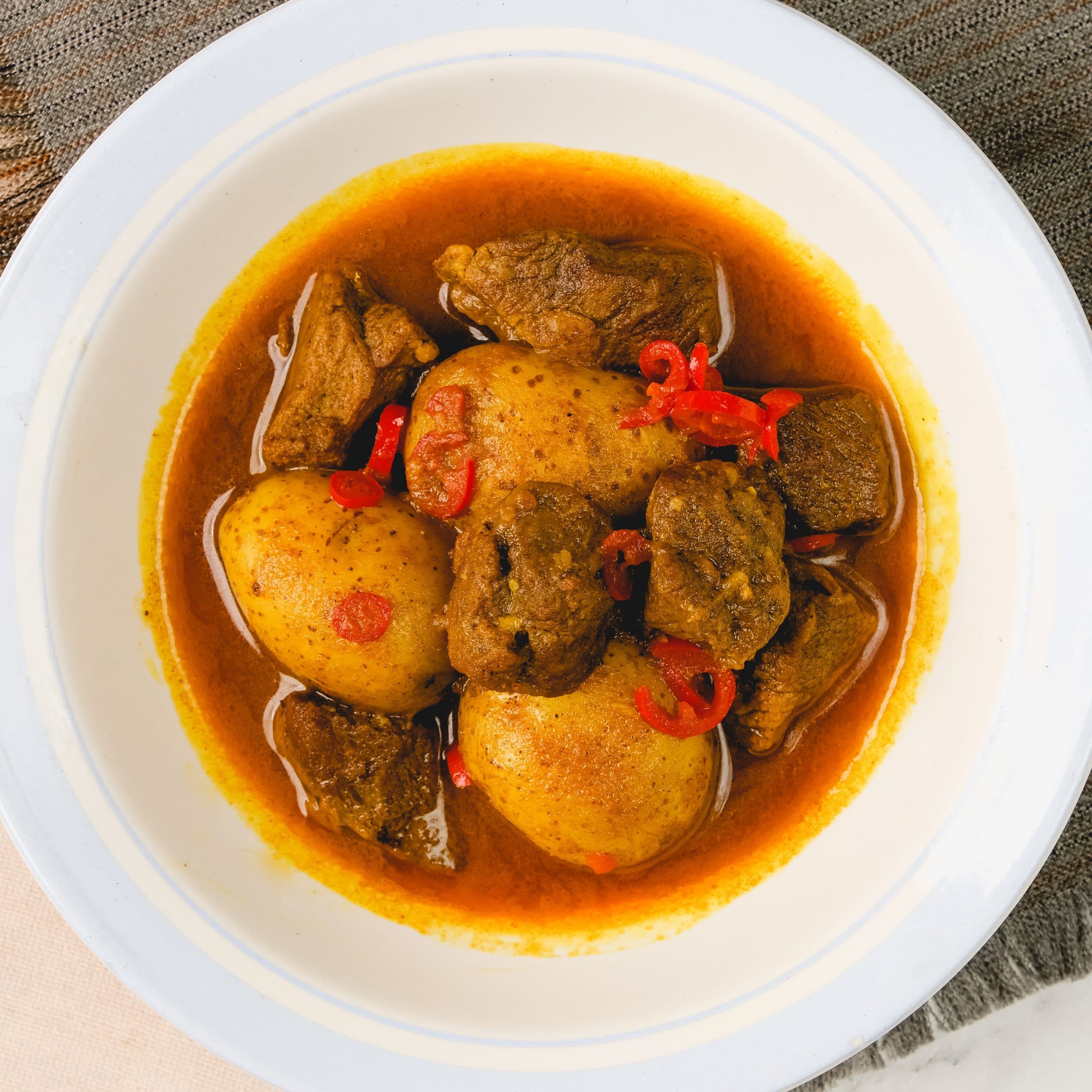 Ingredients
2

lb

lean lamb stew meat

cubed

1 ½

Tbsp

berbere spice blend

1

large white or yellow onion

peeled and sliced thinly

½

cup

spiced clarified butter

recipe follows

5

cloves

garlic

peeled and chopped

2

Tbsp

fresh ginger root

minced

1

tsp

ground turmeric

5

cups

water

more or less

2

tsp

sea salt

1

lb

baby or new potatoes

2 to 4

serrano chili peppers

sliced thinly (optional)
Instructions
Trim any excess or hard fat from the lamb cubes. Place them in a large bowl and season with the berbere. Using clean hands, toss the meat in the spices to coat evenly. Put the lamb aside for 20 minutes.

To a large heavy-bottomed pot or Dutch oven over medium heat, add the onion slices. Cook dry, stirring often, until soft, approximately 5 minutes.

Add the stew meat to the pot along with the butter. Brown the meat for approximately 6 or 7 minutes.

Add the garlic, ginger, and turmeric and stir to combine.

Pour in enough water to cover the meat by about an inch. As soon as the water comes to a boil, lower the heat to a simmer and cook uncovered for 1 hour and 20 minutes.

Add the salt and potatoes to the simmering lamb. Stir well and cook for approximately 30 minutes until the potatoes are fork-tender.

Stir in as many sliced chili peppers as desired, if using.

Serve with rice, Ethiopian lentils, braised greens, and injera teff bread.

Enjoy your Homemade Alicha Wot!
Video
Nutrition
Calories:
220
kcal
|
Carbohydrates:
13
g
|
Protein:
25
g
|
Fat:
7
g
|
Saturated Fat:
2
g
|
Polyunsaturated Fat:
1
g
|
Monounsaturated Fat:
3
g
|
Cholesterol:
75
mg
|
Sodium:
769
mg
|
Potassium:
627
mg
|
Fiber:
2
g
|
Sugar:
2
g
|
Vitamin A:
48
IU
|
Vitamin C:
14
mg
|
Calcium:
47
mg
|
Iron:
3
mg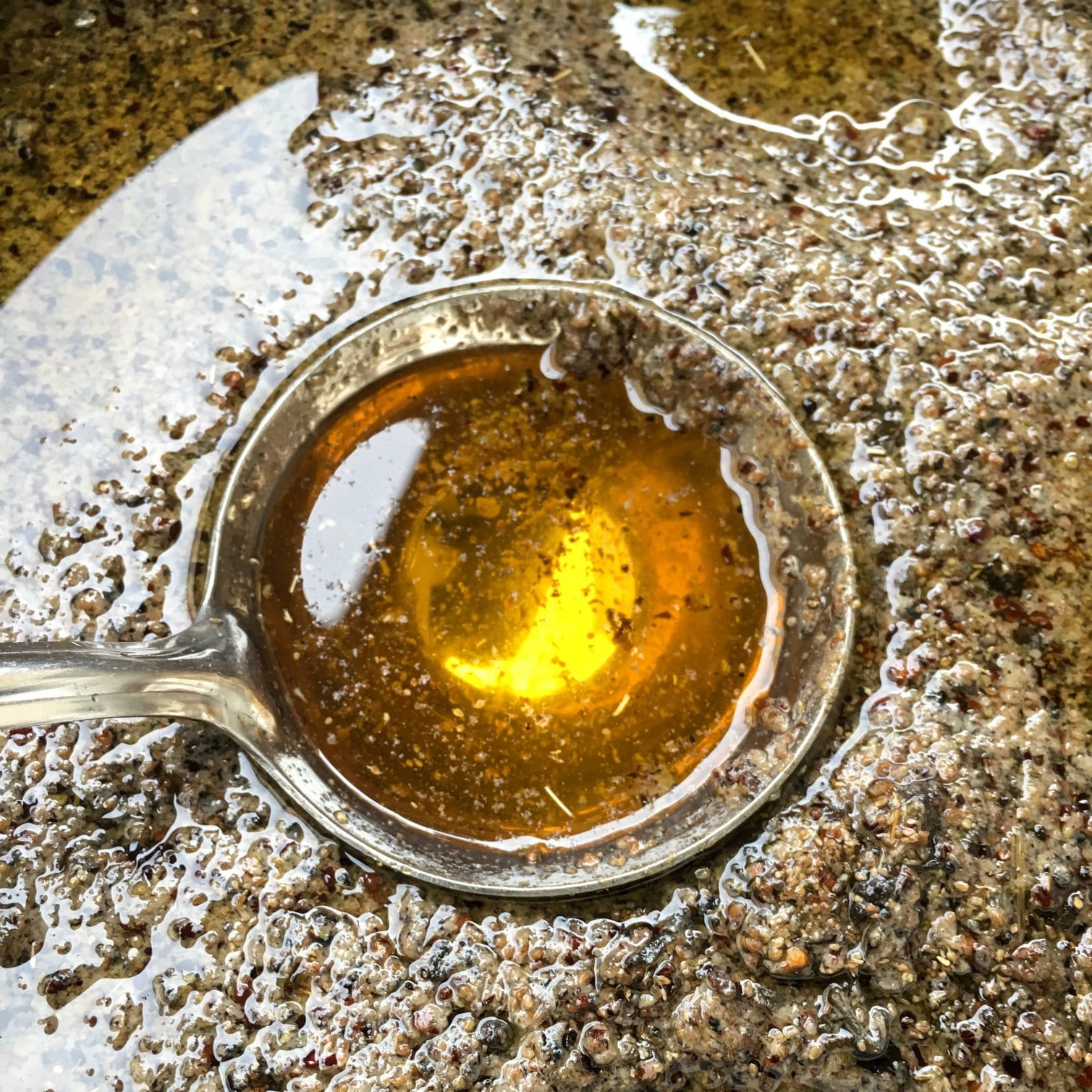 Ingredients
7

cardamom pods

crushed

3

whole cloves

1

½-inch piece of cinnamon stick

2

sticks unsalted butter

cubed

1

shallot

peeled and minced

1

garlic clove

peeled and minced

1

Tbsp

fresh ginger root

minced

1 ½

Tbsp

dried oregano leaves

½

tsp

ground fenugreek

¼

tsp

ground turmeric
Instructions
In a dry pan over medium heat, toast the cardamom, cloves, and cinnamon until they are fragrant, approximately 1 minute.

In a heavy-bottomed pot on low heat, add the butter and all the other ingredients. Stir well as the butter melts. Allow this to come to a gentle simmer and cook for about 45 minutes being sure that the milk solids don't brown or burn. If the solids start to brown, turn the heat off.

Place some cheesecloth inside a strainer and pour the butter through it into a glass jar to separate the milk solids and spices from the butter. Seal the jar and store in the fridge for several we
Nutrition
Calories:
124
kcal
|
Carbohydrates:
26
g
|
Protein:
4
g
|
Fat:
3
g
|
Saturated Fat:
1
g
|
Polyunsaturated Fat:
1
g
|
Monounsaturated Fat:
1
g
|
Trans Fat:
1
g
|
Cholesterol:
4
mg
|
Sodium:
13
mg
|
Potassium:
425
mg
|
Fiber:
11
g
|
Sugar:
3
g
|
Vitamin A:
191
IU
|
Vitamin C:
7
mg
|
Calcium:
233
mg
|
Iron:
6
mg
Notes & Tips
Make your spiced, clarified butter ahead so it is ready for use in your Ethiopian stews. If you don't have the time or patience to make spiced butter, you can find it pre-made in Ethiopian markets or online.
I don't peel the potatoes in this recipe. The skins of baby or new potatoes help keep the flesh from falling apart. They also add some beneficial fiber to the dish.
Substitutions & Shortcuts
The protein in this stew is a personal preference. I have seen recipes with venison, beef, goat, or chicken.
While the niter kebbeh is considered an important ingredient, I think you could use plain, jarred ghee and simply increase the berbere spice amount to 2 tablespoons. This is an acceptable shortcut.
This dish is naturally gluten-free. If you wish to go a step further and make it vegan, you can swap out the lamb for yellow split peas, mung beans, or additional root vegetables, such as carrots and turnips. Just be sure to cut the other vegetables to be the same size as the potatoes so that everything cooks evenly. If using just root vegetables, cut the cooking time down to about 40 minutes. There are also substitutions for clarified butter that are vegan.
---
Recent Recipes