Best Side Dishes For Meatloaf
Meatloaf on its own is delicious, but serving it with a complementing side dish can take the meal to a whole new level! You could pair it with something sweet, savory, or crisp and fresh; there are no limits when it comes to what you can serve with a juicy, tender meatloaf. However, with so many choices, how do you decide which to make? What are the best side dishes for meatloaf?
Best side dishes to serve with meatloaf include coleslaw, cheesy garlic roasted asparagus, dinner rolls, French onion mashed potatoes, rice, corn pudding, Duchess potatoes, garlic bread, Brussels sprout casserole, creamed spinach, cauliflower tots, and roasted vegetables, to name a few.
If you have prepared meatloaf and are searching for that perfect side dish to complete the meal, you've come to the right place. This article will provide a list of fantastic side dishes that are perfect for serving with meatloaf.
Best Dishes For Meatloaf?
There are many delicious savory, fresh, or sweet side dishes that you can serve with meatloaf, from coleslaw, creamed spinach, cauliflower tots, roasted seasonal vegetables, and garlic bread and asparagus.
We have specially selected some of the finest recipes that will compliment meatloaf beautifully and make it a meal to remember!
Coleslaw is an excellent option if you are looking for a refreshing side dish that will not overpower the flavors of the meatloaf. Meatloaf and coleslaw not only complement each other, but they are in total contrast when it comes to taste and texture.
So, each time you take a bite of either, you have a complete opposite tastebud experience which makes it an exciting combination. You can substitute the mayonnaise for Bulgarian yogurt if you don't want an overpowering flavor in your coleslaw.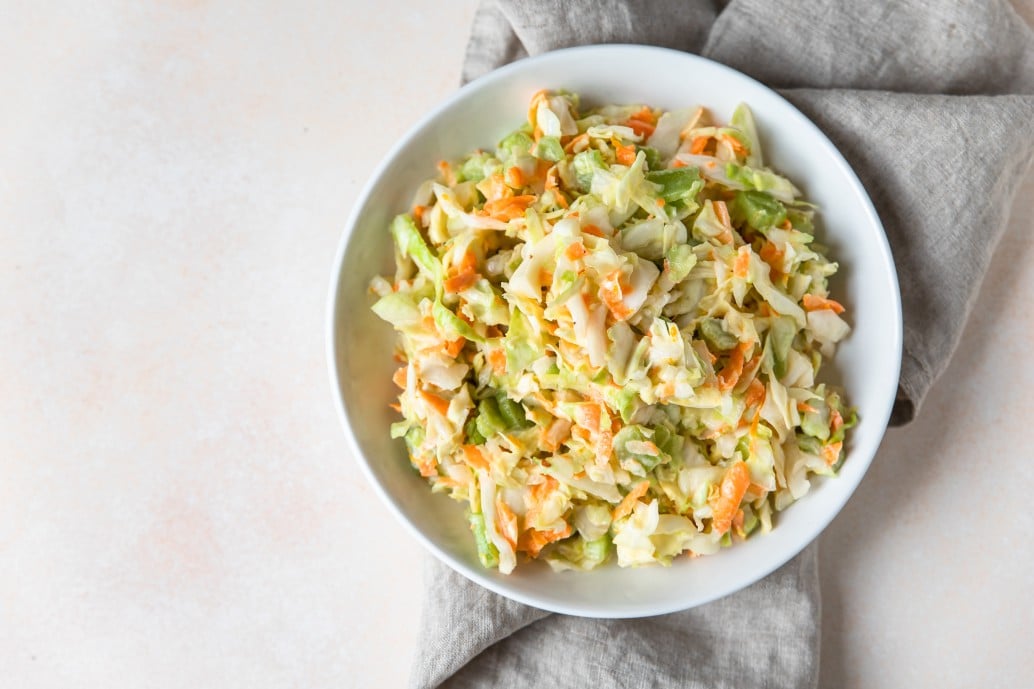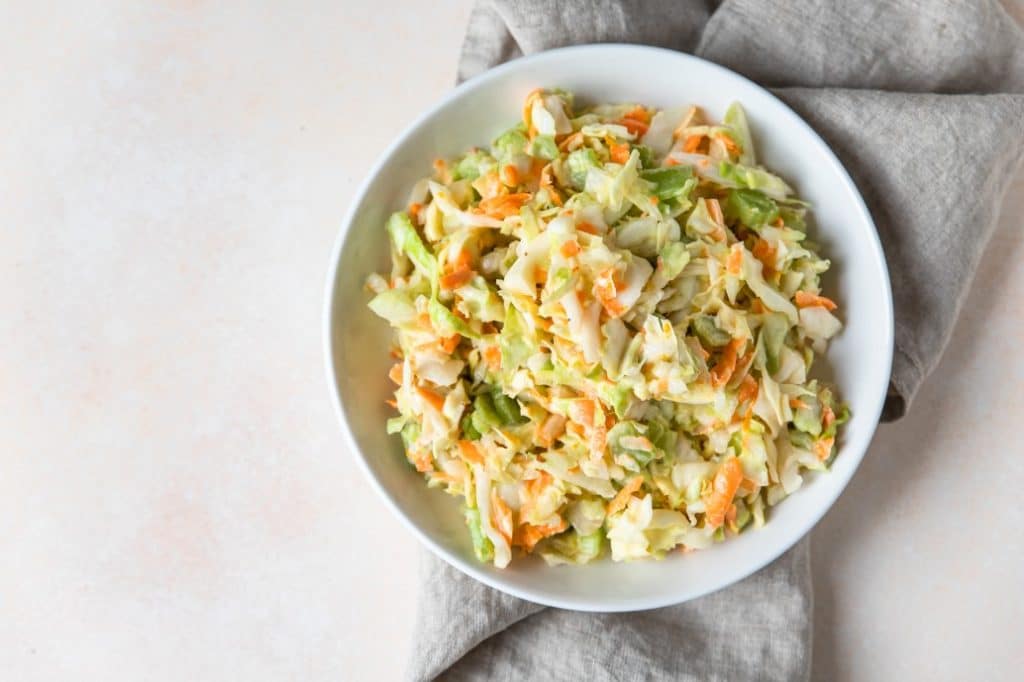 Asparagus can be served as a side with any meat, so why not try it with meatloaf? Well, we have, and you definitely should try it too! The heaviness of the meatloaf is balanced out beautifully with the crispiness of the asparagus.
There are many ways to prepare asparagus, but since garlic is such an excellent ingredient to use with meatloaf, we have chosen this mouth-watering roasted asparagus with a cheesy garlic recipe to seal the deal!
Bacon, parmesan cheese, and lemon are other ingredients you can add to your asparagus side dish to make it more filling and exciting.
This is a classic meatloaf side dish because you can dip it into the gravy or top it with slices of meatloaf. It is a playful side option and best served straight from the oven, steaming hot, with salted butter.
The sweetness in the roll brings out the rich, savory flavor of the meatloaf, and it does not overwhelm the taste whatsoever.
Please don't be fooled by the name. While corn pudding is a desert, many people use it as a side dish to serve their main course.
Corn pudding is a fantastic option if you want to add a sweet side dish to your meatloaf. It creates the perfect balance between savory and sweet, and it is an exciting taste experience, allowing every bite to be a sweet or savory delight.
You can serve tender meatloaf with golden, crispy potato wedges any and every time! The wedges tie this dish together beautifully, and you can use the gravy as a dipping sauce.
Make sure to spice them well and bake them until they are crunchy on the outside and soft and fluffy on the inside. To make your wedges even tastier, sprinkle some parmesan and garlic over the top and pop them into the oven just until the cheese has melted.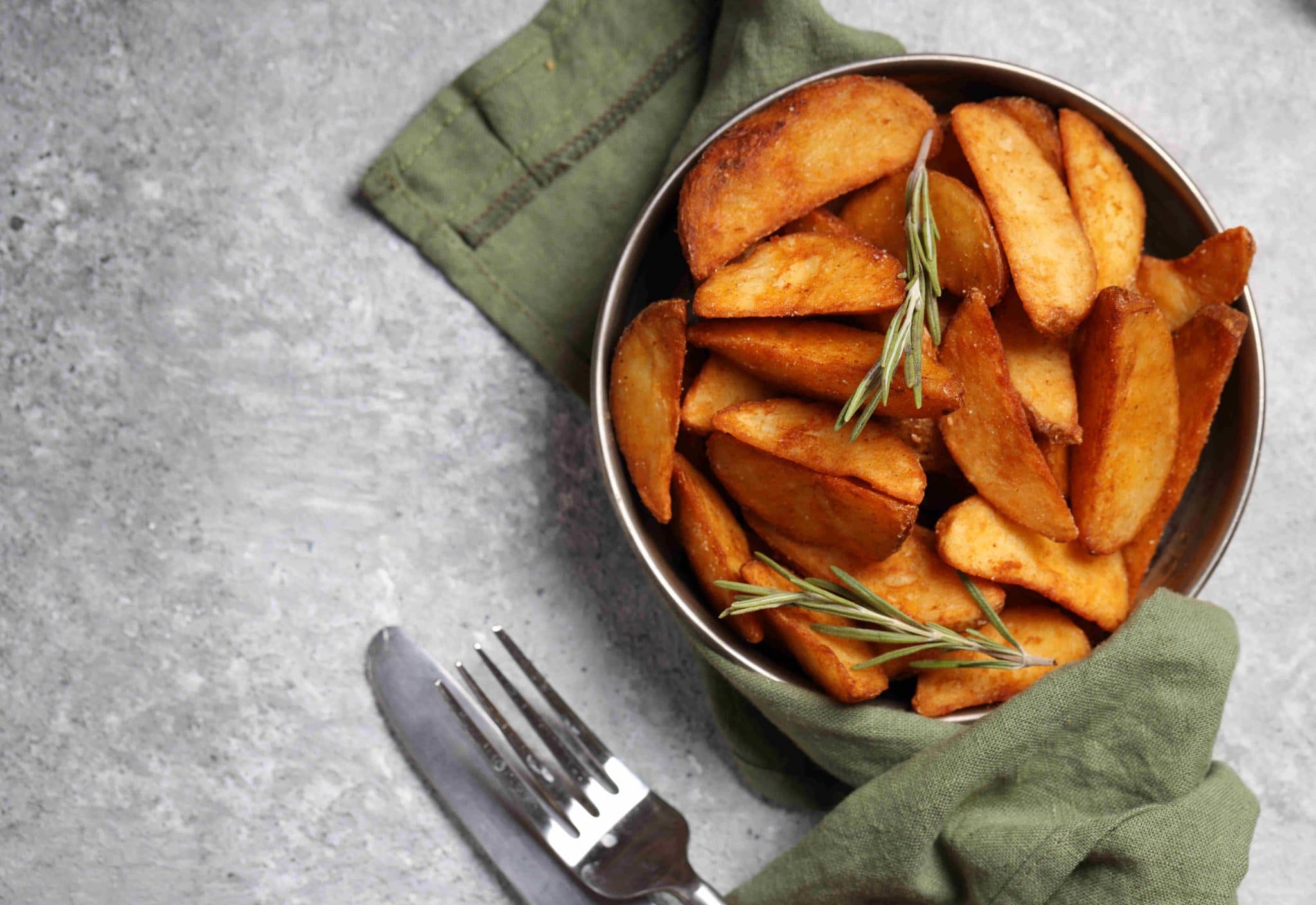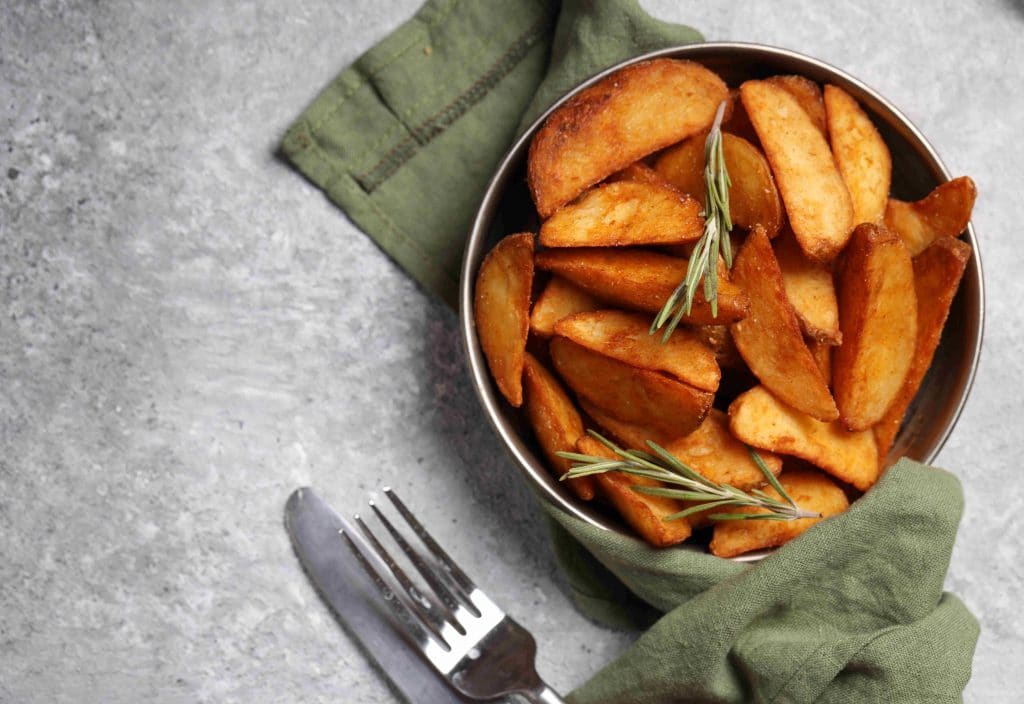 There are countless ways to prepare potatoes, but when choosing a potato side for meatloaf, then duchess potatoes are definitely in the top five!
The mashed potatoes are dolled-up with parmesan, nutmeg, cream, and garlic, shaped using a piping bag, and deep-fried to absolute golden perfection! They are such a great side dish to serve with meatloaf and equally tasty!
Rice has always been a traditional side dish to meatloaf, and it isn't hard to see why. The neutral taste of the rice accentuates the flavors in the meatloaf, and the texture of the rice soaks up the sauce for a juicy, meaty bite every time.
While many folks prefer to use plain rice, there are plenty of rice recipes that you can make to go with your meatloaf.
We know dinner rolls are great with meatloaf, but Garlic bread is another excellent choice and delicious when dipped into the gravy.
This may seem like a simple choice, but you can spruce up the garlic bread by adding bacon and cheese to it, or you can serve it as plain garlic bread. There is no wrong way, only preference.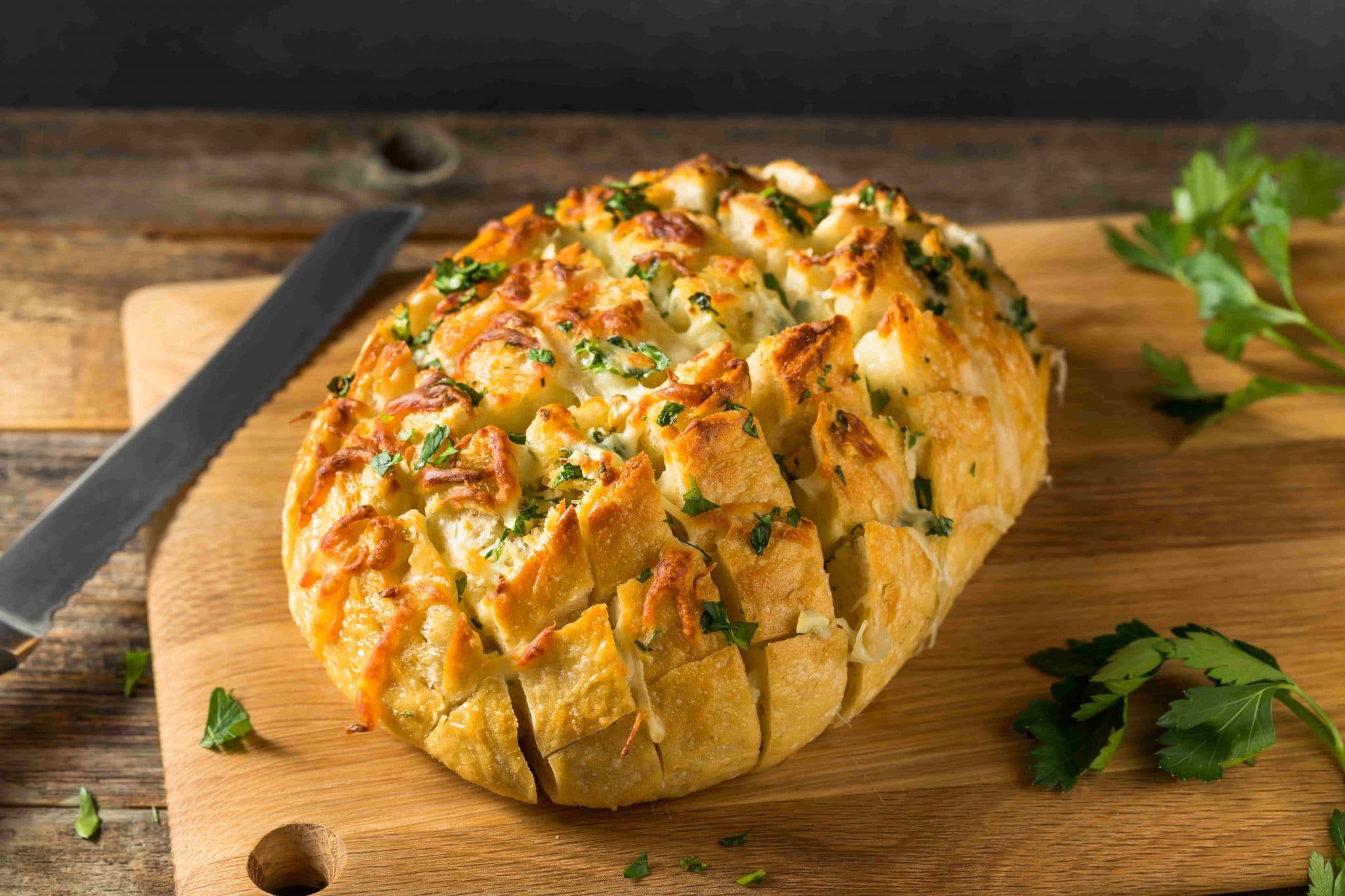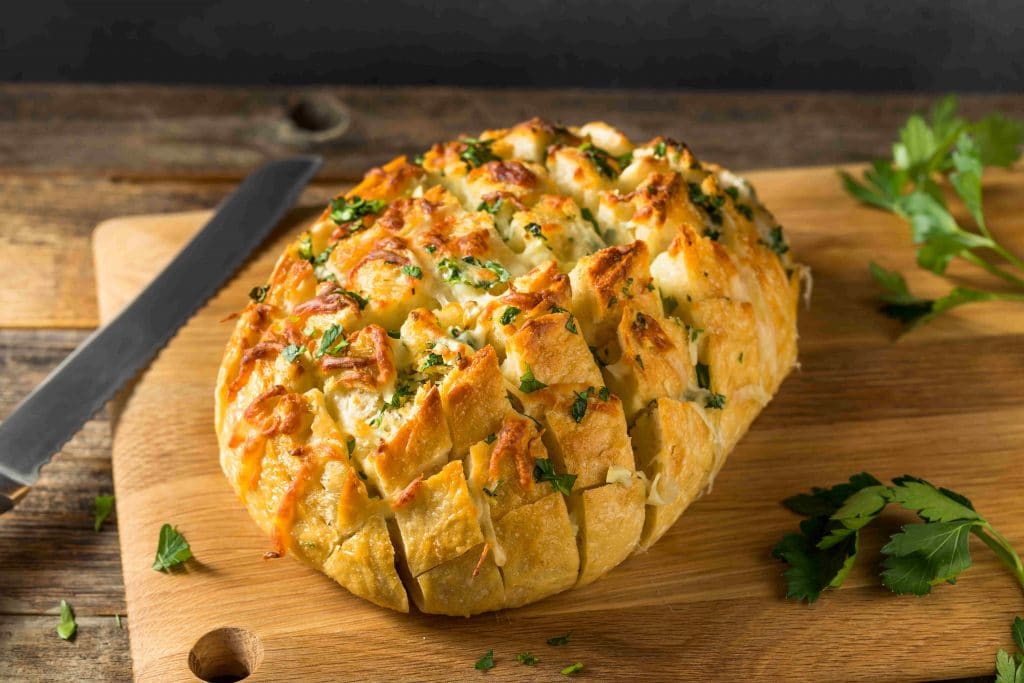 Honey glazed baby carrots balance out the savory of the meatloaf and add beautiful color to your plate. I refer to these as little palette cleansers as it makes each bit of the meatloaf seem like the first!
You can add golden syrup, butter, brown sugar, and cassia sticks to the dish to make it a more decadent, sweeter dish.
The crumbly texture of cornbread is perfect for soaking up the meatloaf gravy, and the lovely taste of the cornbread creates an irresistible burst of flavor when combined.
The sweetness in the corn brings out the savory of the meatloaf, making it a perfectly balanced and tasty eating experience.
Step aside tater tots, enter the cauliflower tots! These brilliant, tasty little tots are one of my favorite side dishes for meatloaf. They are bite-size, making it easy to pop in your mouth after each bite of meatloaf and perfect for dipping into your gravy!
Unlike tater tots, cauliflower isn't as heavy and filling, so you can enjoy more of them than you would if they were tater tots. These are also a great way to get children to eat their vegetables because they don't look like vegetables, and the taste certainly won't throw them off either.
When you have a dish with a lot of flavor and texture, such as meatloaf, you want to serve a side dish that isn't as bold in flavor. After all, the meatloaf should remain the show's star, and the side should add to and complement it.
That is why this lovely Brussels sprout casserole is such a wonderful side to serve with meatloaf. The creaminess of the cheese, the saltiness of the bacon, the sharpness of the Brussels sprouts, and the buttery crumbs all bring out the richness in the meatloaf.
Mashed cauliflower is just as flavorful as mashed potatoes; however, it is a much healthier alternative. They pair perfectly with a rich, tender meatloaf as they do not have an overwhelming taste.
They are especially delicious when drizzled with meatloaf gravy, and they do not make you feel as heavy as mashed potatoes do. For added tasty goodness, top the cauliflower mash with melted cheddar.
Sauteed mushrooms are healthy, lite, and so easy to prepare. They are the perfect side dish option if you want to serve something that isn't too filling but will complement your meatloaf dish more subtly.
You can sauté the mushrooms in garlic and olive oil or garlic and butter and add any spices you would like to enhance the flavor.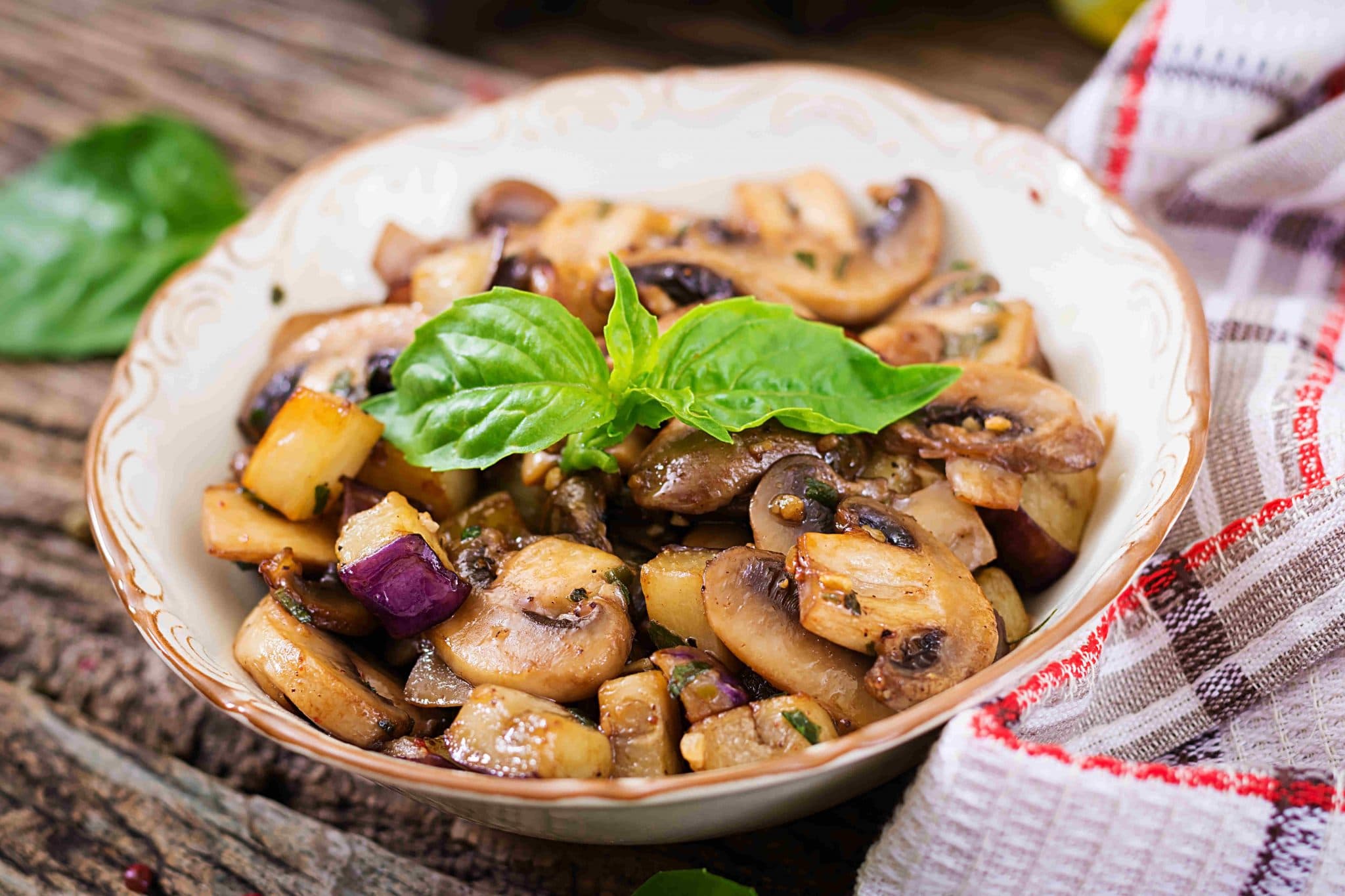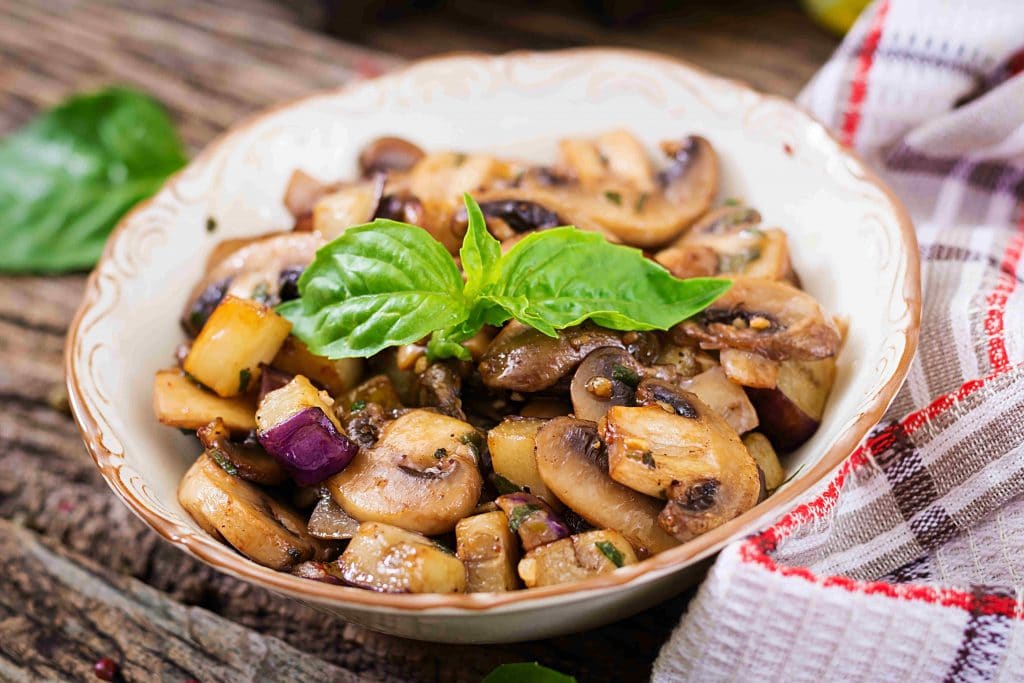 Spaghetti is usually a meal on its own, but did you know that it makes a lovely side dish for meatloaf as well? The combination of the meatloaf and the spaghetti with Napolitana sauce is almost like a deconstructed spaghetti and meatball dish.
However, this dynamic duo meal's separated textures and flavors make it easy to understand why people choose spaghetti as a side dish to meatloaf. The richness of the Napolitana sauce pairs beautifully with the meaty flavors; you can't go wrong!
Although a meal on its own, cream of mushroom soup is great to serve with meatloaf because you can dip the meatloaf slices into the soup or eat it as a soup, it is the flavor combination of the creamy mushrooms and the rich meatloaf that makes this a winning side dish.
If you want, you can even use cream of mushroom soup as a substitute for meatloaf gravy, turning it into a creamy meal packed full of flavor and texture.
Creamed spinach goes with pretty much any type of meat, which is why we have to include it on our list of the best side dishes for meatloaf. The texture of the spinach and the sauce's creaminess goes so well with the meaty flavors of the meatloaf.
It balances the saltiness of the meatloaf dish and adds a lovely creaminess that ties the meal together perfectly. Many people serve sweet pumpkin and creamed spinach together as co-side dishes to roast beef, meatloaf, turkey, and chicken.
Inspired by the original Hasselback potatoes recipe, Hasselback sweet potato is a healthier option and tastes just as delicious. The sweet potato is thinly sliced on top (not all the way through, drizzles with olive oil, and placed in the oven to roast until crispy and tender.
Herb and garlic butter are also great toppers if you do not have olive oil. The color of the sweet potatoes looks beautiful with the meatloaf, and the flavors compliment each other beautifully.
Here is another great side dish for meatloaf that is a meal on its own. Mac and cheese have been around for ages, bringing comfort and joy to families worldwide! It also pairs really well with meatloaf as it creates a creamy palate cleanser to prep your tastebuds for each bite of meatloaf.
This is without a doubt home cooking at its best, and the combination of two dishes makes for a great winter comfort food. You can add some bacon to the mac and cheese and try different types of cheeses with every serve.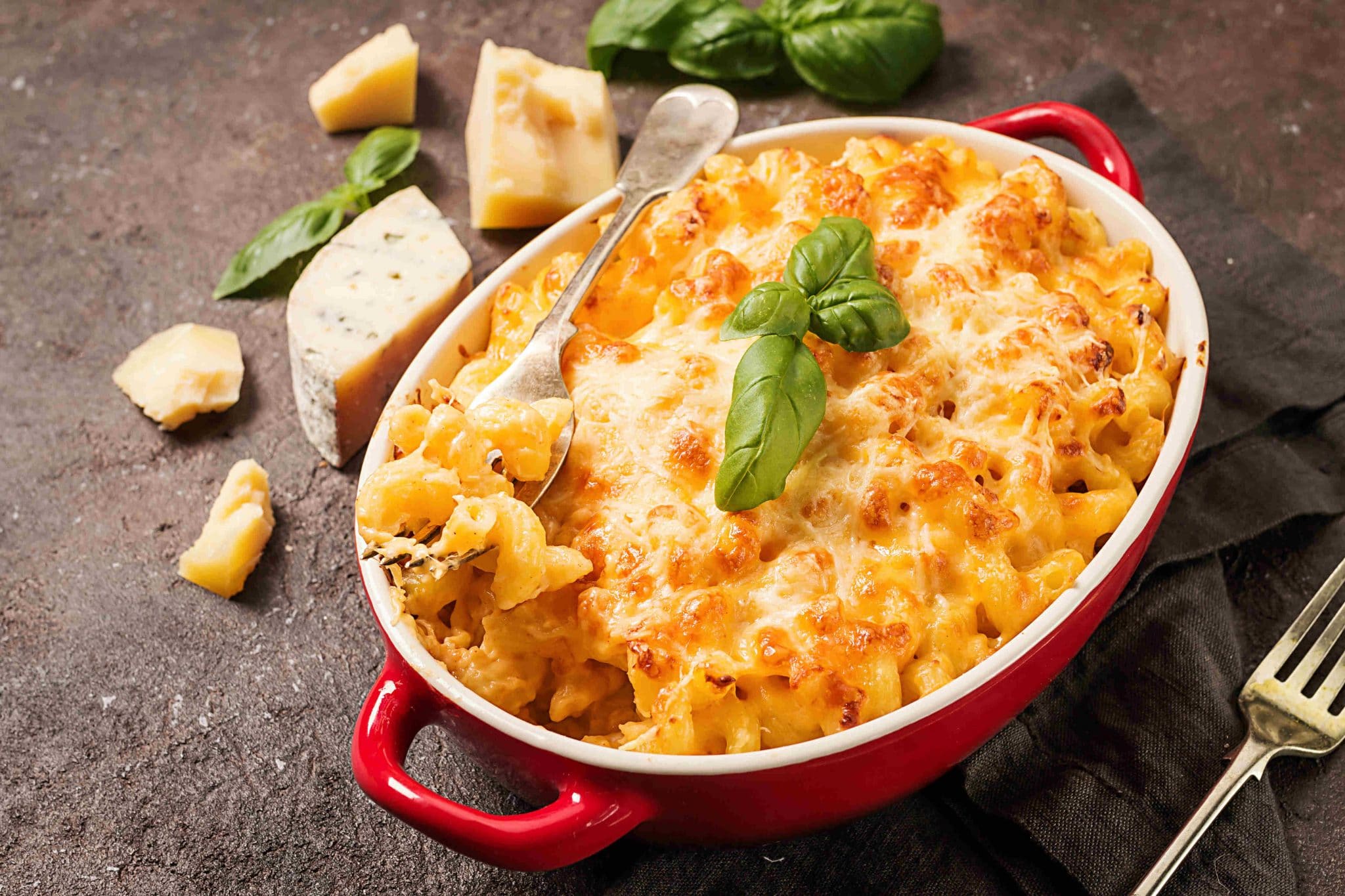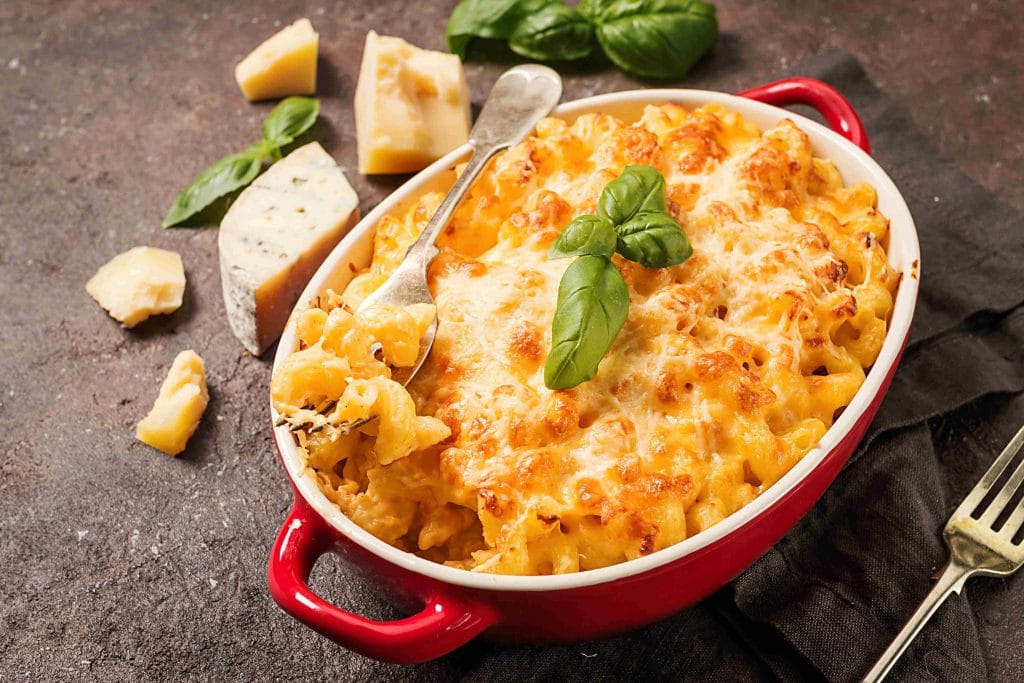 Serving roasted vegetables as a side dish to meatloaf is fantastic because you can choose any vegetables you would like to add. This makes it possible to achieve all kinds of flavors and textures that would go well with meatloaf, and it is the perfect way to use up all the veggies in the refrigerator to make way for the new ones.
Butternut, courgettes, pettipants, new potatoes, green beans, carrots, red onions, and whole garlic are just some of the ingredients you can add to your roast veggie ensemble. Give it a good sprinkle of olive oil, pop it in the oven, and you're good to go!
This fresh, crispy meatloaf side dish is as tasty as it is visually attractive. With the beautiful colors of fresh turnip greens, watermelon radishes, and heirloom grape tomatoes, it makes your meatloaf dish all the more inviting.
The contrast of the flavors and the crunchy and tender textures makes your tastebuds dance. This is a great side dish for summer because it is lite in comparison to the meatloaf.
The radishes and roasted asparagus give potato salad a makeover this season! This beautiful salad is full of wholesome flavors, and just like regular potato salad, this version compliments meatloaf perfectly, brightens up the plate, and satisfies your palette.
You can make the herb dressing up to one week in advance to allow the flavors to develop. Make sure to add the asparagus only when the potatoes are cooked to prevent it from becoming mushy.
Last on this great list, but definitely not least, is a twist on mashed potatoes. Adding French onion soup, Gruyere cheese, Sherry and thyme caramelized onions, and a generous sprinkle of crispy onions to classic buttermilk mashed potatoes turns it into an incredibly tasty textural side dish that is perfect for serving with meatloaf.
This side dish looks beautiful when presented in individual ramekins to add a touch of class and sophistication to your meatloaf dish. You can prepare the caramelized onions three days before making the mashed potato to develop incredible flavor.
It Is A Wrap!
There you have it! If you have difficulty deciding which side to choose, remember, you can always make meatloaf again and work your way through all the side dish options. But whichever side dish you decide to make, they are all delicious with meatloaf. Enjoy!
---
Recent Recipes