Homemade Honey Harissa Cauliflower Bites
What is honey and spice and everything nice? These Heavenly Honey Harissa Cauliflower Bites. One bite and you can literally hear angels sing. The funny bit is I don't even like cauliflower that much. I find it falls between a potato and a broccoli and I can't quite figure out its flavor profile yet. But my household loves cauliflowers and is a staple at my table, just not on my plate, until I got a mouthful of these. The thick sweetness of honey works nicely off of the fiery harissa and every bite is an explosion of flavors.
Harissa is a thick Tunisian spice paste, made primarily with ground dried chilis and a combination of various whole spices and herbs. It can also be found in powder form. Harissa hits pretty high on the Scoville scale, but it does come in a variety of spice levels, so if you don't like your food too spicy, opt for the milder ones. While chili is the main component, it is most commonly made with garlic, cumin and coriander seeds. Harissa can be used as condiment, spread or even a base for cooking. It is found in cuisines in parts of Africa as well as the Middle East.
You can use harissa with various kinds of meat, fish and vegetables. You can even use it as a spread or a dip. I also like to add a small amount to soups to give it a bit of a kick, especially in milder bean soups, it elevates it.
Despite the difference in texture, harissa most closely resembles Sriracha sauce and can be used interchangeably, depending on the recipe and spice level. For this recipe, I suggest you stick with the harissa, your tastebuds will thank me. I use store bought harissa, but if you want to try your hand at authentic harissa paste, there are tons of recipes out there. Here is how you can use your harissa in my Heavenly Honey Harissa Cauliflower Bites.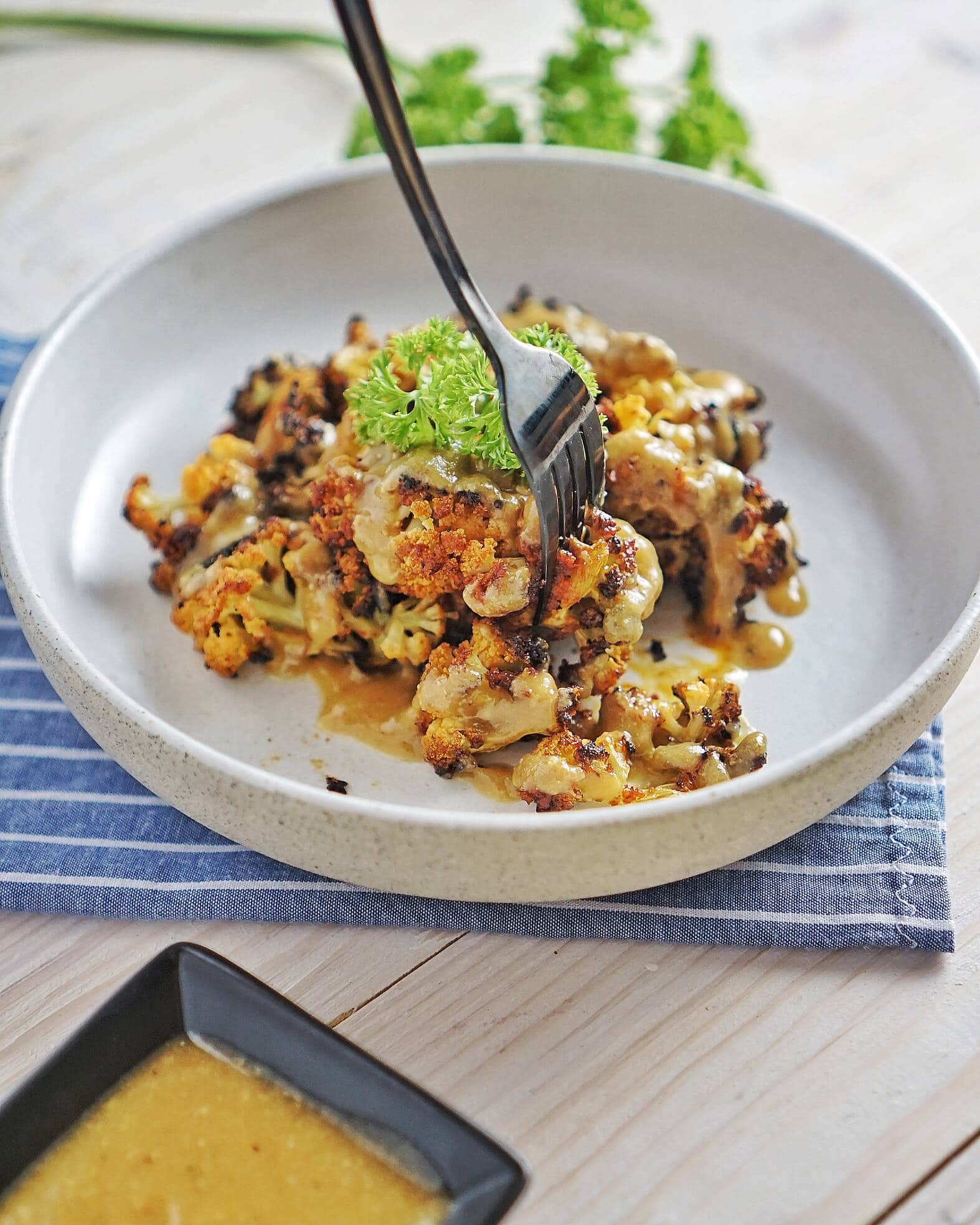 Ingredients
1

head of cauliflower

cut into florets

4

tablespoons

of olive oil

4

tablespoons

of harissa paste

2

tablespoons

of tahini

1

tablespoon

of honey

1

tablespoon

of lemon juice

Salt and pepper

A few sprigs of fresh parsley for garnish
Instructions
Preheat the oven to 425 degrees F

In a large bowl mix 2 tablespoons of olive oil, 2 tablespoons of harissa paste and salt.

Add in the cauliflower and mix nicely until well coated and place on a lined baking sheet.

Bake for 35 minutes, turning them over halfway.

Take out of the oven, add the remaining harissa paste and bake for another 7-10 minutes.

In the meantime, let's get started on the honey-tahini sauce. In a small bowl combine 2 tablespoons of olive oil, tahini, honey, lemon juice, salt and pepper. Stir till it develops a nice consistency. You can add a little bit of water to thin it out.

Transfer the baked cauliflower into a serving platter and drizzle with the honey-tahini sauce right before serving.

Garnish with parsley.
Video
Nutrition
Calories:
237
kcal
|
Carbohydrates:
16
g
|
Protein:
4
g
|
Fat:
18
g
|
Saturated Fat:
3
g
|
Polyunsaturated Fat:
3
g
|
Monounsaturated Fat:
12
g
|
Sodium:
247
mg
|
Potassium:
528
mg
|
Fiber:
4
g
|
Sugar:
9
g
|
Vitamin A:
108
IU
|
Vitamin C:
74
mg
|
Calcium:
47
mg
|
Iron:
1
mg
Tips & Tricks
Use authentic harissa, homemade or store bought is fine. PUR Spices is my favorite on Amazon.
Use a full head of cauliflower instead of precut florets because you can then make big, thick cuts that bake a lot better and more evenly.
Pour the honey-tahini sauce when you are serving it.
Storage
The Honey Harissa Cauliflower Bites can be stored in the fridge for up to two days. They will lose some of the crispness, but none of the flavor. The sauce can be refrigerated for about a week.
I would not recommend freezing Heavenly Honey Harissa Cauliflower Bites as the thawing process will not only make it soggy, but will also make it less potent.
FAQs
I think I used too much harissa; how can I make it less spicy?
If you have already baked the cauliflower, I would suggest double the amount of honey in the honey-tahini sauce and pour generously. The honey would cut the blazing spice to a more tolerable level. You can also add some kind of yogurt dip that will cool down the burn.
If you haven't baked the cauliflower yet, you can either add more cauliflower florets or gently rinse out the cauliflower under cool water and remake the harissa seasoning. If you are doing this, wipe the cauliflowers dry after, else they will get soggy in the oven.
Can I cook this on the stove top?
You certainly can, but it is more time consuming. If you are cooking it over the stove top, you first have to cut the florets in such a way that they can lay flat on the pan. You also need to make larger cuts, no more than 4-6 florets so that you can flip them easily. Once coated with the harissa seasoning, heat the oil in a pan and add the cauliflower florets. Cook till they are brown and done, about 6-8 minutes each side. The cauliflower should get a nice char. Once done, you can then cut the cauliflower into smaller pieces.
Substitutions
Cauliflower: The harissa-honey flavoring is the star of the dish, this makes the vegetable interchangeable. This will work best with broccoli. You can also try it with potatoes, but make sure the potatoes get fully cooked.
Harissa: While Sriracha has a similar taste, this recipe works best with harissa but in a pinch go for the sauce in the hand. Or if you can find a hot chili paste that would work great as well. If using paste, if you have it, add lime juice with the paste and it should taste almost like Harissa.
Honey: Maple syrup is the best bet. You can also use agave.
Garnish: The garnish is entirely optional. You can also replace the parsley with cilantro or chives.
Accompaniments
The Heavenly Honey Harissa Cauliflower Bites are fantastic appetizers and sliced cucumbers pair beautifully with them.
The spice from the cauliflower makes any kind of yogurt dip a good option, like tzatziki or a simple hung curd dip.
If I have leftover Heavenly Honey Harissa Cauliflower Bites I like to add it to a bowl of cooked white rice, preferably basmati or jasmine. The kick from the harissa is balanced by the mildness of the rice.
If you are hankering for more harissa make this amazing harissa shrimp.
---
Recent Recipes