Simple Savory Latin Fried Potatoes
The humble potato does not get the attention it deserves in this age of low-carb diets. There are more than 100 varieties of potatoes. They come in different colors, shapes, and sizes. Potatoes are delicious and nutritious.
Potatoes are starchy root vegetables of Central and South American origin. This tuber is one of the most widely grown and affordable root crops consumed all over the world. Potatoes have no cholesterol, very little fat, and are an excellent source of dietary fiber. They are a rich source of B-complex vitamins, especially B-6, as well as vitamin C. Potatoes also provide us with many essential minerals, such as copper, iron, manganese, magnesium, and phosphorous.
What I like about potatoes is that they can take just about any seasoning you want to throw at them. They are a perfect backdrop for a variety of herbs, spices, and sauces. Butter, salt, and pepper are great, but there is so much more you can do to elevate white potatoes. In this recipe for Latin fried potatoes, we are immersing potatoes in a spice paste enhanced with tomatoes and jalapeño peppers.
The recipe is similar to Spanish patatas bravas with the addition of Latin flavors. Patatas bravas is a classic tapas dish where white-fleshed potatoes are first boiled in salted water and then fried in olive oil. This preparation method works very well for Latin fried potatoes. The best part is that you can boil the potatoes the day before and assemble the dish quickly when ready to serve.
These gluten-free and vegan potatoes are a little spicy, slightly acidic, sweet, and comforting. You can adjust the heat level to your liking by adding a pinch or two of cayenne. The dish is completed with fresh cilantro leaves and some lime juice.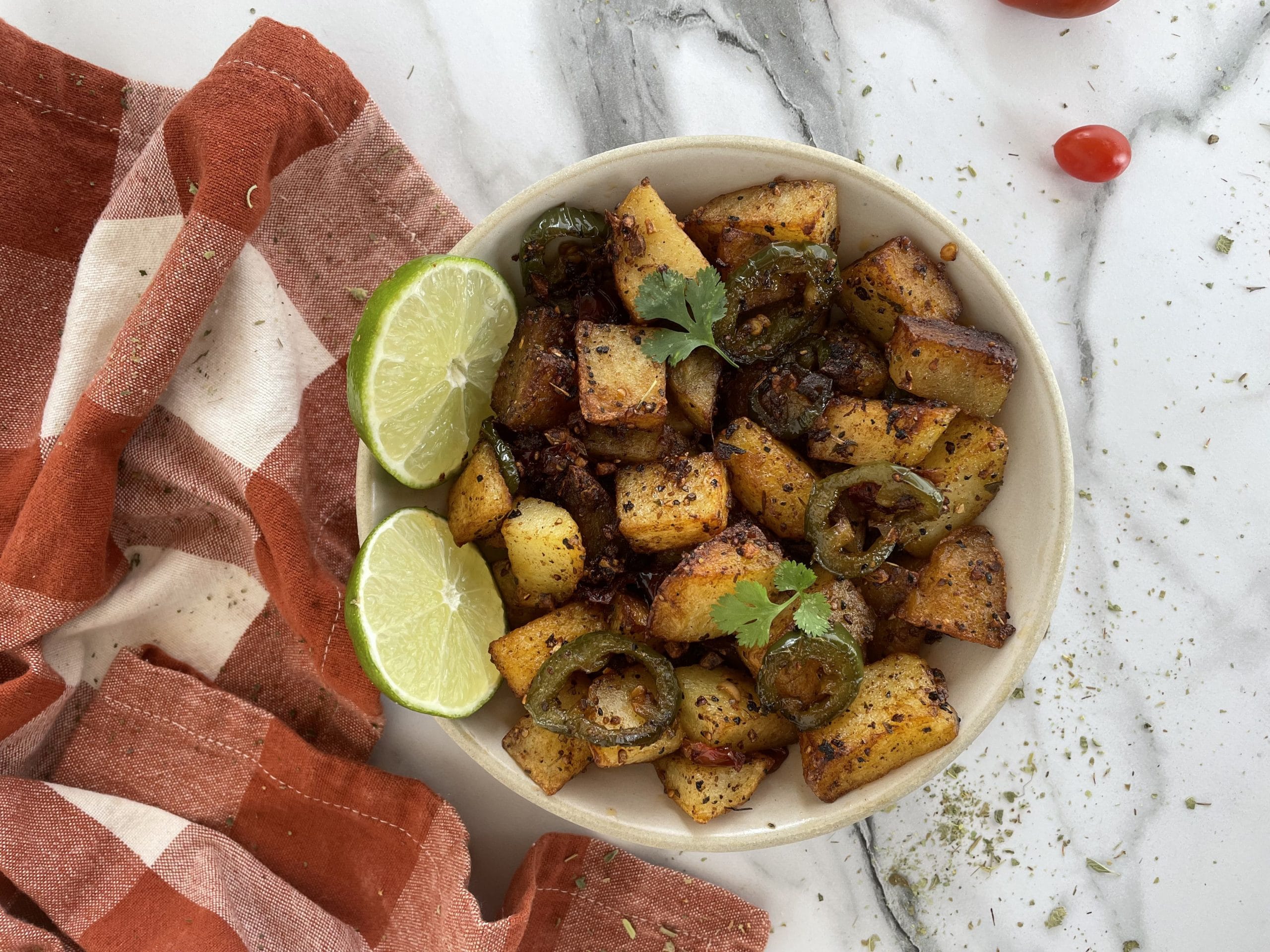 Ingredients
2

pounds

red or yellow-skinned potatoes

cut into 3/4-inch cubes

1

clove

garlic

minced

1-1/2

TBS

paprika

3/4

tsp

dried oregano

1/4

tsp

ground cumin

1

TBS

red wine vinegar

1/2

tsp

sea salt

1/2

cup

extra virgin olive oil

divided

3/4

cup

cherry tomatoes sliced in half

2

jalapeño peppers

thinly sliced

3

garlic cloves

minced

1/2

tsp

freshly ground pepper

1/4

tsp

sea salt

1/3

cup

fresh cilantro leaves

Lime wedges for serving
Instructions
Assemble your ingredients.

Place the potatoes in a large pot and cover them with cold water. Season the water with salt. Bring to a boil and cook the potatoes until they can be easily pierced with a sharp knife but still al dente. Drain in a colander and set aside.

While the potatoes are boiling, make the seasoning paste. In a small mixing bowl, combine 1 clove of minced garlic, paprika, oregano, cumin, vinegar, and salt. Mix this until it forms a paste.

In a large, heavy skillet (preferably cast-iron), heat 2 tablespoons of olive oil over medium-high heat. Add the tomatoes and jalapeños. Cook for 4 to 5 minutes until the tomatoes release their juices to make a sauce and the jalapeños are tender.

Add the remaining garlic and cook for an additional 30 seconds. Stir in the seasoning paste. Once warm, transfer everything to a bowl and wipe out the skillet.

Turn the heat down to medium. Add the rest of the olive oil to the skillet. Add the potatoes and season with salt and pepper. Cook until the potatoes begin to brown, stirring every 2 minutes. Continue until all the potatoes are golden brown and a little crispy.

Stir in the tomato and jalapeño mixture to coat the potatoes.

Transfer to a serving bowl and garnish with the cilantro leaves. Serve while hot with lemon wedges.
Video
Nutrition
Calories:
205
kcal
|
Carbohydrates:
19
g
|
Protein:
2
g
|
Fat:
14
g
|
Saturated Fat:
2
g
|
Polyunsaturated Fat:
2
g
|
Monounsaturated Fat:
10
g
|
Sodium:
240
mg
|
Potassium:
570
mg
|
Fiber:
2
g
|
Sugar:
2
g
|
Vitamin A:
226
IU
|
Vitamin C:
17
mg
|
Calcium:
17
mg
|
Iron:
1
mg
Notes and Tips
The best potatoes for this recipe are waxy fleshed Yukon Gold or Red Bliss. Baking potatoes might fall apart when cooking them. Just be sure to boil the potatoes until just tender but not cracking because they are cooked twice.
There are recipes for Latin fried potatoes that suggest you fry the potatoes without boiling them first. This works, but you really need to keep an eye on the potatoes so they don't get too dark. The potatoes will take about 20 minutes to fry if doing them from raw.
Substitutions & Shortcuts
You can boil the potatoes a day ahead. And, you can make the spice paste a day ahead. Both will keep just fine in the fridge.
I am very fond of Japanese white sweet potatoes as a substitute for regular white potatoes. They hold their shape better than orange sweet potatoes and have a less sweet flavor. These potatoes are a good substitute if you are avoiding nightshade fruits and vegetables.
The spice paste is really a substitution for achiote or annatto paste that is a popular ingredient in Latin dishes. However, achiote isn't always easy to find. If you have some, use that instead of making your own paste. This will skip a step.
Compliments
You can keep this meal vegetarian by serving the potatoes as the entrée with a side salad or braised greens. I like these potatoes with a spoonful of plain yogurt or crème fraiche on top.
If you aren't keeping with a plant-based theme, you might like to try our recipe for Crispy Sour Cream and Onion Chicken. This is an easy preparation for chicken breasts that pairs nicely with spicy potatoes. Slices of fresh ripe tomatoes would temper the heat.
---
Recent Recipes