GAPS Friendly Butternut Squash Soup
One of my favorite soups to make in late fall and all winter is butternut squash soup. It kitchen smells so good while the soup is simmering. It is bright orange, creamy, and soothing. I make a large pot to eat during the week or to freeze and enjoy throughout the winter.
Aside from the obvious beta-carotene of the orange flesh of butternut squash, this vegetable is low in calories and fat and high in dietary fiber. Butternut squash is a great source of vitamin A which is essential for healthy eyesight. It is also rich in B-complex vitamins and the minerals calcium, iron, potassium, and zinc. It doesn't stop there, as you can roast the seeds for even more fiber, protein, and minerals.
I always used to make roasted butternut squash soup. I would cut the squash in half, remove the seeds, peel the skin, and dice the squash meat. I then coated it with olive oil, salt, and pepper. I roasted the squash on a sheet pan in a 400°F oven for about 35 minutes until the squash was tender. After that, I made my soup.
Recently, I started skipping the roasting step of my go-to recipe simply to save time and extra cleanup. If it is a snowy Sunday afternoon, I will roast the squash. Otherwise, I simply cook it in bone or vegetable broth with aromatics, herbs, and spices. I don't add dairy, such as cream, because I like this soup to be GAPS-friendly and for the squash to be the major flavor component. I do sometimes add organic, unsweetened almond milk if the blended soup is too thick.
For this butternut squash soup recipe, I am keeping it pretty clean and simple with very few ingredients so that it is both delicious for adults and something that will easily satisfy your children who might be on a GAPS diet (GUT and Psychology Syndrome) for health reasons.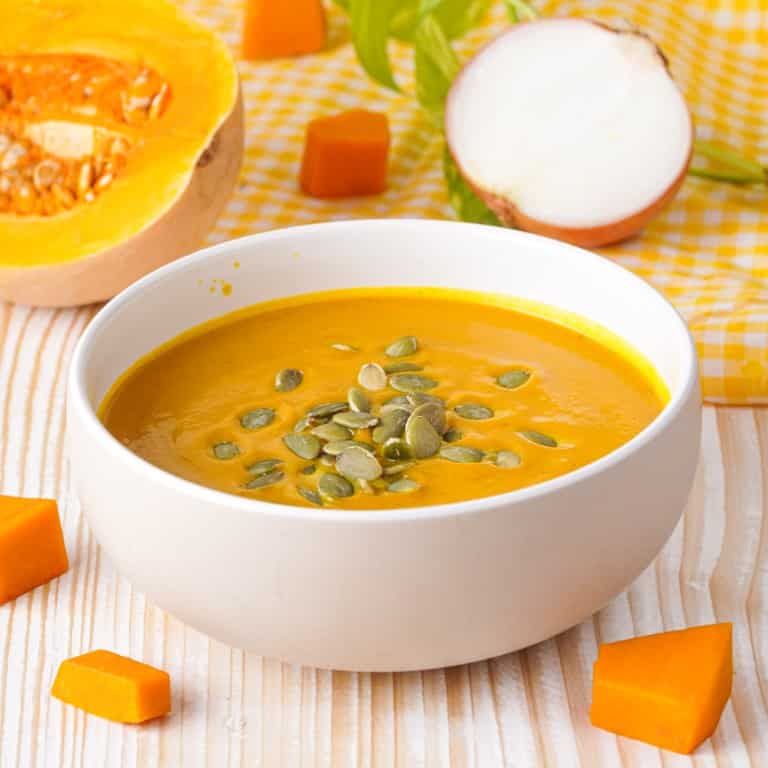 Ingredients
2

Tbsp

extra virgin olive oil

1

large yellow onion

peeled and chopped

½

tsp

sea salt

1

3-pound butternut squash, seeded, peeled, and cubed

1

tsp

dried sage

½

tsp

dried thyme

½

tsp

dried rosemary

¼

tsp

ground ginger

3 ½

cups

chicken bone broth

Salt and freshly ground pepper to taste

Unsweetened almond milk

optional

Raw pumpkin seeds for serving
Instructions
All ingredients ready? Let's begin!

In a large soup pot over medium heat, warm the olive oil. Add the onion and salt and cook until the onion softens, approximately 5 minutes, stirring a few times.

Add the squash to the pot and cook until it begins to soften, approximately 8 minutes, stirring occasionally.

Add the sage, thyme, rosemary, and ginger to the pot and cook until the herbs and spices are fragrant about 1-1/2 minutes.

Pour the broth into the pot. Bring this to a boil. Then, reduce the heat to a low simmer and cover the pot. Continue to cook until the squash is fork-tender. This should take about 25 minutes.

Remove the pot from the heat and allow the soup to cool for about 10 minutes. Ladle 1/2 of the soup into the jar of a blender. Place the remainder into a pitcher or another pot. Blend the soup until smooth and creamy.

Pour this back into the soup pot. Repeat with the rest of the soup and pour the second batch into the pot.

Turn the heat to medium under the pot, just to warm up the soup. If it is too thick, whisk in some almond milk 1/4 cup at a time until you achieve the desired texture. Season with salt and pepper to taste.

Serve the soup while warm with a few pumpkin seeds on top for garnish and crunch.
Nutrition
Calories:
151
kcal
|
Carbohydrates:
17
g
|
Protein:
8
g
|
Fat:
7
g
|
Saturated Fat:
1
g
|
Polyunsaturated Fat:
2
g
|
Monounsaturated Fat:
4
g
|
Trans Fat:
0.003
g
|
Sodium:
259
mg
|
Potassium:
507
mg
|
Fiber:
3
g
|
Sugar:
4
g
|
Vitamin A:
13293
IU
|
Vitamin C:
28
mg
|
Calcium:
69
mg
|
Iron:
1
mg
Notes & Tips
If you have the time, I highly recommend trying the roasted squash version of this recipe. If you roast the squash first. Sauté the onions and spices. Add the broth and simmer for about 5 minutes. Then, add the roasted squash and blend until smooth.
It is important to allow the hot soup to cool down before blending it. The steam from hot soup can cause the top of the blender to pop off, resulting in an explosive mess. If you do blend hot soup, leave the center cap off and lightly cover the top of the blender with a kitchen towel so the steam can escape.
Substitutions & Shortcuts
Butternut Squash: I love butternut squash and it grows abundantly where I live. All of my markets carry butternut squash. I can also find buttercup squash, which tastes similar. Sometimes my local farmer's market has kabocha and red curry squash in late autumn. These are both equally delicious and super healthy, so I use them to make my squash soup. My new favorite squash varietal is honeynut, which is a recent hybrid of butternut only much smaller and definitely more tender. All of these work for this soup recipe.
Herbs and Spices: Sage, thyme, rosemary, and ginger scream fall to me. If you don't want ginger, use a little turmeric. I have also made this soup with sweeter spices, including cinnamon and nutmeg. These are really popular with kids.
Bone Broth: Mineral and glutamine-rich bone broth is at the heart of the GAPS diet. However, you can definitely make a completely vegan version of this soup by using vegetable broth.
Almond Milk: I nuts don't agree with you, or your kids are allergic, you can thin the soup with more broth. Or, you can use GAPS-compliant coconut milk.
Garnish: Pumpkin seeds have anti-parasitic qualities, which some people on the GAPS diet seem to struggle with (parasites and candida). They can be a little hard to digest for some if not chewed well. I often serve this soup with a dollop of homemade or slowly fermented plain yogurt that can be swirled into the soup. Bulgarian-style yogurt is often processed for a long time, making it more digestible and high in beneficial probiotics.
Shortcut: I am not a snob to the precut squash that is packaged and sold in the produce section of my market. This is ridiculously convenient, albeit a little pricier. If you don't have time to seed, peel, and cube a whole squash, this is a great convenience.
---
Recent Recipes