Homemade Pappardelle Carbonara
Pasta with carbonara sauce is such a classic Italian dish. The sauce is creamy, salty, and savory made with bacon, eggs, and cheese. It is served any time of the day. Carbonara is great for breakfast, lunch, or dinner. It is also a favorite late-night dish after a night of partying and maybe some overindulgence.
In researching the origins of carbonara, I have discovered that the recipe only dates back to the 1940s or 50s. The word carbonara means burning coals. It is hypothesized that it was easy to cook pasta, toss it with fresh eggs and cheese, and warm it over a coal fire for a meal eaten by woodcutters who used wood charcoal for fuel and possibly field workers who had to prepare a quick meal over an open fire of coals after a day of hard work.
There is another theory that the American and other allies who liberated Rome in 1944 offered eggs and bacon to local eateries to cook them a familiar meal, only with pasta added to the mix (an Italian addition). I don't really know which story is true. I do know this is a tasty and substantial dish.
This particular variation of pasta alla carbonara is made with pappardelle. Pappardelle is in the category of ribbon pasta. These are flat and wide noodles that do resemble ribbons for tying a wrapped present.
Pappardelle carbonara is a dish that requires you to be attentive while making it. So, pour yourself a glass of dry Italian white wine and get in the zone while you make this amazing meal. It is rich, so a green salad with a light vinaigrette is all you need with or following your pasta course.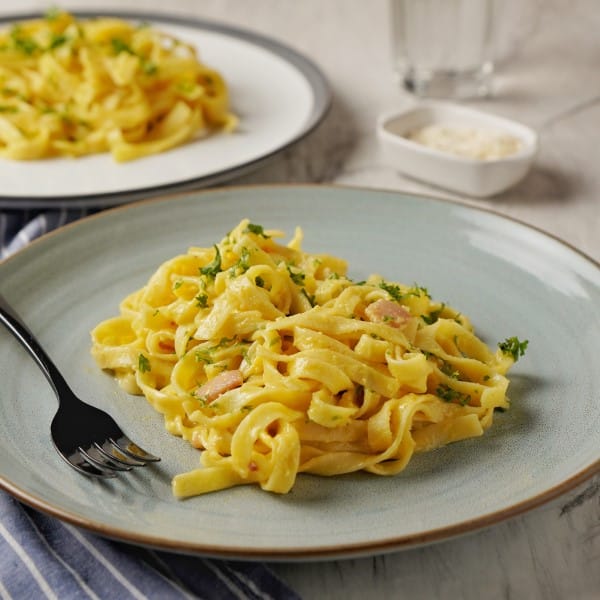 Ingredients
16-

ounce

package of pappardelle

1 ½

Tbsp

extra virgin olive oil

3 ½

slices

of bacon

cut into ½ inch pieces

2

whole eggs

at room temperature

3

egg yolks

1

tsp

freshly ground pepper

1

cup

finely grated parmesan cheese

⅓

cup

minced flat-leaf parsley

Extra grated cheese for serving
Instructions
All ingredients ready? Let's begin!

Place a large stockpot of water seasoned with 1 tablespoon of coarse salt over high heat.

Once the water comes to a boil, drop the pasta into the pot. Cook until al dente, approximately 1 minute less than the package directions. Start the sauce while the pasta is cooking.

In a large skillet over medium heat, warm the olive oil. Add the bacon slices and sauté until the fat renders and the bacon begins to crisp. Remove the pan from the heat and set it aside.

While the bacon is cooking, place the eggs and yolks in a medium mixing bowl. Whisk together. Whisk in the cheese and the pepper.

Remove 1/2 cup of the pasta water and reserve. Drain the pasta.

Place the skillet with the bacon over low heat. Add the pasta to the skillet and toss with the bacon. Warm it through for a minute or so.

Turn the heat off once the pasta is warmed up. Gently stir in the egg and cheese mixture until just combined.

Do not allow the eggs to scramble. Add the reserved pasta water for extra creaminess, if desired.

Place the pasta in a warm serving bowl and sprinkle with the parsley. Serve immediately with extra cheese on the side.
Nutrition
Calories:
481
kcal
|
Carbohydrates:
56
g
|
Protein:
23
g
|
Fat:
18
g
|
Saturated Fat:
7
g
|
Polyunsaturated Fat:
2
g
|
Monounsaturated Fat:
7
g
|
Trans Fat:
0.1
g
|
Cholesterol:
236
mg
|
Sodium:
476
mg
|
Potassium:
285
mg
|
Fiber:
3
g
|
Sugar:
2
g
|
Vitamin A:
714
IU
|
Vitamin C:
4
mg
|
Calcium:
294
mg
|
Iron:
2
mg
Notes & Tips
Carbonara-style pasta is something you need to pay attention to. The trickiest part is not to cook the eggs. The sauce is very special because the eggs are just warmed through and super creamy. I use free-range, organic eggs because the yolks are so colorful and rich. If that concerns you, go ahead and make this with pasteurized eggs.
Cook the pasta to just al dente because it will finish cooking when you add it to the skillet of warm bacon. And remember to reserve some pasta water if you need to thin the sauce and give it a little more body. If you accidentally drain off all the pasta water, you can actually add a couple of tablespoons of light cream to the sauce, if needed.
Substitutions & Shortcuts
Bacon is not the only cured pork you can use in this recipe. Try guanciale (cured pork cheeks) or pancetta.
The cheese can be pecorino Romano or a combination of pecorino and parmesan. Freshly grated cheese is best for this dish.
I don't want the herbs to overpower the creamy sauce, that is why I use a neutral herb like flat-leaf parsley. If you want a little more herbaceous flavor, try baby arugula or basil. I have also made this with frozen peas that I add to the pasta during the last minute of cooking it. They add another texture and a bright pop of color. Asparagus tips are another great addition to carbonara.
To be sure, this can be a vegetarian pasta dish. Simply leave the bacon out and add the suggested vegetables or herbs. Mushrooms would be a nice meaty bacon substitute. If you want that smoky touch that bacon imparts, use a smoked provolone cheese combined with the parmesan.
Dried pappardelle is very convenient and easy to store. If you have access to fresh pappardelle, that is a great option. It cooks in less than 3 minutes and adds a delicate texture and silkiness to the dish. Of course, you can make carbonara with spaghetti, linguine, or tagliatelle as possible alternatives.
---
Recent Recipes