Homemade Camarones A La Diabla
Camarones a la Diabla translates from Spanish to deviled shrimp in English. I need to tell you right up front that this shrimp dish is truly from the hot depths of hades. If you like heat, you will love camarones a la diabla. The presentation is also enticingly devilish with the deep fiery hue from the red chiles and ripe tomatoes. It is spectacular.
I don't always indulge in spicy food, except when my friends and I head into the Lower East Side of Manhattan for Southeast Asian vindaloo curry. It is addictive once you get past the first 2 bites, as is deviled shrimp. I don't know why that is, but I know there is some science behind the need to go back for another bite of spice.
Here's the thing, you can control the heat in this dish without compromising the delightful red color of the sauce. I will offer some suggestions for how to tone down the spice level.
For this version of camarones a la diabla, you will need dried guajillo chile peppers and chile de arbol peppers as well as plump ripe red tomatoes. You also need really fresh large or jumbo shrimp. As well, there are some aromatics on the list, including onions and garlic. Everything will be cooked in olive oil and a simmering sauce of fresh tomato juice. I am talking about the actual juice from the tomatoes, not jarred tomato juice.
This is a relatively simple dish and can be on the table in less than 30 minutes. With spicy dishes, my go-to accompaniment is rice. This recipe is no different. In Mexico, camarones a la diabla would likely be served with corn or flour tortillas to pick up the shrimp and absorb the sauce. As much as I love this served over fluffy long-grain rice, I am inclined to suggest creamed corn or fresh corn salsa as an option. If you want to stay on track with your keto or paleo diet, serve the shrimp on a bed or cauliflower rice. Whichever way you serve spicy shrimp, I highly recommend topping the dish with diced avocado and wedges of lime on the side. All the suggested accompaniments will help to mellow the heat so you can go back for another addictive bite.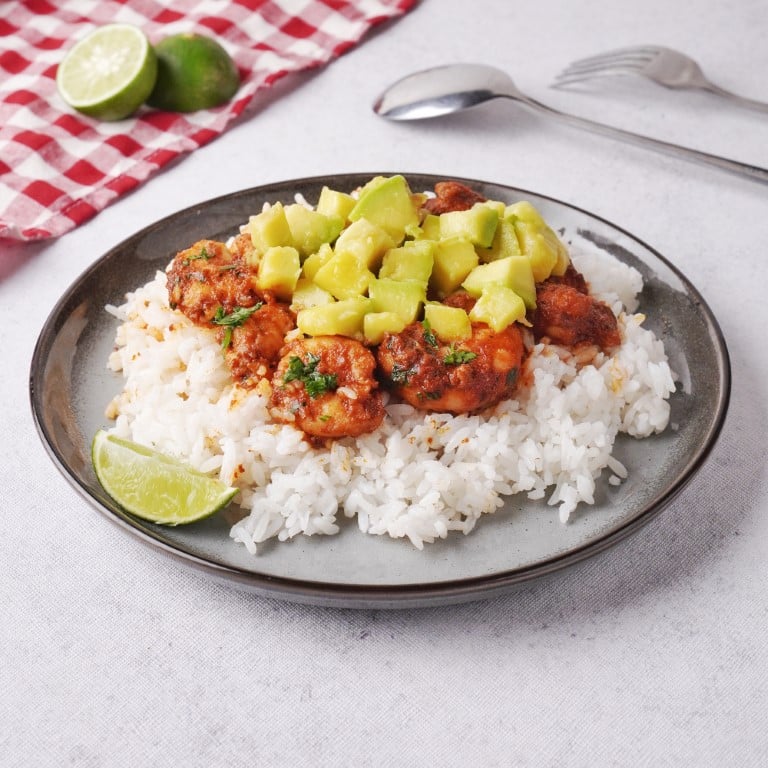 Ingredients
8

dried guajillo chile peppers

stems and seeds removed

3

dried chile de arbol peppers

stems removed

2

or more cups boiling hot water

3

vine-ripened or Roma tomatoes

diced

½

a white onion

peeled and chopped

2

cloves

of garlic

skins removed

1

tsp

sea salt

½

tsp

freshly ground black pepper

1/4

cup

extra virgin olive oil

1 ½

pounds

large or jumbo shrimped

peeled and deveined

Salt and pepper to taste

2

Tbsp

finely chopped flat-leaf parsley

2

cups

cooked white or brown rice for serving

1

small avocado

diced or sliced thinly

4

lime wedges
Instructions
All ingredients ready? Let's begin!

In a medium saucepot over high heat, bring 2 cups of water to a boil. Turn off the heat.

Add the dried guajillo and de arbol chiles to the pot and place a lid on it. Allow the peppers to soften for 15 minutes.

Using a slotted spoon, remove the peppers from the water and place them in the jar of a blender.

Add the tomatoes, onion, garlic, salt, and pepper.

Blend on the purée setting until smooth.

In a large sauté pan or skillet over medium-high heat, warm the olive oil. When the oil is hot, add the shrimp and cook until almost opaque, approximately 1 minute per side.

Pour the chile purée into the pan and stir to coat the shrimp evenly.

Turn the heat to medium-low and simmer for 3 to 4 minutes just until the sauce is bubbling hot. Season with salt and pepper to taste.

Sprinkle the parsley over the shrimp.

Spoon the shrimp over a bed of cooked rice.

Top with avocado cubes or slices and place lime wedges around the plate. Serve immediately.
Nutrition
Calories:
735
kcal
|
Carbohydrates:
88
g
|
Protein:
44
g
|
Fat:
25
g
|
Saturated Fat:
4
g
|
Polyunsaturated Fat:
4
g
|
Monounsaturated Fat:
16
g
|
Trans Fat:
0.01
g
|
Cholesterol:
274
mg
|
Sodium:
818
mg
|
Potassium:
1255
mg
|
Fiber:
10
g
|
Sugar:
6
g
|
Vitamin A:
2593
IU
|
Vitamin C:
23
mg
|
Calcium:
174
mg
|
Iron:
4
mg
Notes & Tips
Camarones a la diabla are best prepared with fresh shrimp. Fresh shrimp is plump and tastes slightly of the sea. This is important so that the chile sauce and the shrimp are in balance.
If desired, you can leave the tails on the shrimp for eating with your fingers.
I learned the hard way that wearing disposable gloves is a very good idea when handling hot chile peppers. I strongly recommend that or wash your hands well after handling the peppers and avoid touching your eyes.
You need to be mindful not to overcook the shrimp before the sauce hits the pan. Otherwise, it will seize up and become rubbery in texture.
Substitutions
Chile Peppers: Guajillo chile peppers can be purchased online or in most markets in the Latin foods section. If you can't find them, try ancho or pasilla chiles. For Chiles de arbol, you can substitute cayenne or bird's eye red Thai chiles. You want dried peppers that are deep red in color. 
Reduce the amount of peppers if you think the dish might be too spicy. You can add some smoked paprika or roasted red bell peppers to add color without the heat. If you really want more heat, add a 1/2 teaspoon of cayenne pepper flakes to the blender.
Fresh Tomatoes: I am the first to admit that supermarket tomatoes can be old and mealy, especially in winter. If this is the case, it is much better to go for canned crushed tomatoes. You can use 1/2 cup crushed tomatoes in place of the fresh tomatoes.
White Onion: I am fond of white onions, but Spanish yellow onion is fine for this recipe. I think red onion is too strong in flavor, overpowering the shrimp. Vidalia onions are sweet, which actually might work to quiet the heat just a bit.
Shrimp: Yes, this is a classic Mexican shrimp dish. However, I think it would be just as awesome with langoustine meat, crayfish tails, or chopped lobster meat. For a vegan version, try tempeh or king oyster mushrooms.
Camarones a la Diabla Accompaniments
A cool refreshing salad is always nice with spicy food. Think of sweet and cooling mango chutney and pickled vegetables served with spicy curries. It works.
For camarones a la diabla, you really can't go wrong with a salad of really fresh cucumbers and tomatoes dressed lightly with lemon juice, avocado oil, Mexican oregano, salt, and pepper. Add crumbled cotija cheese, if desired.
Grilled corn salsa is another perfect pairing. You can grill whole ears of corn and slice the kernels off. Combine them with chopped red onion, diced green bell peppers, cilantro leaves, chile powder, lime juice, and a drizzle of honey.
My other favorite Mexican side is black bean salad. I use canned beans, rinsed and drained. I add diced yellow bell peppers, scallion slices, halved cherry tomatoes, and chopped jalapeño peppers. I dress this salad in red wine vinegar, good olive oil, ground cumin, fresh flat-leaf parsley, salt, and pepper.
---
Recent Recipes