We've been sharing potato milk recipes lately, and one of our favorites is the delicious Potato Milk Queso. You're going to love the bold flavor this recipe provides, ensuring that you'll have the ultimate companion for a variety of dishes. This is an easy recipe to prep for, and the total time it takes to make is about 30 minutes. Be sure to stick around after the instructions to learn about which ingredients you can substitute if you're on a special diet. We also show you how to make your own potato milk to use in this recipe and many others.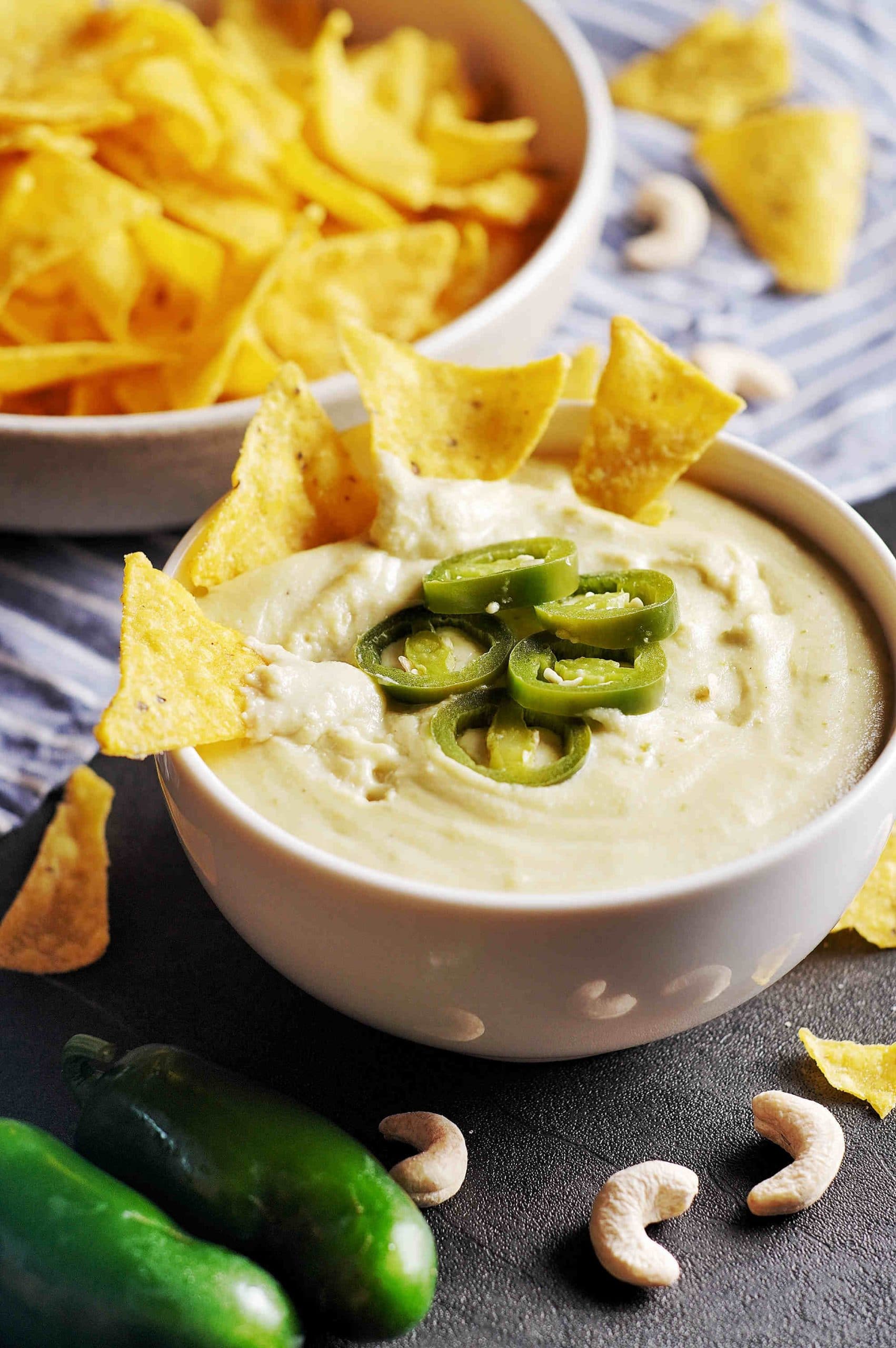 Ingredients
⅓

cup

of pickled jalapenos + liquid

3

tablespoons

of nutritional yeast

1

tablespoon

of all-purpose flour

¼

cup

of chopped onion

1 ¾

cups

of potato milk

2

chopped garlic cloves

¾

cup

of vegan cheese

¼

cup

of vegan butter

1

cup

of raw cashews

½

teaspoon

of salt

½

cup

of water
Instructions
Let's start by getting all we need together.

In a saucepan, heat 2 tablespoons of vegan butter over medium heat. Add onion and garlic. Cook while stirring often until the onion is translucent in appearance, but not brown.

Put the fried onion, garlic, and butter in the blender. Add non-dairy milk, cashew nuts, water, nutritional yeast, and salt.

Stir at high speed until smooth and creamy.

Add the pickled jalapeno and brine to the mixture. Pulse chop the jalapenos. Be careful not to overmix.

In the pan used in the first step, heat the remaining 2 tablespoons of vegan butter over medium heat. Add 1 tablespoon of flour and stir to make a batter. Cook while stirring constantly, for 1 minute.

In the roux mixture, gently whisk in the cashew mixture.

Add vegan cheese to the sauce and keep stirring until it's melted in.

If necessary, add a few drops of water or potato milk to adjust consistency.
Video
Nutrition
Calories:
262
kcal
|
Carbohydrates:
14
g
|
Protein:
7
g
|
Fat:
21
g
|
Saturated Fat:
4
g
|
Polyunsaturated Fat:
4
g
|
Monounsaturated Fat:
9
g
|
Trans Fat:
1
g
|
Sodium:
617
mg
|
Potassium:
248
mg
|
Fiber:
3
g
|
Sugar:
2
g
|
Vitamin A:
129
IU
|
Vitamin C:
2
mg
|
Calcium:
112
mg
|
Iron:
2
mg
Notes & Tips
If you want to load up this Potato Milk Queso recipe, feel free to add green chilies and diced tomatoes. Wait until you get the vegan cheese completely melted before adding these two additional ingredients.
Don't worry about how much to add, as that's entirely up to you, depending on your personal preference. We should also add that the pickled jalapenos in this recipe should be carefully chosen based on your tolerance to heat.
If you can't stomach hot jalapenos, keep a lookout for a tamed variety. This will ensure that your queso is mild and not overpowering to your dishes.
Substitutions
If you don't have potato milk, you may use any plant-based milk as a substitute. Some popular alternatives include oat milk, almond milk, coconut milk, and soy milk. If you don't have potato milk, we suggest making your own. We'll show you how to in the section below. It's fairly straightforward and only takes around a half-hour to 40 minutes to complete.
As far as the vegan butter you use, you have plenty of options to choose from. We like to use Country Crock, as it is soft and easy to work with. However, you have to be careful about which kind you use, as not all Country Crock is vegan.
To help you with this, please check out our guide to vegan Country Crock spreads here. You may also substitute all-purpose flour if need be. Some popular alternatives include almond flour, coconut flour, spelt flour, and oat flour.
If you're having difficulty choosing a vegan cheese, we can help you there, too. We previously detailed the best vegan cheese, ensuring that you can get that great cheesy taste that queso is known for. After all, it wouldn't really be queso if it didn't taste like cheese.
Common Questions
What Is Potato Milk?
Potato milk serves as a substitute for dairy-based milk. Being plant-based milk, potato milk is derived from cooked mashed potatoes and mixed using the cooking water. Additional ingredients are added to give potato milk its sweet taste.
How Do I Make My Own Potato Milk?
We previously shared a delicious Creamy Potato Milk recipe that covered all the necessary steps to make potato milk. Check out the link to see how easy it is to create your own. Moreover, you can use potato milk in a variety of recipes and in the place of cow's milk.
What Potatoes Are Used To Make Potato Milk?
If you're making your own potato milk to use in Potato Milk Chia Pudding, you can use almost any kind of potato, including sweet potatoes. The only types that should be avoided are potatoes that are too waxy, such as baby potatoes, Red Bliss, and New Potatoes.
Another problem with these types is that their shape is too well maintained. The only exception is certain fingerling potatoes with red skin but low moisture content.
You are looking for starchy but nutritious things that can be cooked into a creamy texture. White potatoes are usually the easiest to locate. Plus, they have really good nutritional value, as do russets.
Sides & Pairings
With your Potato Milk Queso, you can breathe life into a wide variety of meals, from tacos to burritos to any number of Mexican dishes. Alternatively, we enjoy dipping this queso on tortilla chips as a snack any time of the day.
And for an even tastier pairing, try combining queso and salsa verde. Together, the two create a delectable blend of ingredients that are sure to satisfy your cravings. Not only is it more filling, but it perfectly balances out several main courses.
If you are interested in learning about even more wonderful recipe ideas for additional snacks or main courses, be sure to head on over to our Recipes section and explore the many unique meals and treats that we've compiled for your consideration. If you're strictly looking for vegan recipes, you can find a whole assortment of them here.
---
Recent Recipes