I make a lot of piccata dishes. I always have lemons, white wine, capers, and butter in my fridge so this is an easy meal for me. I use various proteins, such as thinly pounded chicken or veal, sole fillets, and even zucchini planks when I am in a vegetarian mood. I am somewhat addicted to zucchini and am always trying to find new ways to prepare it. But today I am trying my hand at shrimp piccata.
Before we get to the recipe, let's explore the mystery that surrounds piccata dishes. While piccata is a word in Italian, it has nothing to do with the lemony sauce we find in our Italian-American restaurants. Piccata actually means larded. It appears that piccata sauce is more of a French or American invention. It might have been introduced by Italian immigrants from Sicily where piquant lemons are grown and used liberally in many dishes. Capers and garlic are also abundant in Sicilian cuisine. When you go to an Italian restaurant in America, you will almost always find chicken piccata featured on the menu. It is fresh, tangy, well-priced, and goes well with almost anything.
Shrimp piccata is a simple dish to prepare. For me, it is a two-step cooking process. I cook the shrimp separately from the sauce because shrimp is fussy in that it cooks in minutes and will become rubbery if allowed to simmer in the sauce. I lightly flour the shrimp before sautéing it so that the natural moisture remains in the shrimp bodies and the exterior is a little bit crisp. What this also does is adds a little thickener to the sauce in the flour that is left behind in the pan.
For this simple shrimp piccata recipe, you will need a large sauté pan or skillet, a cutting board, a sharp chef's knife, a wooden spoon, and tongs. The ingredients include:
Large shrimp
All-purpose flour
Butter
Extra virgin olive oil
Shallots
Dry white wine
Broth
Lemon juice
Capers
Salt and Pepper
Parsley
I like to serve shrimp piccata with thin angel hair pasta, also known as capellini. I also will steam some broccoli florets or sauté some escarole leaves with garlic. There is a traditional Italian-American restaurant in my town that serves everything piccata with sautéed escarole and shitake mushrooms. That might sound like an unusual pairing, but it is incredibly good and it all seems to work together.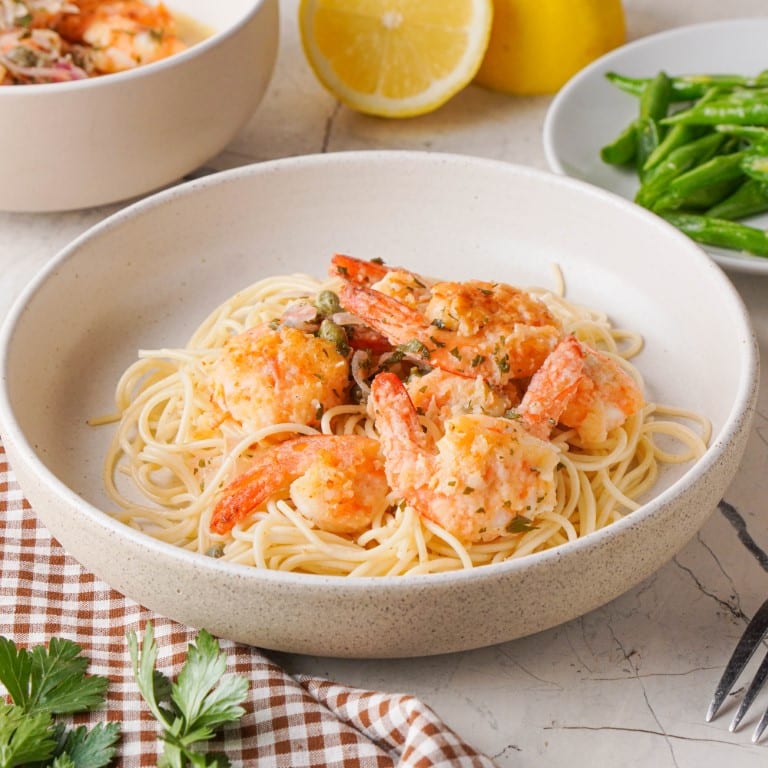 Ingredients
1

pound

large shrimp

peeled with tails left on and deveined

3

Tbsp

all-purpose flour

¼

tsp

sea salt

¼

tsp

freshly ground pepper

2

Tbsp

olive oil

divided

2

Tbsp

butter

divided

1

medium shallot

peeled and sliced thinly

½

cup

dry white wine

3

Tbsp

freshly squeezed lemon juice

½

cup

chicken broth

2

Tbsp

brined capers

drained

2

Tbsp

minced fresh flat-leaf parsley

Salt and pepper to taste

Angel hair pasta for serving
Instructions
All ingredients ready? Let's begin!

In a shallow bowl combine the flour, salt, and pepper.

Pat the cleaned shrimp dry with paper towels and toss them in the flour mixture to lightly coat each one.

In a large sauté pan or skillet over medium heat, warm 1 tablespoon of the oil and 1 tablespoon of the butter.

When the butter has melted, add the shrimp and cook for 2 minutes until golden on the bottom. Turn over and cook for 1 minute longer until golden brown all over.

Transfer the shrimp to a serving bowl.

Add another tablespoon of oil to the pan. Turn the heat up to medium-high. Add the shallots to the pan and cook until they start to wilt, approximately 1 minute.

Deglaze the pan with the wine, scraping up any brown bits and flour. When the wine bubbles, add the lemon juice and broth. Cook until the liquid has reduced by half, stirring often.

Turn the heat off and stir in the remaining tablespoon of butter, capers, and parsley. Season with salt and pepper if desired.

Pour the warm sauce over the shrimp and serve immediately over angel hair pasta and a side of sautéed greens or steamed broccoli.
Nutrition
Calories:
255
kcal
|
Carbohydrates:
19
g
|
Protein:
19
g
|
Fat:
9
g
|
Saturated Fat:
1
g
|
Polyunsaturated Fat:
1
g
|
Monounsaturated Fat:
5
g
|
Trans Fat:
0.01
g
|
Cholesterol:
144
mg
|
Sodium:
1029
mg
|
Potassium:
249
mg
|
Fiber:
1
g
|
Sugar:
2
g
|
Vitamin A:
393
IU
|
Vitamin C:
8
mg
|
Calcium:
86
mg
|
Iron:
1
mg
Notes & Tips
Fresh shrimp works best in this recipe. You want to remove the shells, except for the tails, and take out the intestinal vein, as shown in this video.
I use a combination of butter and olive oil for cooking, even though many piccata recipes call for only butter. I find that the milk solids in butter can burn and become bitter. Olive oil helps to curtail this.
Only use a decent white wine that you would drink in this recipe. It is a key ingredient and should taste good.
Substitutions
Shrimp: I sometimes make this recipe with jumbo shrimp when I am feeling like spending a little extra money. I love eating jumbo shrimp with my hands by using the tail as my utensil. If you can only find frozen shrimp, buy ones that are raw and defrost them in the fridge overnight. Pat them dry with paper towels before coating and cooking.
Shallots: Shallots are not always easy to find. They are like a cross between an onion and garlic in flavor. I prefer them in piccata. If you can't find shallots, use 2 garlic cloves, peeled and sliced thinly. Garlic is commonly used in piccata recipes.
Wine: You will see piccata recipes that call for vermouth instead of wine. If you want to use vermouth, go for dry, not sweet. If you don't want any wine in the dish, just use broth.
Broth: It might seem that seafood broth would be well-suited for shrimp piccata. Through trial and error, I found that to be a little too much seafood flavor that takes away from the shrimp. Chicken or vegetable broth are subtler and just work better for some reason. Alternatively, you can use the shrimp shells to make a quick shrimp broth.
---
Recent Recipes