Simple Currytastic Chicken Salan
Anyone who didn't grow up eating curry will probably not attempt to make it at home. That's sad because a good curry is delicious, much more diverse, and indeed easier to make than you imagine.
Chicken Salam is a well-loved traditional Pakistani curry that combines a richly fragrant yet mild sauce base called a shorba with slowly simmered chicken. It is an ideal recipe for first-time curry cooks because, despite the long list of ingredients, the flavors are very approachable. When you serve this recipe alongside rice, couscous, or flatbread, it is the perfect way to warm up on a chilly evening.
Misunderstanding Curry
In the West, we have curry all wrong. It is not an overpowering thick yellow paste from packets or jars like some Southeast Asian version of sawmill gravy, but a delicate and savory combination of spices, vegetables, and proteins. Curry isn't a single spice or a flavor profile at all, but rather a manner of cooking meat or vegetables in a flavorsome liquid called a shorba.
The Skinny on Shorba
Shorba comes from the Arabic word 'shurba,' meaning soup, but it is more like the liquid you find in Western stews than a thin broth. A shorba is a critical part of any curry dish and is even more important than the meat or vegetables that are served in it.
There are dozens of different types of shorbas, but all the good ones share the same characteristics of providing a luxurious consistency that coats your tongue with flavor without being overly dense or heavy. To reproduce this incredible mouthfeel, you'll need to pay careful attention to two things: using the correct amount of onions and tomatoes and making the shorba as smooth as you can.
A common misconception is that adding more vegetables will make a more flavorful and succulent shorba, but this is simply not true. You will always get better results by using "just enough." For this recipe, "just enough" means two small tomatoes and a medium onion.
Ideally, you should use Indian-style tomatoes called desi tomatoes for this dish, but any plum-sized tomatoes are fine. If you can't find good-quality tomatoes, try using 2/3 of a cup of high-quality crushed tomatoes instead.
Pink onions are popular in Southeast Asia but unknown in the West, so your best bet is to use a medium white onion. White onions have a stronger flavor than yellow onions and stand up well to the other spices in this dish. Choose a white onion about the size of a baseball, and use a sharp knife to cut into small dice. Using a sharp knife not only to make the job safer and quicker but prevents crushing the onion can release some of the more unpleasant aspects of an onion.
Never serve a lumpy shorba. It should always be silky smooth. If the tomatoes and onions do not break down enough while sauteing them with the spices, add a tablespoon or two of water and continue mixing. If they are still lumpy, give them a quick buzz with a stick blender or in the food processor.
Spiced Right
Spices are what give this Chicken Salam recipe its complex symphony of flavors. Make sure to use fresh spices and try toasting them to help release their oils.
Use a heavy-bottom skillet to toast the spices over medium-low heat for a few minutes. When the spices darken slightly and you can begin to smell them, they are ready. Be careful not to burn them, and watch out for the cloves because they tend to cook faster than the other whole spices. If you have the time, toasting each spice on its own is best, but if you don't, at least toast the whole and ground spices in separate batches.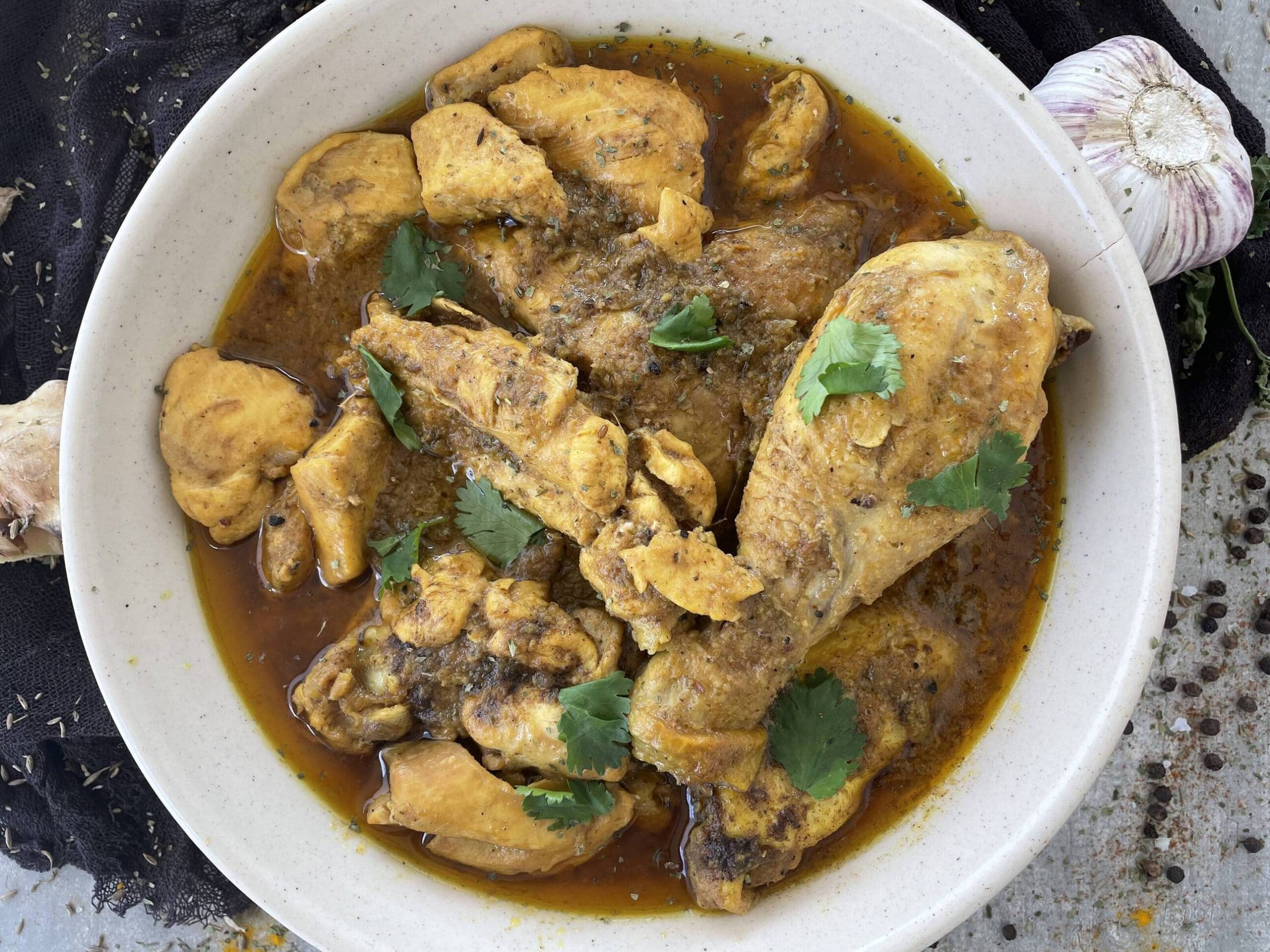 Ingredients
1/2

cup

vegetable oil

1

medium white onion

small diced

2

small tomatoes

cut in half, and deseeded

2 1/2

cups

of water plus 2 tablespoons

divided

1

teaspoon

minced garlic

1

teaspoon

minced ginger

3

teaspoons

sea salt

feel free to reduce if you want less sodium

2

teaspoons

paprika or Kashmiri red chili powder

toasted

1

teaspoon

cumin powder

toasted

1

teaspoon

cumin seeds

toasted

2

teaspoons

coriander powder

toasted

1/2

teaspoon

turmeric

toasted

1/2

teaspoon

garam masala

toasted

1

bay leaf

2

whole cloves

toasted

10

whole black peppercorns

toasted

1

green cardamom

toasted

1

teaspoon

chili powder

toasted (optional if you want extra heat)

1

chicken

cut into smaller pieces, leaving the bone intact

1/2

teaspoon

garam masala

toasted

1

teaspoon

coriander or dried fenugreek

to use as a garnish
Instructions
Assemble your ingredients, make sure you have everything or appropriate substitutes.

Warm a large pot over medium heat. The pan needs to be wide enough to let the chicken pieces lay in a single layer on the bottom and deep enough to prevent splatter. A rondeau with a lid is perfect.

When the pot is warm, pour in the vegetable oil and wait until it starts shimmering.

Add the diced onions to the pot. Cook until the onions are translucent while stirring occasionally.

Place the halved tomato cut-side down on the onions and add two tablespoons of water to the pot. Cover the pot immediately and steam for about five minutes.

Take off the lid carefully to avoid getting a faceful of steam. Use tongs to remove the skins from the tomatoes. If the skins don't come off easily, replace the lid and steam for a minute or two more.

Add all the remaining ingredients except for the chicken, garam masala, and the extra herbs used for garnish.

Increase the heat to medium-high and stir continuously with a wooden spoon. Use the back of the spoon to press down on the vegetables occasionally.

Cook until the vegetables cook down and the oil starts to separate. At this point, you can remove the bay leaf and buzz the spice mixture with a stick blender or food processor. When the mixture is smooth, return it to the pot along with the bay leaf.

Turn the heat up to high and add the chicken. Cook until the chicken develops a nice golden brown color.

Pour in 2 1/2 cups of water. Cover the pot and reduce the heat to low for 30 minutes.

Remove the bay leaf and discard, and stir in the garam masala. Serve the chicken with a small amount of the cooking liquid in a shallow bowl. Garnish with a sprinkling of toasted ground coriander or dried fenugreek.
Video
Notes
Don't have any fenugreek? try these substitutes here.
Nutrition
Calories:
454
kcal
|
Carbohydrates:
5
g
|
Protein:
25
g
|
Fat:
38
g
|
Saturated Fat:
20
g
|
Polyunsaturated Fat:
5
g
|
Monounsaturated Fat:
10
g
|
Trans Fat:
1
g
|
Cholesterol:
95
mg
|
Sodium:
1272
mg
|
Potassium:
390
mg
|
Fiber:
2
g
|
Sugar:
2
g
|
Vitamin A:
738
IU
|
Vitamin C:
8
mg
|
Calcium:
39
mg
|
Iron:
2
mg
---
Recent Recipes