Easy Vegan Banana Porridge
A hearty porridge is an excellent way to start your day, especially in fall and winter when it is chilly outside. I typically will make a bowl of oatmeal or another grain that is topped with fresh fruit, coconut milk yogurt, and my homemade paleo vegan granola.
Breakfast is often a vegan meal for me. That is mostly because I have a pantry filled with organic grains, nuts, seeds, gluten-free bread, different nut and seed butters, and granola. My fridge always has almond or coconut "milk" and berries. And, there are bananas and lemons in a bowl on my countertop.
This breakfast recipe is for an easy vegan banana porridge made with simple ingredients that pretty much every vegan kitchen has on hand: rolled oats, non-dairy milk, bananas, nut butter, cinnamon, maple syrup, and salt.
I like that this porridge is so easy on my wallet. Oats, bananas, and non-dairy milk are abundant in my local markets and affordable. I put a little more money toward a good quality nut butter and pure maple syrup. I am partial to raw, unsweetened almond butter. If I am feeling like splurging, I will buy a small jar of cashew or macadamia nut butter for a special treat. Usually, the store brands of nut and seed butters are more affordable than name brands.
This recipe is also nutritious. Oats are one of those foods that cardiologists love to tell you to eat because they are high in soluble fiber and have no fat. They are also a rich source of manganese and selenium. If you can, try to get organic and non-GMO rolled oats. Nut butter is a great source of protein, unsaturated fats, and calcium. Bananas offer fiber, vitamin C, and potassium.
Banana porridge is warming, filling, comforting, and nutritious. It will get your morning started and will provide substantial healthy calories needed for burning energy.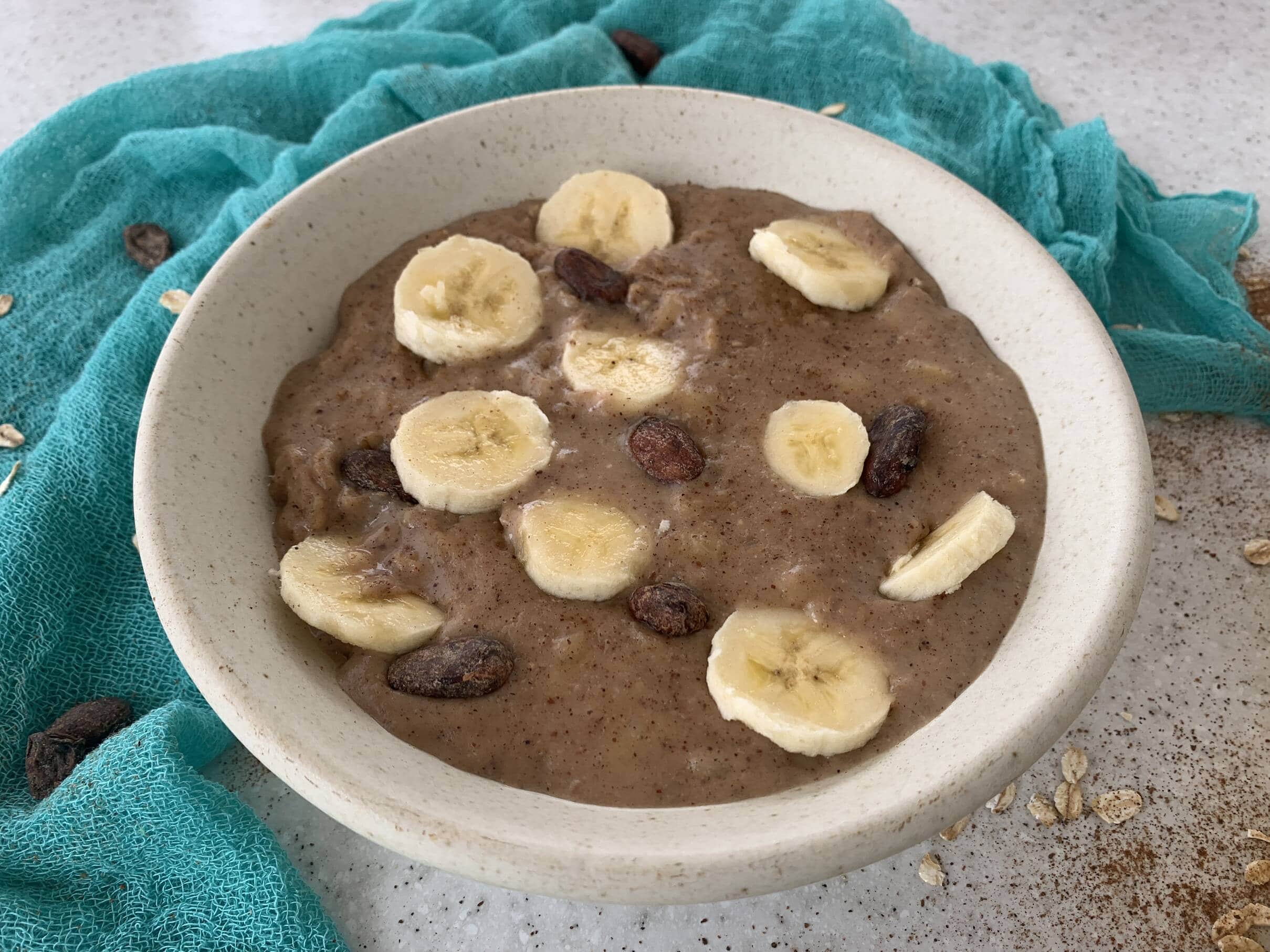 Ingredients
2

cups

unsweetened almond or oat beverage

1

cup

rolled oats

1

ripe banana

mashed

2

TBS

raw almond butter

2

tsps

pure maple syrup

1/2

tsp

ground cinnamon

1/8 to 1/4

tsp

sea salt
Instructions
In a medium saucepot over medium-high heat, add the non-dairy milk, oats, banana, almond butter, syrup, cinnamon, and salt. Stir to combine.

Bring everything to a rolling simmer. Turn the heat down to medium-low and continue to cook, stirring occasionally, for approximately 10 minutes. The porridge is finished when the liquid is absorbed, the oats are tender, and the consistency is creamy and a little thick.

Top with sliced bananas, cacao nibs, and a dollop of coconut milk yogurt. Enjoy while warm.
Video
Notes
Topping Suggestions
• Sliced bananas
• Cacao nibs
• Coconut milk yogurt
Nutrition
Calories:
359
kcal
|
Carbohydrates:
50
g
|
Protein:
11
g
|
Fat:
15
g
|
Saturated Fat:
1
g
|
Polyunsaturated Fat:
5
g
|
Monounsaturated Fat:
8
g
|
Sodium:
475
mg
|
Potassium:
495
mg
|
Fiber:
8
g
|
Sugar:
13
g
|
Vitamin A:
39
IU
|
Vitamin C:
5
mg
|
Calcium:
392
mg
|
Iron:
2
mg
Notes and Tips
This porridge is vegan. You can make it gluten-free as well by purchasing rolled oats that are labeled "gluten-free".
When choosing the "milk" component for this porridge, you have plenty of options. I prefer almond, oat, or coconut milk (not canned) beverages because they are a little creamy, especially the ones in the refrigerated dairy section. There are also hemp and cashew milk. I find soy and rice milk to be a little too thin for this banana porridge. But that could just be the brands that are available in my market. You can experiment.
Make sure your banana is pretty ripe so you can mash it up to make this porridge very creamy and full of banana flavor.
Substitutions and Shortcuts
I like to switch up my grains for breakfast porridge. Brown rice is a staple in my diet and I usually have some leftover cooked rice in my fridge that I use to make congee during the week. Cooked brown rice works in place of oatmeal in this recipe. If you only have steel-cut oats in your pantry, you will have to par-boil them for about 15 to 20 minutes before adding the rest of the porridge ingredients.
You could speed up this recipe by making overnight oats. I place all the ingredients in a container with a lid, stir to combine, and put in the fridge overnight. The oats should soak up most of the liquid and expand. In the morning, just heat it up for a couple of minutes on your stove or in the microwave (if you use a microwave).
You can use another sweetener in place of the maple syrup. Brown rice syrup or agave nectar will work, as will coconut sugar or stevia. Just be judicious with stevia, as a little goes a long way with this slightly bitter herb. Honey would not be an option, as it isn't vegan.
Topping Options
There are so many things you can top this porridge with other than what I suggest in the recipe. I like a little crunch to add texture. Here are some other topping ideas:
Vegan carob chips
Wild blueberries (frozen are fine)
Toasted nuts
Coconut flakes
Dried currants
Vegan granola
Trail mix
Almond based yogurt
Hemp hearts
What is Paleo Vegan Granola?
If you read through the introduction of this post, you saw that I mentioned paleo vegan granola as a porridge topping. You might be thinking that paleo leans more toward a meat and vegetable-centric diet that was eaten by our cave-dwelling ancestors.
In fact, there are those who are vegan following a paleolithic diet. I make a paleo vegan granola that has shredded coconut, chopped walnuts, chopped almonds, sunflower seeds, grapeseed oil, maple syrup, salt, and either cacao nibs or raisins added after baking. It is deliciously crunchy and will keep for about 2 weeks in a sealed container.
---
Recent Recipes