Mulitas are often called a taco sandwich because they share a lot of ingredients with tacos but have a different shape. Mulitas are made by frying ingredients between two tortillas instead of folding them up. This method allows you to fit a lot more into one serving.
Assembling mulitas is easy enough, but you will need to cook the meat for 3 hours, so make sure to plan your meal accordingly. If you're looking for a taco-like dinner that takes less than an hour to make, consider spicy vegan taco cupcakes. Or, if you want something even faster and maybe possibly healthier, try a homemade version of Tequilaberry salad.
I find this recipe is best used for a fun family dinner. Everyone is sure to appreciate the explosion of flavors and textures in this masterpiece.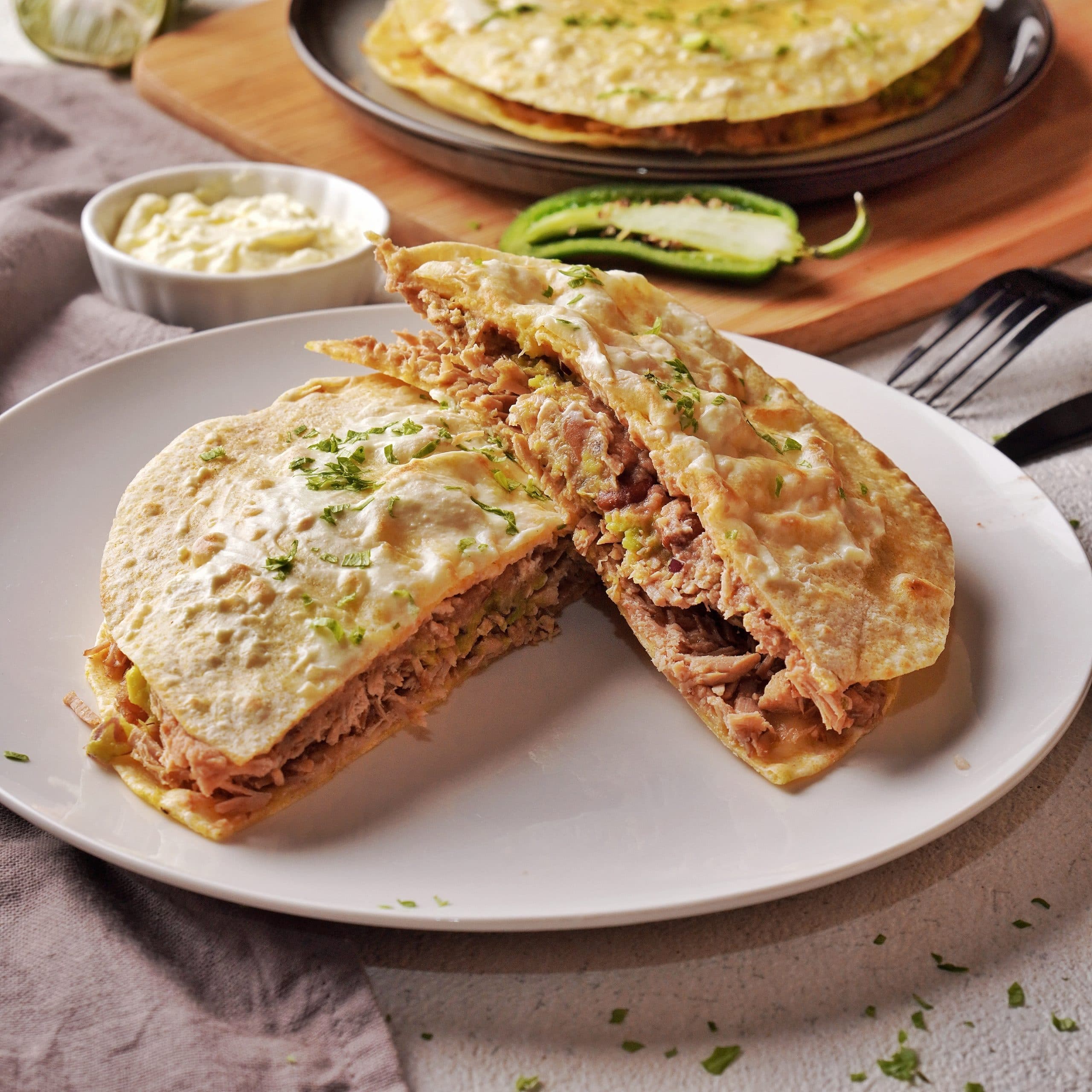 Ingredients
1 ½

lbs

pork butt

Salt

2

tbsp

vegetable oil

1

white onion

4

garlic cloves

1

jalapeño pepper

1 ½

tsp

ground cumin

1

tsp

chile powder

1

orange

1

lime

Avocado

½

red onion

Ground black pepper

Pack of corn tortillas

½

cup

shredded Monterey Jack cheese

1

can refried beans

1

oz

cotija or queso fresco

2

tablespoons

sour cream

2

tbsp

cilantro
Instructions
All ingredients ready? Let's begin!

Trim the excess fat off the pork with kitchen scissors or a knife, then cut into cubes roughly an inch in size.

Sprinkle a generous amount of salt over the pork and rub into all sides.

Over medium-high heat, place a large pot. Heat 2 tbsp oil and wait until it sizzles when you sprinkle a drop of water in.

Place the pork cubes into the pot and cook each side for about a minute, or until the outside of the pork is browned.

Remove the pork from the pan and set aside.

Peel and dice the onion. Peel and finely dice the garlic. Cut the pepper in half and remove the seeds then finely dice.

Turn the heat down to medium and add the onion and pepper. Cook for 5 minutes, stirring, or until the onions turn translucent. Add the chopped garlic, cumin, and chile powder. Stir for anther minute.

Put the pork back into the pot. Squeeze the juice from the orange and from ½ of the lime. Add to the pot. Add enough water to cover the meat.

Turn the heat to high and bring the liquid to a simmer, then turn it down to medium-low or low to maintain the simmer.

Keep at a simmer for 3 hours. If the water falls below the pork, add more water so the pork is covered in water at all times.

After 3 hours, it should be easy to shred the pieces of pork with two forks. If the meat is still hard, keep simmering for longer.

You can start preparing the other mulita ingredients before the meat has finished cooking:

In a small pot, heat the refried beans over medium-low heat.

Peel and finely dice the ½ of red onion. Finely chop the cilantro.

Add to a bowl the avocado, red onion, and the juice of the rest of the lime.

Add a pinch of salt and pepper to taste and mash everything together.

Once the meat has cooked, remove it from the liquid. Strain the liquid so you get the onions and peppers and set aside.

Shred the pork with two forks or your hands and set aside.

In a skillet, heat a dollop of oil, enough to cover the bottom of the pan. Once the oil heats up, place one tortilla in it.

Spread some shredded cheese across the tortilla. Sprinkle some shredded pork, some of the cooked onions and peppers, guacamole, refried beans, and some queso fresco.

Top with another tortilla and cook until the cheese melts, then flip and cook the other side for another minute, or until crisp.

Remove from heat and top with a dollop of sour cream and sprinkling of cilantro.

Repeat the process with remaining ingredients.

Enjoy!
Video
Nutrition
Calories:
594
kcal
|
Carbohydrates:
48
g
|
Protein:
43
g
|
Fat:
27
g
|
Saturated Fat:
9
g
|
Polyunsaturated Fat:
3
g
|
Monounsaturated Fat:
11
g
|
Trans Fat:
1
g
|
Cholesterol:
126
mg
|
Sodium:
354
mg
|
Potassium:
1156
mg
|
Fiber:
10
g
|
Sugar:
7
g
|
Vitamin A:
576
IU
|
Vitamin C:
36
mg
|
Calcium:
271
mg
|
Iron:
4
mg
Notes & Tips
If you have leftovers, it is best to store each component separately. Divide each bit into its own airtight container, cover with a lid, and keep in the fridge for 5 days. The avocado might brown in the fridge, but it will still be okay to eat for another day or two, though maybe not the whole 5 days. When you want to eat the leftovers, you can follow the assembly instructions again for the best results. 
If that sounds like too much effort, you can always make nachos! Pile some tortilla chips on a large place and add all the toppings on top. I recommend adding toppings in layers so you get it evenly dispersed.
Substitutions
As in most recipes, there are a few easy substitution options for this recipe. It is perfectly acceptable to substitute the vegetable oil for any other oil. I prefer olive oil, but you can even use butter if you want.
If you can't find pork butt, pork shoulder works just as well. If you would rather use something else, beef is popular too. If you want, chicken can be used too, but I think pork is best.
Where Do Mulitas Come From?
Mulitas come from Mexico. If you break it down to its simplest form, mulitas are basically stuffed quesadillas, but with loads more good stuff! Mulitas are popular in Los Angles now too. A lot of Mexican food migrates into the United States via California and Texas, which makes sense considering those are the two largest states that share a border with Mexico.
If you eat out at a Mexican restaurant in the US, especially a chain, that style of Mexican food if called Tex-Mex. Tex-Mex is the Americanised version of Mexican food and is named that because of all the Mexican influences that pass through Texas before spreading further into the US. Also, it sounds better than Cali-Mex (California-Mexican).
If you go out to eat and order mulitas, each version will probably vary from authentic Mexican-style to an adapted Tex-Mex style, but all of them will be tasty.
---
Recent Recipes