Creamy AIP Friendly Seafood Chowder
Creamy New England-style seafood chowder is one of my favorite comfort foods. If you have ever had a steaming bowl of Rhode Island-style quahog clam chowder, you know exactly what I am talking about. This chowder has a base of sautéed onions and celery with a thick roux of butter and flour added. White potatoes are also added and cooked in a simmering broth of fish stock and milk. Plump and juicy fresh clams cook in the soup briefly. This chowder is thick, creamy, starchy, and delicious. You can literally stand your spoon up in the center of a good cup of clam chowder.
While classic chowder is yummy, it can be a major source of inflammation for several people with autoimmune issues. Dairy, white flour, and white potatoes are the culprits. So, how can you make a creamy seafood chowder without these ingredients and have it be Autoimmune Paleo (AIP) compliant?
I make chowders all the time without dairy, flour, and nightshade vegetables (white potatoes). I start with a base of carrots, celery, fennel, and Japanese white sweet potatoes sauteed in extra virgin olive oil. I add thyme and bay leaf for more flavor. The veggies are then simmered in my homemade bone or fish broth (I keep containers in my freezer) that is seasoned with a pinch of saffron. The soup gets its creaminess from full-fat coconut milk. I finish the soup with fresh cod, salmon, and shrimp. I love this combination of seafood and the colors they add to the chowder. Finish the soup with fresh herbs and serve with gluten-free cassava chips.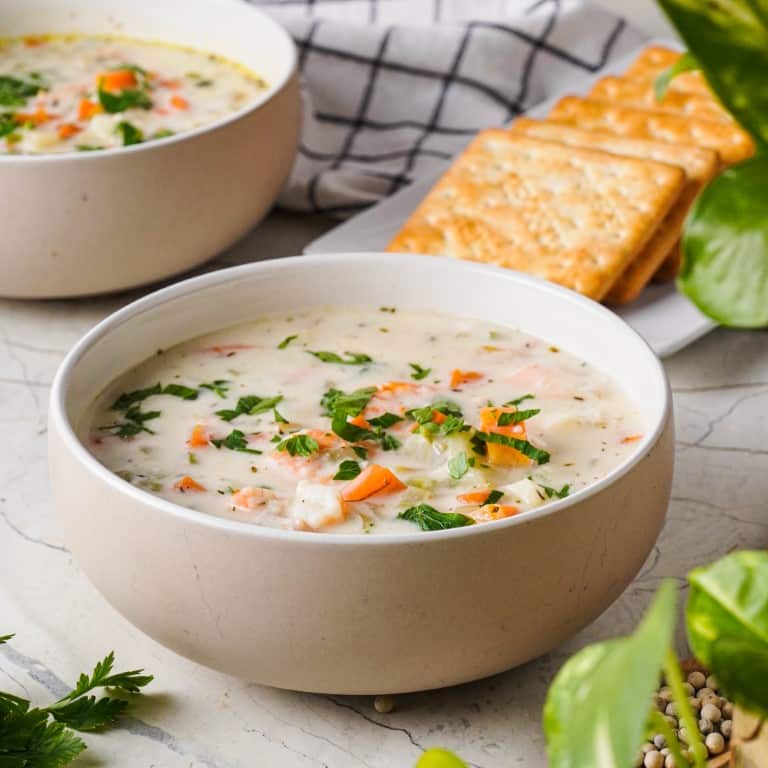 Ingredients
3

Tbsp

extra virgin olive oil or ghee

if tolerated

1

small shallot

peeled and minced

3

carrots

washed, trimmed, and diced

3

celery ribs

diced

1

small fennel bulb

core and stems removed, diced

1

small white sweet potato

peeled and diced

1 ½

tsp

dried thyme leaves

1

dried bay leaf

4

cups

bone or fish broth

Pinch

of saffron threads

optional

½

cup

full fat coconut milk

cream mixed into the water (more if desired)

Sea salt and freshly ground pepper to taste

5-

ounce

cod fillet

cut into 1-inch cubes

5-

ounce

skinless coho or king salmon fillet

cut into 1-inch cubes

12

medium shrimp

peeled and deveined

1

Tbsp

chopped fresh flat-leaf parsley leaves
Instructions
All ingredients ready? Let's begin!

In a large stockpot over medium heat, warm the olive oil or ghee. Add the shallot, carrots, celery, fennel, and sweet potato. Sauté the vegetables for 5 minutes, stirring often.

Add the thyme and bay leaf, and continue to sauté until the vegetables start to turn golden and the herbs are fragrant. This should take about 3 to 5 more minutes. Again, stir so the vegetables don't stick to the pot or start to blacken. Turn the heat down if needed.

Add the broth and saffron to the pot and turn the heat to high. As soon as the broth comes to a boil, reduce the heat to a rolling simmer. Cook until the potatoes are almost softened, about 5 minutes. Season with salt and pepper to taste.

Remove the bay leaf from the soup. Stir the cream of the coconut milk into the coconut water to make a smooth milk. Add the coconut milk, fish, and shrimp to the pot. Cook for another 3 to 5 minutes or until the fish and shrimp are just opaque.

Ladle the hot soup into individual serving bowls.

Garnish with parsley and serve while hot with AIP-compliant cassava chips, biscuits, or crackers.
Nutrition
Calories:
358
kcal
|
Carbohydrates:
18
g
|
Protein:
30
g
|
Fat:
19
g
|
Saturated Fat:
7
g
|
Polyunsaturated Fat:
2
g
|
Monounsaturated Fat:
9
g
|
Cholesterol:
83
mg
|
Sodium:
247
mg
|
Potassium:
1000
mg
|
Fiber:
5
g
|
Sugar:
6
g
|
Vitamin A:
12510
IU
|
Vitamin C:
14
mg
|
Calcium:
98
mg
|
Iron:
3
mg
Notes & Tips
When I plan to make chowder, I will often buy whole fish and shell-on shrimp. I ask the fishmonger to scale and fillet the fish, but save the head and skeletons for me, since I am paying for them anyway. I make fish broth with these scraps and shrimp shells. I freeze any extra fillets that I won't be using in my chowder for another dish.
Dairy and nut milks are not AIP friendly, but coconut milk is. Some people don't tolerate coconut milk well. If that is the case, take a ladle or two of the softened vegetables and broth and place them in a blender. Pulse until creamy and add back to the soup. This will provide body similar to coconut milk. Alternatively, you can use an immersion blender to cream some of the soup right in the pot.
So many chowder recipes recommend adding the seafood as soon as the broth goes into the pot. I find that to be a real shame because the fish overcooks and the shrimp becomes rubbery. I much prefer fish and shellfish to be cooked for only a few minutes so that it tastes fresh and of the sea.
This chowder is very vegetable-forward, which is pretty healthy. You could always use less of the root vegetables and more seafood.
Substitutions & Variations
Shallot: The green parts of a leek would work well in place of a shallot. Otherwise, just use a small onion.
Fennel: If you aren't fond of fennel, or can't find it, just add another carrot and a rib of celery.
White Sweet Potato: Since white regular potatoes are nightshade vegetables and not permitted on the AIP diet, white sweet potatoes are very similar in texture and a good option. Though, not all markets carry these unique root vegetables. Orange sweet potatoes don't really hold up well in the soup. A good substitution for the potato would be a large parsnip, peeled and diced.
Saffron: Saffron is a pricy spice. You could definitely substitute 1/4 teaspoon of turmeric or even paprika for the saffron.
Coconut Milk: See notes and tips above.
Seafood: There is no hard and fast rule about what seafood you can use in a seafood chowder. I like the colors and flavor combination of cod, salmon, and shrimp. Feel free to use other seafood choices, such as halibut, snapper, clams, or lobster. Fresh is best, but frozen can be used as long as it is defrosted slowly overnight in the fridge. Canned clams are not a good option, in my humble opinion.
---
Recent Recipes