Pastrmajlija (pronounced puss-ter-my-lee-jah) is a meat-pie pizza much-loved in Northern Macedonia. Traditionally smoked or marinated pork tenderloin pieces are spread over yeast-based pizza dough and baked in the oven. Before the end of the baking time, beaten or whole eggs are poured over as a finishing touch.
'Pastrma' means salted, dried meat. This Macedonian pizza recipe uses smoked sheep, lamb, or pork meat marinated in butter and paprika as the main filling. The dough is oval-shaped with thick edges to hold the raw egg added in the last minutes of baking. Hot pickled peppers are served on the side.
Pastrmajlija is such a local favorite that an annual festival (Pastrmalijada) is held in its honor in the city of Štip. If you love pizza, meat pie, and authentic Mediterranean and Middle Eastern flavors, then this recipe is worth trying.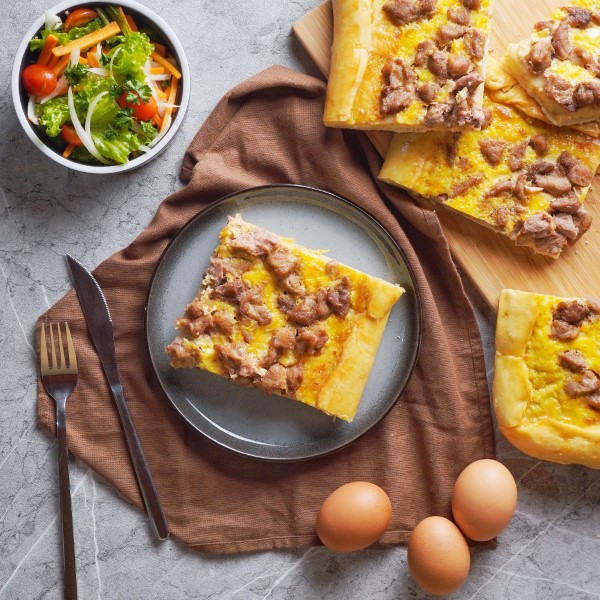 Equipment
Baking sheet

21 x 15 inches
Ingredients
For The Dough:
1½

cups

warm water

2¼

tsp

active dry yeast

½

tsp

white sugar

4

cups

all-purpose flour

sifted (and extra for dusting)

1

Tbsp

kosher salt

coarse-grained salt

2

Tbsp

extra-virgin olive oil

and additional oil for greasing
For The Filling:
1

lb.

pork tenderloin or salt-cured ham

cut into ½ inch chunks

5

Tbsp

butter

melted

1

Tbsp

extra-virgin olive oil

2

tsp

kosher salt

½

tsp

paprika

3

eggs

whisked
Instructions
All the ingredients ready? Let's begin!
Making The Pizza Crust:
Put the warm water, yeast, and sugar in a small bowl, cover, and stand for 10 minutes or until the yeast looks frothy.

Measure out the flour in a large mixing bowl and add the salt. Make a space in the center and pour in the yeast and oil.

Fold together carefully with a spatula until the flour is absorbed.

Sift flour onto the work surface and knead the dough for roughly 10 minutes or until it feels smooth and elastic. Add more sifted flour if the mix is too sticky.

Grease a large bowl lightly with olive oil and lift the dough inside.

Smear the dough lightly with olive oil and cover the bowl with a plate or plastic bag. Allow it to rise somewhere warm for an hour.
Assembling The Pizza:
To marinate the meat, mix the meat cubes, melted butter, salt, paprika, and olive oil together and refrigerate for an hour.

Preheat the oven to 350˚F.

Grease the baking sheet with olive oil.

Lightly dust the work surface with flour. Place the dough here for rolling out to a rectangle that is a ¼ inch thick and 2 inches bigger than the size of your baking sheet.

Fold the dough edges in to create a thick 2-inch border all around.

Sprinkle the meat over the dough in a single layer.

Brush the border of the dough with some of the whisked egg and keep the rest for later.

Bake the pizza for 20 minutes before taking it out of the oven and pouring the remaining egg over the meat filling. Brush the border with a bit more olive oil.

Bake for a final 7-10 minutes to cook the egg. The crust should be golden-brown.

Let the cooked pizza cool on a wire rack before serving.
Video
Nutrition
Calories:
383
kcal
|
Carbohydrates:
50
g
|
Protein:
22
g
|
Fat:
10
g
|
Saturated Fat:
2
g
|
Polyunsaturated Fat:
1
g
|
Monounsaturated Fat:
5
g
|
Trans Fat:
1
g
|
Cholesterol:
99
mg
|
Sodium:
1521
mg
|
Potassium:
358
mg
|
Fiber:
3
g
|
Sugar:
1
g
|
Vitamin A:
115
IU
|
Vitamin C:
1
mg
|
Calcium:
36
mg
|
Iron:
4
mg
Notes & Tips
Pastrmajlija can be made with any meat of your choice but choose cured or smoked meat for the authentic flavor. You can use a combination of pork chops cut into chunks and cubes of salt-cured ham. Other considerations for a perfect Pastrma-pizza are:
The pizza dough should be soft and supple and not too dry.
Kneading by hand can take up to 20 minutes. Knead until dough stretched between your hands, springs back without tearing.
If the dough has not risen after an hour, give it a bit more time. Never let the dough stand in full sun.
Experiment with making a sourdough pizza crust or using a mix of regular wheat and rye flour.
The pizza dough can be shaped to make a rectangular, oval, round, or heart-shaped pie. How about a half-moon pizza?
The whisked egg added at the end can be left to cook to your personal preference. If you leave it for 6 minutes, the egg will still be somewhat runny. Leaving it to bake for 15 minutes will cause it to set solidly.
Instead of whisking the eggs, they can also be broken and poured over the meat whole as sunny-side-up eggs.
As an option, the eggs can be sprinkled with salt and cayenne pepper before returning to the oven.
Before baking, the pizza can be dotted with lard instead of brushed with olive oil.
Serving Suggestions
Pastrmajlija is served all over Macedonia at restaurants, festivals, markets, and cafés. It is eaten as a breakfast, lunch, or dinner and is a popular late-night snack after a night out dancing and partying.
Macedonian meat pies are traditionally served with a fresh, crunchy Bulgarian Shopska salad. Hot pickled peppers are a traditional favorite served with Pastrmajlija.
Also, try this Turkish-hot-pickled-peppers recipe. It is easy to make and can be eaten as soon as it is bottled.
Garnish your golden pizza pie with fresh greens like wild rocket leaves or a few coriander leaves.
Dessert Suggestions
Many Macedonian and Balkan sweet treats can be made at home or bought online. Try some of the following Middle Eastern desserts:
Turkish Knafeh is a crunchy and delicious treat made with sherbet and cheese and enjoyed all over the Arab world and beyond.
Green Fig preserves served with some of the iconic Balkan cheeses.
Turkish delight or Krushevo Lokum has a rich history and was first served in the late 18th century. Lokum is flavored with rose water, coconut, nuts, or dried fruit. It is a light dessert perfect for following a hearty Macedonian pizza.
---
Recent Recipes