Homemade Crispy Zucchini Pancakes
These crispy zucchini fritters with feta are perfect for a light lunch or dinner. They're deliciously crisp on the outside and heavenly soft on the inside. I couldn't imagine a tastier way to eat more veggies.
It's so easy to make homemade crispy zucchini pancakes. Not to mention they're also healthy and affordable. Once you try this recipe for the best crispy zucchini fritters, you'll want to make them at least once a week. I promise you.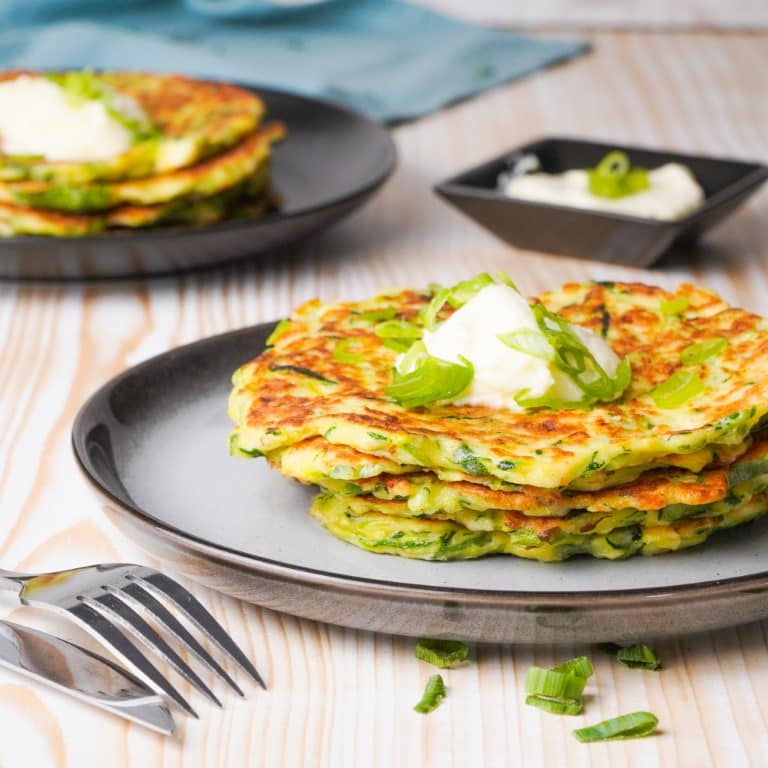 Ingredients
2

lb

zucchini

1

+ ½ tsp. fine salt

2

large eggs

½

cup

chopped green onions

¾

cup

all-purpose flour

1

tsp.

baking powder

½

tsp.

freshly ground pepper

Optional: 1/3 cup crumbled feta cheese

Olive oil or vegetable oil for frying
Instructions
All ingredients ready? Let's begin!

Wash the zucchinis and trim off the ends. Grate by hand on the large holes of a box grater or use the grater attachment on the food processor. Place grated zucchini in a large colander, mix in 1 teaspoon of salt, and let drain over the sink for 10 minutes.

After 10 minutes, place handfuls of zucchini in a cheesecloth or a clean kitchen towel and squeeze tightly over the sink to remove all the excess liquid. Squeeze it well to get all the water out. The result should yield 3 ½ to 4 cups of squeezed dry zucchini. Transfer back to the large mixing bowl.

Add green onions, crumbled feta, and lightly beaten eggs.

In a separate small bowl, sift together flour, baking powder, ½ teaspoon salt, and pepper. Then add flour mixture to zucchini mixture and mix until combined.

Place a large non-stick skillet or a heavy-bottomed cast iron pan over medium heat and heat about 2 tablespoons of olive oil. When the oil is hot, dollop the zucchini mixture about 1 heaping tablespoon at a time and flatten out the top carefully to make a pancake shape. Fry for 3-5 minutes on each side or until golden brown. If they brown too quickly, reduce the heat, if they take too long, increase the heat.

Once done, remove from pan and transfer to a warm plate. Repeat step 5 for the remaining zucchini fritter batter. Serve warm with sour cream or tzatziki!
Nutrition
Calories:
104
kcal
|
Carbohydrates:
17
g
|
Protein:
6
g
|
Fat:
3
g
|
Saturated Fat:
1
g
|
Polyunsaturated Fat:
1
g
|
Monounsaturated Fat:
1
g
|
Trans Fat:
0.01
g
|
Cholesterol:
62
mg
|
Sodium:
131
mg
|
Potassium:
446
mg
|
Fiber:
3
g
|
Sugar:
5
g
|
Vitamin A:
478
IU
|
Vitamin C:
29
mg
|
Calcium:
100
mg
|
Iron:
2
mg
Notes & Tips
Don't skip the second step. The key to crispy zucchini pancakes is removing all of the excess water from the freshly grated zucchini. So, if you were wondering, why are my zucchini fritters soggy? This is how to avoid it.
I strongly recommend using a cheesecloth or clean kitchen towel to squeeze the grated zucchini and release its juices into the sink. If you simply use your hands, it won't be possible to remove as much of the water.
If you want to make all of the crispy zucchini patties the same size, use a ¼ cup measuring cup or an ice-cream scooper to scoop the batter into the hot pan. This is great if you're making these for a putlock or dinner party.
To reduce the cooking time, use two large skillets or heavy-bottomed cast iron pans. You'll have the best crispy zucchini fritters ready to serve in under 15 minutes.
To achieve extra crispy zucchini pancakes, make sure the oil is really hot before adding the batter to the pan. Usually, the first batch is the least crispy.
Serving Suggestions & Substitutions
I love serving crispy zucchini fritters with tzatziki sauce or plain sour cream, but you can get creative with the toppings. I would also suggest Greek yogurt and dill sauce or avocado dip.
To make zucchini pancakes without flour, substitute the flour for 1 cup of grated parmesan cheese. I'd omit the feta cheese unless you want primarily cheese fritters (also not a bad idea). This is an easy low-carb and gluten-free fritter version.
To make these crispy zucchini fritters vegan, omit the eggs and replace them with ¼ cup melted and cooled-down vegan butter. Add about 1/3 cup of nutritional yeast for some added flavor and texture as well. And you can use vegan feta or omit it entirely.
Of course, the crumbled feta is optional, but I do recommend it. It adds so much flavor and feels like a match made in heaven. You could also add some parmesan cheese instead, or even small cubes of gruyere for some melted cheese surprises.
Lastly, when it comes to the seasoning, you're welcome to get creative. You could add some finely minced garlic, smoked paprika, freshly minced dill, ground white pepper, chili powder, or even a little Safran for a beautiful yellow hue.
FAQ
How Do You Reheat Zucchini Fritters?
Place them on a baking tray lined with parchment paper and reheat in the oven at 375°F for about 10-15 minutes. Taste one from the center to see if it's warmed through and serve.
How Do You Keep Plates Warm For Serving?
If you're making the crispy zucchini patties ahead of time, you can keep them warm by placing them on a warm plate and covering them. To do so, make sure you have oven-safe plates. 

Place the plate in the oven for 15 minutes at low temperature, from 150°F to 200°F. Remove it using an oven mitten and keep the zucchini pancakes warm by covering them with layers of aluminum foil. 
How Do You Keep Food Warm While Eating?
Use the method above for warming plates and cover with aluminum foil. The plate should keep warm for 30 minutes to 2 hours, depending on its thickness and the room temperature. 
Can I Freeze Zucchini Pancakes?
Yes, zucchini fritters are freezer-friendly. Wait until the zucchini fritters have cooled down. Then flash-freeze them by placing them in a single layer on a baking tray lined with parchment paper. Freeze for up to 3 months. 

Alternatively, you can transfer the cooled-down fritters to a freezer bag and freeze them like this. When you want to reheat them, place them on a lined baking tray and bake for about 15 minutes at 325°F.
Can You Make Zucchini Pancakes Ahead Of Time?
Yes! If you don't want to freeze your zucchini pancakes, you can still keep them in the fridge in an airtight container for 5-7 days. 
Why Are My Zucchini Fritters Falling Apart?
This can happen for two reasons: either there isn't enough binder in the batter (flour, eggs, grated cheese), or there isn't enough oil in the pan. 

Make sure to use large eggs for this recipe and measure the flour correctly. Also, use enough oil unless you have a non-stick pan. And don't flip the fritters too soon or too much – wait until you see small bubbles forming at the top of the pancake and the edges are browning
Can You Air Fry Zucchini Fritters?
Absolutely! To make these healthy crispy zucchini fritters even healthier, you can air fry them. It depends on the air fryer brand, but I find that 12 minutes of cooking time is the perfect amount of time to use for my Crownful 19-Quart Air Fryer. You can find a list of the best air fryers [with rotisserie] here.
---
Recent Recipes