Egg foo young is basically an Asian-style fluffy chicken or duck egg omelet that is filled with vegetables, aromatics, and meat or fish. The omelets are generally smaller in size than what we are used to and they aren't folded over in the classic French style. They are often served with a sauce or gravy of sorts over rice. This is often more of a lunch or dinner dish than breakfast.
I started making egg foo young in my late twenties when I had just finished graduate school and was faced with a demanding new job and a mountain of student loan debt. Eggs, vegetables, and certain proteins, like ground chicken, were affordable when I shopped wisely. This was a dish that fit within my budget and could be made quickly in one pan.
As I did after graduating, I still like to think of egg foo young as a dish where I can use up some of my leftovers. On weekends, I often roast chicken, cook a salmon or mackerel fillet, sauté some ground beef, and steam shrimp. I also take a sheet pan and roast all varieties of vegetables, such as carrots, Brussels sprouts, butternut squash, and broccoli. This makes it easy to assemble weeknight meals. A great way to incorporate my cooked proteins and vegetables is to make frittatas or omelets. Egg foo young is excellent for this purpose. I will add some fresh veggies to the dish as well for brightness.
For this recipe, you will want to make the gravy or sauce first because it needs to simmer while you are gathering the ingredients to prepare the omelets. The eggs take only a couple of minutes to cook. For the westernized version of egg foo young sauce, you will need some common Asian ingredients: soy sauce or tamari, oyster sauce, Shaoxing wine, sesame oil, cornstarch, and freshly ground pepper. In China, these omelets might be served more simply with just soy sauce. I like the gravy-style sauce that is popular in Asian-American preparations.
Of course, you are going to need fresh whole eggs and a variety of fillings for the omelets.
This particular egg foo young recipe calls for using fresh ingredients: small shrimp, scallions, beansprouts, red bell pepper, and cilantro. I will give you suggestions for substitutions and variations.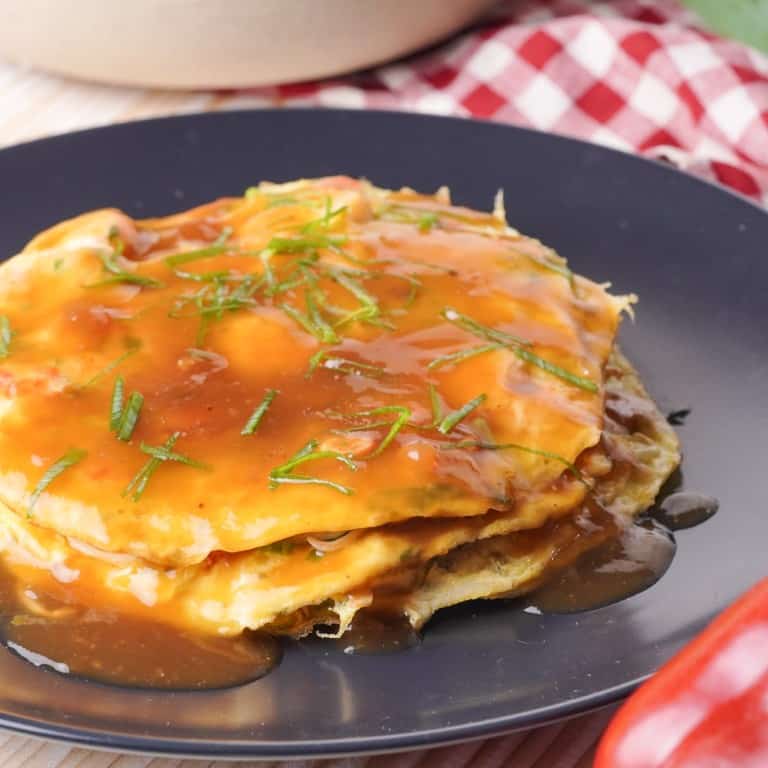 Ingredients
Sauce
1 ½

Tbsp

light soy sauce or gluten-free tamari

4

tsp

corn starch

2

tsp

oyster sauce

1

Tbsp

Shaoxing wine

Chinese cooking wine

½

tsp

toasted sesame oil

1

cup

of water

¼

tsp

freshly ground pepper
Omelets
6

whole eggs

1 ½

cups

beansprouts

½

cup

diced red bell pepper

4

scallions

sliced thinly

2

Tbsp

minced cilantro leaves

½

tsp

sea salt

¼

tsp

freshly ground pepper

4

ounces

small shrimp

peeled and deveined

2

Tbsp

avocado oil

1

tsp

sesame oil

2

cups

cooked white or brown rice or cauliflower rice for serving
Instructions
Sauce
In a measuring cup, mix together the soy sauce and corn starch until the starch dissolves.

In a saucepan over medium heat, add the soy sauce with corn starch, oyster sauce, wine, sesame oil, water, and pepper. Simmer until the sauce thickens to a gravy consistency, stirring often. Set this aside while you cook the eggs.
Omelets
In a medium bowl, whisk the eggs until a little frothy.

Add the beansprouts, bell pepper, scallions, cilantro, salt, and pepper to the eggs. Stir to combine.

Fold the shrimp into the egg mixture.

Place a small skillet over medium heat and add 1-1/2 teaspoons of the avocado oil and 1/4 teaspoon of the sesame oil. Using a ladle, place 1/4 of the egg mixture into the hot pan. Swirl the pan so the eggs spread out to an even thickness.

Cook the egg mixture until it is a light golden brown on the bottom, approximately 1-1/2 minutes. Flip the omelet over and cook for another 1 to 2 minutes until the eggs are set and the shrimp is pink. Remove the omelet to a serving platter and repeat the process until all 4 omelets are cooked.

Coat the omelets in the sauce and serve immediately with rice.
Nutrition
Calories:
337
kcal
|
Carbohydrates:
30
g
|
Protein:
19
g
|
Fat:
15
g
|
Saturated Fat:
3
g
|
Polyunsaturated Fat:
3
g
|
Monounsaturated Fat:
8
g
|
Trans Fat:
0.03
g
|
Cholesterol:
291
mg
|
Sodium:
887
mg
|
Potassium:
354
mg
|
Fiber:
2
g
|
Sugar:
3
g
|
Vitamin A:
1112
IU
|
Vitamin C:
32
mg
|
Calcium:
86
mg
|
Iron:
2
mg
Notes & Tips
Egg foo young is a dish that cooks very quickly, so you do need to remain attentive to the process. Don't let that intimidate you. This dish can be on the table in about less than 30 minutes. It is a perfect busy weeknight meal.
These omelets are often served with white rice. To round out the meal, you can add a side of stir-fried baby bok choy or snow peas with coconut aminos drizzled over the top.
Substitutions & Variations
Corn Starch: If you want to keep this a keto and paleo-compliant dish, you can get away with substituting it with non-grain starches, such as kudzu, arrowroot, or tapioca. You would also have to source a sugar-free oyster sauce or teriyaki sauce.
Shaoxing Wine: Shaoxing wine is a fermented liquid made from fermented glutinous rice. You can substitute mirin or dry sherry for this ingredient when the wine isn't readily available.
Eggs: If you have issues with consuming eggs, this dish can be made with plant-based liquid eggs. Just Egg is the brand I use because it tastes, looks, and cooks just like chicken eggs.
Vegetables: You can use leftover cooked veggies in this recipe, such as roasted chopped broccoli florets, sautéed mushroom slices, and diced boiled white sweet potatoes. When using fresh produce, make sure it is sliced or shredded thinly so it will start to soften while cooking in the eggs, like shredded carrots, julienned zucchini, minced jalapeño peppers, and diced radishes.
Cilantro: You can definitely substitute flat-leaf parsley or basil for the cilantro in this recipe.
Shrimp: The smaller shrimp cook quickly in egg foo young. If using large shrimp, you might do well to dice it. You can substitute cooked ground pork or beef for the shrimp. I really like to use shredded leftover rotisserie chicken in egg foo young as well. You can certainly forgo the animal protein and make this vegetarian by adding adzuki beans or green peas and using vegan teriyaki sauce in place of the oyster sauce.
Avocado Oil: What I like about avocado oil is that it has a high smoke point and it is fairly neutral in flavor. It is also an oil that is high in omega-3 fatty acids. I am starting to use fewer vegetable and seed oils these days and opting for more nutritionally beneficial oils. You can make this recipe with whatever oil you prefer. I would recommend trying walnut oil, light olive oil, or ghee as alternatives to avocado oil.
---
Recent Recipes