Best AIP-Friendly Nomato Sauce (Tomato-Free Pasta Sauce)
If you are following an Autoimmune Protocol (AIP) diet, you know that nightshade fruits and vegetables are not an option. These include peppers of any kind, eggplant, goji berries, tomatoes, white potatoes, and a few more. It is believed the alkaloids in nightshades can exacerbate inflammation, especially in immunocompromised individuals. Nightshades can especially aggravate arthritis. For this reason, the AIP diet excludes nightshades.
This means that tomato sauce isn't really a good option for many. That can seem like torture if you enjoy pasta, pizza, and lasagna. I have made a pretty good substitute for tomato sauce that is surprisingly savory, tart, and a little sweet, just like a good pasta sauce. Even the color looks just like tomato sauce.
I make this sauce with onions, garlic, beets, carrots, parsnips, broth, apple cider vinegar, and seasonings. It is packed with nutrition, bright red, thick, and definitely tasty. It clings nicely to grain-free pasta, works in lasagna, and tops a gluten-free pizza crust.
AIP nomato sauce takes a little more time to prepare than classic tomato sauce. But it is worth the effort to have something that closely resembles a good spaghetti sauce. I sometimes make a large pot of this and store it in the freezer in serving sizes for easy winter weeknight dinners. You can add ground beef or mushroom to the sauce when ready to serve it. And, you can top it with nutritional yeast for a cheesy finish.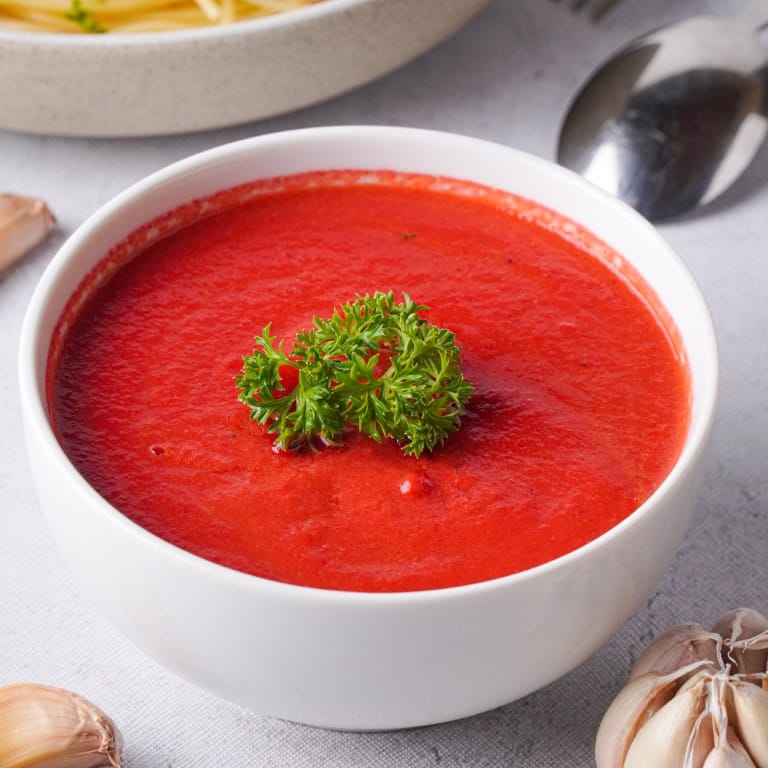 Ingredients
¼

cup

of extra virgin olive oil

½

a yellow onion

peeled and diced

3

cloves

garlic

minced

2

tsp

Italian seasoning

herb blend – without pepper

2

cups

bone broth

1 ½

cups

diced fresh peeled beets

1 ½

cups

diced carrots

1 ½

cups

diced parsnips

1 ½

Tbsp

raw apple cider vinegar

more to taste if desired

½ to 1

tsp

sea salt

to taste
Instructions
All ingredients ready? Let's begin!

In a saucepot over medium heat, warm the olive oil. Add the onion and cook until it is translucent, approximately 5 minutes, stirring a couple of times. Add the garlic and seasoning blend and continue to cook for another 30 seconds until the garlic and herbs are fragrant.

Pour the broth into the pot.

Add the beets, carrots, parsnips, cider vinegar, and salt.

Bring the broth to a boil. Reduce the heat to a low simmer and cook until the vegetables are soft, about 20 minutes. Turn the heat off and allow the broth to cool to room temperature.

Once cooled, ladle the broth and vegetables into a high-speed blender and process until you have a purée or sauce.

You might have to do this in 2 batches. Taste the sauce and check the consistency. Adjust by adding more salt and vinegar, if desired. Add a little broth if too thick.

You can return the sauce to the pot and warm it to serve over pasta right away or place it in air-tight containers and refrigerate or freeze it until ready to use.
Nutrition
Calories:
227
kcal
|
Carbohydrates:
21
g
|
Protein:
6
g
|
Fat:
14
g
|
Saturated Fat:
2
g
|
Polyunsaturated Fat:
2
g
|
Monounsaturated Fat:
10
g
|
Sodium:
415
mg
|
Potassium:
552
mg
|
Fiber:
6
g
|
Sugar:
9
g
|
Vitamin A:
8053
IU
|
Vitamin C:
16
mg
|
Calcium:
66
mg
|
Iron:
1
mg
Notes & Tips
You can actually purchase a jarred nomato sauce online. Be aware that it will cost you about $20 for a jar. That is insane when you can make this for so much less at home. I suggest doubling the recipe so you can freeze some for future meals.
When looking for seasoning blends, be sure to read the labels as they shouldn't contain cayenne, paprika, pepper, or seeds if you are following an AIP diet.
Substitutions & Additions
Italian Seasoning: If you can't find an AIP-friendly Italian seasoning blend, you can simply use 1 teaspoon of dried oregano and 1 teaspoon of dried basil.
Carrots: I have made nomato sauce with butternut squash that I have used in lasagna. I just wanted to try something different because I had a large squash that I needed to use up. I think it was a good substitution for carrots.
Parsnips: Parsnips add a savory and slightly sweet essence to the sauce. They are also quite starchy, which helps to hold the sauce together. My Whole Foods market doesn't always carry parsnips, so I will use more carrots. I try to grab a package of organic multi-colored carrots for this recipe. They are orange, purple, white, and yellow and all taste slightly different. The colors are fabulous.
Bone Broth: You can actually use any broth that is AIP-friendly, such as homemade chicken broth or vegetable broth. Bone broth has a great deal of collagen and gelatin in it that helps to thicken the sauce. If using regular broth, just cook the sauce down a little longer after you puree it to reduce it to the thickness you desire.
Apple Cider Vinegar: This is actually an optional ingredient that I find helps to make the sauce taste a little acidic like tomatoes. If you don't have raw, unfiltered apple cider vinegar, you can substitute red wine vinegar or lemon juice.
Additions: You can make this into a Bolognese sauce by adding cooked ground beef, pork, or turkey. For a vegetarian version, use vegetable stock and add sliced sautéed mushrooms. Nutritional yeast can be added for a parmesan-like flavor.
Serving AIP Nomato Sauce
You can find all kinds of grain-free pasta in most markets these days. Cassava flour spaghetti fits the bill for AIP. I also love spiralized zucchini, otherwise known as zoodles. Carrot noodles are also pretty good. But I think my favorite is roasted spaghetti squash strands that resemble pasta but are much healthier.
I make pizza with a variety of grain-free crusts. These include cauliflower crust, spaghetti squash crust, and cassava flour crust. I top these with nomato sauce and herb pesto or sometimes whole eggs and crispy bacon for a spin on brunch.
Nomato sauce works nicely as a tomato substitute in our plant-based lasagna. It also works in pretty much any casserole that calls for some tomato sauce.
---
Recent Recipes