Easy Mashed Potato Cupcakes (2 Ways)
Mashed potato cupcakes two ways is one of the tastiest ways to repurpose leftover mashed potatoes. Each plump, firm, cheesy, savory cupcake is so delicious and fulfilling in texture, springing back with each bite that you may just end up making mash specifically for these cupcakes. Breakfast, lunch or supper, mashed potato cupcakes 2 ways are endlessly versatile and always enjoyed.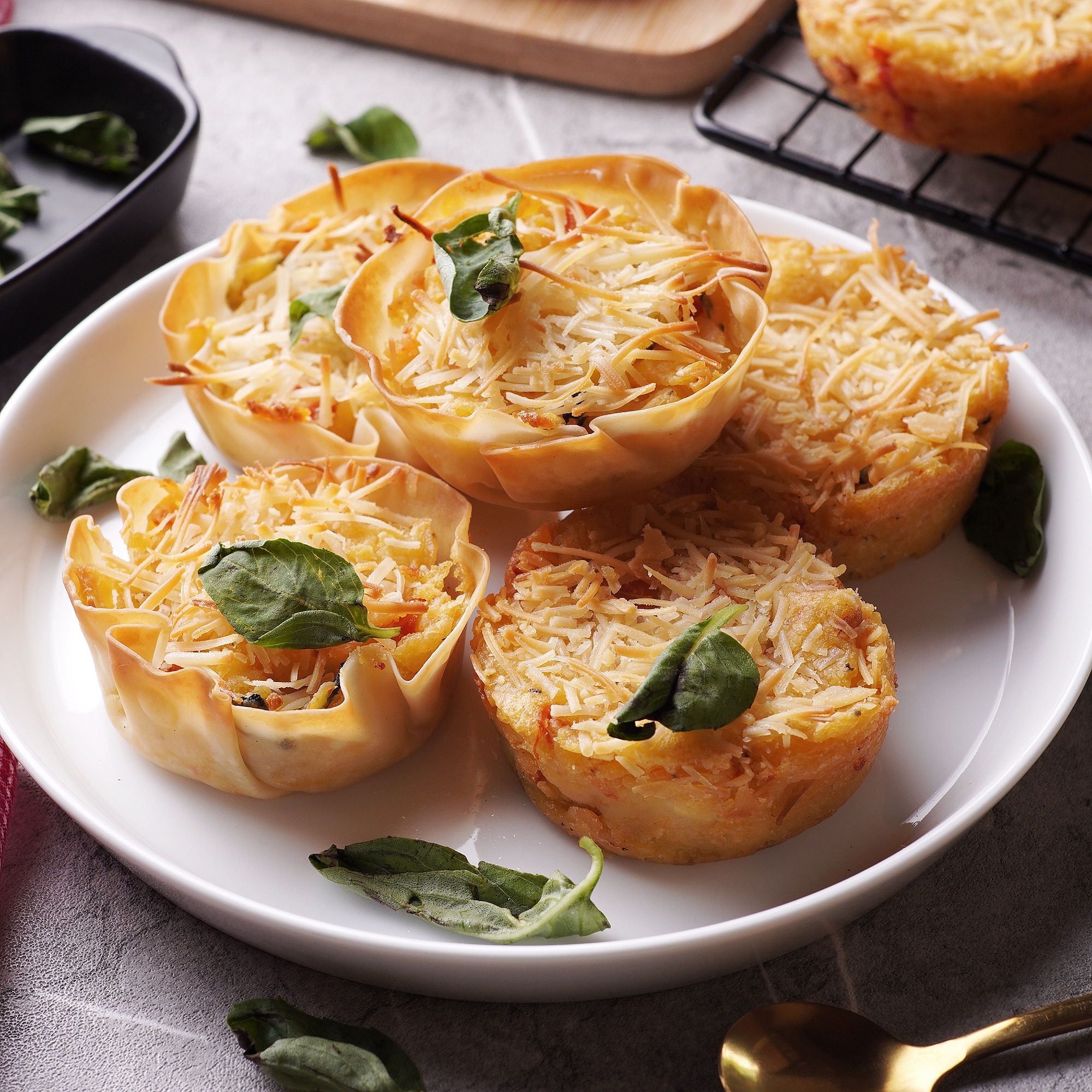 Ingredients
½

Shallot

Minced

2

Cloves

Garlic

Minced

½

Bell Pepper

Finely Chopped

1

Cup

Fresh Basil

2

Teaspoon

Salt

1

Teaspoon

Ground Black Pepper

2

Pounds

Potatoes

3

Tablespoons

Butter

3

Tablespoons

Milk

½ 8-

Ounce

Package Smooth Cream Cheese

1

Teaspoon

White Pepper

1

Egg

Beaten

2

Cups

Grated Cheddar Cheese

12

Wonton Wrappers
Instructions
All ingredients ready? Let's begin!

Heat a medium saucepan or skillet over medium-high heat and saute the shallots for 2 to 3 minutes or until the first signs of translucency.

Add the garlic and saute for 1 to 2 minutes or until aromatic.

Add the bell peppers and saute for 2 to 3 minutes or until tender.

Tear the basil leaves apart and stir into the shallots and garlic.

Season with salt and black pepper, cover, and remove from the heat.

Peel and cube the potatoes into ½ inch cubes.

Add the potatoes to a large pot filled with salted water over high heat and bring to a boil.

Once boiling, reduce the heat and simmer for 10 to 15 minutes or until the potatoes are tender and easily mashable.

Drain the potatoes and mash with butter while slowly adding milk, cream cheese, and a teaspoon each of salt and ground white pepper.

Once smooth, stir in the shallot, garlic, and bell pepper mix and blend until evenly combined.

Finally, mix in the egg and two cups of grated cheddar cheese until well combined. Season according to taste with salt and pepper if needed.

Preheat your oven to 350°F.

Oil or spray two twelve cup silicone muffin molds or pans.

Line one tray of twelve muffins with wonton wrappers brushed with oil and laid out to create cups. Bend each wrapper to make a recess by turning the fold in. Scoop measures of the mashed potato mixture into the wonton cups and the unlined prepared muffin cups.

Top each mashed potato cupcake with grated cheese.

Bake each tray for 8 to 13 minutes or until the cheese melts and the mash has set to a firm consistency. The edges of the wonton wrapper will brown when done.
Video
Nutrition
Calories:
239
kcal
|
Carbohydrates:
20
g
|
Protein:
9
g
|
Fat:
14
g
|
Saturated Fat:
8
g
|
Polyunsaturated Fat:
1
g
|
Monounsaturated Fat:
4
g
|
Trans Fat:
1
g
|
Cholesterol:
57
mg
|
Sodium:
628
mg
|
Potassium:
410
mg
|
Fiber:
2
g
|
Sugar:
2
g
|
Vitamin A:
755
IU
|
Vitamin C:
22
mg
|
Calcium:
185
mg
|
Iron:
1
mg
Tips
To incorporate even more flavor, try oiling and seasoning the wonton wrappers before turning them into cups. Dust them with a grind or two of black pepper and a pinch of paprika each, and perhaps scatter over a sprinkle of your favorite fresh herbs. Fill the cupcakes as per usual, and bake. Be careful when seasoning with salt or salty spices, or you'll end up with cupcakes that are oversalted and hard to palette.
Don't overwork your mash, or you'll end up with a glue-like potato paste that's impossible to fix. Stop at the moment that it's light and fluffy without any hard bits spoiling the texture. If you're using leftover mashed potato, warm the butter and milk slightly before you combine it in. It'll revive the mash and make it easier to mix to a smooth consistency.
Substitutions
Cheddar works well in baked goods, but any semi-hard melting cheese will come out tasting great in this recipe. If you're not into cheddar, give gouda, pepper jack, Monterey jack, or mozzarella a try. Those opting for a stringier cheese like mozzarella should include a teaspoon or two of cornstarch in their mash mix so that the form holds together better.
Shortcuts
Even though mash is one of those things that tastes best homemade, frozen mashed potatoes available in most grocery stores will work to save time. Pay close attention to the consistency. You may not be able to add as much cream cheese or milk and may need to thicken up your cupcake "batter" with a teaspoon or two of cornstarch, just like we recommended for stringy cheese.
Instead of shallots, garlic, and bell pepper, try substituting freshly chopped chives. Not having to fry off the vegetables saves a lot of time and the flavor of chives resembles the tangy onion-esque taste of shallots and garlic. Those who decide to include chives alone should consider seasoning with additional black pepper and possibly a pinch of chili powder.
Variations
Shallot, garlic, bell pepper, and basil are just one combination to try. Play around with the herbs, spices, and vegetables. With just a little tweaking, you can turn these mashed potato cupcakes into something spicy by trading out the basil for freshly chopped chili. Another tasty tradeoff is swapping basil for half a cup of cooked corn. It changes the flavor profile significantly, giving your mashed potato cupcakes a sweet characteristic.
To ramp up the cheesy flavor, try including a quarter cup of grated parmesan cheese when making the mash. It'll make each cupcake much more savory than before and the ideal accompaniment to another meal. When they're that rich, you can only really eat one or two at a time.
Can You Freeze Mashed Potato Cupcakes?
Mashed potato cupcakes can be frozen in an airtight container and later reheated. The fat from the cream cheese and grated cheese fortifies the mash making it store and reheat much better than untreated plain mashed potato.
What Kind Of Potatoes Are Best For Mashing?
Many kinds of potatoes mash well. The color of the flesh tells you a lot about the consistency and flavor. White-fleshed russet potatoes mash light and fluffy while carrying a neutral earthy potato taste. Potatoes with yellow flesh like Yukon Gold have a flavor with a buttery quality, and they mash creamy but firm. Which type suits your mash best is up to you. Many like using a mix of potatoes. The only variety that you should avoid at all costs is waxy potatoes, as they're too firm and could end up becoming paste before they're creamy.
What To Serve With Mashed Potato Cupcakes 2 Ways?
Put together a tasty breakfast or lunch spread by serving mashed potato cupcakes with cheesy corn and pea fritters or simple mushroom and avocado toast. They're the ideal accompaniment to all types of light meals. The only trick to balancing your plate is keeping in mind just how filling a mashed potato cupcake can be.
---
Recent Recipes