The Best Chili's Baked Potato Soup
You know it is fall when it becomes soup season. As soon as the leaves start turning color and the air becomes crisp, I am ready with the broths and stocks and soups. I was hoping to venture out of the usual pumpkin and squash flavors, and I thought I'll give Chili's Baked Potato Soup a go. Chili's has, hands down, one of the best baked potato soups out there and everyone loves it. It is a hearty, filling, delicious bowl of delight. The decadent broth and the creamy potatoes are a combination like no other. And when you think it can't get any better, there's also bacon and cheese and well…need I say more? Everyone tries their hand at Chili's Baked Potato Soup and here is my version, The Best Chili's Baked Potato Soup! Don't worry, I haven't tried to change the taste or flavor profile, I have just given a couple of alternatives to this classic.
Besides the time it takes to bake the potato, everything else is pretty quick, easy and straightforward. I usually make a big batch of it and stick it in the fridge and during the course of the week it changes from being the main course, to a side soup with salad, a quick cup as a light snack and eventually something to dip bread into. I love it, my family loves it. It is comfort food at this point that carries the family through those chilly fall evenings.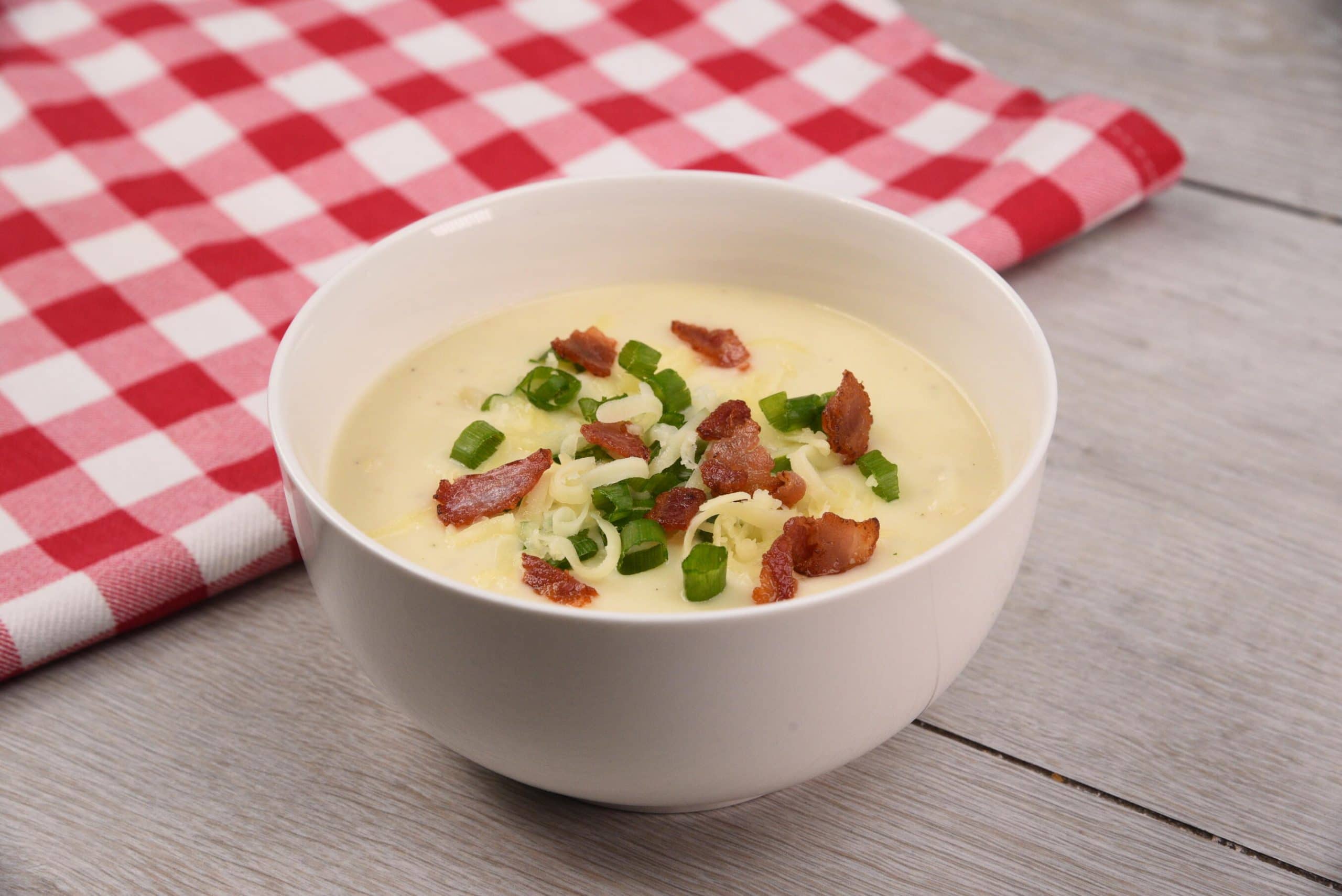 Ingredients
2

medium potatoes

3

tablespoons

butter

unsalted

1

cup

white onion

diced

2

tablespoons

flour

1/4

cup

cornstarch

2

cups

water

4

cups

chicken stock

1 1/2

cups

instant mashed potatoes

1

cup

half-and-half

A pinch of basil

A pinch of thyme

Salt and pepper
Garnish
1/4

cup

shredded cheddar cheese

1/4

cup

cooked crumbled bacon

1/4

cup

scallions

chopped
Instructions
Preheat oven to 400 degrees and bake the potatoes for 1 hour. Once done, take them out to cool.

In a pot melt the butter

Add onions and sauté till they brown

Add the flour to the melted butter and onions to make a roux

Now add the chicken stock

Dissolve the cornstarch in the water and add it to the pot

Now add the mashed potatoes and all the spices

Stir and bring to a boil. Then reduce the heat and let simmer for about 5 minutes.

In the meantime, peel the baked potatoes, cut them into chunks and add them to the simmering pot.

Add the half-and-half and bring again to boil

Once boiled, reduce heat and let it simmer till it thickens, about 15 mins

Serve the soup into bowls and garnish individually. Add a little helping of bacon, cheddar cheese and scallion into each bowl
Video
Nutrition
Calories:
283
kcal
|
Carbohydrates:
42
g
|
Protein:
10
g
|
Fat:
9
g
|
Saturated Fat:
5
g
|
Polyunsaturated Fat:
1
g
|
Monounsaturated Fat:
3
g
|
Cholesterol:
25
mg
|
Sodium:
309
mg
|
Potassium:
752
mg
|
Fiber:
3
g
|
Sugar:
5
g
|
Vitamin A:
252
IU
|
Vitamin C:
30
mg
|
Calcium:
114
mg
|
Iron:
1
mg
Tips & Tricks
First off, only garnish the soup right before serving, else the cheese is going to melt, and the scallions and bacon are going to get soggy.
Don't use old, soft potatoes even if they haven't gone bad. One, they get too soft and two, they develop a little sweetness, which I personal don't enjoy.
Storage: This soup can be refrigerated for up to 5 days. Can be heated in the microwave or stovetop. Just avoid constantly heating, cooling and reheating.
Questions
Can I boil the potatoes instead of baking them?
Yes, of course. This has been baked, only because I was replicating Chili's Baked Potato Soup. But yes, boiling potatoes is way easier and less time consuming so go for it. But the big problem with boiling is that there is the possibility of overboiled potatoes, so watch out for that. If you are boiling them, once they're done, run them under cold water to keep them from continuing to cook.
Do I need to use flour and cornstarch?
We need the flour to get the roux going. But if you don't have cornstarch, just use flour instead. Cornstarch works better as a thickening agent, but in a pinch flour would suffice.
Why do I need to dissolve the cornstarch before adding it?
It is not necessary to, but it works better when it is dissolved in water first as it tends to get lumpy. Then you will have to be stirring the soup while also trying to remove all the lumps. So, dissolve it completely in water first, just makes the process easier.
Can this soup be made vegan?
I have not tried a vegan option, as that will mean doing away with both the butter and the half-and-half. You will have to use vegetable oil and nut milk instead, but I cannot vouch for it. But you can use vegetable stock and do away with the bacon.
Substitutions
Potatoes: Russet potatoes work best for baking, but you can use with whatever you have in hand
Cornstarch: if you don't have cornstarch, use flour or rice flour
Half-and-Half: Honestly, I almost never have half-and-half in the house. So heavy cream it is. It makes the soup richer, which is not a bad thing, but it is heavy. You can also do one-part heavy cream to one-part milk to replace the half-and-half. You can also use light cream. And if all else fails just use milk. It doesn't take away from the taste, but it is not as creamy.
For a vegetarian option, you can use vegetable stock instead of chicken stock and just do away with the bacon garnish. Another good option for the bacon garnish is crispy onions or crispy garlic.
Cheese: A sharp or extra sharp cheddar work well, but you can do away completely with the cheese if needed.
Accompaniments
This soup can be the main dish or a tantalizing starter. If served as the entrée, The Best Chili's Baked Potato Soup goes well with corn on the cob, grilled greens like asparagus, Brussel sprouts or even broccoli. Try it with these green beans for a filling meal.
It also pairs well with garlic bread and cornbread and is a great side to sandwiches.
---
Recent Recipes