Homemade Peruvian Pesto (Tallarines Verdes)
At the end of the summer, I am quick to grab all the fresh herbs and greens in my garden before they succumb to a late fall frost. I generally have more herbs than I know what to do with. I make sure I have really good olive oil, citrus fruits, a variety of fresh nuts, and tangy cheese in my pantry and fridge always. With these ingredients, I make lots of different pesto sauces for pasta, soups, grilled proteins, and roasted vegetables. The best part about pesto is that I can portion it out into small resealable baggies and freeze those for use all winter.
Different regions around the world have their own versions of pesto. Italy may have been the birthplace of classic pesto made with fresh basil leaves, garlic, lemon, olive oil, pine nuts, and parmesan cheese. Of course, Italian immigrants brought this and other pesto recipes to North and South America where the classic recipe has been reimagined or built upon to include local ingredients.
Another favorite pesto of mine is Provencal pistou. It is a variety of fresh herbs from the south of France blended with aromatics and olive oil. It is commonly spooned onto soups and stews to brighten them up and add freshness.
Then, there is Argentinian chimichurri which is a blend of parsley, oregano, chili peppers, garlic, olive oil, and vinegar. This is commonly served over grilled meats.
In Peru, pesto verdes is likely a modified version of traditional Italian pesto. It is made with fresh spinach and basil leaves blended with white cheese, garlic, tree nuts, olive oil, and evaporated milk. This canned, dense milk, is a common recipe ingredient in Peru and it makes this pesto rich, creamy, and smooth. You will find it served over pasta. It is delightfully green in color and packed with nutrients. I serve this sauce over spaghetti, which is how it is done in the Peruvian tallarine verdes recipe.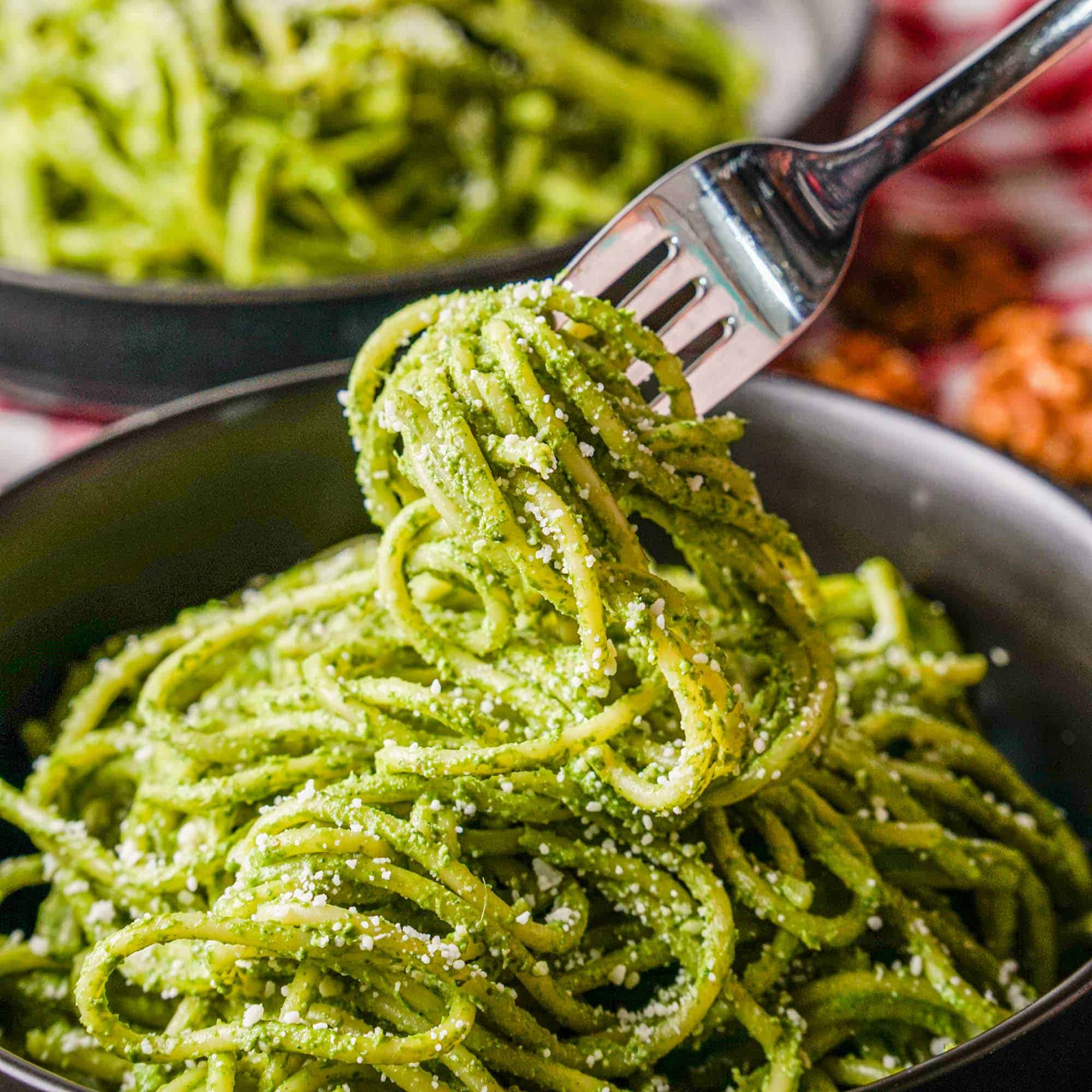 Ingredients
2

cups

packed fresh spinach leaves

stems removed

1

cup

packed fresh basil leaves

5

ounces

queso fresco

2

whole garlic cloves

peeled

1/4

cup

toasted walnut pieces

1/4

cup

evaporated milk

3

Tbsp

extra virgin olive oil

1

tsp

sea salt

1/2

tsp

freshly ground pepper

1

pound

spaghetti

1-1/2

Tbsp

kosher salt for the pasta water

Grated parmesan cheese for serving
Instructions
All ingredients ready? Let's begin!

In the jar of a high-speed blender, process the spinach, basil, queso fresco, garlic, walnuts, evaporated milk, olive oil, salt, and pepper into a smooth puree. Be sure to scrape down the sides of the blender a couple of times to make sure everything is well blended. Taste and adjust the seasoning if needed. Set the pesto aside or seal and refrigerate until ready to use.

Bring a large pot of water to a boil over high heat. Stir in 1-1/2 tablespoons of kosher salt. Add the pasta and cook according to the package directions.

Turn the burner down to low. Remove 1/3 cup of the pasta water and save. Drain the spaghetti in a colander.

Place the spaghetti back in the pot. Pour the pesto over the pasta and toss to coat. Thin the sauce with a little of the reserved pasta water until you achieve the desired consistency.

Transfer the spaghetti with the pesto verdes to a serving bowl. Sprinkle the parmesan cheese over the top and serve while warm. You can drizzle the dish with a little extra virgin olive oil if desired.
Nutrition
Calories:
728
kcal
|
Carbohydrates:
91
g
|
Protein:
26
g
|
Fat:
29
g
|
Saturated Fat:
9
g
|
Polyunsaturated Fat:
6
g
|
Monounsaturated Fat:
11
g
|
Trans Fat:
0.3
g
|
Cholesterol:
36
mg
|
Sodium:
1887
mg
|
Potassium:
504
mg
|
Fiber:
5
g
|
Sugar:
6
g
|
Vitamin A:
2114
IU
|
Vitamin C:
6
mg
|
Calcium:
369
mg
|
Iron:
3
mg
Notes & Tips
When adding nuts to pesto, I prefer to use raw organic nuts that I toast lightly myself. Pre-toasted nuts just don't have the freshness and texture of ones you toast yourself in a hot skillet. I buy reasonably priced raw nuts in bulk and store them in my freezer so that the oil in them does not become rancid.
Don't be afraid to generously salt your pasta cooking water. This makes it very flavorful when you use some of the starchy liquid to thin your pesto.
This sauce will store well in a sealed container in the fridge for about 3 days. You can also freeze it for 3 or 4 months.
Substitutions
Spinach: Fresh spinach leaves are used in lots of Peruvian dishes. I would think you could use Swish chard or kale for this recipe if you prefer.
Basil: While I think basil is the best herb for making pesto, I will often use baby arugula or flat-leaf parsley for a different spin. I especially love bitter herbs and greens, so arugula and dandelion are my go-to bitter greens.
Queso Fresco: Queso fresco, also referred to as queso blanco, is a fresh raw cow's milk cheese that is distinctively white in color. It is both salty and tangy. There are similar white cheeses from Latin America, such as cotija. Other good stand-ins for queso fresco are feta, ricotta salata, and farmer's cheese.
Walnuts: You will find pesto verdes recipes that call for lightly toasted pecans instead of walnuts. I think this is a great idea, though I haven't tried it yet. What I have tried are pine nuts and hazelnuts (filberts). I actually love toasted hazelnuts in savory dishes, especially in the fall. And they go so well with pork if you are inclined to serve this dish with a delicious oven-braised pork pernil that you can make ahead of time.
Evaporated Milk: I have to admit that I don't use evaporated milk much, other than in baking and creamy beverages. However, it works in this savory sauce. The texture is perfect. If you don't want to buy evaporated milk, you can substitute with heavy cream, half & half, or evaporated coconut milk if wanting to make a vegan pesto. I also think it is perfectly fine to leave this ingredient out altogether for a more herb-forward sauce.
Spaghetti: The pasta component can really be anything you like. Bowties (farfalle) are excellent with pesto, as is rigatoni because the ridges grab onto the sauce. If you want to go in a gluten-free direction, arborio rice is a good option, as are white beans, such as cannellini.
Parmesan Cheese: Finishing this dish with parmesan cheese is something I really like, but you don't have to do that. The sauce already has some salty cheese in it. You could grate some queso fresco over the dish before serving, or top it with nutritional yeast, or skip this step.
What Goes with Tallarines Verdes?
Unless you are keeping this dish vegetarian, I think a simple spiced Qdoba chicken is a great protein to serve with this beautiful green pasta. I also like blackened shrimp. Of course, a fresh green salad is a healthy accompaniment. Along with these options, I highly suggest roasted garlic bread to sop up any extra green pesto sauce at the bottom of the bowl.
---
Recent Recipes