The best vegan fudge recipe out there. With only 4 ingredients, this quick vegan dessert is rich chocolatey decadence at its finest. Not to mention, you can make it allergen-free! Another yummy addition to our delicious range of vegan recipes here at Cook Gem.
Where Fudge Comes From
Fudge was first produced on Valentine's Day in 1886 by an American confectioner and chocolatier in Baltimore, Maryland. They mixed French caramels with dark chocolate resulting in this luscious and decadent creation. Ever since, fudge has grown in popularity and has become a childhood (or adulthood) favorite for all chocolate lovers out there.
Many of us might remember our grandma making fudge on Christmas or other special occasions. She probably never shared the recipe with you, but I can assure you it wasn't vegan. An exact record of when the first vegan fudge was invented may be hard to find, but I'd guess it was sometime this century.
Some people think fudge is British, but this isn't true. Even British fudge makers clarify that fudge is a uniquely American invention. The French might say that they invented fudge years before the Americans. But, although their fondant candy may be similar, it doesn't have the same delectable texture or rich chocolate punch to it. Not to say it isn't delicious as well.
How Fudge is Made
Old-fashioned fudge is made with confectioner sugar, butter, cocoa powder, and milk or evaporated milk and marshmallow cream. But a healthier and more chocolatey version is achieved by making fudge from dark chocolate itself.
When hearing the word "fudge", most people think of the chocolate kind, but there are so many different fudge flavors out there. From Butterscotch, Cappuccino, and Peppermint to Key Lemon Pie, Sugar Cookie, and Carrot Cake, you can make fudge in pretty much any flavor your heart desires. Just make sure you follow the recipe instructions to ensure the fudge turns out the right consistency.
This simple fast vegan fudge recipe is ideal for vegan chocolate lovers or anyone looking for a dairy-free, healthier version of fudge. I love how easy and foolproof this recipe is. Best of all, it tastes just as good as your favorite fudge from the candy shop. Are you ready to make your chocolatey dreams come true?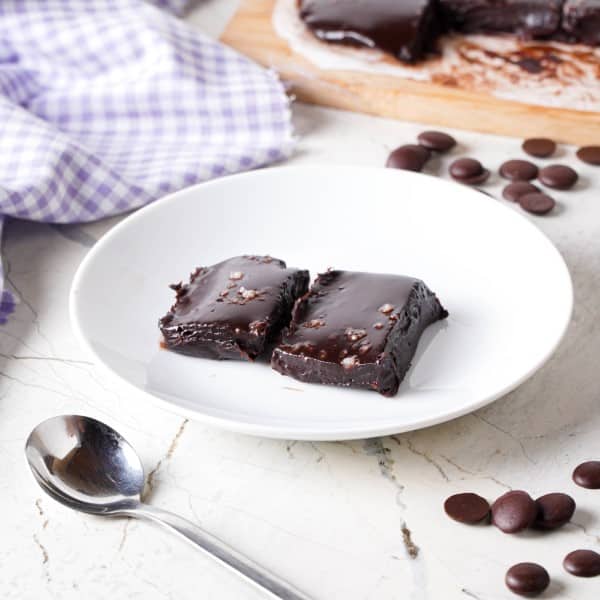 Ingredients
3

cups

dark chocolate chips

¾

cups

cashew butter

or your favorite nut butter

½

cup

full-fat coconut milk

3

Tbsp.

maple syrup
Instructions
All ingredients ready? Let's begin!

Line a 9×13-inch baking dish with parchment paper. Clear some space in your fridge or freezer for the fudge.

Melt all ingredients (except the salt) in a bain-marie over medium heat. You can watch this bain-marie tutorial here. Stir continuously until the fudge is completely melted.

Pour the mixture into the prepared dish and smooth out with a spatula or the back of a spoon. Sprinkle the salt evenly over the fudge.

Place in the fridge for 1-2 hours or in the freezer for 30-40 minutes, or until solid.

Cut with a sharp knife into 30 squares or desired size. Enjoy!
Nutrition
Calories:
146
kcal
|
Carbohydrates:
13
g
|
Protein:
3
g
|
Fat:
10
g
|
Saturated Fat:
7
g
|
Polyunsaturated Fat:
1
g
|
Monounsaturated Fat:
2
g
|
Cholesterol:
0.2
mg
|
Sodium:
21
mg
|
Potassium:
160
mg
|
Fiber:
1
g
|
Sugar:
7
g
|
Vitamin A:
2
IU
|
Vitamin C:
0.1
mg
|
Calcium:
60
mg
|
Iron:
1
mg
Notes & Tips
To get full-fat coconut milk, place the coconut milk cans in the fridge for a few hours to separate the fattier part. I then scoop the white creamy part from the can and use it for the fudge. You can use the remaining coconut milk/water for making delicious smoothies. Our Simple Raspberry Banana Avocado Smoothie calls for coconut milk!
I like using a more neutral nut butter like cashew butter or almond butter, but this simple fast vegan fudge recipe is also delicious with peanut butter. You can even try hazelnut for a Ferrero Rocher flavor, pecan butter, or any seed butter of your liking.
It's important to melt the fudge ingredients over low heat while consistently stirring to avoid lumps and burning. I find a bain-marie is the best option. This way you can control the heat better than if heating directly on the stove. To use this method, take a large pot and fill it halfway with water. Bring the water to a soft boil and turn it down to medium heat. Then, place a heat-proof bowl in the pot so that the bottom touches the water but none can get in. Place your ingredients inside and start stirring until they're melted.
Storage & Serving Suggestions
Keep the fudge refrigerated or frozen and covered until ready to serve. If kept in the freezer, take it out and let it thaw until it softens (for about 15 min). Or you can also enjoy it frozen for a nice summer treat. I like my fudge both ways – smooth and gooey, or cool and creamy. Either way, this decadent vegan fudge will satisfy any sweet tooth.
You can store this simple fast vegan fudge in the fridge for up to a week or in an airtight container in the freezer for up to 2 months. So, you can make a big batch and have a delicious dessert waiting for you at any moment.
For a full-on foodgasm, try serving the fudge over your favorite ice cream with hot caramel sauce, chopped salted peanuts, and vegan whipped cream! Yummy!
Substitutions & Allergens
This recipe can be allergen-free! Try substituting tahini or SunButter spread for the nut butter. I especially like using tahini if I'm adding a caramel swirl. Make sure to check out other flavor suggestions below.
For making this recipe completely dairy free, choose chocolate chips that are certified vegan or dairy-free. Some people can be extremely sensitive to dairy, so it's good to play it safe. Otherwise, this recipe will be delicious with any high-quality chocolate chips.
The maple syrup is optional – maybe you find the dark chocolate sweet enough. But if you are adding some sweetness, you could also use agave, brown sugar syrup, simple syrup, or date syrup. Just bear in mind that honey is not vegan. I know I've made that mistake before.
Delicious Vegan Fudge Flavor Ideas
Peanut butter swirl fudge: before placing the baking dish with fudge into the freezer, melt ½ cup of peanut butter with 2 Tbsp. maple syrup (or syrup of choice) and dollop onto the fudge. Make sure there are about 2 inches in between each dollop. Then take a butter knife and swirl the peanut butter into the fudge. Don't overdo it. Top with sprinkled coarse sea salt if desired.
Caramel swirl fudge: take ½ cup of your favorite vegan caramel sauce and follow the same method as for the peanut butter swirl. Add a sprinkle of sea salt for a salted caramel version.
Chunky walnut & cranberry fudge: add 1/3 cup chopped walnuts and 1/3 cup dried cranberries to the melted fudge mixture and combine. Then pour into the baking dish and even out with a spatula.
Oreo fudge: add 1 cup of crumbled Oreo cookies (yes, Oreos are vegan!) to the melted fudge mixture and combine. Then pour into the baking dish and even out with a spatula. Dust a little cocoa powder on top.
---
Recent Recipes