Simple Double Chocolate Banana Bread
I bet you'll go bananas over this double chocolate banana bread! This fluffy, extremely moist, and mouth-watering banana bread recipe is my absolute favorite treat for dessert, afternoon tea, or for snacking at any time. It's so easy and versatile as well. You can make it super chocolatey, as fluffy or moist as you want, and you can choose any of your favorite add-ins. If you're a chocolate lover, you'll appreciate this rich and delicious double chocolate banana bread recipe. But I'll be sharing some other ideas in the Serving Suggestions and Variations section. Now, put on your baking hat, and let's get to it!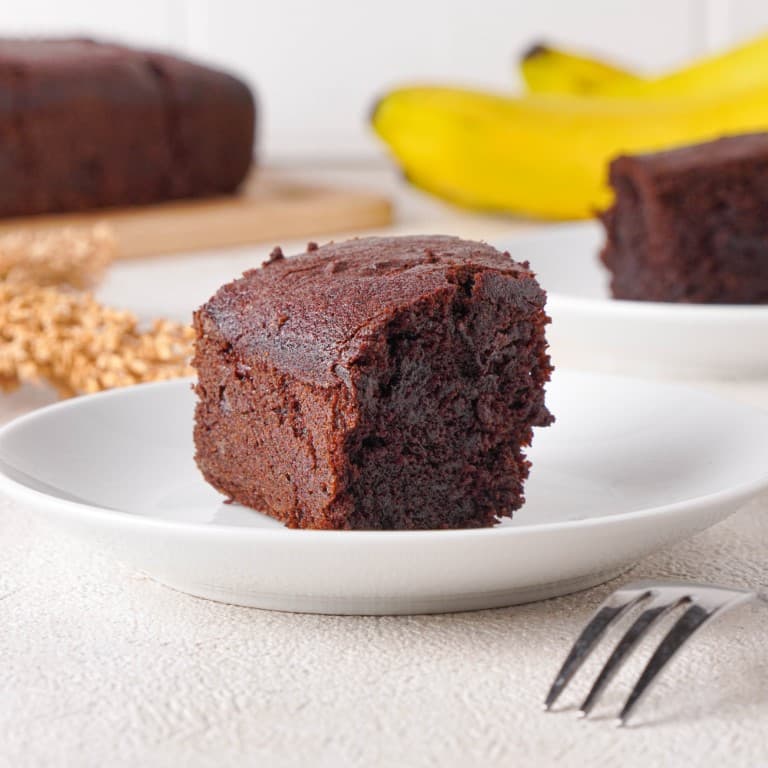 Ingredients
½

cup

butter

softened

1

cup

brown sugar

4

medium ripe bananas

mashed

2

eggs

room temperature

1

cup

all-purpose flour

½

cup

cocoa powder

1

tsp.

baking soda

½

tsp.

salt

½

dark chocolate chips

½

cup

milk chocolate chips

Optional: 1 tsp. pure vanilla extract

Optional: 1 tsp. ground cinnamon
Instructions
All ingredients ready? Let's begin!

Preheat oven to 350 and grease and flour a 9×13 loaf pan.

Sift flour, cocoa powder, baking soda, and salt in a medium bowl and set aside. In a large bowl, cream butter and sugar until fluffy. Add bananas and combine.

Crack eggs in and whisk them with the fork, then mix them into the banana cream. Beat well until creamy. Add vanilla extract and ground cinnamon now, if using.

With a large wooden spoon, incorporate flour mixture into the wet ingredients, in 2 to 3 parts. Mix until just combined, don't over-mix.

Add chocolate chips and mix until combined.

Bake for about 50 minutes or until a pick comes out clean (that is, with no batter on it, there may be melted chocolate and crumbs).

Let it cool for 10 minutes before cutting into squares and serving. Enjoy!
Nutrition
Calories:
230
kcal
|
Carbohydrates:
49
g
|
Protein:
4
g
|
Fat:
4
g
|
Saturated Fat:
2
g
|
Polyunsaturated Fat:
0.3
g
|
Monounsaturated Fat:
1
g
|
Trans Fat:
0.003
g
|
Cholesterol:
36
mg
|
Sodium:
265
mg
|
Potassium:
306
mg
|
Fiber:
3
g
|
Sugar:
31
g
|
Vitamin A:
98
IU
|
Vitamin C:
4
mg
|
Calcium:
47
mg
|
Iron:
2
mg
Notes & Tips
When it comes to banana bread, I prefer it super moist and rich. But if you like it fluffier, simply omit one of the bananas. You can also reduce the chocolate chips by half to make this recipe more breakfast and snack appropriate. Although, nobody's going to judge you for eating this decadent treat. And if they'd try it, they'd understand. Now, here are some tips that you should follow for flawless banana bread every time:
Use only ripe bananas for this recipe. The sweetness and intense flavor of ripe bananas are what make a loaf of good banana bread. But if you don't have ripe bananas, you can bake them in the oven at 400 for 10 minutes to get the same texture.
Measure your flour and cacao correctly. Use different-sized measuring cups instead of one tall measuring cup. Then, measure the flour or cacao over a separate bowl or the sink and remove any excess with a butter knife.
Don't overmix the batter. Less is more. If you overmix, you'll develop the gluten in the flour which will result in dry and dense instead of moist and fluffy banana bread.
Last, but not least, make sure you use room temperature ingredients. This will ensure the batter comes together correctly. It's not good to put cold batter in the oven.
Make Healthy or Vegan Double Chocolate Banana Bread
If you want to make this double chocolate banana bread healthy, I've got your back. Try substituting all-purpose flour for a mixture of whole wheat, oat, and rye flour. I suggest leaving a quarter all-purpose. As for the butter, you can reduce it to ¼ cup and add ¼ cup of apple sauce instead. Apple sauce is sweet, so, you can cut the sugar down to ½ cup too. As for the chocolate chips, use extra dark chocolate chips and only ½ cup. Extra dark chocolate (with above 70% cocoa content) is much healthier than other chocolate. It is rich in flavanols and can help reduce blood pressure.
If you want to make this double chocolate banana bread vegan, you can. With a little imagination and creativity, anything is possible. I find that you have to add a teaspoon of baking powder to help it rise. Here's the vegan recipe variation:
½ cup vegan butter, softened (or neutral oil such as canola, sunflower, or rapeseed)
1 cup brown sugar
4 medium bananas, mashed
2 vegan eggs or flax eggs
1 cup all-purpose flour
½ cup cocoa powder
1 tsp. baking soda
1 tsp. baking powder
½ tsp. salt
½ to 1 cup vegan dark chocolate chips
To make a flax egg, simply combine 1 tablespoon of ground flax seeds with 3 tablespoons of cold water and let it sit for 5 minutes. It'll resemble the texture of eggs.
Serving Suggestions & Variations
This double chocolate banana bread recipe is perfect as it is, but you can take the banana bread base and switch up the flavors. Here are a few ideas:
Cranberry and pecan banana bread: instead of chocolate chips, add ½ cup chopped pecans or walnuts, and ½ cup dried cranberries. This makes for a slightly healthier and delicious alternative.
Chocolate coconut banana bread: substitute coconut shavings for ½ cup of either dark or milk chocolate. Voila, you have a loaf of bounty-flavored banana bread. Yum!
Caramel swirl banana bread: omit the chocolate chips, and heat about ¾ cup of caramel in the microwave until liquid, but not hot. Once the banana bread batter is in the baking pan, dollop the caramel at about 2 inches distance from each other. Then, take a butter knife and swirl the caramel dollops in figure eight. Two to three swirls should do it.
I like to serve banana bread with tea as a sweet breakfast or afternoon snack. It also pairs wonderfully with a glass of milk, or a cup of coffee or hot cocoa. For dessert, if you feel like splurging, heat the banana bread in the microwave for about 30 seconds and serve it with a ball of vanilla ice cream. Then you've got yourself a decadent banana bread a la mode.
Can Banana Bread Be Refrigerated?
It's best to store banana bread covered on the countertop for up to 4 days, but you can also store it in the fridge. In this case, make sure to stow it in an airtight container or wrap it well. Banana bread can last up to a week in the refrigerator.
Can Banana Bread Be Frozen?
Yes, banana bread is very freezer-friendly. You can store it for decades, but it's best when consumed within two to three months. Otherwise, it may develop freezer burn. Just make sure to cool the banana bread first and put it in an airtight container. When ready to eat, just defrost it for a couple of hours.
Can I Make Double Chocolate Banana Bread Muffins With This Recipe?
Yes, absolutely. You don't have to change anything in the recipe. Simply divide the batter into a muffin tray and bake for 20-25 minutes or until a toothpick comes out clean. Substitute the chocolate for walnuts and raisins to make breakfast muffins. Be creative with the banana bread add-ins, try fruit pieces, chocolate chunks, nuts, granola, or even caramel pieces.
---
Recent Recipes