Endlessly Versatile Vegan Low FODMAP Pesto
Pesto is irreplaceable to so many meals. Even when you're not cooking Italian, a dash of pesto imparts dimensions of flavor to meals ranging from cheesy casseroles to spicy stews. We've got a vegan low FODMAP pesto recipe coming up that elevates the classic taste of pesto while keeping it nut-free and vegan-friendly. Edamame takes the place of pine nuts granting color, texture, and a light, fresh richness, while nutritional yeast does the job of dairy.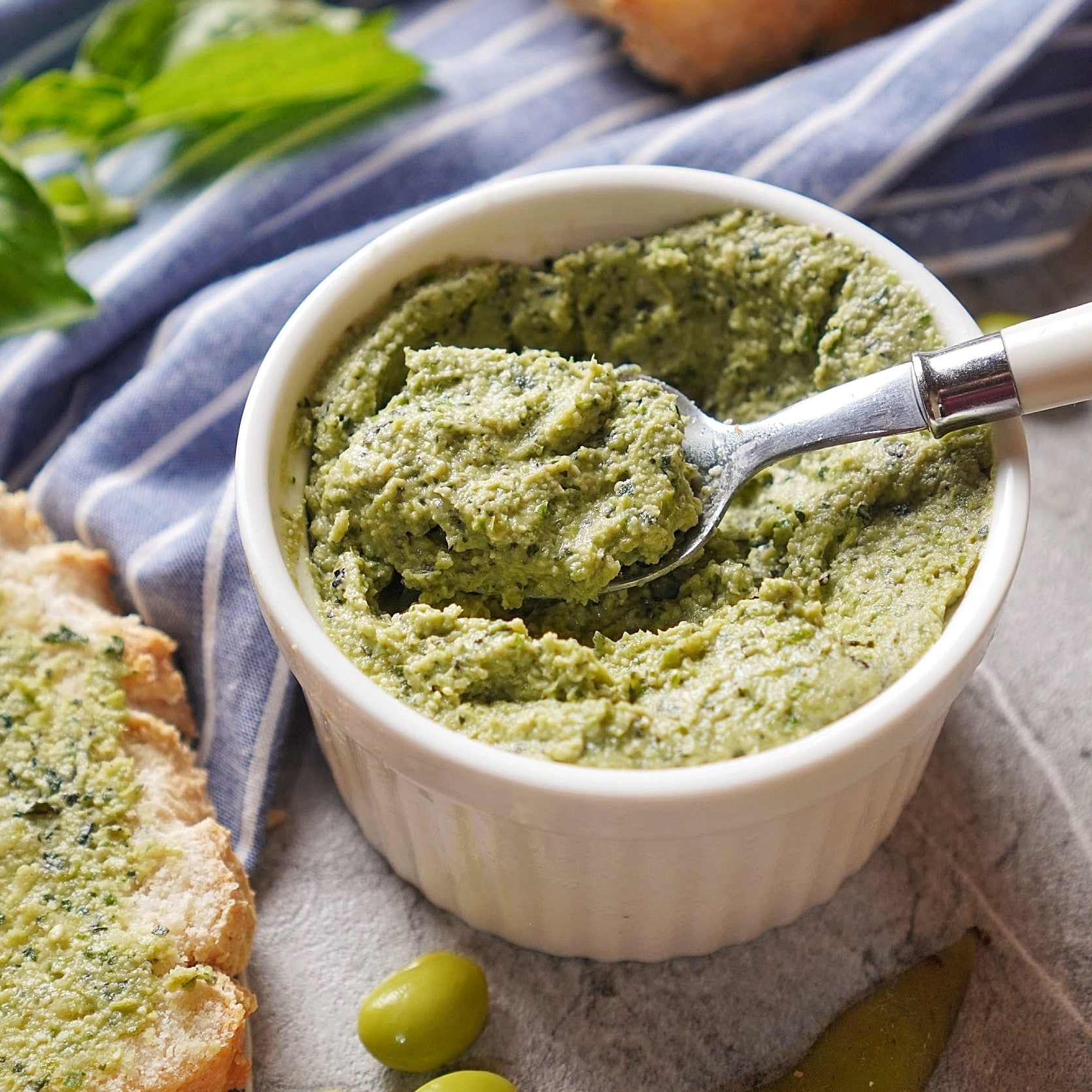 Ingredients
1 ½

Cups

Fresh Basil

Chopped

¾

Cup

Edamame

6

Tablespoons

Garlic-Infused Olive or Vegetable Oil

½

Cup

Fresh Chives

Chopped

¼

Cup

Nutritional Yeast

1

Teaspoon

Ground Black Pepper

1

Teaspoon

Kosher Salt
Instructions
All ingredients ready? Let's begin!

Combine the basil, edamame and chives and blend until smooth using either a blender, food processor, or immersion blender.

Slowly pour in the garlic infused oil and continue blending so that the pesto emulsifies.

Add the nutritional yeast, black pepper and salt and blend until the texture desired is reached.

Serve your Endlessly Versatile Vegan Low FODMAP Pesto!
Video
Nutrition
Calories:
924
kcal
|
Carbohydrates:
19
g
|
Protein:
20
g
|
Fat:
89
g
|
Saturated Fat:
13
g
|
Polyunsaturated Fat:
50
g
|
Monounsaturated Fat:
20
g
|
Trans Fat:
1
g
|
Sodium:
2335
mg
|
Potassium:
919
mg
|
Fiber:
10
g
|
Sugar:
3
g
|
Vitamin A:
2781
IU
|
Vitamin C:
25
mg
|
Calcium:
166
mg
|
Iron:
5
mg
What Is Vegan Low FODMAP Pesto?
Vegan Low FODMAP Pesto is just like the traditional pesto that we know and love but just with the exclusion of garlic. The flavor is still there thanks to the garlic-infused oil. We highly advise using infused olive oil over regular oil. Chives grant a spring-onion like quality that brings out the flavor of the infused garlic. There's also only half a leek in the entire meal to keep the FODMAPs low and a healthy helping of edamame instead of nuts. A whole cup of basil is still low in FODMAPs at a single serving and there is no way one person will be consuming all this tasty pesto in a single go.
Is Pesto High FODMAP?
The garlic in regular pesto makes it high in fructans and therefore falls in the high FODMAP category. Most store-bought pesto is unsuitable for those on a low FODMAP or elimination diet. However, if you follow our recipe, you'll have a tasty basil pesto that mimics the classic taste of an authentic Italian blend in almost every way.
Does It Need Pine Nuts?
Even though half a cup of pine nuts per serving is low FODMAP, amazing pesto doesn't have to include nuts. We've opted for protein-rich edamame. For those who haven't tried immature soybeans before, imagine the flavor as something similar to a slightly bitter snap-pea. It's ideal for pairing with the sharp flavor of basil and chives. If you can only find frozen edamame, steam them until defrosted and then allow to drip dry in a colander before patting dry with paper towels or a dishtowel. Remove most of the moisture and then blend as per usual.
Substitutions
The garlic-infused oil can be swapped out for any variety of oil you prefer, but infused oil brings the flavors together wonderfully, mimicking regular pesto while imparting a distinct taste of its own thanks to the roasted infusion. If you've got the time or supplies in your pantry, include half parts of infused onion or shallot oil and infused garlic oil. You'll be hard-pressed to tell that it's not authentic Italian pesto if you give this a try.
Edamame's top substitution is pine nuts, but pine nuts are notoriously pricey. If out of reach, feel free to substitute them for macadamias, cashews, almonds, or pistachios. Most nuts suit pesto well. Even sunflower seeds make pesto taste great. Many will prefer adding half a cup of grated parmesan cheese in the place of nutritional yeast. The change in flavor is quite prominent, giving the blend a strong taste of cheese but more akin to a traditional pesto.
Variations
Mimic Sicilian Pesto Alla Trapanese by including almonds instead of edamame and adding a cup of chopped fresh tomatoes. The optimal variety is cherry tomatoes, but any will do in a pinch. Look for elongated tomatoes as they have the least moisture. For a Sicilian seafood favorite, Pesto agli Agrumi, it also calls for almonds and a blend of either a cup of chopped lemon or orange slices with a tablespoon or so of zest. Add sundried tomatoes and again swap the edamame for almonds while including red pepper flakes, rosemary, and olives to make red pesto or Pesto Rosso. These are just a few of the classic Italian variations on pesto that you can try for a spin on our low FODMAP recipe.
Is Garlic Infused Oil OK For IBS?
Garlic must be avoided by those with gastrointestinal complications like IBS due to the high concentration of fructans. As oligomers or polymers, fructans are water-soluble and are therefore not carried across to the infused oil. Only the aromatic compounds are extracted, granting the vegetable or olive oil the unmistakable flavor of garlic.
How To Make Garlic-Infused Oil
Before making any infused oil, one needs to acidify the fructan-containing substance. Acidifying eliminates the low risk of Clostridium botulinum bacterium spores growing into bacteria that create botulism-containing toxins.
In this case, we're acidifying garlic by submerging it in a solution of one tablespoon of citric acid dissolved into two cups of water. Place the garlic into the citric acid solution and allow it to stand at room temperature for twenty-four hours. Drain the water, and the garlic is acidified and totally safe for infusion.
Heat half a cup of olive oil or vegetable oil in a small saucepan over very low heat. Add the acidified garlic right at the start from cold oil. Gradually allow the pot to heat up while making sure that the cloves don't burn. Simmer for approximately half an hour or until the cloves turn a toasted golden brown color. Remove from the heat and carefully press the garlic using the back of a long utensil. Allow the oil to cool and strain through a sieve. Garlic-infused oil can be safely stored for a month in an airtight refrigerated container.
How To Store
Our Vegan Low FODMAP pesto lasts safely in the fridge for up to a week and a half. If you decide to use parmesan cheese in place of nutritional yeast, it'll keep for a week only. One of the best ways to store any type of pesto is frozen into cubes. Get out an ice tray and dispense the pesto. Whenever you need a helping, simply defrost a couple of blocks. Portioned pesto can alternatively be frozen into single plastic packets if cubes aren't convenient. Frozen low FODMAP pesto lasts for up to six months.
What To Serve With Vegan Low FODMAP Pesto?
Pesto is a versatile sauce that can be used to enhance the flavor of just about anything. From using directly as a table sauce atop steak, pork, chicken, and fish to topping roasted or sauteed vegetables, french fries, and bakes, vegan low FODMAP pesto carries a flavor that's useful in a host of places. Add pesto to our tasty low FODMAP meatballs, a meatloaf, or spaghetti sauce. It's ever-popular with pasta. You can even mix pesto with cream cheese or cottage cheese to create a delectable dip or spread it straight on low FODMAP sandwich bread for a snack that's both filling and filled with sensational flavor.
---
Recent Recipes