Have you ever eaten a tortilla or cheese quesadilla and thought, "Hm, this is good, but I wonder what it would be like with a little something more?" Okay, maybe that's not a common thought, but now that I've put it into your head, I offer you exactly that: loroco pupusa.
Loroco pupusa is a filled corn tortilla with cheese and loroco, a type of flower. This dish is oozy and cheesy and yummy and surprisingly simple. If making the tortilla dough is a little too overwhelming right now, but a cheesy quesadilla still sounds good, why not have a go at easy, cheesy, ground turkey quesadillas?
Pupusas are the national dish of El Salvador and can be made many different ways. The base of the dish is the corn tortilla that is then stuffed with fillings and cooked. It is a popular choice for any mealtime and can easily be found in El Salvadorian markets, restaurants, and at food vendors. Loroco pupusa is a fantastic version of the traditional El Salvadorian pupusa that also involves a native flower with an incredible taste.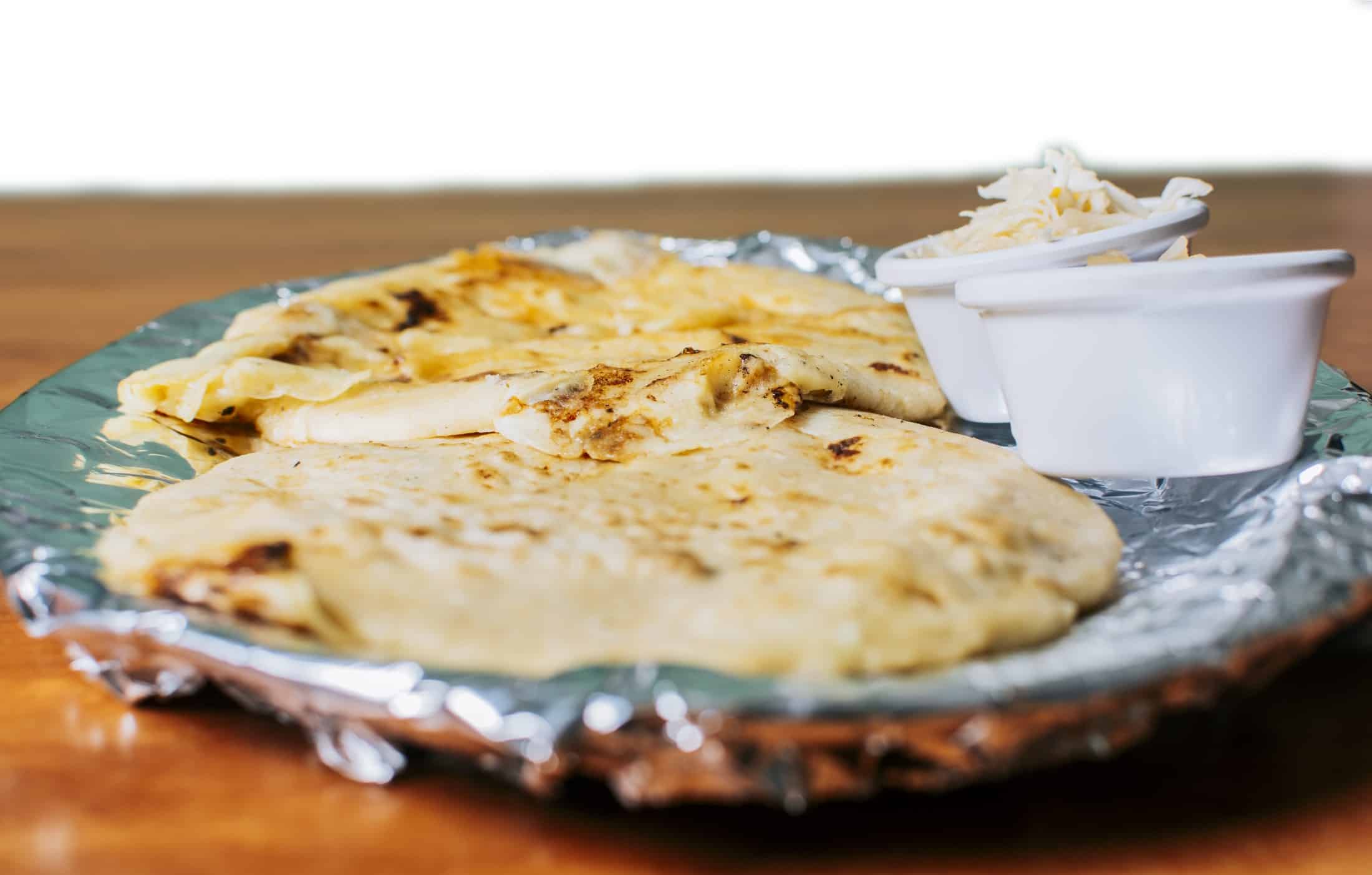 Ingredients
1

lbs

cornmeal flour

½

lbs

loroco

½

mozzarella cheese

½

tsp

salt

1

tsp

olive oil
Instructions
Finely chop the loroco then add to a pot and cover in water.

Put the pot over high heat until it boils, then turn it down to a simmer.

Simmer for about 2 minutes or until the loroco becomes slightly tender. Remove from heat, drain, and set aside.

Slice the mozzarella cheese into slices then cut slices in half so you have thin strips.

In a large bowl, add the cornmeal flour, salt, and about ½ cup of warm water.

Use your hands to mix the water and flour until you have a solid dough with no clumps. It should be the consistency of regular bread dough, if not a little harder. If it has trouble sticking together, add a little more water and continue kneading.

Pinch off pieces of the dough to make several evenly sized balls. They should be between the size of a golf ball and a tennis ball (depending on how large you want them).

Take a dough ball and flatten it to about ¼ inch thickness. In the middle, place some cheese and loroco.

Fold the edges of the dough over the middle so the loroco and cheese are encased inside.

Carefully flatten the dough again to a tortilla shape with the filling safe inside. You do not want any fillings to leak out and get lost!

Repeat with the remaining dough balls.

Heat a large cast-iron skillet over medium-high heat. Cover the bottom of the pan in a thin layer of oil and allow it to heat through.

When the oil is hot, place each tortilla in the pan. Cook for about 10 minutes, then flip over and repeat on the other side.

Depending on your pan and stovetop, you may need to flip the tortillas over again to make sure they are cooked all the way through. Do not be alarmed if some cheese bubbles out of the tortillas, just try not to let it burn.

Once cooked through, place tortillas on a plate covered with paper-towels to soak up any excess oil.

If you have more tortillas, repeat until done.

Serve warm and enjoy!
Nutrition
Calories:
323
kcal
|
Carbohydrates:
67
g
|
Protein:
8
g
|
Fat:
3
g
|
Saturated Fat:
0.5
g
|
Polyunsaturated Fat:
1
g
|
Monounsaturated Fat:
1
g
|
Cholesterol:
0.1
mg
|
Sodium:
1430
mg
|
Potassium:
188
mg
|
Fiber:
6
g
|
Sugar:
0.002
g
|
Vitamin A:
261
IU
|
Calcium:
272
mg
|
Iron:
4
mg
Notes & Tips
To store leftover loroco pupusa, close in a ziplock bag or other airtight container and keep in the fridge for up to 5 days. You can reheat in the microwave, but it will be a bit soggy. I recommend reheating in the oven so it gets a little toasty.
Serving Suggestions
Loroco pupusa is usually served with a thick, fancy tomato sauce, fresh-made guacamole, and curtido–a cabbage and carrot slaw. If you want to try loroco pupusa with a twist, try using this simple Bulgarian lutenitsa spread! I know it's a different kind of cuisine, but it can be fun to mix and match.
Substitutions
There is not much to substitute in this recipe because there are not that many ingredients. However, mozzarella can be substituted for any mild white cheese.
Substituting loroco defeats the main purpose of this recipe, but I understand that it may be hard to find. Look online or in the international food section of your market for pickled loroco. If you want to replicate loroco pupusa with a similar flavor profile, you could try bok choy blossoms or even asparagus heads.
What is Loroco?
Loroco is the flower bud from a type of vine. The flowers grow in large clumps and need to be harvested before blooming when they are still green. Underneath the green exterior are dense, white petals. Loroco is very versatile and can be used throughout many different dishes. If you can think it, loroco can probably do it.
Loroco mostly grows in Central America, which is where it is most popularly used in food, though it can be grown in other warm regions. It has a heavy amount of fiber and calcium, as well as vitamins A and C. It has a few other properties that help make it a very healthy flower.
This flower can be eaten all sorts of ways, from raw to fried. If you wanted, you could use them raw in this recipe. When this dish is prepared in El Salvador, they usually use fresh loroco and many people even grow a little in their gardens. Outside of Central America, you will probably have to content yourself with picked lorocos, which add just a little more tang to your food.
What Does Loroco Taste Like?
Loroco has an interesting profile of flavors. It has a strong earthy flavor similar to asparagus or bok choy, as mentioned before. However, that is just part of its flavor. It also has notes of citrus next to a nutty taste all wrapped up with a bit of airy floral flavor. It is a super complex and very unique taste.
---
Recent Recipes