Homemade Harissa Brussel Sprout Roast
Brussel sprout, yuck, right? Wrong! Few vegetables have such a poor reputation as the Brussel sprout, and that is too bad because when you cook them the proper way, they're outrageously delicious. The problem is that most home cooks tend to turn this humble vegetable into a bitter, overcooked mess. Don't be that person. Change your mind and the minds of your dinner guests forever by making this Harissa Brussel Sprout Roast recipe.
What Makes These Brussel Sprouts So Darn Delicious?
The cooking method in this recipe showcases the potential of Brussel sprouts by cooking them the right way. They aren't boiled and bland, but sweet and spicy with just the right amount of salt. By roasting at high heat, you can bring out the Brussel sprout's natural sugars and leave them with a perfectly charred exterior and an inside that is fork-tender. Even if you have sworn you will never eat another brussel sprout as long as you live, you will definitely want to load your plate up with these!
The true standout of this recipe has to be the harissa sauce. While adding bacon to Brussel sprouts is common enough, the real genius of this recipe is incorporating harissa sauce. It takes this version in a completely new direction.
Whatever you do, do not call harissa just another chili paste. It is so much more than that. Spices like cumin, coriander, caraway seeds give harissa its earthy flavor, while a splash of citrus juice and garlic brighten the taste. When it comes to harissa, the fresher, the better, so try to buy from a Middle Eastern store when possible. No Middle Eastern market, no problem. You can find harissa in many grocery stores. Anyone who is up for a bit of a challenge can even try to make it themselves.
What's Annatto Oil?
Often called the poor man's saffron, annatto seeds come from achiote trees that are native to South America. Locals gather the seeds from hairy, teardrop-shaped pods and then dry and use them for cooking and for traditional medicine. Most Latin grocery stores sell annatto seeds whole, crushed into a powder, ground into a paste, and as an oil. In addition to being a popular food coloring, the seeds are quite tasty with their slight floral, nutty, and peppery flavor. Don't worry if you aren't into too much spice; annatto oil is not at all spicy.
If you can't find annatto oil where you live but have access to annatto seeds, you can try infusing the oil yourself. Start by heating a half cup of olive oil with two tablespoons of annatto seed in a small saucepan over medium-high heat. When the oil starts to come to a simmer, immediately turn off the heat. Don't overheat the oil, or it will turn bitter. Remove the saucepan from the burner and let the seeds soak in the saucepan for about two minutes. Strain the oil, discard the seeds, and store the annatto oil in an airtight container in the fridge for up to a month.
You can substitute a teaspoon of paprika and a teaspoon of turmeric mixed together with a tablespoon of canola oi dor the annatto oil. Although it doesn't have precisely the same taste or color, it is close enough for this recipe.
What's Culantro?
Culantro is related to cilantro, but it has a much stronger flavor that can stand up to long cooking times. It is a favorite of Latin American and Vietnamese cooks. However, it is rare to find the herb available in the US. If you cannot locate it, try using cilantro, a related herb, as a substitution. However, you will need to slightly adapt the recipe by doubling or tripling the amount of cilantro you use.
For those who can't stand cilantro, try replacing the culantro with an equal amount of other fresh herbs that you like. Good choices include mint, savory, tarragon, or fennel fronds. To keep the herbs from burning in the oven, wait until the Brussel sprouts until the last ten minutes of cooking time before adding them.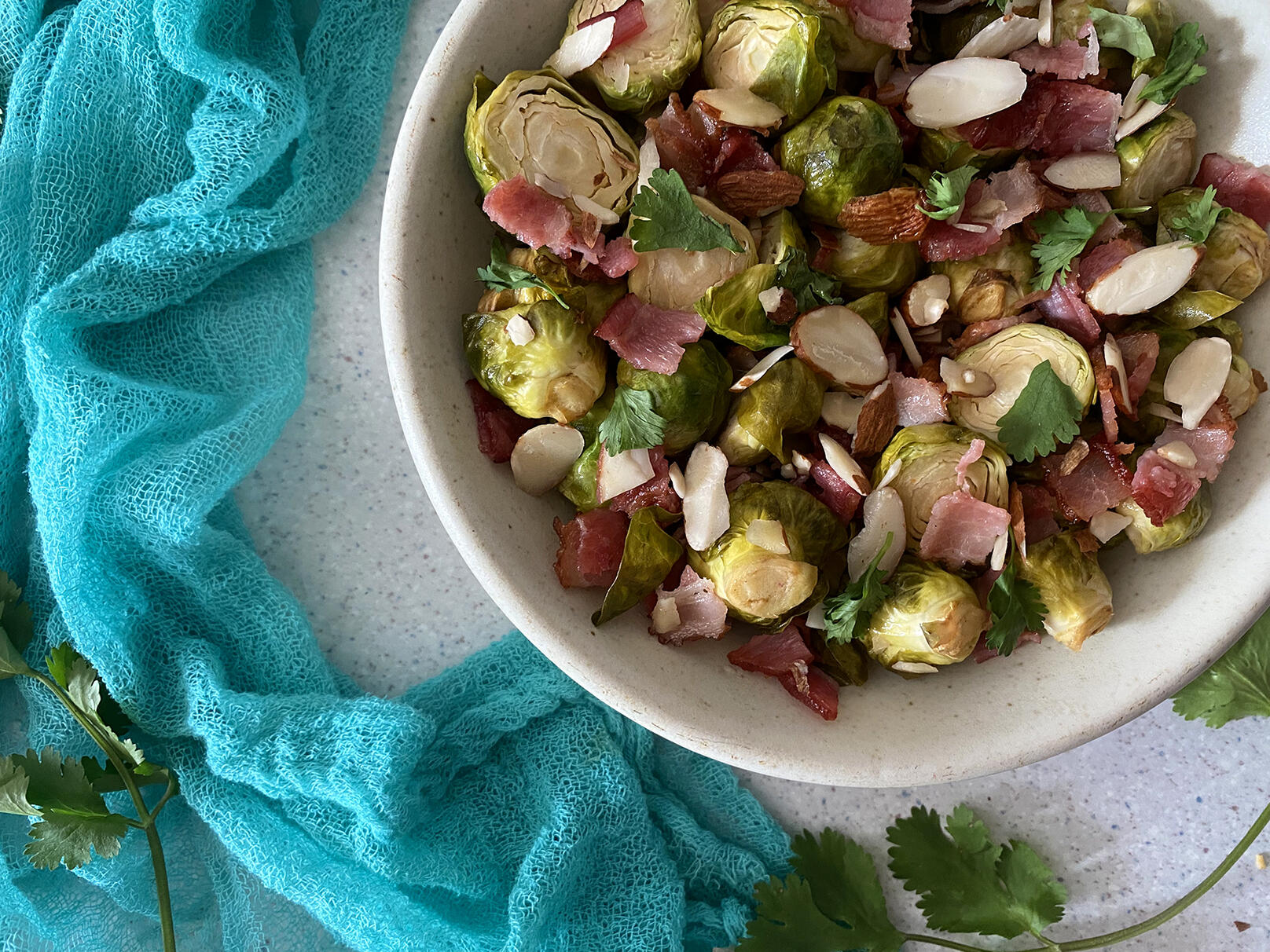 Ingredients
1

lb.

Brussel sprouts

cleaned and halved

3

garlic cloves

minced

2

tablespoons

culantro or 4 tablespoons of cilantro

finely chopped (if you prefer, you can substitute mint, savory, tarragon, or fennel fronds)

1

tablespoon

annatto oil

1

tablespoon

harissa

Sea salt to taste

if you are using salty bacon, you may want to skip the sea salt altogether

4

slices

thick-cut bacon

chopped into lardons (to make lardons, cut the bacon into 1/4-inch strips across the slices)

1/4

cup

almond slivers, toasted

optional
Instructions
Assemble your ingredients.

Preheat the oven to 425 degrees.

In a large mixing bowl, toss together the Brussel sprouts, garlic, culantro (if using, wait to add cilantro or other herbs), annatto oil, harissa, and sea salt. Make sure that the Brussel sprouts are evenly coated with the seasoning mixture.

Dump the bowl onto a large rimmed baking tray and spread out the Brussel sprouts as much as possible to allow them to cook properly.

Sprinkle the bacon lardons on top of the Brussel sprouts and put the baking tray in the oven.

Set the timer for 30 minutes. Midway through, you have to rotate the baking tray to allow the Brussel sprouts to cook more evenly.

When the timer goes off, take the tray out of the oven and give the Brussel sprouts a good stir with a spoon. Now is the time to add any toasted almond slivers or additional herbs if you are using them.

Return the baking tray to the oven and cook for another 10 minutes.

Harissa Brussel Sprout Roast is a wonderful side dish for any roasted meat, works particularly well with pork.
Video
Nutrition
Calories:
184
kcal
|
Carbohydrates:
9
g
|
Protein:
7
g
|
Fat:
14
g
|
Saturated Fat:
4
g
|
Polyunsaturated Fat:
3
g
|
Monounsaturated Fat:
7
g
|
Trans Fat:
1
g
|
Cholesterol:
16
mg
|
Sodium:
212
mg
|
Potassium:
389
mg
|
Fiber:
4
g
|
Sugar:
2
g
|
Vitamin A:
596
IU
|
Vitamin C:
65
mg
|
Calcium:
48
mg
|
Iron:
1
mg
---
Recent Recipes