Simple Sun-Dried Tomato Soup
We are at the height of the summer growing season and tomatoes are plentiful. Farmer's market stalls have baskets and tables full of ripe tomatoes of all varieties. My favorites are beefsteak and heirloom.
Tomatoes are great in salads, sauces, sandwiches, stews, casseroles, soups, and on pizzas. Growing up, I think many of us enjoyed our mom's tomato soup with a grilled cheese sandwich. Well, my mom's soup was from the red and white can and I liked it because I knew nothing else.
Homemade tomato soup was something of a challenge for me at first. I struggled with getting the intense deep tomato flavor and the rich, creamy texture that I was familiar with in my youth. I tried dropping the tomatoes in boiling water so I could remove the skins. I scooped out the seeds. I added tomato paste to the broth. I buzzed the soup with heavy cream.
I finally discovered that a combination of really ripe tomatoes and the concentrated flavor of sun-dried tomatoes achieved the depth of flavor I was looking for. The coconut milk added the rich creaminess that I wanted. It also enhanced the inherent sweetness of the tomatoes.
Sun-dried tomatoes are tomatoes that have been dried to remove 90% of the moisture content. This is done either in direct sunlight, a food dehydrator, or a low oven. When they're dried, the tomatoes shrink and the flavor is highly intensified. Dried tomatoes are often preserved in jars of olive oil.
This recipe for sun-dried tomato soup is super easy, rich in flavor and creaminess, and is vegan, gluten-free, paleo, and keto-friendly.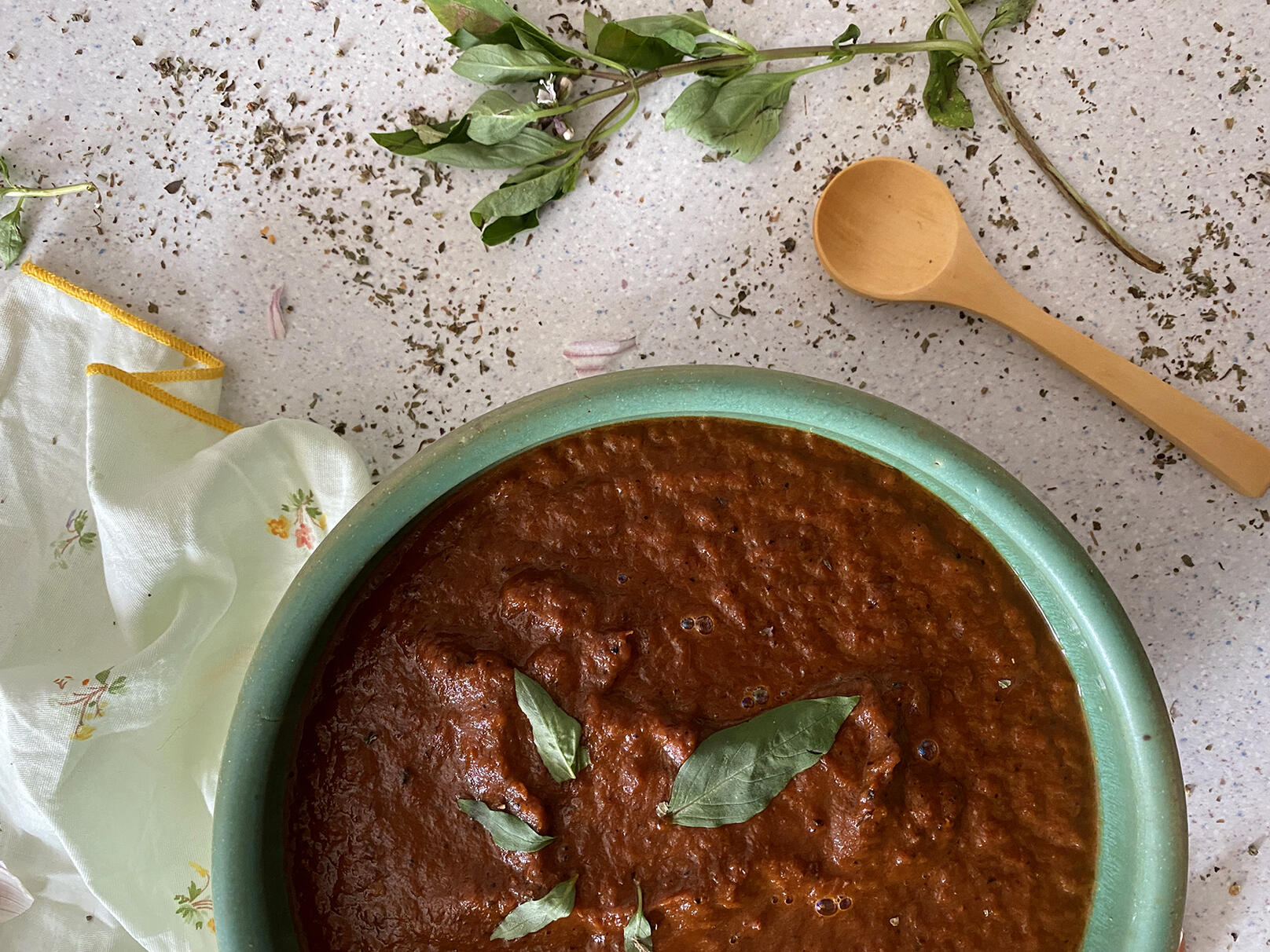 Ingredients
4

large ripe beefsteak tomatoes

1

TBS

extra virgin olive oil

1

large onion

peeled and diced

3

cloves

garlic

chopped

1/2

tsp

dried basil

1/2

tsp

dried oregano

1

cup

sun-dried tomatoes

drained of oil

1

cup

vegetable broth or filtered water

1

can

15 ounces full-fat coconut milk

3/4

tsp

sea salt

1/2

tsp

freshly ground pepper to taste

Fresh basil leaves for garnish
Instructions
Assemble ingredients.

In a large soup over high heat, bring enough water to cover the tomatoes to a boil. Once the water is boiling, submerge the whole tomatoes in the water just until the skins split, approximately 30 seconds to 1 minute. Using a slotted spoon or spider, remove the tomatoes to a colander and set them aside in your sink.

Empty the pot of water and lower the heat to medium-high. Add the olive oil and the onions. Cook for 8 minutes, stirring a few times. Reduce the heat to medium-low and stir in the garlic, basil, and oregano. Continue to cook until the onions have softened and the garlic and herbs are fragrant.

While the aromatics are cooking, remove the skins from the tomatoes and chop them into chunks.

Turn the heat up to medium-high. Add the tomatoes to the onions and garlic and stir to combine. Bring to a rolling simmer. Turn the heat down so that the soup is just simmering. Cover and cook the tomatoes for 8 minutes.

Stir in the sun-dried tomatoes, broth, coconut milk, salt, and pepper. Allow the soup to come back to a simmer. Continue to cook until the sun-dried tomatoes have softened, approximately 5 more minutes.

Remove the pot from the heat and blend until smooth with an immersion blender. Alternatively, blend in batches in a countertop blender. Return the soup to the heat to warm it up before serving.

Adjust the seasoning if necessary. Ladle into bowls and serve with fresh basil leaves and crostini.
Video
Nutrition
Calories:
144
kcal
|
Carbohydrates:
24
g
|
Protein:
5
g
|
Fat:
5
g
|
Saturated Fat:
1
g
|
Polyunsaturated Fat:
1
g
|
Monounsaturated Fat:
3
g
|
Sodium:
747
mg
|
Potassium:
1287
mg
|
Fiber:
5
g
|
Sugar:
15
g
|
Vitamin A:
1392
IU
|
Vitamin C:
30
mg
|
Calcium:
56
mg
|
Iron:
3
mg
Notes and Tips
Depending on how juicy your tomatoes are, you might be able to get away with using less broth or water. Be mindful of how much liquid is released from the tomatoes when you remove the pot cover to add the broth and coconut milk. You can reserve some broth to add later if needed.
If you are using sun-dried tomatoes that are not preserved in oil, hydrate the tomatoes in some water while the fresh tomatoes are cooking.
Substitutions and Shortcuts
If you are making this soup when tomatoes are not in season, don't buy hothouse tomatoes. These are usually not that flavorful and the texture can be mealy. My suggestion would be to use a good quality 28 ounce can of diced tomatoes with their juice. Reduce the amount of broth if using canned tomatoes.
You can skip the step of blanching and peeling the tomatoes if you don't mind the skins in your soup. They will mostly disappear when blended.
When it comes to seasonings, old habits die hard for me. I naturally reach for Italian herbs to flavor tomato soup. This wonderful fruit actually originated in South and Central America. It was brought back to Europe with the early explorers. So, any seasoning really goes, as far as I am concerned. Za'atar is a Middle Eastern spice blend with sumac, thyme, and sesame seeds that is perfect for this soup. Or, go with turmeric, cumin, ginger, cardamom, and a pinch of cayenne for a curry vibe.
Garnish Ideas
A garnish can add flavor, texture, and decoration to any dish. I often like to garnish with something that is already in the dish to let your guests know what to expect. In this case, it is fresh basil leaves. Here are some other garnish ideas to dress up your tomato soup:
Fresh mint leaves
A drizzle of coconut milk
Toasted pine nuts
A dollop of vegan yogurt or sour cream
Lime wedges
A sprinkling of nutritional yeast
---
Recent Recipes