All The Jimmy John's Vegan Menu Options
Jimmy John's is a famous sandwich eatery and a direct competitor with places like Subway or Jersey Mike's. Unfortunately, both of those options have better vegan choices available than Jimmy John's itself.
That said, Jimmy John's does have enough ingredients that you can build yourself a reasonable vegetable sandwich with a little creativity and with our menu guide below. But you may not want to eat at Jimmy John's anyway; the owner is known to be in favor of practices that err on the side of animal cruelty and doesn't mind when hunters kill endangered animals just for sport.
So if you're a vegan because of the moral and philosophical reasons in addition to the dietary benefits, stay away. Otherwise, let's take a look at Jimmy John's' vegan menu in detail so you know what you can order safely if you stop by for a sandwich.
Vegan Sandwiches and Toppings at Jimmy John's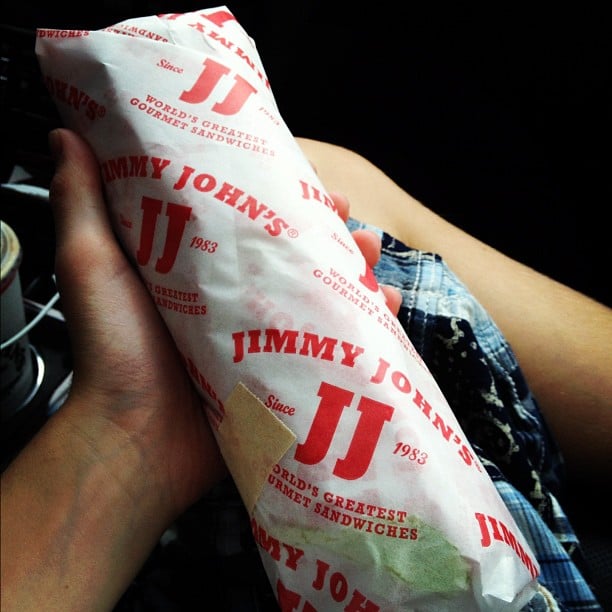 At Jimmy John's you can order premade sandwiches on their menu or construct your own sandwiches similar to Subway's system. With that in mind, let's break down the vegan bread options you'll find out this eatery. Unfortunately, there are only three: the thick-sliced wheat bread, the French bread , and the "unwitch", which is a kind of lettuce wrap that many vegans will probably enjoy.
Unfortunately, the 9-grain wheat bread (both of the available types) at Jimmy John's is not vegan since the recipe contains honey. Because all the bread is baked to a specific recipe, you also can't ask the sandwich makers to adjust the recipe for your needs.
So, you have two different bread options. What about toppings? Here, at least, Jimmy John's does offer some variety for vegan diners, including toppings like:
Avocado
Celery
Jalapenos
Cucumber
Lettuce
Onion
Tomato
Alfalfa sprouts
Pickles
As you can see, that's a pretty good spread of sandwich toppings. If you go to your local Jimmy John's restaurant and find other vegetable or fruit toppings available, these should also be vegan since Jimmy John's isn't known to add anything to their vegetables or do anything non-vegan during the preparation stage. But there's also no way to tell whether additional vegetables will truly be vegan friendly without a statement from Jimmy John's itself.
Next up are spreads and sauces, which you may want to add to your vegan sandwich. Jimmy John's does offer a good handful of options to suit different flavor profiles or preferences, including:
Regular mustard
An oil and vinegar sauce
Italian vinaigrette
An avocado spread
Grey Poupon, which is similar to mustard if you have never tried it before
An oregano basil topping
With all of these ingredients, it's easy to see how any reasonably creative person could construct a vegan-friendly sandwich they will at least mostly enjoy. However, note that Jimmy John's doesn't offer any meat alternatives or vegan-friendly fillers beyond what is described above. So your resulting sandwich will always be pretty packed with vegetables.
If you don't like veggie sandwiches, you'll probably need to go somewhere else for a more filling lunch.
Other Vegan Options at Jimmy John's
Aside from sandwiches, Jimmy John's offers some sides and snacks you can eat as a vegan since they come in sealed packages. As a bonus, you don't need to worry about cross-contamination with these foods. These include:
Classic Jimmy chips
Jalapeno Jimmy chips
Thinny chips
BBQ Jimmy chips
You'll probably see a variety of other snacks as you approach the Jimmy John's checkout counter. Sadly, none of these are vegan. The cookies aren't vegan, and neither are any of the cheese or mayonnaise products.
Jimmy John's Vegan Foods FAQs
Why is the French bread at Jimmy John's vegan?
It is vegan instead of the other options because it doesn't include any milk or eggs, whereas the other sandwich bread varieties do. Additionally, the French bread is processed in a location that doesn't use cross-contaminated surfaces or tools. So at least where bread is concerned, you don't need to worry about it being marginally non-vegan.
Is honey the only anti-vegan ingredient in the 9-grain bread at Jimmy John's?
Yes. The other ingredients are totally vegan friendly, including wheat, rye, quinoa, oats, barley, coconut, and so on. So it's a shame that they can't adjust the bread recipe to take away the honey.
Is Jimmy John's looking to add more vegan-friendly options in the future?
Not exactly. As we mentioned earlier, the owner of Jimmy John's is not a very progressive person in general. He champions hunting, even when it comes to nearly extinct or endangered animals, and he doesn't seem to see the value in the vegan diet.

We wouldn't expect Jimmy John's to offer vegan-friendly sandwich alternatives anytime in the near future.
What's the best way to order a vegan-friendly sandwich at Jimmy John's?
If you want to cut down on the time you spend ordering or putting your sandwich together, you could simply order one of the two menu options below:

The gourmet vegetarian, which comes without cheese or mayonnaise. Then just be sure that you use either the French bread or the thick-sliced wheat bread when asked

The vegetarian unwich, which uses a lettuce wrap instead of bread. Again, this doesn't come with any cheese or mayonnaise, so no worries there
Is Jimmy John's Good for Vegans?
Bottom line, Jimmy John's is not a very good choice if you have a hankering for a sandwich but also don't want to break your vegan diet. That's largely because the restaurant doesn't have any meat alternatives or major feelings for vegans, so you're forced to construct your own sandwich comprised mostly of vegetables and using a few types of bread.
However, Jimmy John's does make it easy to order a vegetarian sandwich since it includes the above two options on its menu. For more information and to check out other restaurants' vegan menu items, explore our detailed vegan restaurant guides today!
---
Get Foodie Deals
We collect great foodie-focused deals from across the web daily. Get yourself or your favorite foodie a great deal at big name stores.
Recent Recipes