Classic Low FODMAP Beef Stew
Folks on the low FODMAP diet know the importance of making tasty meat-based dishes. After all, meat by itself doesn't have any FODMAPs to speak of, so classic meat dishes like beef stew are a mainstay of many low FODMAP kitchens and cookbooks.
But what if you're new to the low FODMAP diet and don't know how to put together a tasty beef stew recipe sure to satisfy and keep you warm and full on a cold winter's night? Good news, in that case; we've put together a delicious and easy-to-prepare low FODMAP beef stew recipe you can start using right now.
Even better, this FODMAP-friendly beef stew recipe can be made using an instant pot or a slow cooker. Just prep it before you go to work in the morning and it will be ready for eating by the time you get home for dinner. Let's take a look at this recipe in more detail.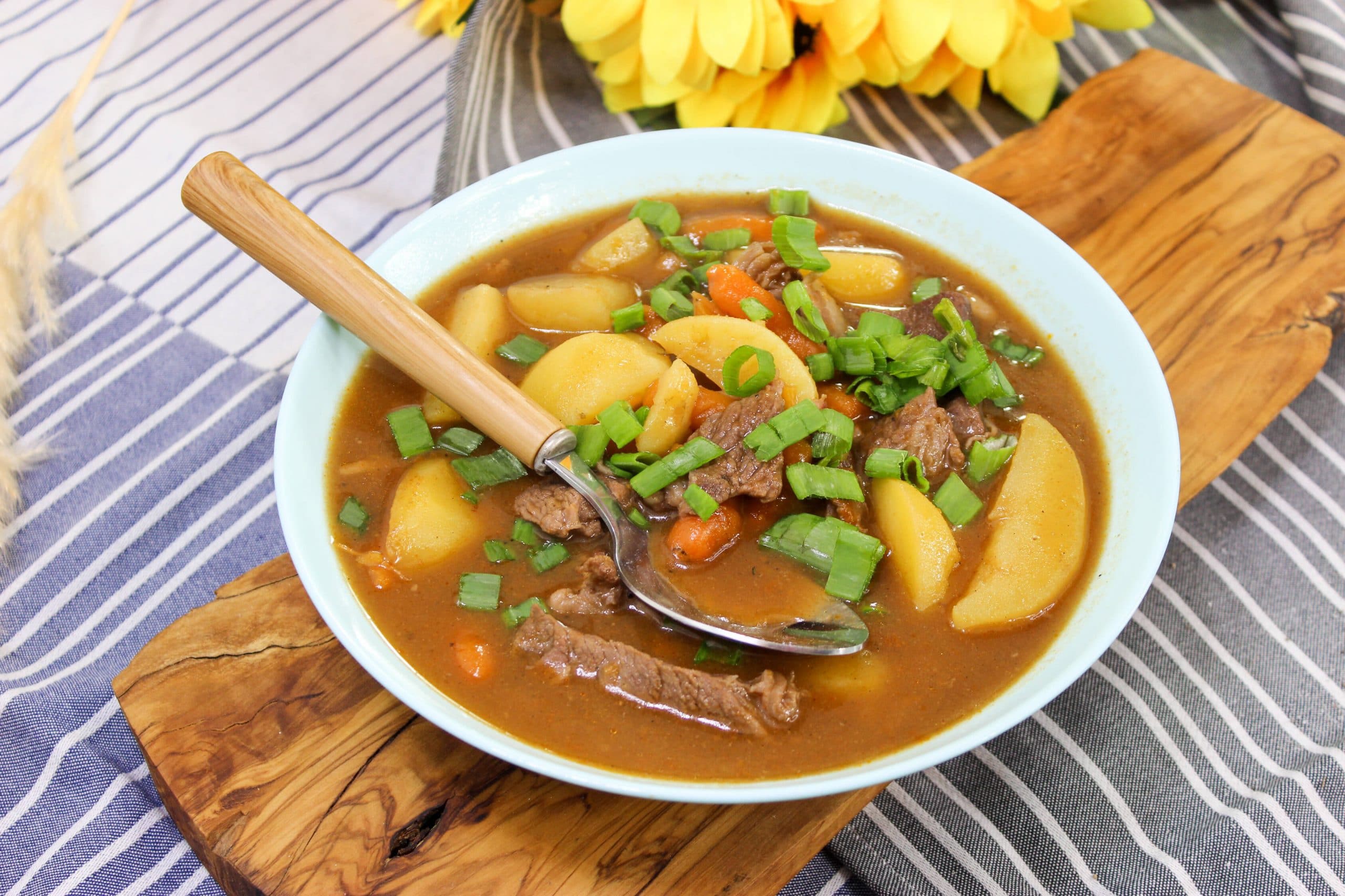 Ingredients
1

tablespoon

garlic-infused olive oil

2

tablespoons

tomato paste

1 ½

pounds

stew meat

½

cup

dry red wine

2

tablespoons

low-sodium soy sauce or tamari

2

cups

low FODMAP broth

such as beef broth or a substitute

1

tablespoon

cornstarch mixed with 1 tablespoon cold water

2

slices

low-sodium bacon

diced into smaller pieces

1 ½

cups

baby carrots

2

cups

baby potatoes

quartered

1

teaspoon

dried thyme

Salt and pepper to taste

1/3

cup

sliced green onion tops as an optional garnish
Instructions
For this recipe, we will assume you are using a slow cooker. To begin, heat a large skillet over medium heat and add the garlic-infused olive oil. Once the olive oil is hot, add the bacon and cook the strips until they are crisp. Use tongs to remove the bacon and transfer it to the slow cooker.

Keep the skillet warm and add the cubed stew beef. Sear each cube of stew beef on every side until each side is just browned. It should take about one minute per side. Then transfer the browned stew beef to the slow cooker along with any cooking fat that remains in the skillet.

Your skillet should now be empty. Add the red wine and tomato paste and whisk together gently to mix thoroughly. This will release any remaining brown bits from the bottom of the skillet. Add in the water and cornstarch, soy sauce, and chicken broth. Whisk each of these ingredients together until the texture is smooth. Transfer the mixture to the slow cooker.

Add the baby carrots, baby potatoes, and dried thyme to the slow cooker and stir everything inside to mix thoroughly. Cover the slow cooker and cook on high for 4 to 5 hours or on low for 6 to 8 hours depending on your schedule.

Season with salt and pepper to taste, then serve warm with the green onions as a garnish if you desire.
Video
Nutrition
Calories:
443
kcal
|
Carbohydrates:
22
g
|
Protein:
44
g
|
Fat:
17
g
|
Saturated Fat:
5
g
|
Polyunsaturated Fat:
2
g
|
Monounsaturated Fat:
8
g
|
Trans Fat:
1
g
|
Cholesterol:
113
mg
|
Sodium:
1223
mg
|
Potassium:
1198
mg
|
Fiber:
4
g
|
Sugar:
4
g
|
Vitamin A:
6756
IU
|
Vitamin C:
18
mg
|
Calcium:
74
mg
|
Iron:
6
mg
Notes & Tips
As you can see, this recipe is pretty quick to put together after you chop all the veggies and cook the bacon and stew beef. Essentially, all you have to do is prepare the ingredients and toss them in the slow cooker, then cover the lid and let the slow cooker do most of the work.
We use garlic-infused olive oil to enjoy a garlicky flavor without cheating on the low FODMAP diet. There are lots of garlic-infused olive oil choices to check out, many of which may be at your local grocery store.
For chicken broth, we recommend finding a low FODMAP version, such as FODY's broth options.
Substitutions
This recipe uses a dry red wine. Cabernet Sauvignon is one of the best options in our opinion. That said, if you don't like the taste of wine or don't want to add wine to your beef stew recipe, you can replace the portion of wine in the recipe above with additional low FODMAP broth.
In addition, the low-sodium soy sauce can be replaced with tamari if you want to follow a gluten-free in addition to a low FODMAP diet.
Instead of dried thyme, you can replace the single teaspoon with 1 tablespoon of minced fresh thyme leaves, though this adds more prep time to the recipe. Instead of green onions, feel free to use freshly chopped parsley for a similar and also delicious taste.
Common Questions
Is each of the ingredients in this recipe truly low FODMAP?
Only in certain servings. For example, potatoes are FODMAP-free no matter whether they have the skin or not. However, you'll get extra fiber if you keep the skin on the potatoes.

Red wine is a different story. Red wine is only low FODMAP in servings of one glass or less. Fortunately, you won't consume more of this in this beef stew recipe.

Soy sauce, tomato paste, and carrots are all low FODMAP or FODMAP-free as well. Since this recipe uses garlic-infused olive oil instead of garlic, you don't need to worry about that ingredient upsetting your stomach, either.
Should I cook the low FODMAP beef stew recipe on low or high heat settings?
It's totally up to you, as the flavor shouldn't be different either way. The low heat settings are best if you want the beef stew to cook while you are at work all day. The high heat settings are best if you start prepping the meal when you get home and plan on having a late dinner.
Shortcuts
With any recipe is involved as this one, the best shortcut is to simply prepare as many of the ingredients beforehand as possible. Chop the veggies and mix the cornstarch and water together before you start cooking the bacon and beef stew.
By doing this, you won't be rushing through the chopping process (or risk cutting your finger along the way). Plus, when you chop all the vegetables in a single burst of effort, it usually takes less time than if you try to juggle cooking meat and chopping vegetables at the same time.
---
Recent Recipes