There is so much to be said for the power of chicken soup to heal whatever ails you. Jewish grandmothers are definitely on to something when they offer a bowl of steaming chicken broth when you have a terrible cold. Though, I think this is a remedy in almost every cuisine around the world. My own mother made chicken bone broth whenever there was a cold or flu running through our family. It was rich and full of healing vitamins and minerals.
In Mexico, there is a version of chicken soup that is made from whole chicken portions as the broth base. This is called Caldo de Pollo, which translates to chicken broth. Versions of this soup vary from state to state in Mexico. The common thread is chicken, seasonings, and regional seasonal vegetables.
For my Caldo de Pollo, I like to start with making a broth with organic whole chicken breasts and legs, basically a quartered chicken. I leave the bones in and the skin on. Skin and bones impart flavor, minerals, and beneficial fat. You can skim the fat off or remove the skin if preferred. I add bay leaves, salt, pepper, and unfiltered apple cider vinegar (ACV) to the water. It is believed that ACV helps draw the minerals from the bones into the broth. But it does have to be raw and unfiltered vinegar with the mother. This is a naturally fermented and probiotic-rich condiment.
The vegetables I add to the soup are what grow locally in my area, but seem to be close to what is found in classic Mexican recipes. I add celery, onions, garlic, corn, carrots, and zucchini. The soup is finished with citrus juice to brighten it up. That's not a local fruit but it is an important ingredient in Mexican dishes. In Mexico, the squash would likely be calabacitas, which is also grown in southern California and is similar to zucchini. The corn is served on the cob. I like that you have to get your hands in there to eat the corn, which I save to eat for last.
You can make the broth well ahead of time. If aiming for a richer bone broth, simmer it in a crock pot or slow cooker overnight.
If you want to avoid the fat from the chicken skin, you can remove the skin before making the broth or simply chill the broth and remove the solidified fat with a slotted spoon.
Chop the vegetables so they are all basically the same size. This makes eating the soup a little more pleasurable when everything is similar in texture and size. The exception is the corn.
If you need more liquid, just add some filtered water to the soup right after the vegetables go into the broth. You want about 2-inches of liquid above the vegetables. Remember that you will be adding the chicken back to the pot as well.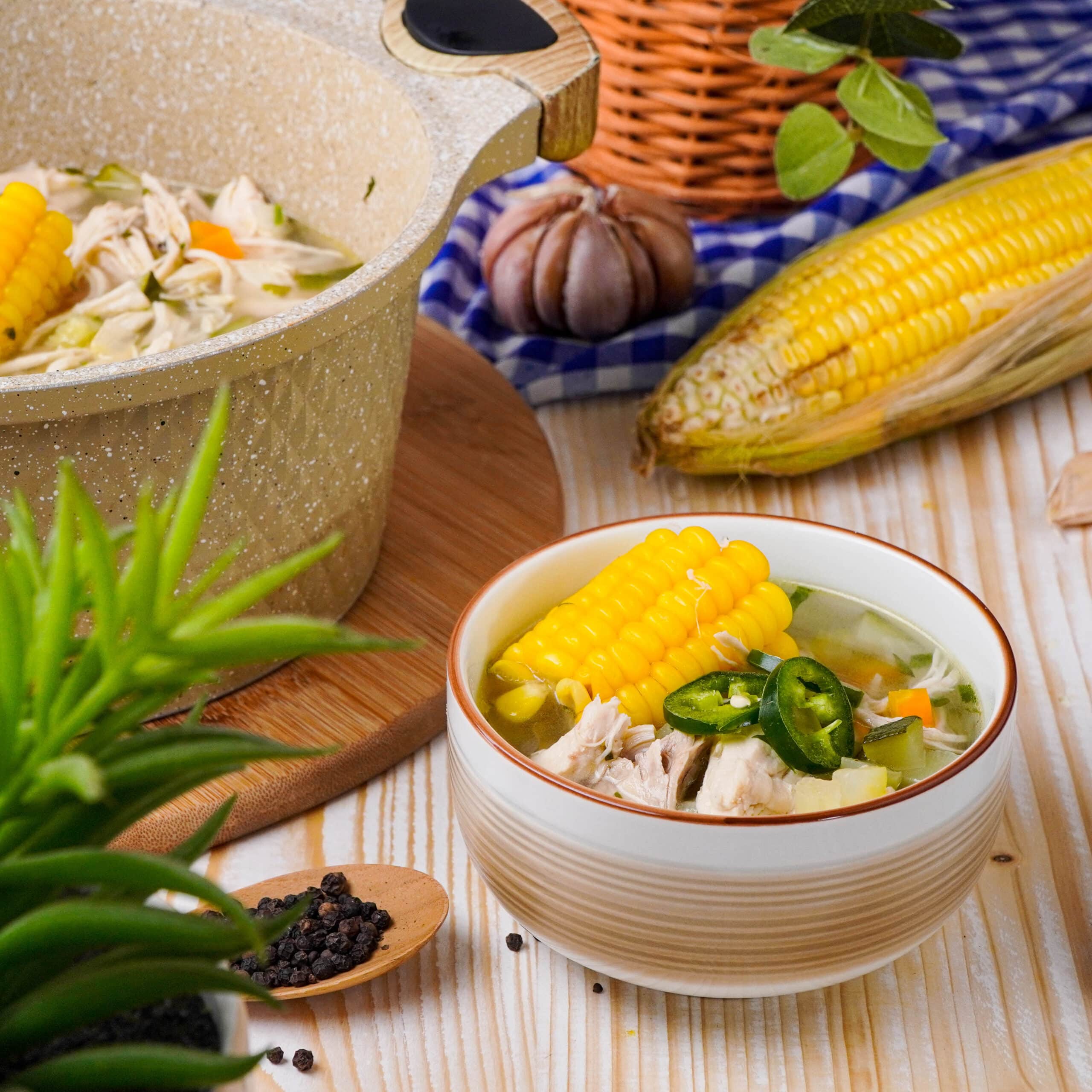 Ingredients
Quarters from one 4-pound chicken

10

cups

of filtered or purified water

2

Tbsp

raw unfiltered apple cider vinegar

ACV

2

dried bay leaves

2

tsp

sea salt

1

tsp

freshly ground black pepper

2

celery ribs

chopped

½

a large onion

peeled and chopped

2

garlic cloves

minced

2

carrots

chopped

2

ears of corn

shucked and cut into 3 or 4 pieces each

3

zucchini squash

diced to match the celery and carrots in size

Salt and pepper to taste

Juice of 2 limes

⅓

cup

chopped fresh cilantro leaves

2

thinly sliced jalapeño peppers for serving
Instructions
All ingredients ready? Let's begin!

In a large stockpot over high heat, place the chicken quarters. Cover the chicken with 10 cups of water. Add the ACV, bay leaves, salt, and pepper. Bring this to a boil. Turn the heat to low, cover the pot, and simmer for 1-1/2 hours.

Turn the heat off. Skim any foam from the broth and discard. Remove the chicken and bay leaves from the pot with a slotted spoon to a large bowl. Discard the bay leaves. Set the chicken aside to come to room temperature. Optional: strain the broth through a cheesecloth-lined colander into a large bowl to remove any sediment, foam, and excess fat and return the broth to the pot.

Prepare the vegetables and add the celery, onion, garlic, carrots, and corn to the pot. Turn the heat back to high. As soon as the broth returns to a boil, reduce the heat to low. Cover the pot and allow the soup to simmer for 15 minutes.

Add the zucchini and lemon juice to the soup, cover the pot, and continue to simmer until the zucchini is cooked, approximately 15 minutes longer.

While the soup is finishing cooking, place the chicken on a clean cutting board. Using clean or gloved hands, remove the skin from the chicken and discard it. Take the meat off of the bones and discard the bones. Using 2 forks, shred the chicken. It should pull apart easily.

Add the pulled chicken to the soup, along with the cilantro. Season with salt and pepper to taste. Stir well to combine.

Ladle the hot soup into individual serving bowls and garnish with jalapeño pepper slices, if desired.
Nutrition
Calories:
306
kcal
|
Carbohydrates:
13
g
|
Protein:
24
g
|
Fat:
18
g
|
Saturated Fat:
5
g
|
Polyunsaturated Fat:
4
g
|
Monounsaturated Fat:
7
g
|
Trans Fat:
0.1
g
|
Cholesterol:
85
mg
|
Sodium:
910
mg
|
Potassium:
668
mg
|
Fiber:
3
g
|
Sugar:
6
g
|
Vitamin A:
3947
IU
|
Vitamin C:
30
mg
|
Calcium:
59
mg
|
Iron:
2
mg
Substitutions, Shortcuts & Additions
Chicken Portions: The broth can be prepared with a whole chicken if you have a large enough stockpot. If you prefer light meat over dark, use only the breasts. Or, if you prefer dark meat, use only the legs.
Chicken Broth: Homemade chicken broth is exceptional in flavor and nutrition. If you don't have time, you can use boxed or canned chicken broth and rotisserie chicken for the meat in the soup. When I am tight on time, I pick up an organic roasted chicken from Whole Foods and a couple of boxes of organic chicken bone broth.
Corn: Corn is the carbohydrate and slightly sweet element in the soup that really rounds out the nutrition and flavor. Assuming fresh corn isn't in season, you can find frozen corn cob pieces or just use corn kernels, especially if you aren't keen on having to eat something with your hands. If you are not eating grains, try potato chunks. If you are paleo, use Japanese white sweet potato.
Zucchini: Zucchini can be found year-round in most markets. Yellow summer squash is a perfectly good substitute.
Cilantro: By all means, add fresh oregano leaves or flat-leaf parsley if cilantro isn't available or not your favorite herb.
Additions: There are regional Caldo de Pollo recipes that include tomatoes in the broth. Another item that is popular to garnish this soup is toasted corn tortilla strips. Many recipes call for diced green cabbage as an additional vegetable. For serving, many enjoy a hot pepper sauce, especially if you are fighting off a cold and want to clear the sinuses.
---
Recent Recipes