Simple & Soft Nutella Taiyaki
Taiyaki is a Japanese fish-shaped cake that is a popular street food. It is soft and spongy with a slightly crisp outside. It is usually made with various sweet or savory stuffing inside, although it is most popular as a dessert.
This Simple & Soft Nutella Taiyaki is an absolute game changer if you want to up your dessert game. You do require a Taiyaki pan, they are available online to buy. The batter requires some of the basic ingredients you use to make cake. Sift the dry ingredients like flour, sugar and baking powder together and then whisk it together with egg and milk. It is important to let the batter set so that it rises properly when cooking. You can add some butter to the mixture for a softer cake. You can also add some vanilla extract to it to make it more flavorful. If you want to make it savory, add the batter to the mold, add some cheese, cover with more batter and cook.
I added a dollop of Nutella to it and then cooked it, flipping it over after two minutes. The Taiyaki should have a light crispy, golden outside and a light, soft inside hat will be coated with gooey, melted Nutella. It is best to have the Simple & Soft Nutella Taiyaki warm with a nice dollop of ice cream on top.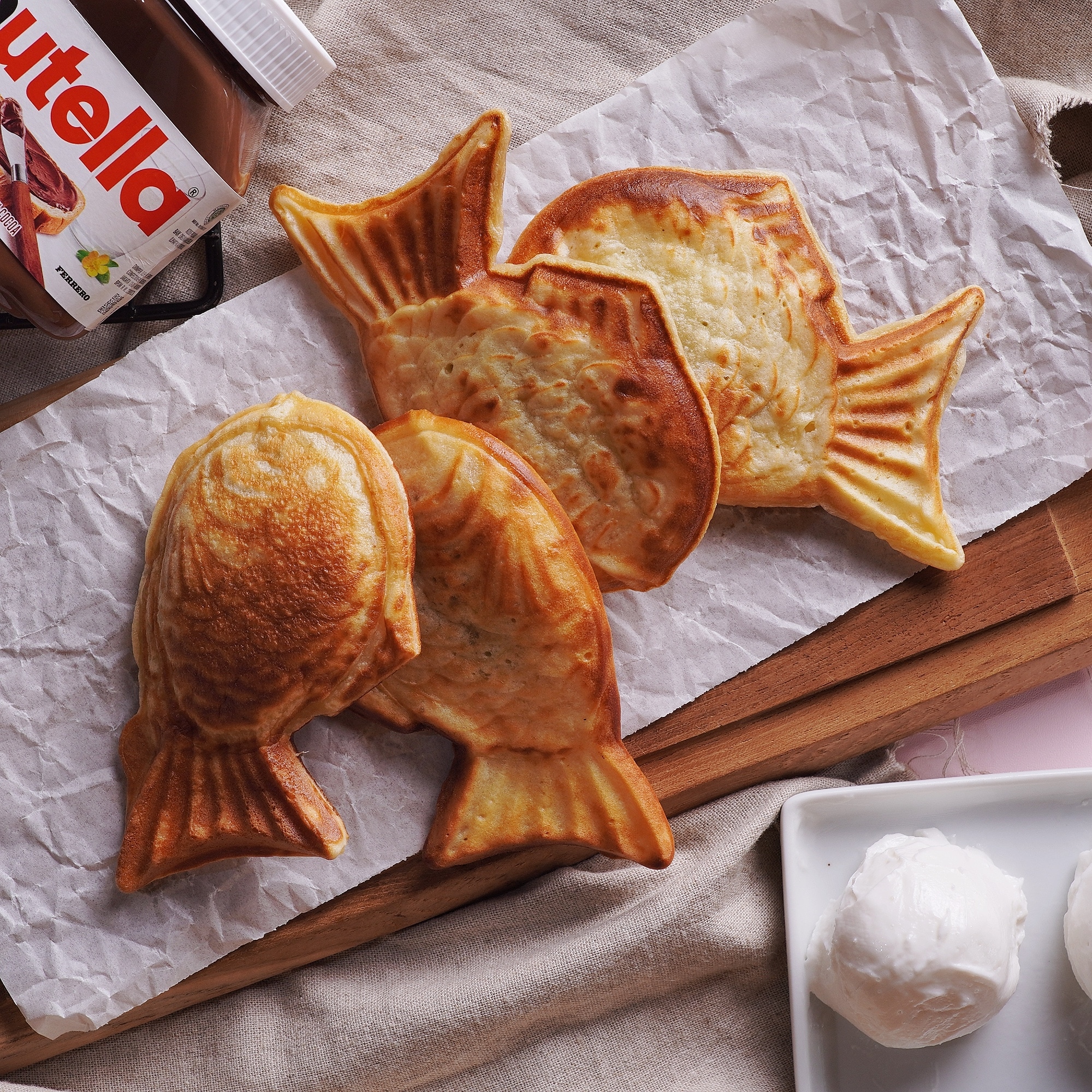 Equipment
Taiyaki pan (fish mold pan)
Ingredients
1 ½

cups

of cake flour

¾

cup

of milk

3

tablespoons

of sugar

2

teaspoons

baking powder

1

egg

Nutella
Instructions
Prepare all the ingredients.

In a large mixing bowl sift together the flour, sugar and baking powder.

In another bowl break one egg and whisk it.

Add milk to it and mix well.

Mix the dry ingredients to the egg and milk mixture. Mix it well until you have a smooth batter.

Cover and refrigerate for 1 hour. The batter needs to rest.

Heat the taiyaki pan on low heat and lightly coat with oil.

Add batter onto the taiyaki pan, put a dollop of Nutella on it and cover with some more batter.

Close the mold and let it cook for about 2 minutes. Flip the pan and cook the other side for another minute or two.

Transfer onto a wire rack to cool. Serve with ice cream.
Video
Nutrition
Calories:
99
kcal
|
Carbohydrates:
18
g
|
Protein:
3
g
|
Fat:
1
g
|
Saturated Fat:
1
g
|
Polyunsaturated Fat:
1
g
|
Monounsaturated Fat:
1
g
|
Trans Fat:
1
g
|
Cholesterol:
18
mg
|
Sodium:
99
mg
|
Potassium:
49
mg
|
Fiber:
1
g
|
Sugar:
5
g
|
Vitamin A:
54
IU
|
Calcium:
73
mg
|
Iron:
1
mg
Tips & Tricks
You have to ensure that the batter is smooth
The batter needs to rest in the fridge for at least an hour
When you're pouring batter into the molds, make sure it is not full, fill only about 60% of the mold so that there is space for the batter to expand as it cooks. Else the batter is going to leak out of the mold.
You have to cook this on a regular stovetop, it won't work on induction or electric stovetop, it will cook unevenly
You can add some butter or oil while making the batter to get it smooth, which will result in a soft yet crisp Taiyaki
Storage
You can make the batter and store it in the fridge for about 3-4 days. You can also freeze it. Store in an airtight container and freeze for about 2 months. If you have made a ton of taiyaki and want to use it for later, you can. Store the cooked Simple, Soft Nutella Taiyaki in an airtight container in the fridge for about a day or two. Remember that this is very similar to pancakes or waffles, so you don't want to keep them refrigerated for too long. They taste best when they are fresh and warm.
There are a few ways to reheat your Simple & Soft Nutella Taiyaki. You can warm it in the microwave for about 20-30 seconds. But microwaving cooked taiyaki usually makes them a little soggy. You can also heat them on the stovetop. Just heat a pan, it needs no oil or butter and heat the taiyaki on low heat, flipping it over every a few minutes.
The best way to reheat the Simple & Soft Nutella Taiyaki though is in the toaster. Just pop it into the slots in the toaster and wait for it to pop out.
FAQs
What is Taiyaki?
Taiyaki is a Japanese fish-shaped cake that has now become popular all over the world. Taiyaki translates to "baked sea bream", sea bream is the nickname of the tai fish, which is found in saltwater. Hence the fish shape of the taiyaki is supposed to indicate the "tai" fish, which represents prosperity and luck. Taiyaki is traditionally filled with a red-bean paste but it is now popular to fill these fish-shaped taiyaki cakes with chocolate, custard, icing, ice cream, cheese and even sweet potatoes. Taiyaki cakes are made with special taiyaki pans. Taiyaki should be slightly crisp on the outside, similar to a waffle and soft and light on the inside.
What is the best filling for taiyaki?
Traditional taiyaki is made with a red bean paste filling, that is made with sweetened azuki beans. The beans are cooked by boiling them, then mushing them into a paste. You can make them sweet with sugar and then add it to the mold.
Substitutions
The Simple & Soft Nutella Taiyaki is usally made with flour, eggs, sugar and milk and a little bit of baking powder. Everything else can be amended and tweaked to suit your tastes.
Cake Flour: You can use all-purpose flour.
Milk: You can use nut milk.
Baking Powder: You can use baking soda.
Nutella: You can go with any topping you like. Most popular would be the red bean paste, custard or chocolate.
Accompaniments
The Simple & Soft Nutella Taiyaki can be had as a snack or dessert. It is best when had warm. It makes a great dessert when had with a scoop of your favorite ice cream. It also tastes great with cream, fresh cute fruits and custard. The Taiyaki can also be stuffed with cheese.
For more fabulous and interesting desserts try this Cardamom Spice Cookies and this delicious Chocolate Lavender Cake.
---
Recent Recipes