Easy Low FODMAP Frittata Recipe
Frittatas are phenomenally delicious breakfast or brunch dishes, especially when you combine them with delectable ingredients like spinach, bell pepper, and even your choice of meats like bacon, ham, or sausage! Even better, there are plenty of great frittata recipes that are perfect for folks on the low FODMAP diet. After all, frittatas rely on eggs and veggies more than anything else, sort of like quiches.
But what if you don't know how to make a great low FODMAP frittata recipe for yourself and your friends? Not to worry. We can break down a go-to breakfast frittata recipe for low FODMAP dieters in a snap. This veggie-focused frittata recipe is also great for folks on a gluten-free diet as gluten is notably absent from each of this recipe's ingredients.
Enough waiting – let's explore this delicious low FODMAP frittata recipe up close and personal.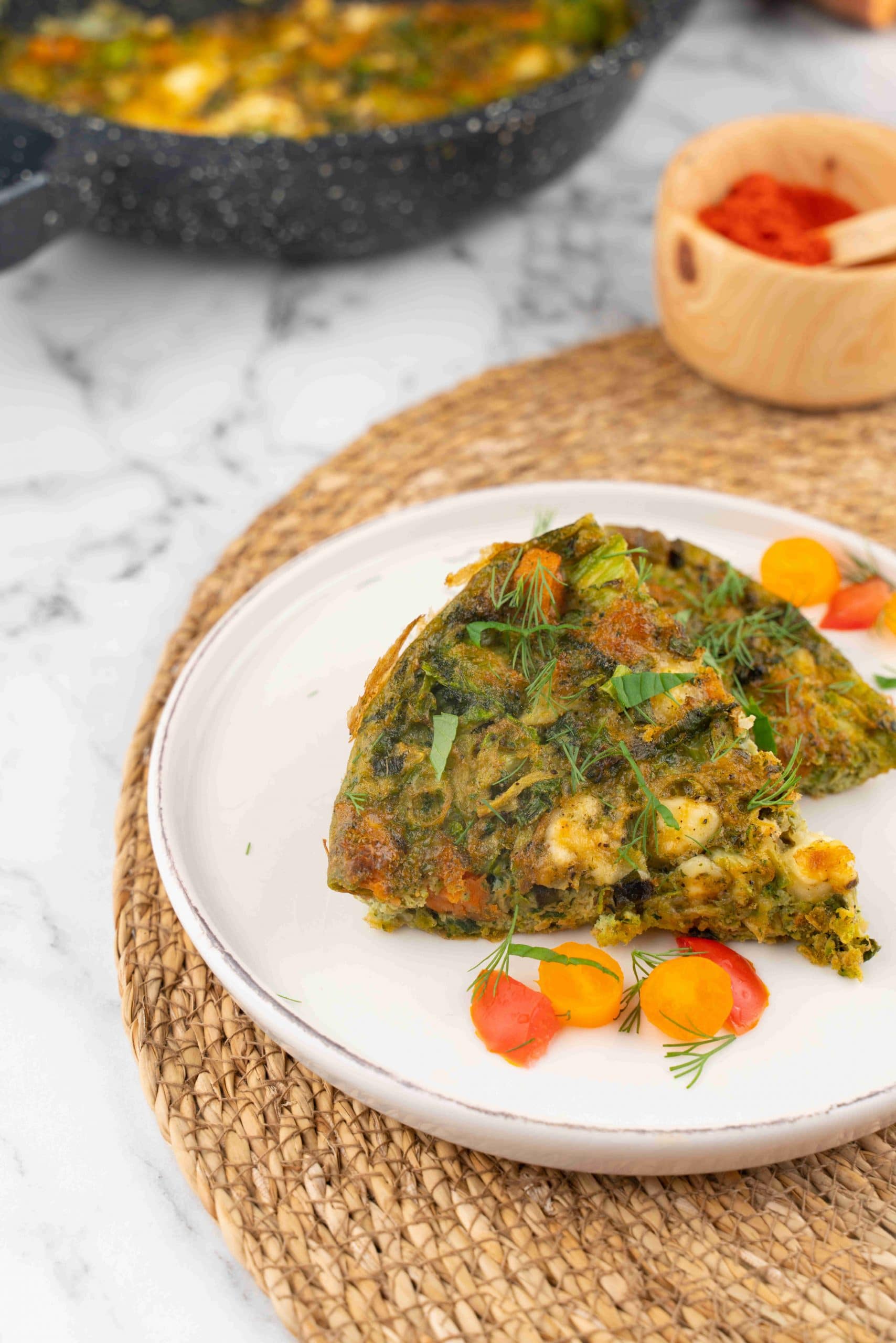 Ingredients
5

eggs – try vegan eggs if you like

1

grated zucchini

1/2

medium sweet potato

cubed into small pieces

2

tablespoon

olive oil

1

teaspoon

paprika

3

green onions

sliced into small pieces

2

tablespoon

lactose-free milk

1¼

cup

chopped broccoli

¼

cup

chives

¼

cup

feta cheese

Salt and pepper to taste

½

cup

mixed herbs

such as parsley and basil
Instructions
To begin making your low FODMAP vegetable frittata recipe, preheat your oven to 350°F. Next, grab a paper-lined baking tray and toss your sweet potato in half of the olive oil (1 tablespoon) plus the paprika. Once the oven is ready, roast the sweet potato in the oven for 45 minutes or until tender.

Next, heat the remaining tablespoon of olive oil and ovenproof frying pan over medium heat. The oven pan should be large enough to accommodate the resulting frittata, around 22 cm in diameter, to avoid squashing the eggs.

Sauté the green onions until they are soft, then add the broccoli and stir both vegetables together until they are slightly charred. Add the zucchini and cook all the vegetables for two more minutes or until the zucchini is properly soft. Then remove the pan from the heat.

Combine the milk, eggs, and mixed herbs of your choice in a food processor or a bowl using a whisker. Once the egg mixture is properly fluffy, set it aside.

Once the sweet potato is done cooking, add the sweet potato to the broccoli mixture in the frying pan. Set the heat to medium and add the egg mixture to the frying pan. Stir everything together until it is very well combined.

Sprinkle the egg and potato mixture with chives and feta cheese, and season with salt and pepper to taste. Reduce the heat to low and cook the frittata for about 8 minutes or until the egg is mostly finished setting up. Before cooking the frittata for 8 minutes, preheat your broiler on high.

Place the frying pan under the broiler and grill the frittata until it is golden brown on top. Remove from the grill and enjoy!
Video
Nutrition
Calories:
219
kcal
|
Carbohydrates:
12
g
|
Protein:
11
g
|
Fat:
15
g
|
Saturated Fat:
4
g
|
Polyunsaturated Fat:
2
g
|
Monounsaturated Fat:
8
g
|
Trans Fat:
1
g
|
Cholesterol:
214
mg
|
Sodium:
221
mg
|
Potassium:
481
mg
|
Fiber:
3
g
|
Sugar:
4
g
|
Vitamin A:
5501
IU
|
Vitamin C:
50
mg
|
Calcium:
134
mg
|
Iron:
2
mg
Notes & Tips
When it comes to creating the perfect frittata, timing is everything. Therefore, you should focus on not overcooking the egg or burning the veggies. This is especially true during the broiler part of the recipe. If you let the frittata sit in the broiler for one minute more than needed, you could char the egg and make everything dry and unappetizing.
For the best results, we recommend using a timer rather than leaving it up to your intuition. A kitchen timer won't make mistakes, after all!
Substitutions
As with most frittata recipes, the sky's the limit in terms of additions or substitutions. While the above frittata recipe is great for folks who want to eat more vegetables than meat, you can easily add a few meat choices to your frittata and keep it low FODMAP. There are also some alternative veggies you can mix in to keep the recipe fresh over time. Some great examples include:
Low sodium bacon, which is healthier on average. We recommend four slices to avoid overwhelming the frittata recipe
Ham, which can also be sliced up into tiny pieces to blend seamlessly with the rest of the frittata ingredients
A red bell pepper, medium-size. This adds a little spice and extra texture to your frittata.
Spinach, about 1 ½ cups. This keeps the spinach low FODMAP and, thus, appropriate for your diet
Shortcuts
There are lots of moving parts with this low FODMAP frittata recipe, but you can take several shortcuts and set yourself up for success by:
Prepping all the veggies beforehand, chopping and slicing them into the perfect sizes. If you chop all your veggies beforehand, you won't be scrambling from one part of the kitchen to the other to cook the eggs, potatoes, and the veggies all separately or out of order
Whisking the eggs together ahead of time helps as well. The eggs can sit out while the sweet potatoes are cooking
By the same token, preheat your oven while you are prepping the veggies and sweet potatoes so you can stick them inside with a minimum of delay
Ultimately, mastering this recipe just means focusing on preparation and ensuring you have all the recipe ingredients ready to go when the time comes to add them to the frittata mixture.
Sides & Pairings
You can combine this low FODMAP frittata recipe with a variety of condiments. Some of our favorites include black pepper, low FODMAP sauce and ketchup, and Tabasco hot sauce. These all go particularly well with the veggie version of the frittata or a frittata that includes bacon or ham.
You might also want to add a little sweetness to your breakfast, in which case you can put out a bowl of grapes, strawberries, or even pineapple pieces. Pineapple pieces are still low FODMAP so long as you don't eat more than a single cup or 140 g.
---
Recent Recipes