Super Easy & Creamy Carrot Puree
I went through a phase during the COVID-19 lockdown where I was trying all sorts of new foods. I think many of us were cooking and eating more than we had ever imagined to kill time while stuck at home. My local market was constantly running out of fresh produce, proteins, and paper goods. One thing they always seemed to have was jars and cans of puréed vegetables, especially jars of carrots for babies.
For a few months, the store wasn't open to customers. They only delivered or did curbside pickup. I had to order everything online. I accidentally ordered an entire case of jarred carrot purée. When I opened the box, I stared at it and tried to figure out what I could do with all of it.
It turns out, you can do a lot with puréed carrots and they are really delicious and naturally sweet. I served them as a side vegetable, I baked with them, and I added them to sauces and casseroles. Carrot purée is a surprisingly good addition to homemade tomato sauce for pasta or meatballs.
After the case of puréed carrots was finally gone – some jars being donated to the local food bank, I decided it was time to make my own carrot purée from scratch. Let me tell you that the real deal is so much better than what comes in a jar or can. And it is so easy to prepare. On top of that, it is an incredibly affordable and nutritious dish.
You only need a few ingredients to make the best creamy carrot purée: carrots, garlic, broth, cream butter, salt, and pepper. After the carrots have simmered, you blend or process them with cream and butter. This can be served with roasted chicken and sautéed fresh greens. Or, you can store it in the refrigerator to use in other dishes, such as baked goods and pasta sauces.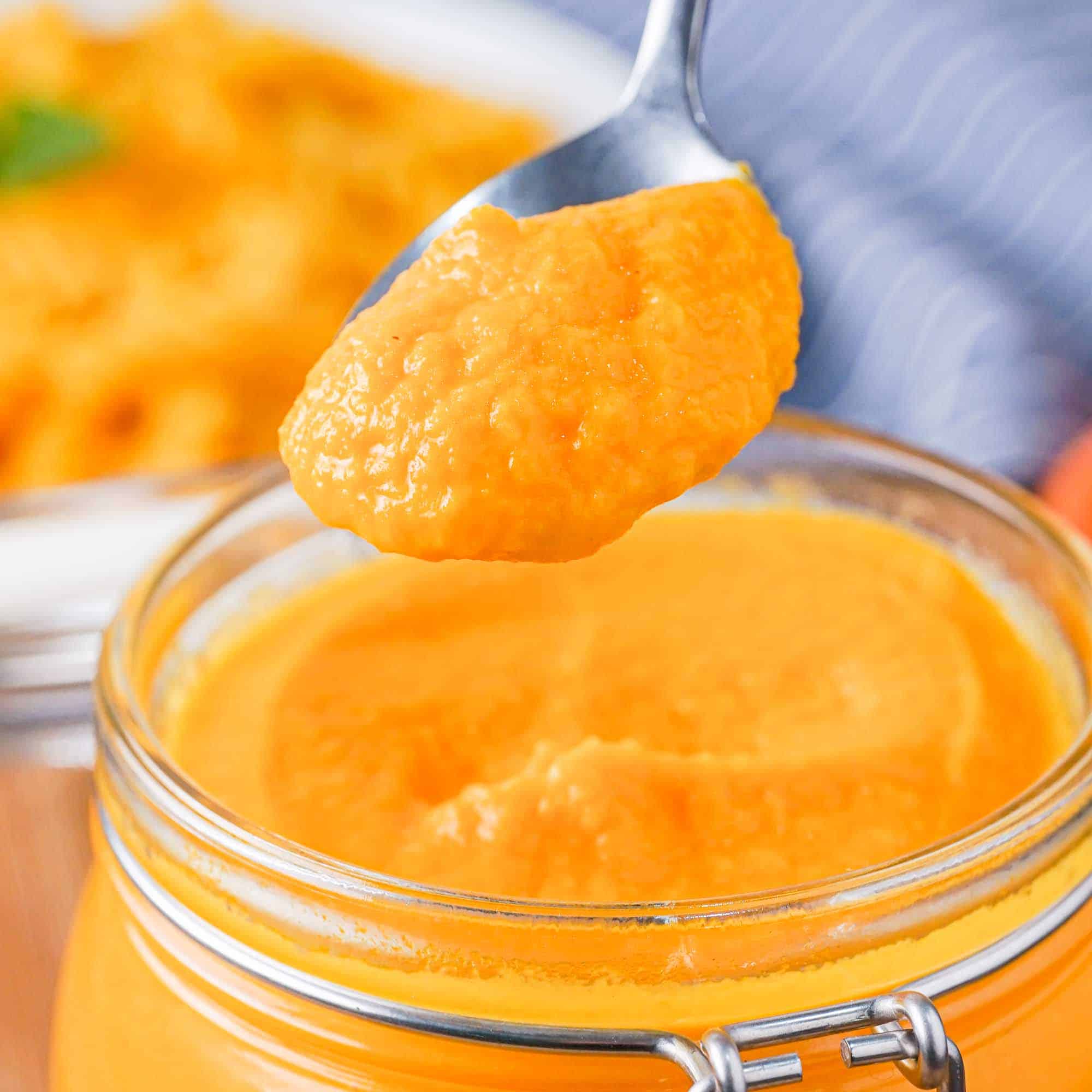 Ingredients
1

pound

fresh carrots

washed, trimmed, and roughly chopped

2

small garlic cloves

peeled and crushed

⅔

cup

chicken broth

2

tsp

butter

¼

cup

heavy cream

Salt and pepper to taste
Instructions
All ingredients ready? Let's begin!

In a large heavy-bottomed saucepot over high heat, bring the broth, carrots, and garlic to a boil. Lower the heat, cover the pot, and simmer until the carrots are soft, approximately 12 to 15 minutes. You can check them by piercing them with a sharp paring knife.

Transfer the cooked carrots and 1/2 of the broth to the jar of a blender or to the bowl of a food processor. Reserve the rest of the broth. Add the butter and cream. Pulse until you have a smooth purée. Add some of the reserved broth if the purée is too thick.

Season the carrots with salt and pepper to taste.

Serve while warm or allow it to cool and store in sealed containers in the refrigerator for a few days. You can also freeze the purée for a few months.
Nutrition
Calories:
103
kcal
|
Carbohydrates:
12
g
|
Protein:
2
g
|
Fat:
6
g
|
Saturated Fat:
4
g
|
Polyunsaturated Fat:
0.4
g
|
Monounsaturated Fat:
1
g
|
Cholesterol:
18
mg
|
Sodium:
240
mg
|
Potassium:
394
mg
|
Fiber:
3
g
|
Sugar:
6
g
|
Vitamin A:
19185
IU
|
Vitamin C:
7
mg
|
Calcium:
54
mg
|
Iron:
0.4
mg
Notes & Tips
You can prepare the purée a day or 2 ahead of time. It can be warmed up in the microwave. You can add a little cream to rehydrate it.
If you don't have a blender or food processor, you can remove and reserve some of the cooking liquid and process the carrots with an emersion blender or mash them well with a potato masher.
Substitutions & Variations
Carrots: I was at the market the other day and saw that they had bunches of multi-colored organic carrots. I opted for just orange purely for the color but will try the colorful carrots for this dish in the future. I also noticed that they had lots of parsnips and fresh rutabagas. I have made this dish with rutabagas, also known as swede. Rutabagas are a large tuber in the turnip family and are really good when prepared in this manner. You could also make a purée with Japanese white or purple sweet potatoes. There are so many options for this great dish.
Garlic: There are times when I really don't want too much garlic, especially if I have guests and don't want anyone to smell like garlic. I will either leave it out or substitute a small shallot, which is mellower and sweeter in flavor.
Chicken Broth: You can keep this dish vegetarian by substituting vegetable broth. It won't be vegan unless you swap out the cream and butter for plant-based options.
Butter and Cream: If going in the vegan direction, use vegan butter and full-fat unsweetened coconut milk in place of the butter and cream.
Variations: Sometimes I like to make this dish a little on the sweeter side, especially when serving to kids around the holidays. I will add a small amount of brown sugar and a pinch or 2 of cinnamon. Nutmeg is also a really nice addition.
Nutrition of Carrots
Carrots are naturally sweet and crunchy when eaten raw. We are most familiar with the orange variety, but they do come in white, yellow, and purple varieties.
Colorful carrots are rich in antioxidants, vitamins, and fiber. They are only 40 calories per gram, fat-free, and have no cholesterol.
Carrots are an excellent source of beta-carotene. They are also high in vitamins A, B, and C. Beta carotene is a powerful antioxidant that protects us from cancer-causing free radicals. Vitamin A is essential for good eyesight and skin health. B vitamins are essential for metabolism. Vitamin C helps the body maintain healthy connective tissue and protects against bacterial infections and viruses.
---
Recent Recipes